Situated in Utah, the Bryce Canyon is a dream destination for many of us. Contrary to its name, it is not just a Canyon but a natural amphitheater that is carved into the eastern border of the Paunsaugunt plateau owing to years of soil and water erosion. Nevertheless, its hoodoos draw most of its visitors.
If you have a national park's pass, then your entrance fee to the Canyon is covered; it costs $80 annually and is available for everyone. If you are an American citizen aged 62 and above, you could opt for a senior pass at a one-off cost of $80 or $20 annually. This senior pass comes with a 50% discount fee charged for some services and facilities at the Bryce Canyon.
My name is Eddie, and I am over 30 years old. Being a tourist, I like to go hiking. Therefore, I know the peaks, fatigue, traumas, and joy of achieving the goal. Over the period I have done this, I have heard many potential hikers wonder what to pack for the Bryce Canyon. In this article, I share my recommendations for what you should pack when going for a hiking trip to the Bryce Canyon during the warm and cool seasons.
Bryce Canyon Packing List in the Spring or Summer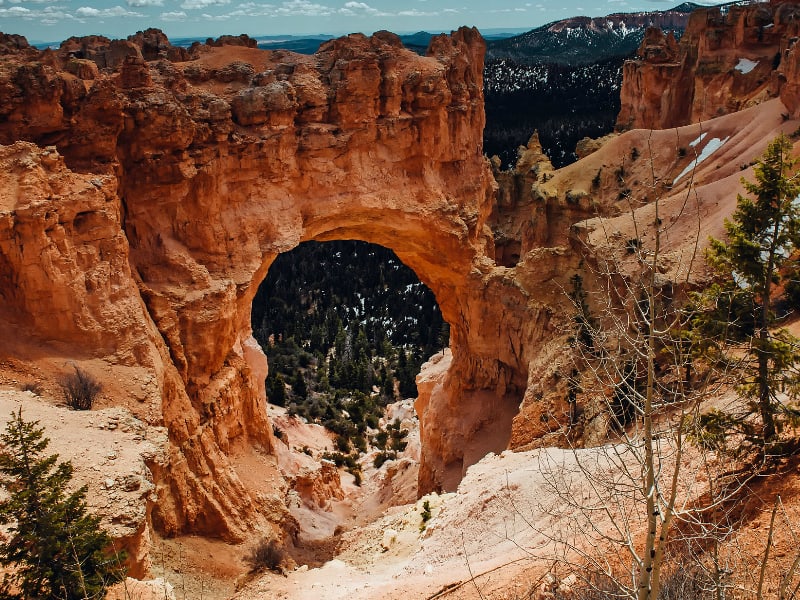 During the spring season at Bryce Canyon, temperatures are usually around 55˚F. You are less likely to find crowds of people during spring and fall. Conversely, most people visit Bryce Canyon during the summer, which occurs between May and September. Temperatures during this season are more pleasant; they range between 65˚F and 80˚F. Therefore, there are some crucial items that you must pack when visiting Bryce Canyon around these seasons. These include hiking gear, sun protection, toiletries, light clothing, and some electronics.
Bryce Canyon Hiking Gear During Spring/Summer
Most people visiting Bryce Canyon go with a major purpose of hiking. If you intend to do so, you must pack your hiking gear. You may want to get yourself a pair of hiking boots that provide traction during the hike. Alternatively, if you plan to hike for a short period over smooth terrain, you may opt for trail shoes instead of hiking boots.
A water bottle filled with water should also be part of your Bryce Canyon hiking gear. Your body consumes a lot of fluids during a hike. Thus, hikers are advised to drink 1 quart of water at least every 2 to 3 hours because they are more vulnerable to the risk of having altitude sickness. If you do not own a water bottle, you can buy one at the local Garfield county stores near the Bryce Canyon Park.
Other necessary items that you should park when hiking through the Bryce Canyon are a first aid kit, tracking maps, and a whistle. Your first aid kit should at least contain medicines and bandages. The tracking maps would be useful in showing your location and other important paths like water access, emergency exit routes, and campsites. The whistle, in contrast, could help track you down in case you are lost somewhere along the terrain.
What to Include in Your Backpack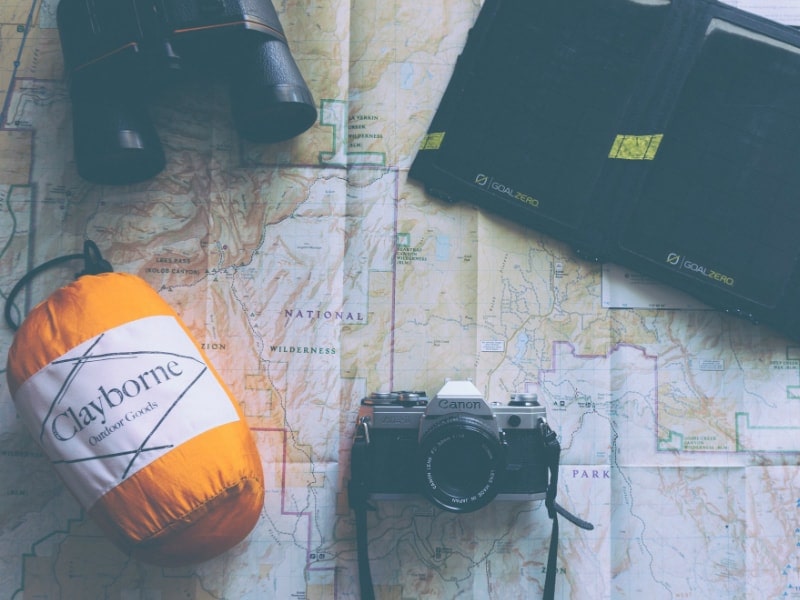 You will also need a backpack for this trip. In case you are confused about what to pack for the Bryce Canyon in this backpack, then electronics like flashlights, headlamps, and lighters should be part of what you intend to include. These could be useful in tracing your way, especially when you have hiked too long and it gets dark before you are back.
Another necessary electronic that you should consider packing to Bryce Canyon is a camera. During the summer, the terrain is even more beautiful and visible. Your camera will help you capture this. You may also consider camera gear such as a tripod and selfie stick to achieve the best shots.
Clothing
Most importantly, you should pack enough clothes depending on how long you intend to camp or hike the Bryce Canyon. The kind of clothes you will carry during the summer or fall should be light. For example, you may carry quick-drying undergarments, shorts, and short-sleeved t-shirts. Do not also forget to include an extra pair of shoes in your bag for this trip.
Sun Protection
If you have fair skin like me, then sun protection is something you are always thinking about. During summer and part of spring, the sun shines bright across Bryce Canyon. Therefore, whether you are hiking, you should consider sun protection.
When I say sun protection, I mean you should carry more than sunscreen. You should also not forget to pack a pair or two of sunglasses. You may have a better experience if your sunglasses are polarized. Another useful item for sun protection you could include in the Bryce Canyon packing list is a hat.
There is usually little or no shade during hot weather at this park, and a hat would come in handy when it gets too hot. In addition, you could also throw in a moisturizer in your Bryce Canyon backpacking list to keep your skin hydrated in hot temperatures.
Toiletries
Whether you are going hiking or camping at the Bryce Canyon, toiletries are a must carry. Items that should not miss in your toiletries bag include:
A toothbrush and some toothpaste.
Wet wipes.
A hand sanitizer.
Toilet paper.
Other necessary items include any medication that you might be on during the trip and clean underwear. Also, if you are a lady, do not forget essentials like sanitary towels. You could also include other items like shampoos, deodorants, and soap in your toiletries bag.
Bryce Canyon Backpacking List for the Winter
The winter season lasts between November and March. During this period, temperatures fall up to 36˚F and 44˚F. I personally like visiting the park during winter because I get to see the snow covering the hoodoos. It is always captivating to get such a view, and the fact that not many people visit the park during this period, you are assured of capturing great photos. However, it is usually quite cold in the winter, and this is why your Bryce Canyon packing list should include a lot more layers of warm clothing.
What to Wear to Bryce Canyon During Winter
Your Bryce Canyon packing list for clothes during the winter season will be slightly different from the ones you pack for summer or spring. Consider the following type of clothing to carry when visiting the park during winter:
A raincoat;
Hiking boots;
Rain pants;
Gloves or mittens;
A hat.
I personally prefer the non-cotton fabrics because they keep moisture away from my skin whenever I sweat. It is also important to ensure that you are as dry as possible during the entire time you are at the Bryce Canyon during winter.
What to Include in Your Winter Backpack
A backpack is also necessary during winter. You should pack items like toiletries, food, and water. I would also recommend some sun protection like sunscreen and sunglasses as well in the winter. This is because as much as temperatures are low, the sun may come up sometimes, and it could burn your unprotected or uncovered parts of your skin.
In addition, during a visit to the Bryce Canyon, especially during the winter season, ensure that you carry dry bags. These would be useful in storing valuables like your phone and money. If you have a larger dry bag, carry it as well for the storage of your clothing. You may not be certain when it may start to rain.
Your backpack should also include electronics such as headlamps and flashlights for use, especially when the weather becomes foggy. Apart from your backpack, you may also want to carry along a daypack, even if you plan to go on a short hike at the Bryce Canyon. It is somewhere you can store your snacks and water among the other essentials like toiletries.
Photography Equipment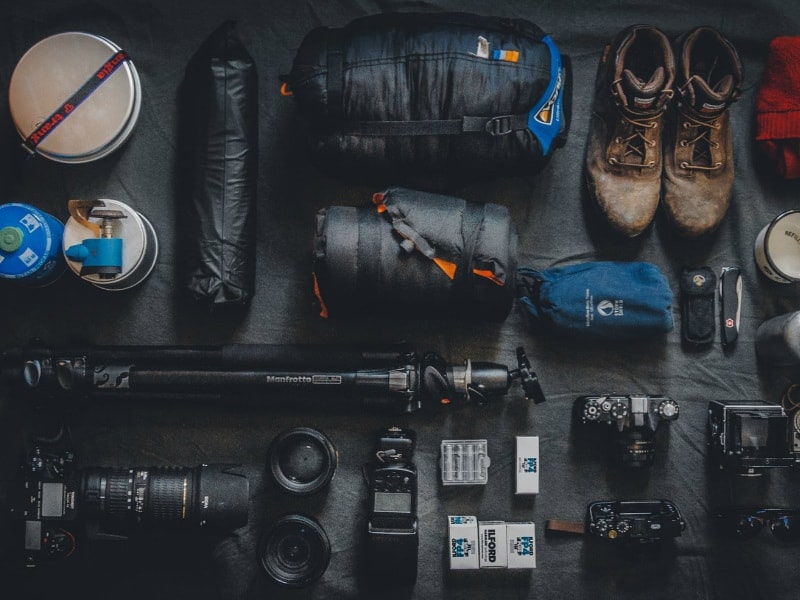 During winter, your photos may not be as clear as during summer, owing to low lighting conditions. Therefore, when packing up, consider including your best camera and additional equipment such as a tripod. If you are after more than casual camera shots, you should plan for wide-angle zooms and polarizing filters. Furthermore, you could boost the lighting of your photos by using the remote shutter release settings.
Bryce Canyon Hiking Gear for Winter
It becomes snowy in the Bryce Canyon during winter. Thus, hiking your way up throw the icy trail can be tricky. Therefore, you should consider packing some collapsible trekking poles for this purpose in case you find yourself in deep snow.
Alternatively, you could opt for ice trekkers that you strap onto your hiking boots. They are designed to act as chains and give you a good footing on a snowy trail. Most importantly, do not forget your water; in this kind of weather, you are more prone to hypothermia.
Bryce Canyon Packing List for a Memorable Adventure
The Bryce Canyon is a beautiful site you should plan to visit someday if you have not. From my suggested list of things to pack when visiting this park, it is evident that some of the things you need to carry during winter are not necessary during summer or spring. Nevertheless, I think that the most essential things that you must pack regardless your season of visit are your backpack and hiking gear. However, this can be regarded as my opinion. So, what is that essential item you would advise other tourists never to miss in their packing list for the Bryce Canyon adventure? While still at it, which is that one activity that they should ensure they try out depending on their season of visit?