When I was a teenager, my dad and I went for a 3-day hike. It was my first time, and we were very excited. We knew it would be an experience like no other. To our disappointment, most of the time, I was moody, short-tempered, sensitive, and would get upset over insignificant things. This was not the usual me being outdoors. After the careful analysis of the situation, we realized that lack of good sleep while being outdoors could have contributed to the behavior, as I was always complaining that my sleeping bag was noisy, cold, and offered inadequate cushioning effect. Now, being 30+ years and having a diverse experience in hiking, I understand the traumas, fatigue, as well as peaks and joy of the activity. I know the kind of clothes, accessories and equipment appropriate for hiking. In this review, I will discuss different types of sleeping bags for teens, with particular focus being on girls, outline their characteristics, pros, cons, and give you the opportunity to make the final purchasing decision. Believe me when I say that you need to make an informed choice!
Amazon Bestsellers
Teen Sleeping Bags

: 10 Products Under Review 
Are you aware that poor sleep impacts one's mood leading to frustration and stress? Well, this is not just a mere claim as scientific evidence supports it. Good quality and quantity of sleep are among the factors that contribute to happiness. So, when planning for a fun activity for your teenage girl that will necessitate the use of a sleeping bag, it is imperative to choose an appropriate bag that will provide not only warmth but also adequate cushioning. To help you make the right choice, I have reviewed ten types of girls sleeping bags, their designs, in-built features, and appropriateness for different occasions. Additionally, I have outlined the pros and cons of each sleeping bag for further clarification. I have arranged products in order from the one I would highly recommend to less good ones, remember that this is my subjective opinion! I hope that eventually, you will choose the best girls sleeping bag every teenage girl dreams of!
Wenzel Moose Boys 40-Degree Sleeping Bag: a Camping Gear 
This is a slumber bag from Wenzel, a global company headquartered in Colorado, the United States that specializes in manufacturing outdoor gears. This sleeping bag is specially designed for camping in mild weather. It has a temperature rating of 400, making it suitable for summer. It is in-built with a therm fill of polyester material with the ability to lock in warmth to ensure that kids are kept warm and cozy. Actually, Wenzel's sleeping bags are quilt-through constructed, meaning that they sew and combine more than one layer of fabric to result in the thick bags we buy. The sleeping bag is made from polyester taffeta, a UV resistant material with low retention of moisture. This aspect ensures that it dries fast. It is made up of a breathable fabric that guarantees that comfort is maintained throughout the night. It is designed with the ability to unzip to look like a blanket. Also, it contains a 2-way, self-repairing main zipper that provides versatile ventilation. This sleeping back is sized 66×26 inches, and thus big enough even for the tallest teenager. Also, if your girl loves cute sleeping bags, then the moose pattern of this bag will do.
Wenzel Moose 40 Degree Sleeping Bag - Pink
LET'S GO CAMPING: With a fun and colorful Moose pattern, this 40-degree sleeping bag will help get any child in the camping spirit. Quilt through construction with Insul-Therm fill will keep kids warm and cozy, and the bag unzips to convert to a blanket.
FEATURES: Self-repairing 2-way main zipper offers versatile ventilation; fully unzips and converts to blanket; breathable fabric maintains comfort through the night; soft polyester insulation locks in warmth
SPECS: Size: 66 inches by 26 inches, Weight: 3 lb 2 oz, Material: 190T Poly Taffeta, Fill: Soft polyester insulation
---
PROS:
Comes with a 10-year warranty;
Comes with a bag thus making it easy to store and tote;
High ratings on Amazon and majority positive customer reviews;
Relatively cheap.
CONS:
The blue bag comes with the print 'boys sleeping bag.
Coleman Plum Fun 45 Youth: a Mild-Temperature Sleeping Bag for Camping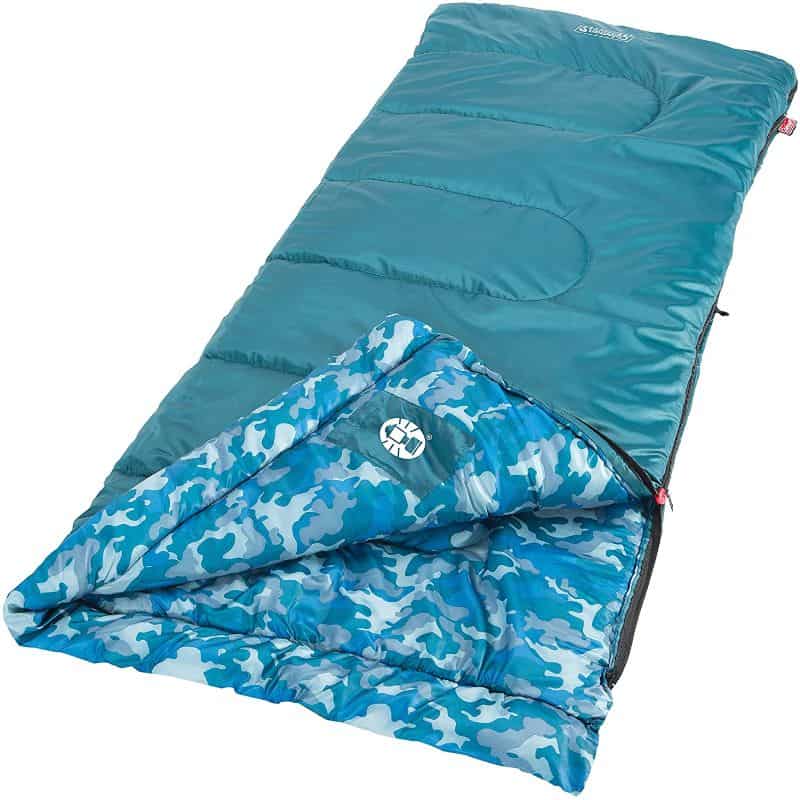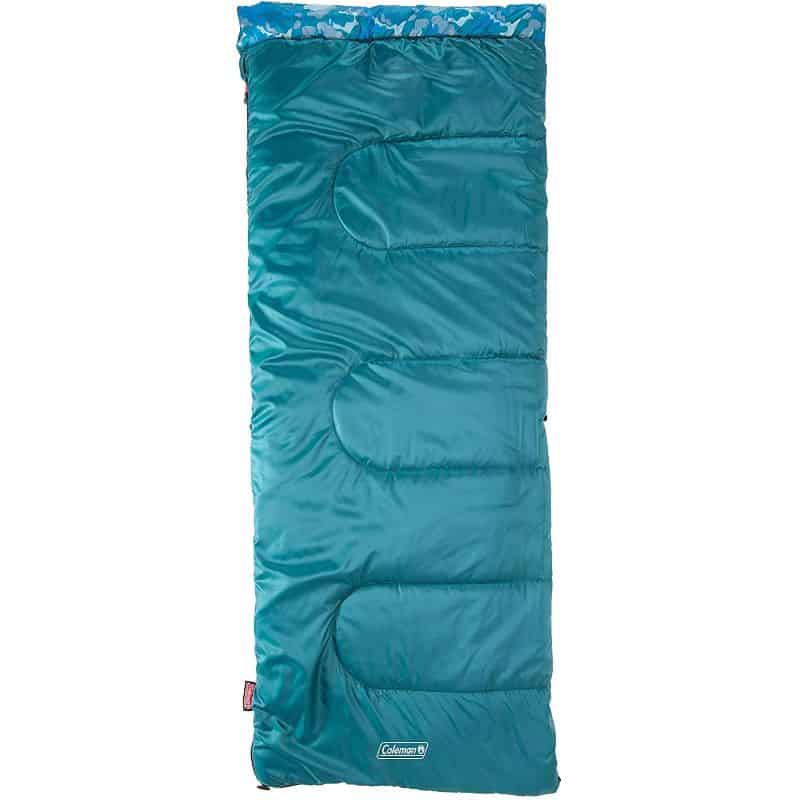 A product by Coleman, Plum fun youth sleeping bag is appropriate for camping in mild temperatures of approximately 450F. It is characterized by a ThermoTech insulation responsible for keeping kids warm, a comfort cuff made of soft fabric surrounding the face to provide extra comfort, and a fitting interior pocket for storing items such as a flashlight. It is designed with a two-way zipper system that ensures the fabric is plowed away from the zipper, thus avoiding hitches and snags. This sleeping bag measures 13.80 x 8.30 x 8.30 Inches, making it ideal for accommodating kids up to 5 feet 5 inches tall. It has a roll control design that makes it easy to pack as it can roll quickly, comes with a stuff sack for easy storage or transportation, and is easy to clean.
Coleman Kids Camo 45 Youth Sleeping Bag
Youth sleeping bag for camping in mild temperatures as low as 45°F
Can accommodate children up to 5 feet 5 inches tall
ThermoTech insulation and ComfortCuff help keep kids cozy
---
PROS:
Has an interior pocket;
Comes in bright colors and cute designs that attract girls;
Long, thus able to accommodate tall kids;
Comes with a bag for storing and transportation;
Easy to wash.
Wildkin Kids Original Sleeping Bag for Boys and Girls: a Perfect Choice for Sleepovers 
I would recommend this sleeping bag for an indoor nap as the one that teenagers have at sleepovers. This original sleeping bag by Wildkin has been designed using a blend of materials, precisely cotton, and polyester. The polyester fabric ensures that the bag is strong and elastic, while the cotton makes it soft and breathable. Together, these materials ensure that the sleeping bag is warm and comfortable. Each piece measures 66 x 1.5 x 30 inches, and thus long enough to fit any teen. Additionally, if you are looking for girls sleeping bags with pillow, then this is a perfect choice. However, the size and thickness of the pillow are relatively small and flat. What I like most about this sleeping bag is that it matches with other gears for kids such as lunch boxes and backpacks. Also, it comes with elastic storage straps and a bag that makes it easy to carry and store. Remember that Wildkin is well known for quality products.
Sale
Wildkin Kids Sleeping Bags for Boys and Girls, Measures 66 x 30 x 1.5 Inches, Cotton Blend Materials Sleeping Bag for Kids, Ideal Size for Parties, Camping & Overnight Travel (Big Dot Aqua)
SNOOZE HAPPY – Drifting off to sleep during nap time is a breeze when your child is snuggled up in our Wildkin's sleeping bag for kids. Each sleeping bags for kids measures 66 x 30 x 1.5 inches and is perfectly sized for keeping your little one cozy. Super comfy camping sleeping bags design, your little one will love these sleeping mats as their new favorite. Your kids' naptime will be that much sweeter when they're tucked inside the backpacking sleeping bag.
SUPER SOFT MATERIALS – Wildkin's toddler sleeping bags are made from a super soft blend of microfiber and polyester materials. The sleeping bags for girls and boys are oh-so-cozy and keep your little one extra warm whatever the climate may be. Whether they're cuddled up on their cot for a daycare snooze or hunkered down in the living room for a blanket-fort campout, these boys and girls sleeping bags are sure to keep your child ultra-comfy.
TRAVEL-FRIENDLY DESIGN – Naptime can happen anywhere with Wildkin's sleeping bags for adults and kids! Each sleep bag features a roll-up design, with elastic storage straps, and coordinating drawstring-close storage bag. The lightweight sleeping bag travel-friendly design makes it easy for your little one to take their kid sleeping bag to-and-from daycare, preschool, sleepovers and more.
---
PROS:
Soft and warm;
Easy to roll;
Different vibrant colors and patterns to choose from;
Matches with other Wildkin gears such as backpacks and lunch boxes.
CONS:
The pillow is too small and flat to be comfortable.
Wenzel Summer Camp Rectangular Sleeping Bag: Sleeping Bag for Teenager, Rated 400
This is another cozy and warm girls sleeping bag. This is specially designed as a summer camp bag with quilt-through construction and insulation to ensure that teen users are kept warm and comfortable. It is designed as outdoor gear, and thus appropriate for camping and backpacking. It is made from high loft polyester fabrics, ensuring that it is not allergenic to your girls. Additionally, these materials are professionally blended to make a durable piece. What I like most about this sleeping bag is that it has a drawstring hood. Your girl can, therefore, use this for additional warmth by tightening it desirably. Better yet, it has a dual zipper that gives it flexible ventilation and a stuff sack for easy transportation and storage. However, the stuff sack is relatively small, making it difficult to fit the sleeping bag back in after use.
Sale
---
PROS:
Warm and cozy even in the outdoors;
Made with 100% non-allergenic materials;
Has a drawstring hood for extra warmth;
Dual zipper for flexible ventilation;
Relatively cheap.
CONS:
The stuff sack is too small and thus difficult to roll the bag enough to fit inside.
Coleman Autumn Trails Sleeping Bag: Rated 30

0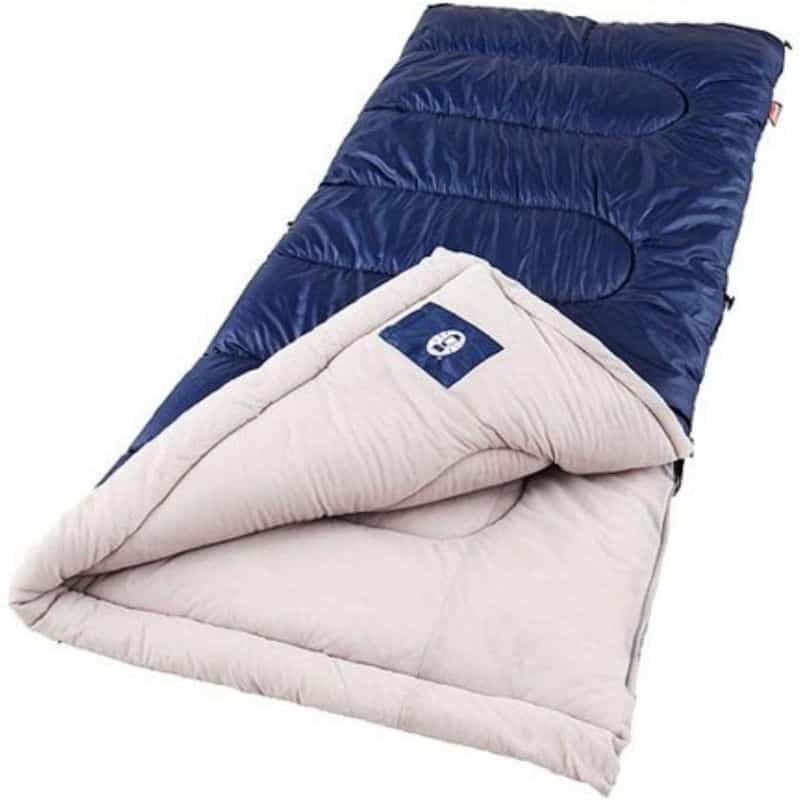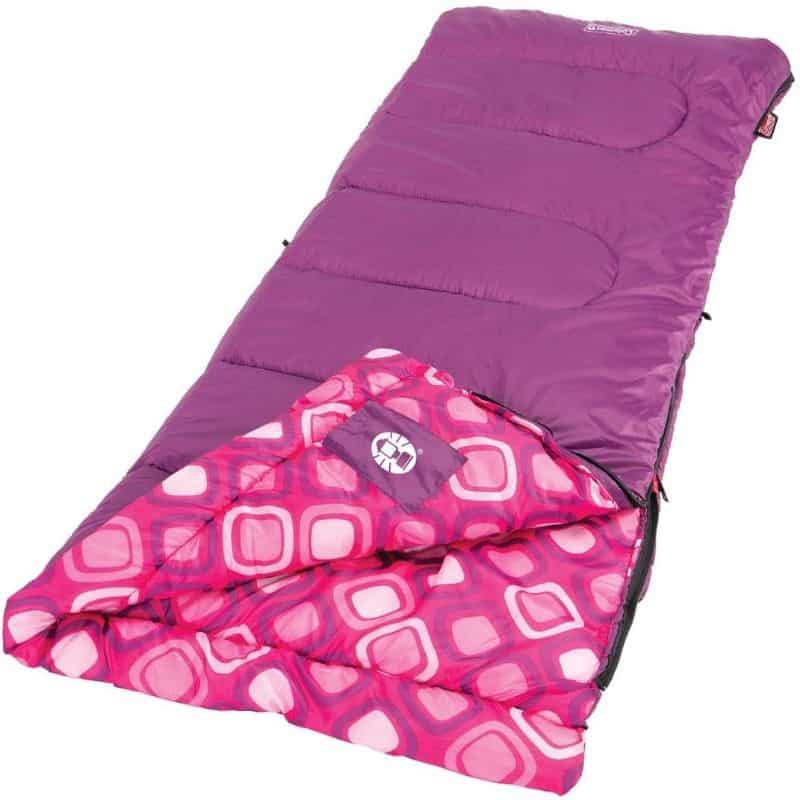 If you need a gear that keeps you warm when it is down to 300 F outside, then Coleman Autumn trails sleeping bag is what you need. The warmth is ensured by the slumber bag's design, where the zipper is surrounded by a draft tube as a way of locking warmth in and reducing heat loss. The bag has a cotton-feel, giving it softness. Adding to the comfort from the softness is the plush fabric at the bag's edge to ensure that the area close to the face is soft and comfy. What I love about Coleman's gears is their zip plow strategy of ensuring that the zip closes and opens without difficulty, and Autumn Trails sleeping bag is not an exception. When zipping, the fabric is pushed away from the zipper's teeth, and thus it is impossible to experience snagging issues. Better yet, the bag comes with a packaging bag with a handle. You just have to wrap and roll the bag to ensure that it fits in the packaging bag. Although this sleeping bag is fit for outdoor activities, it is large and bulky. So, it would be difficult to carry it around for activities such as hiking. Therefore, I would recommend it as a car camping gear. Additionally, the packaging bag is relatively small, and it becomes a challenge to wrap and roll the bag enough to ensure a good fit.
No products found.
---
PROS:
Has a thermo-lock design that provides reduced heat loss, thus ensuring warmth;
Soft and comfortable;
Perfect as a car camping gear due to the large size that makes it easy to transport in a car;
Zipper system ensures no snagging issues.
CONS:
The stuff sack is too small and thus difficult to roll the bag enough to fit inside;
Too large and bulky for backpacking.
Wenzel Backyard

Girls Sleeping Bag

: a Three-Season Gear 
Like all Wenzel's sleeping bags, Backyard Girls slumber bag has a quilt through construction to ensure that it is warm enough even when temperatures are as low as 300 F. However, according to my experience, the bag suits these temperatures when being used indoors. Alternatively, you have to wear heavy clothing when outdoors before using this bag. In its design, it has an in-built pillow that supports your head perfectly. Additionally, it has a drawstring hood that offers extra warmth in colder nights. Like other Wenzel little girl sleeping bags, it is soft and cozy. Its dual zip system ensures flexibility in ventilation. Lastly, this sleeping bag comes with a stuff sack containing long straps that can be used to carry it at the back. This makes it easier for girls to carry.
---
PROS:
Warm, soft, and cozy;
Has a drawstring hood for additional warmth during cold nights;
Has an in-built pillow;
Comes with a stuff sack.
CONS:
The 300 temperature rating is quite misleading as it is not as warm.
Gilbins Plush Ultra-Soft Fleece Sleeping Bag Blanket: an Indoors Gear
This sleeping bag has a soft, warm fabric with a wooly exterior. It is made of ultra-soft polyester material. It is a perfect teenage girl sleeping bag choice, especially for indoor activities such as parties, car trips, and sleepovers. The thing I love about this bag is that it is thick enough for colder nights and at the same time, adequately lightweight for warmer temperatures. It is, therefore, appropriate for all seasons as long as it is used indoors.
Plush Ultra-Soft Fleece Snuggle-in Sleeping Bag Blanket for Lounging On The Couch (Unicorn)
This fleece-like sleeping bag is ideal for snuggling in to, while the plush crust makes the perfect finishing touch.
Not just for lounging on the couch, this blanket is also great for sleepovers, parties, gifts, camping, and car trips! The weight and fabric provides enough warmth in the winter, yet is breathable in the summer, for a perfect year-round necessity.
175 CM 69" Approximate Length
---
PROS:
Can be used indoors throughout the year;
Has a fleece-like touch;
Appropriate for indoor activities such as relaxing on the couch, parties, sleepovers, and car trips.
CONS:
Not appropriate for outdoor activities.
3CA4G Golden Hearts: Sleeping Bag Made of 100% Polyester 
This is another viable choice for indoor activities such as slumber parties, watching TV, and sleepovers. It is made of 100% polyester fabric. In the exterior, it is made with velour, a wonderfully soft-to-the-touch textile, and lined with a silky coat. This ensures that the sleeping bag is super soft. It comes with a zippered package containing handles, and thus is easy to carry and store. It measures 30 inches by 66 inches. However, this sleeping bag is relatively expensive and quite unpopular in Amazon purchases; that is why it's difficult to confirm its effectiveness based on customer reviews. Based on my own experience, it is a durable product that will ensure you that your teenage girl is comfortable indoors.
---
PROS:
Super-soft and comfortable;
Comes with a zippered bag with handles;
Strong and durable due to 100% polyester fabric.
CONS:
Not a popular purchase on Amazon;
Expensive.
Wildkin Kids Stay Warm Sleeping Bag for Boys and Girls: with Contoured Hood 
This slumber bag measures 27″ x 67.5″ and is temperature rated at 300 F.; its outer coat is made of polyester that is water-resistant to ensure that your teenager is kept warm and dry. The bag is multi-needle quilt constructed to form a twofold layer, which provides warmth. To ensure that your girl feels warm during those extra chilly nights, it is fitted with an effusively adjustable contoured hood. Like other Wildkin's napping bags, it has a dual and self-repairing zipper. Its design matches that of its stuff sack and other Wildkin gears for children. I would recommend this bag for teenagers who are not taller than 5'2″ as this is the ideal height comfortably supported by this bag. Although this bag comes with so many good characteristics that you would consider when choosing a sleeping bag, it also comes with a safety warning. It contains carcinogenic chemicals and substances known to cause birth defects and reproductive harm.
Wildkin Kids Stay Warm Sleeping Bag for Boys and Girls, Perfect Size for Slumber Parties, Camping, and Overnight Travel, Sleeping Bags Measures 67.5 x 2 x 26.5 Inches, BPA-free (Pink Leopard)
SNOOZE HAPPY – This roomy, plush sleeping bag keeps little ones warm and content during daycare snoozes and slumber parties. Need to keep something close? No problem, this sleeping bag has an interior pocket for stashing away valuables while you catch some z's. Wildkin's Stay Warm Sleeping Bag measures 67.5 x 2 x 26.5 inches and comes complete with an adjustable contoured hood and matching storage bag.
SUPERIOR QUALITY – Premium fabric makes the Stay Warm Sleeping Bag as durable as it is comfortable. The high-quality microfiber fabric provides optimal cushion and breathability while the special water-resistant coating makes sure your little one stays warm and dry.
BOLD PATTERNS – Wildkin's Stay Warm Sleeping Bag is not only one of the best options on the market, but each pattern offers an exciting and bold look that makes it fun to carry around. Pick your favorite color or let your little one select a pattern with their favorite theme.
---
PROS:
Made of a water-resistant polyester cover;
Has an adjustable hood;
Comes with a stuff sac.
CONS:
Not a safe product as it contains chemicals recognized as carcinogens and that cause birth defects.
Hasbro My Little Pony Slumber Bag: with a Pillow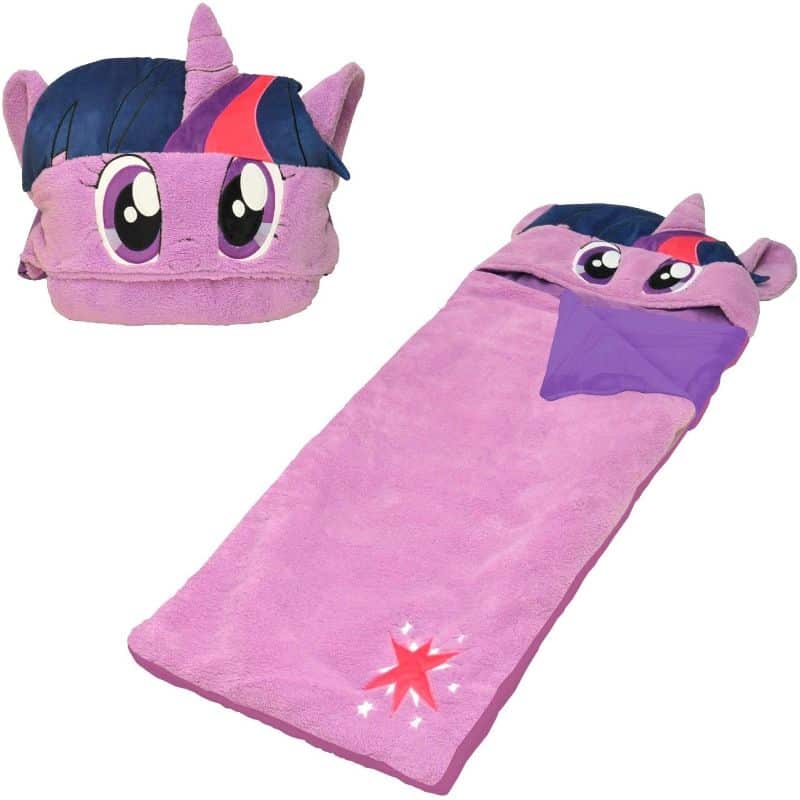 If you are looking for a sleepover gear for your kid, then this is a perfect choice. Hasbro My Little Pony nap bag is specially designed for indoor use. It is washable in the washing machine and comes with a soft and cozy pillow. Its design and colorful graphics, coupled with soft silk feeling, will surely impress your girl.
---
PROS:
Comes with a soft and cozy pillow;
Machine Washable;
Cheap.
CONS:
Not suitable for use outdoors.
Teen Sleeping Bags

: Final Remarks 
Teenagers need to feel that they are loved and cared for. One way to do this is by knowing what they need and providing for them. Knowing the kind of slumber bag that best fits their needs and preferences is therefore essential. Considering that girls are generally choosy, you have to keep in mind the different types, designs, and appropriateness of slumber bags for different occasions when making a purchasing decision. In this article, I have reviewed 10 different types of slumber bags and outlined their main features plus cons and pros to aid in your decision making. 
If you are looking for cheap sleeping bags for girls then you have the options above to choose from. Before making your choice, consider the bag's fit, temperature rating, insulation, zips, fill, shape, and weight. All these are discussed in each of the products reviewed. Consider which features are important to you and your teenage girl and make the right choice. Or would you rather purchase an expensive sleeping bag only to realize that it does not solve your girl's needs or preferences? Remember that an appropriate slumber bag can make all the difference to a relaxing night's sleep, whether the teenager is at a sleepover, camping outdoors, or on a car trip. Do you have any additional comments or questions? Feel free to leave them in the comment box.