Travels I've been through made me recollect tons of mythology. Especially in the mountains where I often subconsciously expect to meet a troll or find a dwarf village. The character I recollect the most often, though, is Prometheus. Pro, met he us and brought the fire down to us. And when I light a stove that's with me, I feel like I possess a part of that titanic power.
So, let's see the one-burner stoves in store and select the best one with these single burner camp stove reviews. It should be easy to carry and to light up, to refill, and to protect its fire from wind and humidity. A stove is designed to cook on it, but it also brings you light and warmth when you can't afford a campfire. In the end, it will stand between the wild and the human. So take it seriously.
What is the best gas stoves for camping?
In my opinion, one of the best gas stoves for camping is the Coleman Portable Propane Gas Stove with adjustable burner. It has a good rating of 4.7 out of 5 based on almost 6 thousand reviews. It also has a low price and light weight.

Amazon Bestseller
Which Single Burner Outdoor Stove to Take With You
While double burners are obviously a good option for an outdoor evening in your yard, they are excessive if you're traveling, even with a party. Single burner stoves are smaller and lighter; if you're doing backpacking traveling afoot, every pound or inch matters. Some of them are even meant for mounting on top of a propane tank that serves as a base for it.
A completely different sort is required when you go outside just in your own backyard or away but not far. Productivity over portability, these stoves are stable and sturdy, big and powerful, and thus not meant for carrying. Instead, they provide enough heat to cook for large parties, substituting for home or restaurant stoves.
Coleman Portable Bottletop Propane Gas Stove with Adjustable Burner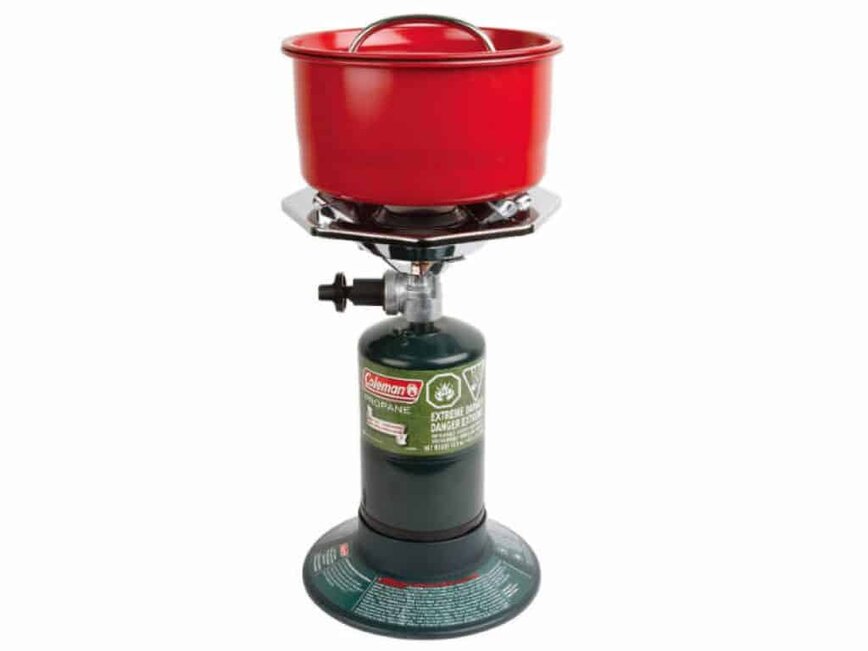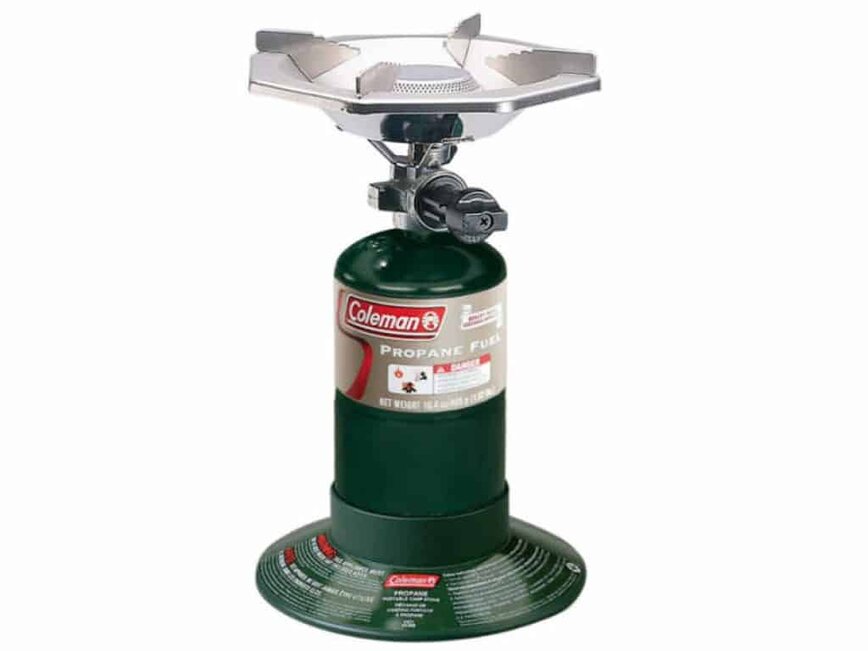 Established in Mississippi back in the 1950s, Coleman is now among the most prominent American manufacturers of camping equipment, including stoves. Its model with an adjustable burner is considered by some to be the best single burner camp stove around. Utilizing a replaceable propane tank, it's optimal for outside venturing. Despite no windshield, it's mostly stable enough even in the wind.
As this stove is installed right upon the tank, it's one of the most compact types. It comes with a base to put the tank upon, so it stands stable on any firm surface. The stove weighs under 2 pounds, and together with a tank, it's roughly 3.5 pounds. As for dimensions, it makes no sense to measure a propane tank camp stove by its own. Formally, it's 6.62″ x 7.81″ x 7.75″, plus the tank.
The power of the burner is up to 10,000 BTU; still, rarely will you need all of it. Most dishes require middle or even low fire; that's when adjustability comes to the rescue. The pressure regulator is easily accessible right under the burner, and its handle is big enough for such a compact device.

---
PROS:
Compact size;
Adjustable power;
Up to 10K BTU;
A burner large enough for an 8-inch pan;
Long lasting.
CONS:
Requires standard propane tanks;
No windshield.
---
GasOne Portable: A Single Propane Stove for Cooking Big
Though Gas One operates on the U.S. market, the company never mentions the year or the state it's been established in. Nevertheless, the products are quite a on-demand, with only a few complaints about quality. So why not?
The single burner propane camp stove it offers is sort of the opposite to the previous one. Its freestanding construction is meant to be installed away from tables.
Its weight (17.9 pounds) and size (6.2″ x 6.2″ x 11.22″) make it a poor choice for venturing into the wild. But if you're having a party somewhere a mile away from your home, or in your own yard, that's the choice.
Its power is ten times that of the tank-based one: 100,000 BTU! A terrifying one for a portable stove, but great for a static one. Whatever you want to fry or boil, this large single burner propane stove is strong enough for that.
Its construction is rather stable than portable, with sturdy metal legs and connectible gas tanks of any capacity hint that it's great if you're not going to leave soon.

---
PROS:
Up to 100,000 BTU;
Compatible with various gas tanks, pans and pots;
Safe built-in regulator;
Detachable and adjustable legs;
Sturdy metal construction.
CONS:
Not the option for getting far from home;
Heavy.
---
Concord Banjo Single Burner Stove: The Heat Is Strong with This One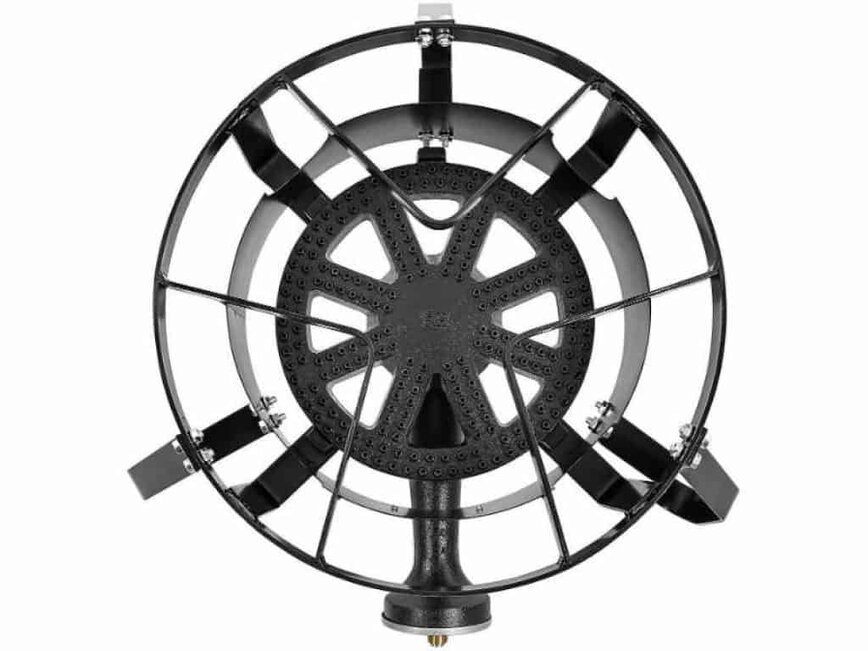 This is one single propane stove for big parties!!! Concord is well known for its kitchen equipment, both for home or HoReCa use. This freestanding stove, looking portable, possesses the powers of a professional restaurant analog, generating heat up to 200,000 BTU!
Its size is optimized for large pots and pans, weighing up to 400 pounds — so if you call a thousand people to your party, you'll need equipment like this.
Obviously, this stove is meant to use at your house. It's quite big — 16.5″x16.5″x12″ (16.5″x16.5″x24" with legs connected), its weight being 20 pounds. And it will consume great lots of propane to do this big cooking. You don't have to use all of its heat abilities, of course. The hose and the PSI regulator are included. Still, it makes no sense to connect such a powerful monster to cook for yourself or for a little group of people.
Purchasing it makes sense if you're holding big outdoor parties constantly or at least frequently. Then it will pay. Otherwise, you better settle for a simpler model. And, once again, it's not for touristic use unless you've invited everyone from your neighborhood.

---
PROS:
Sturdy and heavy built;
Extraordinary heat abilities;
Handles big pots and pans;
Connectible to different tanks (with adapters);
Decent flame control.
CONS:
Propane consumption is indeed high;
Excessive for touristic use.
---
Coleman Camping Stove: Table Top Camping Stove with Best of Both Fuels
And here comes Coleman again. This model of one burner propane stove is portable, but there's no need to mount it on top of a propane tank. Meant for backpacking trips, it delivers 10,500 BTU at maximum power. Of course, it's adjustable with a special knob.
Unlike another one by Coleman, this tabletop camping stove has its own base and can be taken to a backpacking trip. The dimensions are just 6.44" x 7.25" x 7". It has no legs of its own, just a solid round base, so it needs a place on an improvised table to function. The tank is carried separately, though.
But the most attractive thing about this burner is its Dual Fuel system, made for the device to work with either generic unleaded gasoline or trademarked Coleman Liquid Fuel. Either option is available, so it's all the matter of taste and experience to select, but even if you have made your choice, a chance to change it is still great. A spoiler: a so-called white gas by Coleman works better.
The only flaw that will matter regardless of the scenario is that it's quite heavy. Yes, 3 pounds may seem insignificant compared to a 20-pound giant by Concord. But if you're intending to walk the way on foot, an under 2-pound alternative is quite tempting.

No products found.
---
PROS:
Portable size;
Dual Fuel system;
High-quality materials;
Very durable;
Fuel is easy to find.
CONS:
Only fits smaller pans (up to 6");
Quite heavy for its size.
---
Bayou Classic High-Pressure Cooker: One Burner Propane Stove to Rule Them All
Here is one more brand that you probably know. Bayou produces various kitchen and outdoor equipment and cookware of all sorts. Its motto is "Make your back yard your wildlife refuge!", and if that's what you're about, you probably have an item or two by Bayou.
If you're searching for a heavy-duty single burner propane stove, this one is worth a look. The look, though, will take a while: the cooker is 18" x 18" x 13", at 13.01 pounds.
Not such a monster as the one by Concord above, it's still big enough for a 14" pan or pot to cook on (though, alas, too flat to place a wok on it). The heat it provides reaches 57,000 BTU; though it's not the record value, it's more than enough for the cooking you may need. And if you need less heat, there's a regulating knob for that.
Along with the burner and the legs, this one has a windshield that protects the fire all around. In the previous model propane camping stove, the air control shutter was secured with screws; in the latest version, they are replaced with a spring.

Sale
---
PROS:
Lightweight model;
Powerful for stationary use;
Easy to assemble;
360-degree windshield;
Great for big cooking
CONS:
Too flat for using with a wok;
Sometimes needs an extra windscreen.
---
Camplux JK-SL21: A Heavy-Duty Single Burner Propane Stove
A vendor from Charleston, SC, is well known for its various heatwave. Along with water heaters, it produces grills and stoves it's also popular for. This one is a freestanding monster of a stove that generates a great 200,000 BTU! This number alone reveals that it's not the one for backpacking. On the other hand, it's a great option for outdoors in your (or your neighbors') yard. It's powerful enough to boil a 400-pound pot of water – as well as fry, roast, and so on. It takes just three seconds for the device to reach the full heat-up.
Its own weight is 24 pounds, the dimensions being 15.75" x 15.75" x 28.8" with legs on (they are removable and adjustable, so you can position the stove lower). This mass of cast iron is not to be carried far. In addition, it requires quite a lot of white gas that also has to be carried.
This single burner outdoor stove can be the perfect option if you hold really big parties or go into homebrewing and stuff that requires lots of boiling and brewing operations held outdoors. All the accessories like the hose for gas tanks are included.
The portable camping stove is protected against all the dangers of the outdoors. Its coating is waterproof and antirust, making the cast steel invulnerable (though you better heat it up first to burn away the paint that can burn). The sturdy construction is hard to harm – and still harder to carry.

---
PROS:
A heavy-duty model;
Gas leak protection;
Up to 200,000 BTU;
Compatible with various pans and pots;
Reasonable price.
CONS:
The paint needs to be burned away first;
Not that portable.
---
Basecamp 1 Burner Angle Iron Stove: A Propane Single Burner to Last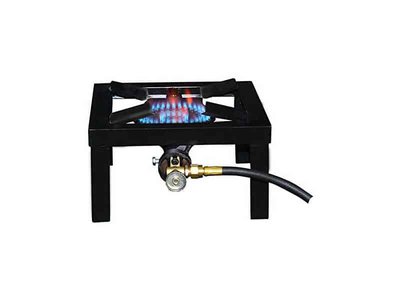 Actually, this vendor is named Enerco, BaseCamp (as well as maybe familiar to you Mr.Heater) being its subbrands. Operating from Cleveland, Ohio, it's one of the major players on the gas and gas accessories market. BaseCamp is its trademark for recreational kitchenware and equipment.
As for BaseCamp 1 Burner Angle Iron Stove, it's made (as the name suggests) of angle steel; that's advertised as a technology that grants better durability.
Really, it's love at a first touch: as you touch these thick rugged legs and ribs, you feel how sturdy the entire construction is. And, given its size, this portable propane gas stove single burner is a tourist rather than backyard equipment. Legs are adjusted separately, so even if the ground is curvy, it's possible to install the stove.
Unlike most rivals that remind of a pot hanging over a campfire, this one looks rather similar to home equipment. The dimensions are 14.88" x 10.55" x 3.54", that's quite compact. Nevertheless, it feels rather heavy at 4.95 pounds. Given its size, its heat capacity is decent at 15,000 BTU. That's rather little when compared to others unless you're afraid of overcooking.
There is a built-in knob for heat control. But it features no built-in ignition, so one has to use a match or a lighter. Neither does it come with a hose; you'll need to buy a compatible one separately.

---
PROS:
Quite compact and lightweight;
Compatible with various pots and pans;
Sturdy build;
Adjustable leg length;
Very affordable.
CONS:
No built-in ignition;
Comes without a hose.
---
Coleman PowerPack Propane Stove: A Single Stove Outdoor Cooker for Larger Pans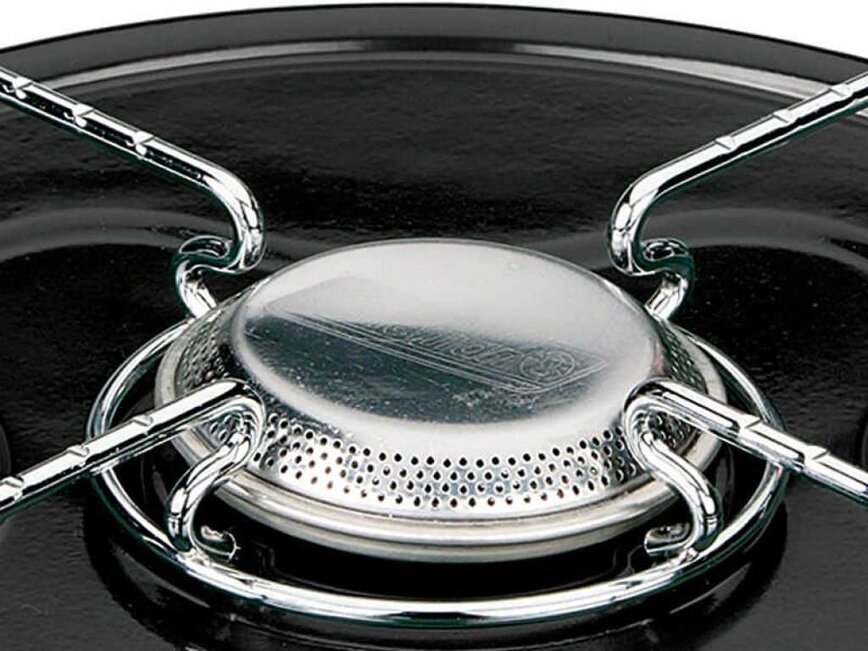 Yet another propane single burner stove by Coleman is called PowerPack. In fact, its power is way softer than that of other stoves by this vendor I've reviewed. Yes, it's more compact, lighter and smaller. But you pay with heat for it: it only generates up to 7.500 BTU.
Its dimensions are 12.5" x 13.4" x 4" – small indeed, and the weight is just 2.2 pounds – something halfway between the other two. The cooktop is made of aluminized steel, and the grates are nickel-chrome, greatly distributing heat so it's focused on our pot or pan.
The construction is strictly tabletop, with no legs to rest it on the ground. Its short hose keeps the gas tank at a small distance, so you have to be careful with the system. A generic 16.4-ounce propane tank provides up to 3 hours on maximum heat.
Though the device seems simple, it features some technologies that make cooking on it easier and better. For example, one named PerfectFlow provides constant heat by stabilizing the flow of the propane. Another technology named PerfectHeat optimizes the consumption of fuel. Finally, you can adjust the fire manually, though it goes unstable when low.
All in all, it's a decent option to buy if you like its feel. It is perfectly compatible with 10" pans and pots and can even handle a wok. Given its sturdy and stable construction, it's the best single burner propane stove if you need a compact one to handle large cookware. But it takes some time to get used to its specifics.

Sale
---
PROS:
Good for backpacking;
Compact size;
Stable heat;
Compatible with standard propane tanks;
Handles pans and pots up to 10".
CONS:
Only 7,500 BTU;
Unstable at low heat levels.
---
GasOne GS-3400P Propane or Butane Stove: Two-Fuel System
At first sight, this single burner outdoor cooker can look like a miniature tabletop vinyl player. Its design is rather pretentious, but it suddenly works if you put the aesthetics first.
Its big rectangular base looks like that of a pre-digital era audio device, with ignition and a regulator positioned just that way, and it seems like there are tonearms above the fire. The dimensions of it are quite small, though: 13.5" x 11.2" x 4.4″, at 3.1 pounds, which makes the device very portable.
Associations aside, the next best thing about this stove is its compatibility with two types of fuel, both propane and butane. It's compatible with 8-oz butane and 16.4-oz propane tanks, so it's enough to take this small one if you're out for a day or two.
The butane canister is installed right into the stove; the propane tank needs to be connected with a hose. You don't need to switch between the two (like you do when you connect an electric device to a socket with different voltage).
The controls include a heat regulator (that looks like a volume fader) and a piezo-electric ignition button that also seems borrowed from the 1950s' electrics. As for its power, it reaches 8,000 BTU, enough to cook on a small pan or in a small pot.
The stove comes with a hose; it's quite short, so you should be aware of keeping the tank safe. There is also a regulator that should be connected if you use propane. Safety systems also include the mechanism that ejects the cartridge if the pressure gets unstable. It will also stop the gas flow. If there is no flame, the flow will be blocked by the flame supervision system.
As neat and nice as it is, I must warn you that this one can sometimes go wild. As for reported incidents, they include gas leaks, explosions, regulator failures, and so on. Some of them may be caused by inappropriate handling, but still, defective items happen.

---
PROS:
Unusual design for its sort;
Portable size;
Compatible with butane and propane;
Advanced safety;
CONS:
Not the most portable one;
Nearly catastrophic failures reported.
---
Camplux Dual Fuel Camping Stove: A DJ Type of Single Burner Gas Stove
I have already pointed out a stove by Camplux; here is another one, and, like the previous one by GasOne, it's compatible with both propane and butane. Though, in fact, its design is similar to that of GasOne GS-3400P, it looks more like a regular piece of kitchen equipment, but not only that. Musical associations remain, but this one looks like a professional club player rather than a home one. How about getting two of these and cooking like a DJ? Its tabletop design looks exactly like that.
As for dimensions, they are way larger: 13.2" x 11.6" x 3.5" inches. So is the weight, just 3.53 pounds. That makes the device just as portable. You will have to take fuel with you as well, and you'll be good with the same 8-oz butane and 16.4-oz propane tanks. One tank of butane provides about two hours of cooking at the maximum heat.
Similarities aren't over: the piezo-electric ignition button and the heat regulator are positioned on the front surface the same way. Its wind protection follows the same pattern as that of GasOne GS-3400P. In fact, choosing between these two is a pure matter of taste. This one comes in pure black or in a combination of black and blue colors.
The heat output reaches 7,200 BTU; it's the smallest result throughout our reviews, but still, it's quite decent to cook in a pot, a pan, or a wok on it. The 360-degree wind protection doesn't let the fire go out under the outdoor winds. If nevertheless, it does, the protection system stops the gas flow.
The overall sturdy feel of this stove gives the illusion of absolute safety. In fact, though, the surface may melt because of overheating, and it's not the most dangerous thing that can happen.
So beware while using it. This happens rarely, so the device is worth purchasing. But if you're planning to go backpacking with it, you better run it four or five times in your yard to test it.

---
PROS:
Dual fuel system;
Compact size great for traveling;
Wind protection;
Stylish design;
Quite affordable.
CONS:
Can be dangerous because of fuel leaks;
Heavy.
---
Burn, Propane, Burn!
You have read probably a lot about various stoves—freestanding or tabletop, for backpacking or for backyard parties, propane-only or using butane as well. The heat they provide also differs, but less doesn't mean worse: it depends on your plans.
So, when choosing the best single burner camp stove for yourself, pay attention to the following aspects:
When and how often are you going to use it? If you're planning rare but big parties, you'll need a professional-class stove like Camplux JK-SL21 or its likes. For walking out into the wild, you'll need a portable one – select the one that you'll find the lightest or the most powerful.
Weight doesn't matter much for backyard parties: you'll either carry it within your own yard or use a car. What matters is its stability: you put a lot of work in that cooking, and it will be a disappointment to see it fail.
Dual-fuel ones are the best if you're out for long and don't know whether you'll run into propane or a butane tank in local stores. If you're mostly out for a day or two, select what you prefer for whatever reason (consider safer, find more comfortable, and so on).
If you had any sort of experience, good or bad, with any of those I have listed above and want to share it, I'd like you to leave a comment. Maybe you know some single burner camp stove I didn't mention, though it's worth your attention. Give it a few words then. And let the fire burn bright!
FAQ
Which is better butane or propane stove?
Propane stoves are better than butane stoves for all-seasons camping and high altitudes, while butane stoves only work well for warm weather camping and lower elevations.
Which is more expensive propane or butane?
There is no simple answer to this question because the price of propane and butane can vary depending on a number of factors, such as where you live, the time of year, and the current market conditions. However, in general, propane is usually more expensive than butane.
Which is safer indoors butane or propane?
In terms of safety, it is better to use propane rather than butane. This is because butane can be burned indoors with a little bit of ventilation, whereas propane can only be safely burned indoors if it is in an appliance that is specifically rated for indoor use.