I like to go camping safely, and my purpose is to help you get ready for professional camping and hiking and be aware of any situations that may occur. Hiking is not only about joyful walks but also about the obstacles that happen on the way.
People often do not think about thorough preparation for hiking or camping and choose items that turn out useless on the road. I suggest you make careful choices when it comes to things that are the first necessity for hiking. One of them being the best backpacking camp stove.
Hiking is an active walk in the mountains, and a portable stove may be needed less often than in camping with tents. Backpacking stoves may differ by their functionality, therefore, you should pay attention to every detail when choosing a stove exclusively for camping/hiking.
If you plan to combine these two types of activities, I advise you to choose the simplest stove to use. Camping stoves for backpacking are intended for use in any weather conditions. With it, you can cook, reheat food and make tea. I have selected 9 best models, reviewed them, and made the backpacking stove comparison. Every stove has slightly different purposes, so you can choose the one that suits your requirements.
Amazon Bestseller
Read the Reviews of TOP 9: Make Your Choice of the Best Camping Stove Backpacking
When choosing the best backpacking stove, you certainly should pay attention to such characteristics as energy-efficiency, fuel consumption, weight, continuous operation time, type of connection, as well as a range of additional functions. I will review the TOP 9 models and consider their main characteristics. Among them, weight, fuel type and its consumption, ease of use, as well as cooking and reheating time.
MSR PocketRocket 2: Ultralight, Quick, Travel and Backpacking Stove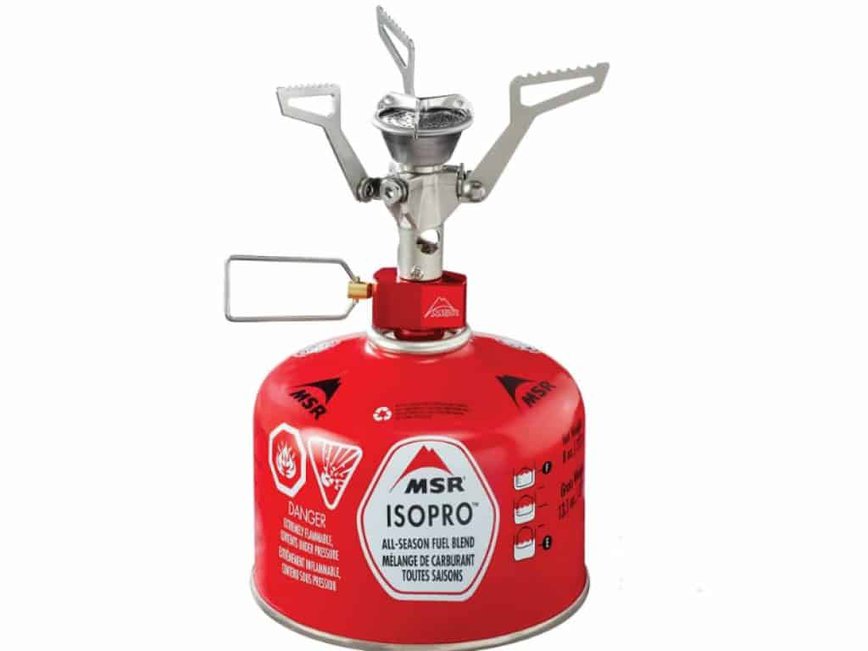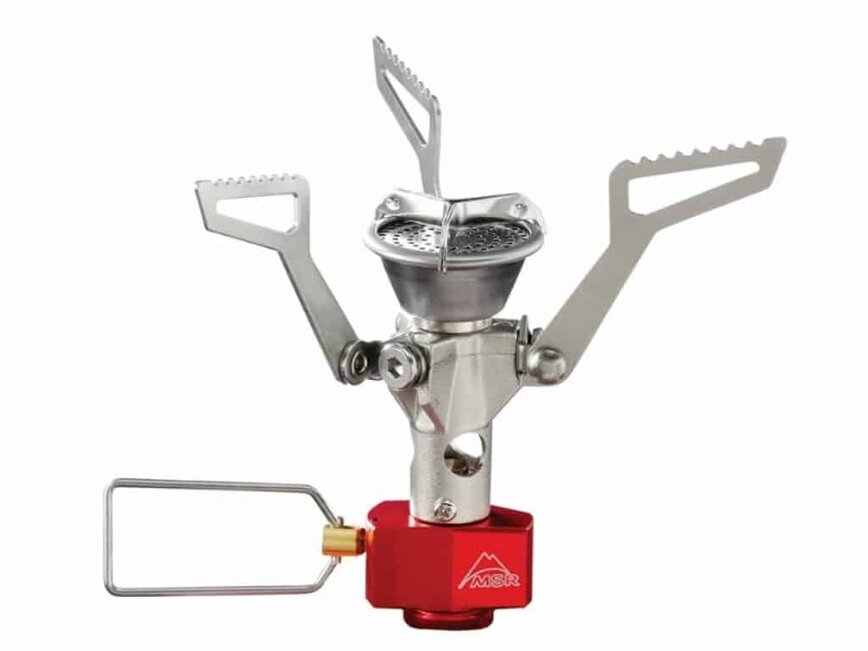 PocketRocket 2
camping stove is an ultra-lightweight device for your hiking
without stress. With its diminutive size and impressively fast boil times, this backpack burner has been the MSRs company best-selling hiking item for years.
It boils a 1-liter of liquid in just 3.5 minutes, which saves your time efficiently. When designing pot supports of the stove, the manufacturer reduced its pack size to create a tiny piece of high-performance equipment.
The improved pot supports of the PocketRocket 2 are stamped out of the durable stainless steel. They are intended for a wide range of pot sizes with greater stability. The pot supports also offer a grip for cooking the most delicious meals wherever you are.
This camping stove is adjusted for the windy weather thanks to the setup wind clip windscreen on the burner head. Wind can blow out one or even two sectors, and the stove will remain lit, minimizing wasted fuel. Precision flame adjustment allows you to go from torch down to simmer.
You don't have to preheat and pressurize the stove beforehand because it works instantly. Being incredibly easy to use, this compact camping stove is an ideal choice for first-time buyers. The fuel for MSR stove is isobutane-propane, which you can find in most shops across the country.

Sale
---
PROS:
Ultra-weight;
Boils for 3.5 minutes;
High-performance fuel canister;
Easy to operate;
Includes protective case.
CONS:
Package doesn't include fuel.
---
Solo Stove Lite: Portable Camping, Hiking and Survival Stove
The Solo Stove Lite is a great alternative to a fuel-based stove system for your hiking trips and outdoor adventures. This is a nature-friendly wood-burning and ultralight backpack stove. You can use sticks and twigs around you, which means having an unlimited fuel-wood source.
The air venting system of this stove is arranged smartly: thanks to the holes at the bottom of the device, the air flows through the body of the stove and feeds the fire. Due to this convenient system, you don't have to worry about the fire ceasing.
Solo stove works with windy conditions and snow. The material of the stove is durable stainless steel. There's a fast boil feature, which means the time needed for 32 fl oz of water to boil is 8-10 minutes for. It is an important feature to note if you consider making several stops for rest on your hiking trip.
The weight of this backpacking wood stove is only 9 oz which is great for carrying this device everywhere you want. A great companion for this stove is the Solo Stove Pot 900. Solo stove Lite is intended to be used by beginner backpackers, survivalists, and campers. This is a universal nature-friendly device that will make your hiking journey joyful and carefree.

Sale
---
PROS:
Compact size;
Works with three and more types of fuel;
Nature friendly;
Durable construction.
CONS:
Boil takes a little bit more time;
May seem heavy.
---
Jetboil MiniMo Camping Stove: Suits Any Type of Adventure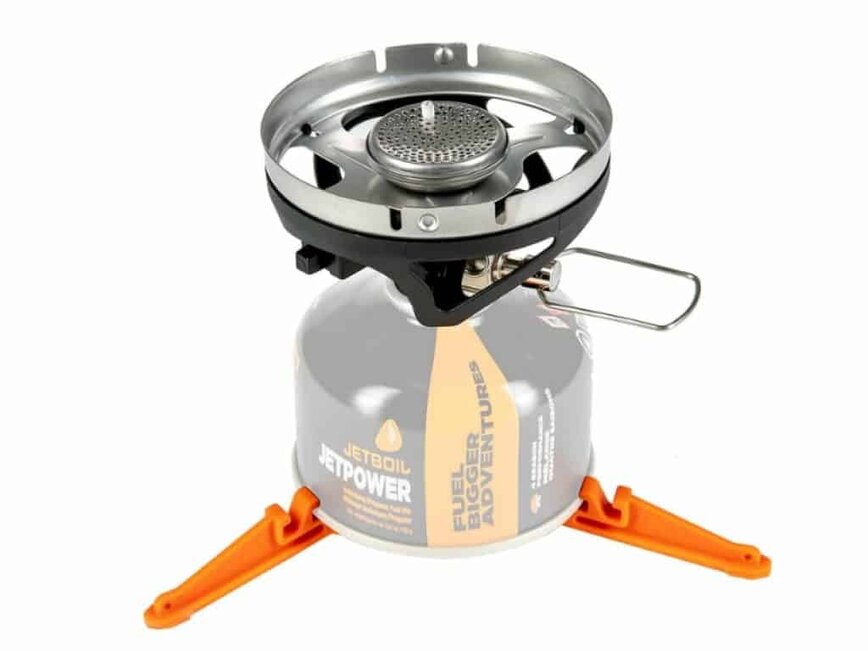 Offering the same technology that Jetboil is known for, the Jetboil MiniMo offers the incredibly quick boil times and ease of use with some added versatility. This camping burner includes the canister stabilizer and measuring cup which also doubles as a drinking cup. The fuel canister stabilizer provides a nice base that is going to prevent pour-overs if there's water or food on the stove.
MiniMo is perfect for those who are traveling somewhere in windy or stormy places. The thermal regulator allows the stove to perform well in hot or cold temperatures.
The Jetboil MiniMo obtains a simmer function to cook some great meals. It also has the integrated igniter so you don't have to bother about lighter anymore. The wide cup comes with the package and is well suitable for fast cooking food in or boiling water.
On the bottom of this portable hiking stove, you've got the Jetboil's flux ring technology which allows great heat distribution throughout the whole aluminum cup.
It allows the quick boil time for up to 2 minutes. The nice built-in windscreen allows the stove to perform well even in bad weather conditions such as wind, storm, or snow. The Jetboil MiniMo backpacking cook stove is perfect for any adventure, from an Alpine expedition to a small weekend trip.

---
PROS:
2 minutes boiling time up to;
Lightweight;
Has a fuel regulator;
Ultimate cooking;
Suits any type of adventure.
---
Soto WindMaster With Micro Regulator: Ultra Lightweight and Shock-Resistant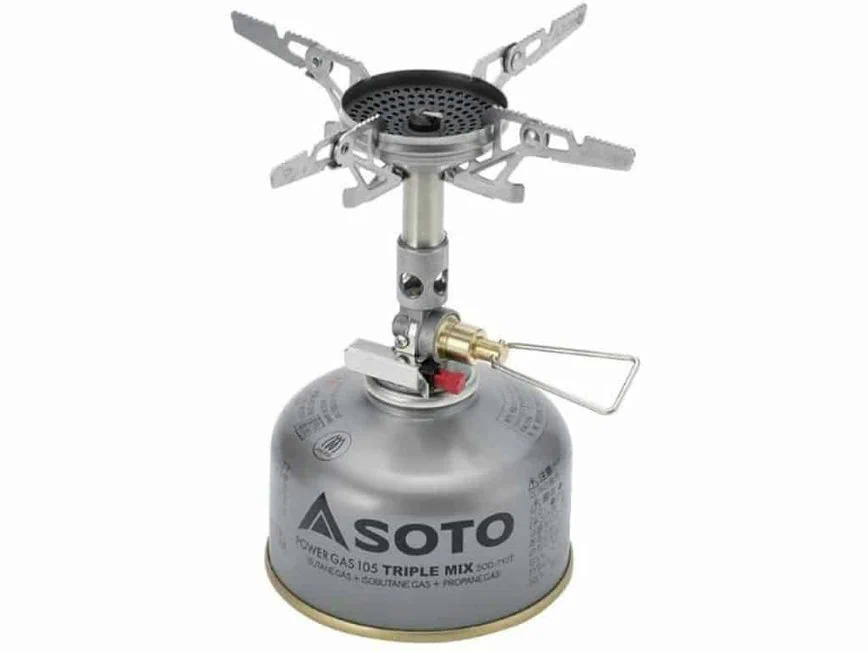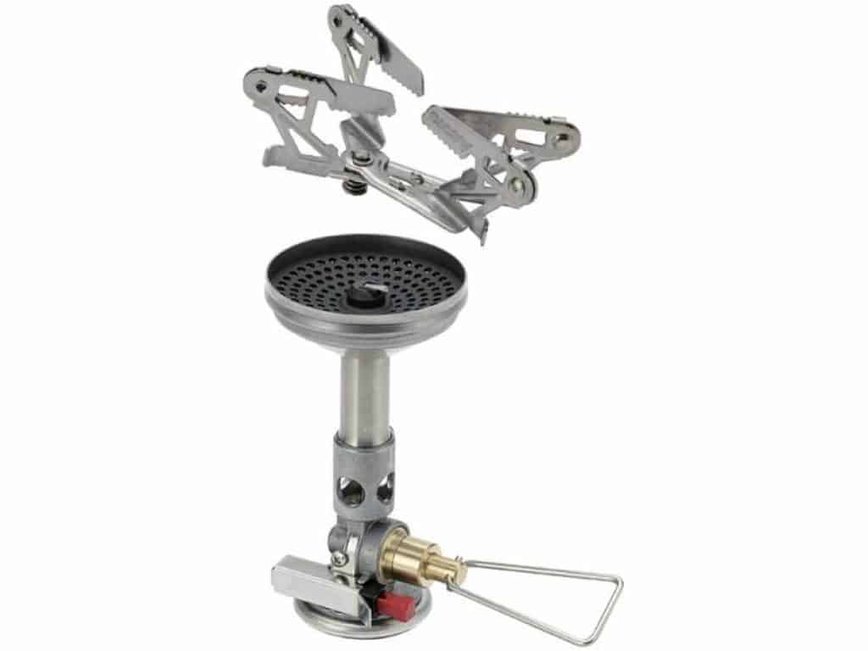 The Soto WindMaster best lightweight backpacking stove turns on instantly and has plenty of other great features. One of them is the concave burner head that creates a ledge around the burner and protects it from the wind. You can use it in any weather conditions, just mind the safety precautions.
The micro regulator gives a nice consistent flame. Soto WindMaster has an igniter to automatically start the stove, so you wouldn't bother yourself with lighter or matches.
What I consider nice about this best camp stove backpacking is two different pot supports included in the package. One of them is Tri-Flex three-prong pot support which is designed for smaller ultralight pots. One more is the four flex pot support for traveling with a lot of people as it is great for cooking large amounts of food at once. This stove is incredibly convenient for family hiking trips as well as for traveling by yourself.
The Soto stove is shock-resistant so you don't have to worry about its safety as much, and put it in any place you prefer. The boiling time takes less than 2.5 minutes for 2 cups of water. The Soto WindMaster takes the minimum time to boil and cook and this is perfect for the hiking trips.

---
PROS:
Works in any weather conditions;
Shock-resistant;
Compact size;
Suitable for large hiking groups.
CONS:
Doesn't include fuel canister
---
MSR WindBurner Personal Stove System: Fast Cookware Solution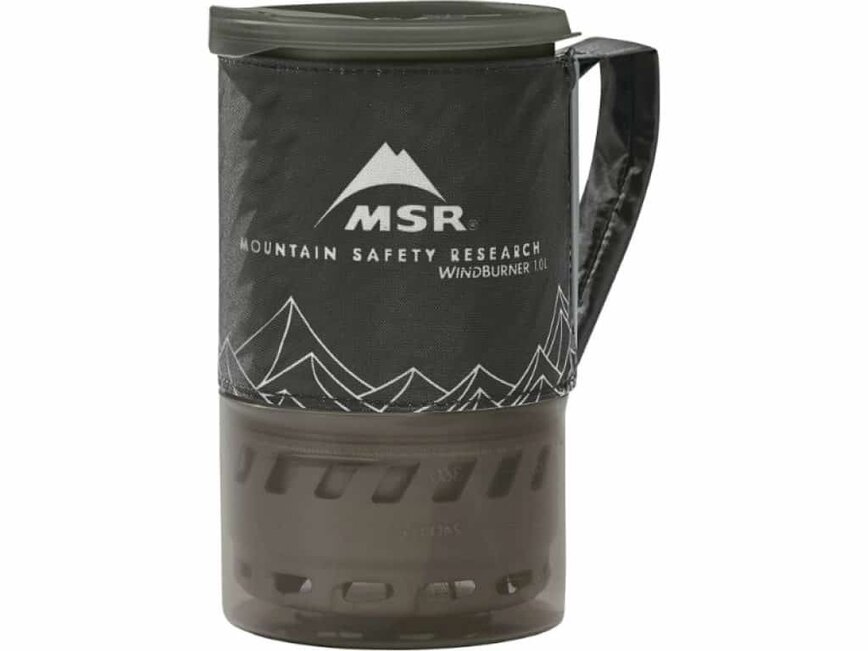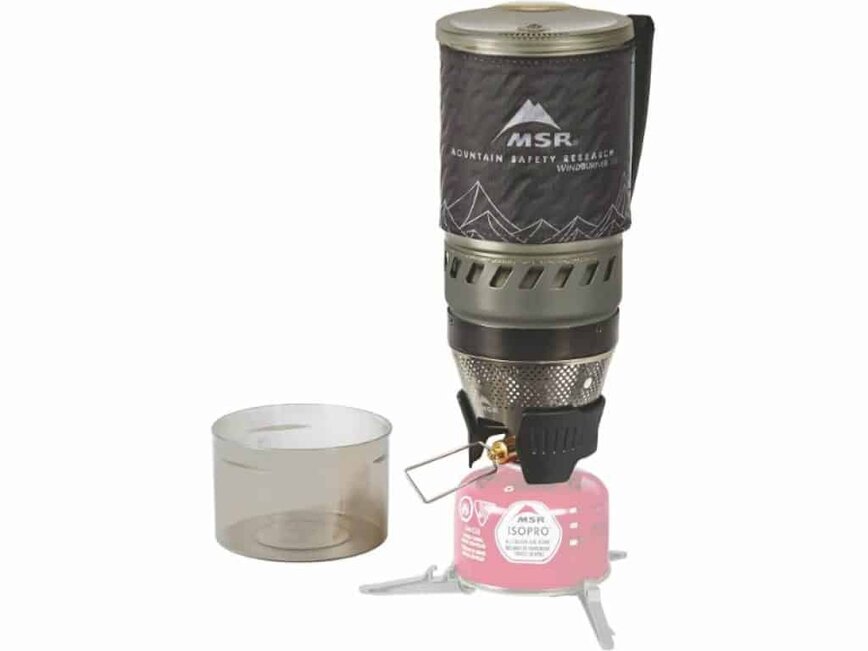 With its efficiency in all weather conditions, the MSR WindBurner best backpacking cooking system is an innovative new system that is changing the game for canister stoves. If you place the camp on an uneven surface, you will need more stability.
In such case, the canister stand will go pretty easily right onto the fuel canister and provide a nice wide base. Besides, the WindBurner has a wide radiant burner that allows the maximum heat exchange. The cool integrated windscreen is going to block all the nasty winds and even extremely cold temperatures from getting in and potentially harming the flame.
On the bottom of the MRS stove, you can notice the airports which will allow you to get the necessary oxygen for starting the flame and keeping it burning. A nice nozzle regulates the fuel consumption to ensure its minimum use. Thanks to this feature, you don't have to carry a lot of fuel with you. It does have a built-in pressure regulator which allows the fuel canister to perform well in all climates. At the bottom of the cup, there is a nice integrated heat exchange ring to heat the water quickly. On the inside, the cup has a few measuring lines so you can see exactly how much water you have got inside. The MSR WindMaster folding camping stove is designed for fast cooking in extreme weather conditions and suits any level camper.

---
PROS:
All-in-one stove and cookware solution;
Wind protection;
Wide range of functions;
Fast boiling time;
Fuel efficient.
CONS:
IsoPro fuel canister sold separately;
A little bit expensive compared to others.
---
Jetboil Flash JavaKit Camping Stove Cooking System: Streamlined and Super Fast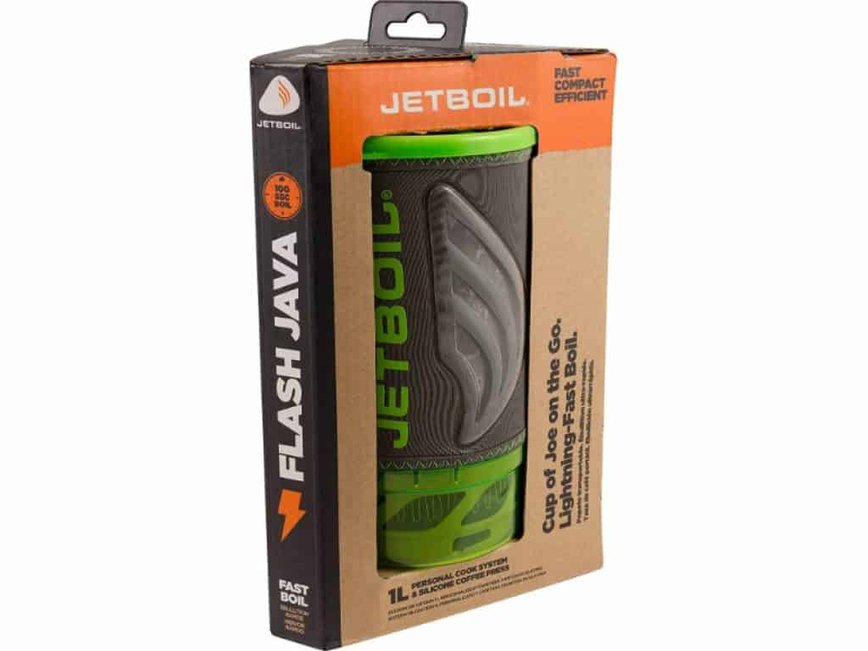 The Jetboil Flash JavaKit takes only 100 seconds to boil the 16 oz of water. This is achieved through some smart design features of the stove, such as the integrated cup. The system offers plenty of details that make this propane backpacking stove one of the best devices for hiking.
The cooking cup itself is a 1-liter aluminum cup, and it has jetboil flux ring technology built into the bottom. This ring distributes a ton of heat evenly around the outside of the cup, and it drastically reduces the boiling time.
The cup is made of neoprene to help keep your hands protected when you're picking up boiling liquids or hot meals. A nice handle attached to the outside of the cup is thermochromic.
Whenever the liquid inside changes the temperature, the color indicator will lit up. The stove unit itself is made from aluminum and therefore lightweight. It's also been trimmed down.
The Jetboil Flash JavaKit has a convenient igniter which eases the process and makes it quick. The canister stand creates a perfect base for the uneven surfaces to keep your liquids and food inside the cup as safe as possible.

---
PROS:
Boils liquids in 1,5 minutes;
Has 1-liter cooking cup;
Starts heating instantly;
Suits any kind of adventure;
Quick to set-up.
---
Ohuhu Stainless Steel Backpacking Stove: Stainless Wood Burning and Portable Device
The Ohuhu camping stove is a multifunctional device for hiking trips. It is made from stainless steel which makes this stove shock-resistant and prolongs its life. It'll make your hiking trip easier, as you won't have to worry about your stove's safety all the time.
The compact design and 14.2 oz lightweight allows you to take it anywhere and be sure that you will not remain hungry during your joyful hiking time. The stability provided by the 3 arms supports the pot system. You can place the heavy pot on it, and Ohuhu camping stove will easily deal with that.
Everything you need to start cooking is to easily set the stove up according to the instructions, place the wood inside the heating part and enjoy the rest of the evening.
The multifunctional feature of this portable stove is that you can use it as a barbecue and grill device. It will entertain your gastronomic life on a hiking trip, and you will be able to enjoy delicious food in any climate.

Sale
---
PROS:
Durable stainless steel;
Easy to set up and pack up;
Compact design;
Lightweight;
Comes with grill grid.
CONS:
To add wood, you have to remove the pot.
---
Coleman Peak 1 Butane/Propane Stove: Perfect Lightweight Heat Technology
The Coleman Peak 1 camping stove obtains plenty of great functions that are necessary for beginner and professional stoves. The PerfectFlow technology of the windscreen protects the flame from the accidental stop, even in extreme weather conditions.
If you are planning to go to the mountains or the forest in the cold period, you better think about the stove like Coleman Peak 1. The boiling time is a maximum of 3 minutes for the 1-liter of water.
The compact size and versatile design allow you to easily set up and pack up the stove in seconds when you need to. If you like to make a lot of stops during your hiking trip, this multi-fuel backpacking stove will serve you as soon as you need it. The entire stove weight is only 6.7 oz, and this is one of the most lightweight stoves that you can find.

Sale
---
PROS:
Suitable for extreme weather conditions;
Lightweight;
3-year warranty.
CONS:
Only butane/propane fuel.
---
Etekcity Ultralight Portable Backpacking Stove: Compatible and Durable
The Etekcity smallest camping stove is an incredible find for beginners in the world of hiking. The durable aluminum alloy material protects the stove from any accidental damages and makes the stove stand against the extremely high outside temperatures.
You will be impressed by the weight and size of this device when you get it, and you can certainly place it anywhere in your backpack.
The fuel canisters consist of mixed butane/propane and can be bought in almost any shop. The Etekcity has a serrated tray holder for the stable fixation of the pots. It creates a nice base to keep up all the liquids and food that you have inside the cup. High-combustion efficiency is very important if you cannot take a lot of fuel with you.
The windproof screen helps in the condensation flame process consequently utilizes the rate of combustion efficiency. If you are a beginner, this stove has great simple functionality. It is designed in such a way that there's no risk of fuel spills and no priming required.

---
PROS:
Durable stainless steel material;
Multifunctional use;
High combustion efficiency;
Tenderfoot tested.
CONS:
Needs a separate adapter to run the stove.
---
The Buyer's Guide
Nowadays the market offers a wide range of various models of backpacking camp stoves, so you can choose the one that suits you. However, not all of the offered models are as good as their ads say. Therefore, you should know the main characteristics of choosing the best hiking stove. I recommend following the next criteria:
Size
The size of the camping stove should be one of the main points to ease its transportation and make your hiking trip joyful.
Weight
The lightweight model of the stove should be light to ease your trip. It is important to reduce the load on a hiking trip and the less your stove weighs, the easier it will be to transport it.
Simple Design
If you are a beginner in hiking, better choose simple equipment so you don't have to spend a lot of time assembling the stove and folding it.
Controllable Combustion
This is an important feature to save fuel so that you won't have to carry it and always worry about its lack.
High Efficiency
The longer the stove burns the better. If you are hiking with 3 or more people and you need to cook a lot of food at once, it would be better to choose a stove with a fuel consumption regulator.
Multifunctionality
You should be able to cook or reheat food, as well as to use the camping stove as a smokehouse. There are plenty of models that include all these features added with the ability to use the stove outdoors and indoors.
Safety
The camp stove should have a firebox for fire sparks to prevent any accidents that may harm your health or anyone around you.
Conclusion Remarks: Remember About Safety When Using the Backpacking Stove
A modern backpacking burner is a source of comfort, but it's also an element that requires increased attention. Most models are simple, intuitive to operate, and safe, but you should not forget about basic safety precautions so that your trip would only bring joy and positive emotions.
Before the first use, it is necessary to study the instructions in detail, since every model in my best stove for backpacking top differs from others in the performed functions and the elements used for work. You can take notes on which models are suitable for which conditions so as not to be mistaken. I hope that my review of 9 best backpacking stove models will help you to make a choice as soon as possible and go on a long-awaited hiking trip.
If you have any questions about camping stoves and camping in general, I will be happy to answer them! Also, if you used one of the described backpacking stove reviews, share your experience with me and other readers.