I love camping, so I've decided to use my experience to help you find the best 2 burner camp stove. It is important to have a proper and satisfying meal during hiking or camping, as we are more active and spend more energy compared to our regular days. Thanks to the modern market of camping appliances, we have a wide choice of stoves that can provide us with a substantial breakfast and a hot and tasty dinner.
The selection is great and varies from small tabletop models to large freestanding options. You should pick the most suitable one, considering all the significant aspects. This list includes the type of fuel, design, weight, price, performance during the wind, boil time, and simmer control.
Most of the stoves might look pretty much the same, but their features and technical characteristics can differ drastically. So, do not just check the overall look or the price. If you do not have enough experience, a professional opinion can help you in making the right choice.
Amazon Bestseller
Professional Best 2 Burner Camping Stove Reviews
During my camping adventures, I've tested a lot of stoves from various brands. That is why now I can choose the best option out of the top-rated camp stoves. Despite the fact I have my top pick, I reviewed nine stoves that are good and worth your attention as well. Moreover, you will be able to choose the product that will fit your needs in the first place.
Camp Chef Explorer Double Burner Stove: Versatile Camping Stove with Legs
This is my personal top choice. I like Camp Chef Explorer Double Burner Stove for the combination of features it offers and an affordable price considering its benefits. It is a freestanding and durable stove that has powerful burners and runs on propane. The most outstanding specification is that you can remove its legs when you have a table or proper stand. It is easy to set up and maintain.
With two powerful burners with 30,000 BTU and a large cooking area of 448 square inches, the stove will be convenient for preparing a meal for a group of people, as well as for simmering small portions. Thanks to the grate, it is convenient to use both wide pans and small pots. The boiling time is less than 4 minutes for a quart of cold water. You can feel like a professional cook while camping with this stove. With a great simmer control, you can cook almost everything, starting from the fried eggs and bacon and ending with the perfect pancakes for breakfast.
The noticeable drawback here is the size of this camping stove. It is 29 inches high and weighs 30.5 pounds. This is a bit heavy for a hiking trip, but you can use it for trips by car. So, if you prefer traveling solo, this is not the best option. This outdoor stove can be used in your backyard or patio as well. But I advise not to leave it outside under the rain.
Considering all these features and the versatility, I can call Camp Chef Explore the best two-burner camp stove for group road trips.
But this is not the only option, and you might want to check more reviews of other stoves.

Sale
---
PROS:
Powerful burners;
Great simmer control;
Reasonable price;
Removable legs.
CONS:
It might be heavy for the hiking trip.
---
Coleman Gas Camping Stove: Affordable Table Top Camp Stove
This is an affordable but dependable option for those who want a good camping stove without any fancy features. Coleman Gas Camping Stove might not be the most powerful, but it provides you with exactly what you need on camping, no more no less. There are no frills, which makes the stove cheaper and suitable for tight budgets. The stove runs on propane.
It is enough to prepare a coffee or a hot dinner after a long day of hiking. This double burner camping stove has a simple classic design and is great for trips as it is lightweight (11.4 pounds.) and compact (4.1 x 21.9 x 13.7 inches), so you can take it with you in any vehicle. If you plan to travel with a group of people, and you will need to cook more for less time, this is what you can pay attention to. The stove is easy to set up, as the construction is straightforward and understandable. Removable cooking grate makes it easier to clean and maintain the stove.
Its two burners bring 10,000 BTU and perform well in various weather conditions. One of the benefits here is the presence of windshields that protect the fire and let you cook without difficulties. Usually, it takes about 5 minutes to boil a quart of water.
I've tested this variant by making pancakes, and it was good for a small pan. However, when it comes to larger pans, there is not enough heat to warm up the sides. But despite this, Coleman's tabletop camp stove is a great combination of quality and price.

Sale
---
PROS:
Adjustable burners for better temperature control;
Pressure regulation;
Wind-blocking shields;
Convenient size;
Affordable price.
CONS:
Without auto-ignition;
Sharpy handle.
---
Outbound Camping Stove: A Good Option for Outdoor Activity
If you are collecting your camping gear, you should check the Outbound products, as this brand features a lot of quality equipment for outdoor activity. One of them is this 2 burners portable gas stove which works on propane. It will be suitable for any outdoor activity as well as for backyard use. The tabletop design makes the installation even easier.
Outbound Stove is made of tough chrome-plated steel and the construction is dependable. Its two-burner design enhances your outdoor cooking opportunities as each of the burners provides 10,000 BTU power, so you can cook everything you want. The stove is wide enough to use large pans. Almost any cookware will fit the 9.6-inch cooking surface. The overall stove dimensions are 18.5 x 11 x 3.5 inches with a weight of 11.8 pounds.
Protective shields make the outdoor cooking process easier and faster. In this case, you also save fuel, and the heat is used in the right way. So, even the windy days will not be challenging for having a hot meal out in nature. At the same time, cleaning and maintaining will not be a problem. The stove has a stainless-steel drip tray that collects the fat and makes the cooking process neater.
The manufacturer has added propane attachments to these cooking stoves camping kits. That is why you will not have any problems with placing the tank properly and safely. The compact design is also a plus, as you can take this stove with you. It will fit any car or luggage rack. And a strong in-built handle adds more portability as well.

---
PROS:
Durable materials;
Powerful burners;
Wind panels;
Propane attachment included;
Spacious cooking surface.
CONS:
Might be heavy for carrying.
---
Gas One GS-2000 Dual Fuel Portable Propane or Butane Double Burner Camp Stove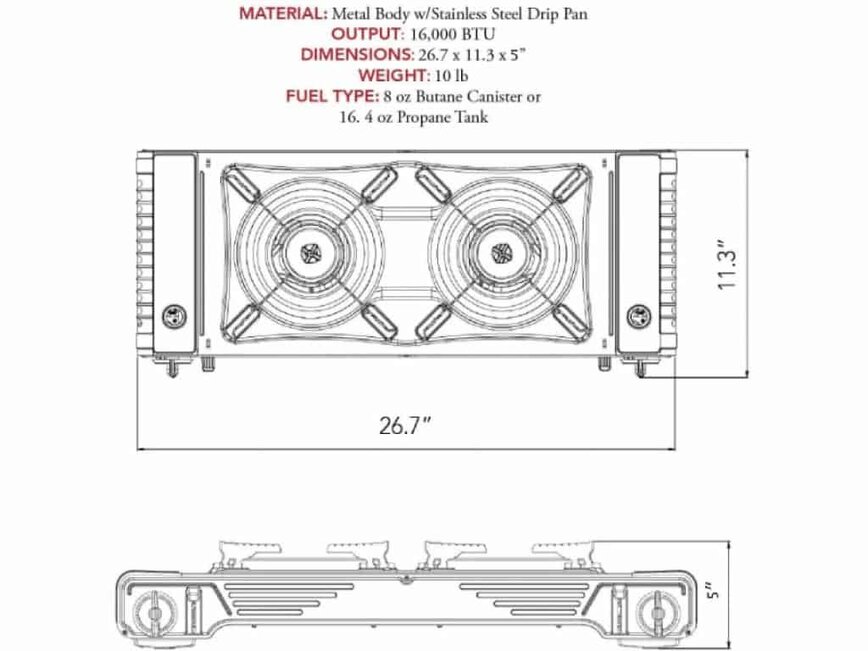 GAS ONE GS-2000 is another affordable option for campers and travelers. It has an auto-ignition feature, so you do not have to use lighter or matches. Dual burners enhance the functionality of the stove.
Moreover, it runs on both propane and butane. You can cook dishes simultaneously in full-sized pans or pots. At the same time, this stove is compact enough for convenient transportation. Its dimensions are 26.7 x 11.3 x 5 inches with a weight of 14.6 pounds. Also, the carrying case is included, so you can carry it with you to a picnic or a short trip. It is made of plastic and protects the stove from rain, bumps, or any other damage.
Safety is ensured by the shutoff valves that prevent gas leaks. Any time the system detects the rise in fuel pressure, it ejects the cartridge. This feature makes this stove safe for both outdoor and indoor usage.
This double burner camp stove has a good-looking steel design that also makes it easy to clean.
Even during camping, you can cook with style. Moreover, this material is durable, and the stove can serve you for a long time with proper maintenance. Included drip tray eliminates the mess and protects inner elements from fat and water.
It is a powerful assistant during your outdoor meal breaks. Each burner provides 8,000 BTU heat levels, so you can prepare hot dishes fast enough without burning the food.

No products found.
---
PROS:
Made of stainless steel;
Auto-ignition;
Carrying case;
Compact design;
Affordable.
CONS:
In some cases, manual ignition is needed;
The carrying case may not be protective enough.
---
Camp Chef Everest: Double Burner Camping Stove for Everyone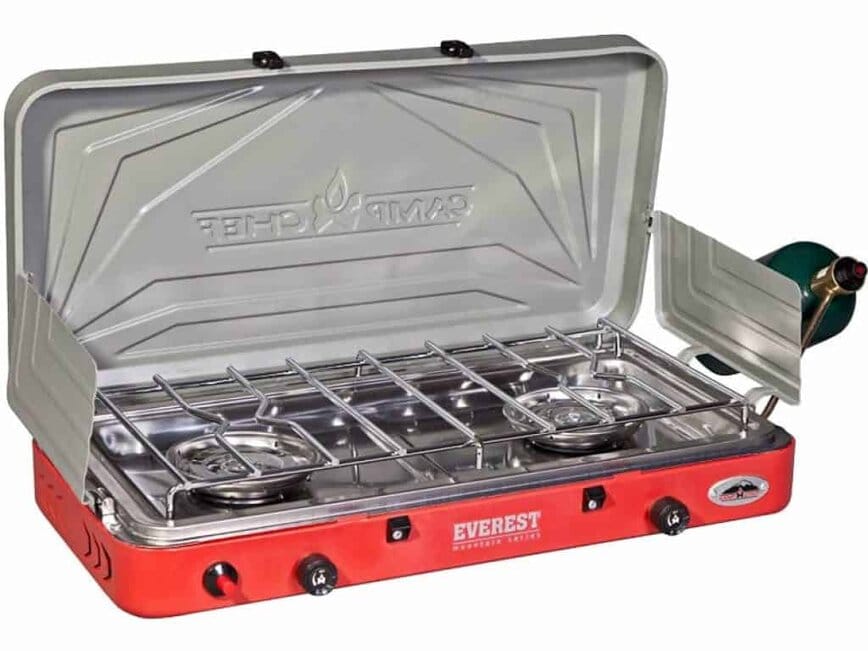 Among all gas camp stoves reviewed, Camp Chef Everest is not the most powerful or light. Its parameters are 13.5 x 23.5 x 4.2 inches and 12 pounds. But this is a sure option for campers, who are looking for dependable equipment. It has two burners with 20,000 BTUs each, so it makes this stove at least better than some other similar models. This feature ensures great simmer control and gives you an opportunity to cook various dishes.
The latest design updates of the stove have metal elements for stylish look and durability. Also, they serve as windshields that add comfort to the cooking process and ensure easier temperature control. With automatic ignition, you do not have to worry about dry patches or non-working lighter. For easy cleaning and neat cooking, the manufacturer added the stainless steel drip tray. Moreover, the stove weighs only 12 pounds, which is another advantage.
However, there were some complaints that the temperature control does not work properly on low. And, in my opinion, the price is too high for this type of stove.
It might be the reason the materials and the construction are of high quality, but for occasional trips, it is still a bit overpriced. But if the price is not an issue for you, this stove can be a good choice for group trips.

No products found.
---
PROS:
Stylish and lightweight;
Powerful burners;
Easy in use and cleaning;
Autoignition;
Drip tray included.
CONS:
Problems with temperature control on low;
It might be expensive for some users.
---
Coleman Gas Camping Stove Triton+ with Push-Button Ignition
Coleman is a brand that is aimed at helping people enjoy their camping and other outdoor activities. That is why the company offers this lightweight 2 burner gas camping stove that works on propane. Its dimensions are 23 x 5.9 x 14 inches with a weight of only 10 pounds.
The cooker has 22,000 total BTUs of power, allowing preparing almost any dish. With burner controls, it is possible to set the proper temperature. The stove is supplied with PerfectHeat Technology that improves fuel consumption. Burners produce more heat with less fuel used. With automatic ignition, you do not have to worry about having a lighter or some dry matches to make a fire.
Pressure control helps to maintain the required heat level for steady cooking even in cold weather conditions or when the fuel is low. Another feature for unwelcomed weather conditions is wind panels. They block the wind protecting the fire.
Their construction allows using even large pans and pots. The stove is light enough and compact. With heavy-duty clasp, it is securely closed for safer transportation. Among the drawbacks, I've noticed some complaints about the boiling time. For some campers, it might not be enough.

---
PROS:
Adjustable burners;
Push-button ignition;
Pressure regulation;
Wind protection;
Easy maintenance.
---
Gas One 2 Burner Butane Stove for Outdoor Cooking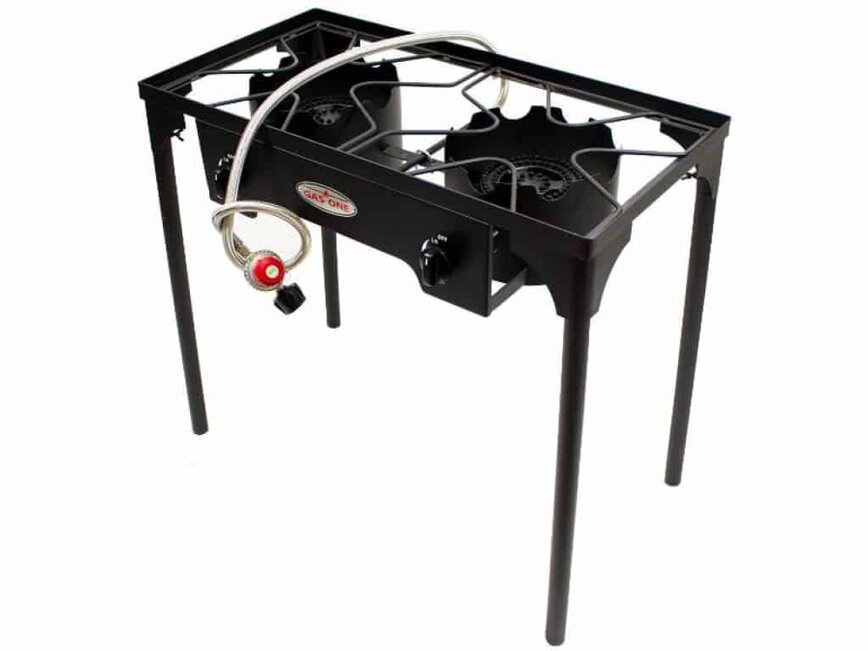 Among large camp stoves, Gas One 2 Burner Butane Stove stands out for sure. When you go camping or for a picnic with friends or family, it is important to be able to cook a proper meal for everybody. And you should do it fast, as when we are outside, we usually are hungrier. So the powerful camp stove is a must in such situations.
Gas One has 2 powerful high-pressure burners that provide 150,000 BTU. The hot and strong heat allows cooking a steak easier and better, even compared to your home stoves. With temperature control separate for every burner, you can regulate the flame. Field testing has shown that even during the wind, the stove works without any troubles with the high flame. Free-standing and tall enough, Gas One is also very convenient standing next to it while cooking.
With a Certified CSA regulator, the stove guarantees safe performance with the ability to control the gas flow and prevent leaks.
There is a special bag for storing and carrying Gas One. But some users admit that this camping stove with legs is too heavy and bulky for transportation with dimensions 32 x 19.2 x 8.25 inches and 27 pounds in weight. So you can consider this purchase in case you have a big car luggage space, or for the backyard/patio use.

No products found.
---
PROS:
Durable materials and construction;
Temperature control;
Powerful performance.
CONS:
Heavier than expected;
It might be bulky for transportation.
---
Coleman Guide Series Dual-Fuel Camping Stove: Reliable Outdoor Performance
It is convenient to have options for what fuel to use for your outdoor stove. That is why Coleman decided to develop the product that will work equally well on liquid or gas fuel. And now we have Coleman Guide Series Dual-Fuel Camping Stove.
This is one of the most popular brands and models among similar design and construction. It weighs 12 lbs. with other dimensions of 19 x 14 x 7 inches. Not the lightest option, but still not too heavy for a trip. Removable chrome grate eases the cleaning and maintaining processes.
This stove can run on white gas as well as on unleaded gasoline. With white gas, the stove shows strong performance during the cold weather conditions, compared to propane models. That is why I would recommend this stove for winter trips. Wind panels add convenience to cooking during windy days or on the open areas.
Now, about the cons of this Coleman 2 burner butane stove. Two burners are connected. This means the second burner cannot perform as much heat as the first one when it is turned on. For some campers, there might be not enough cooking space where you can fit only 10-inch pans. I would also like to mention that in customer testimonials, I've found some complaints about the fuel leaks, so consider this too before buying.

No products found.
---
PROS:
Works on liquid fuel or unleaded gas;
Reliable construction;
Easy in cleaning;
Adjustable burners;
Wind block panels.
CONS:
The second burner is less powerful;
There are complaints about minor fuel leaks.
---
Stansport Double Burner Propane Camp Stove with Durable Finish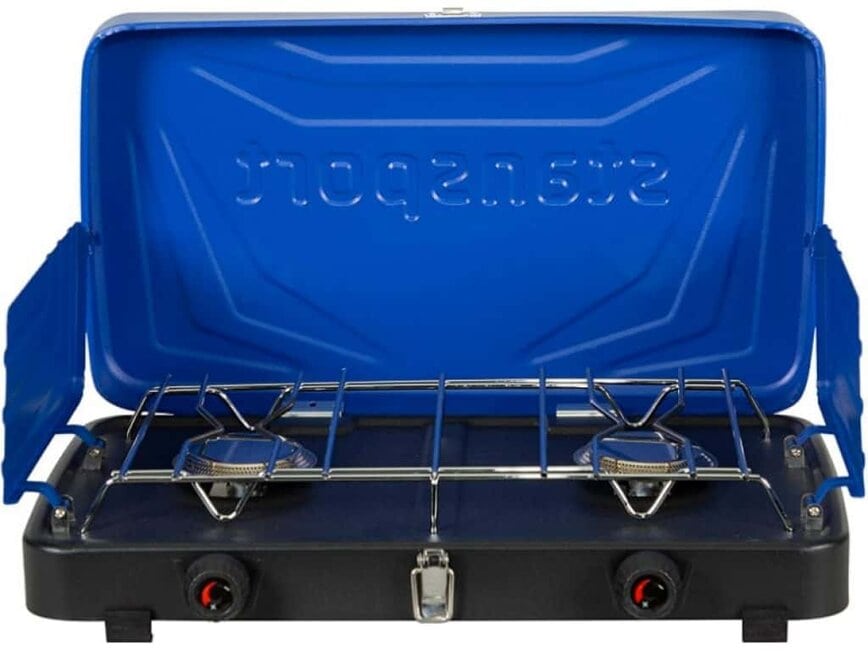 This compact Stansport Double Burner Stove is good for family trips or camping in small groups of friends. This model is lightweight (7.4 lbs.) and has the following dimensions: 10 x 18 x 4 inches. This size makes the stove suitable for any luggage racks or even hiking.
The design is nice and durable, with a heavy steel frame and enamel finish. Two-burner construction allows cooking breakfast and making coffee at the same time. The manufacturer added a detachable lid to the kit to make the cooking area bigger for larger cookware.
Stansport double burner propane camp stove features separate burner controls, allowing both of them to perform up to 10,000 BTU heat. Two windscreens protect the fire during heavy weather. And the steel grate can be removed for proper cleaning.
But keep in mind that the size and the power performance might not be enough for a big camper group, so this stove is better for family use.

---
PROS:
Compact and lightweight;
Removable steel grate for easy cleaning;
Two windscreens;
Affordable;
Detachable lid for oversize pots.
CONS:
Might be small for big groups of campers.
---
Choose the Camping Stove Wisely
As you can see, the selection of outdoor stoves is wide, and every manufacturer has something to offer to meet a camper's needs. That is why beginners might be overwhelmed with the selection of products. But you can define what you need by considering the following aspects:
In what weather conditions you will use the stove more often?
What is the usual size of your traveling group?
What are your cooking preferences for camping?
Do you travel by car or prefer hiking?
What is your budget?
Weigh all pros and cons of the available options and chose the one that meets most of your requirements. I also hope my 2 burner camp stove reviews are informative enough for you to make the right choice.
Have you ever used camp stoves with two burners? What challenges did you have with them? Do you have any recommendations for those who still think about purchasing one? Let's discuss this in the comments!