If you are looking for a great tactical rucksack, then you are in for a small adventure. There are tons of recognizable and unrecognizable brand names that offer seemingly good backpacks. There are so many options that you can easily get lost in product listings, like in a South American jungle. What makes the process of choosing more difficult is that each brand claims that its product is the best.
During my extensive hiking experience, I had the chance to test out countless backpacks in real-life hiking, trekking, and camping scenarios, as well as use some of them in everyday life in a city setting. I found out that the price does not indicate that one rucksack is significantly better than another item.
Even some extremely expensive brand rucksacks, the price of which may reach hundreds of dollars, can fail you easily as a cheap 5$ off-brand knock-off would. What is even more surprising is that some very cheap options are so sturdy and reliable that they seem to last a couple of eternities.
Getting yourself a low-quality rucksack may lead to catastrophic events. Your means of communication with the outside world during a hike can get destroyed; your first aid can get lost; your tents can be damaged, and other bad scenarios may happen. These are the reasons why I picked out 7 of my favorite tactical rucksacks that are reliable enough to serve you.
Amazon Bestsellers
Top 7 Tactical Backpack List
I arranged the rucksacks from the best items one can get for their money to more budget options that are still of extremely high quality and will serve you reliably for years to come. In each review, I will look at the most important things when choosing a backpack, so that your final decision will be most informed and thought out.
These main aspects include appearance, storage options, capacity, suitable scenarios of use, adjustability, comfortability, durability, and any additional features that a particular backpack offers. With that being said, let us jump into it!
1. 5.11 Tactical RUSH72 Military Backpack – Undoubtedly the Best Tactical Backpack
This rucksack comes from a California-based brand called 5.11 Tactical ("Five Eleven Tactical"). This company's main product lines are tactical uniforms, military and law enforcement equipment. Although the company was founded only in 2003, it grew to have an incredible yearly net revenue of more than $300M.
5.11 Tactical RUSH 72 Military Backpack is my absolute favorite and my definite top pick on this list. It is the priciest item under the review, but it does not stand anywhere near other brand backpacks in terms of price. This rucksack suits well under $200, and although its price is three or even four times more as compared to other items on the list, it is worth every penny paid for it.
This backpack is the consumer favorite in the category: it has the highest rating and the biggest amount of positive reviews. Before we explore the reasons behind this success, let us run through the main features and characteristics of this rucksack.
The height and width of the product are 0.7" and 14" respectively. It is manufactured in the USA, which increases the price, but it also means that quality control is the best. Also, there is no possibility that you will get a defective rucksack if you are buying the item online. This backpack has a capacity of 3,342 cubic inches (or 55 liters). It has YKK nylon zip closures: these zippers are self-repairing, and will not give in when the rucksack is stuffed with various objects. However, these zippers are not stiff like you may think, on the contrary, they are very flexible.
In total, the rucksack on its own weighs about 5 pounds, which may seem heavy for some people, but it will not slow you down even when being packed. The shoulder straps are padded with special foam to help with the final weight when the rucksack is full of supplies. Additionally, the back of the rucksack is padded, and there are special compression straps. Comfort is not a concern with this product, as every strap is fitted with C-clips that you can adjust easily.
The rucksack's name 'RUSH72' refers to the fact this backpack was designed to help its owner bug out for 3 days (or 72 hours). This factor explains the rucksack's massive capacity. There is a side pouch that is intended for a water bottle. There are also several open, closed, and zippered pockets, allowing you to smartly manage your most valuable and essential baggage.
The main compartments are quite deep and big. Additionally, they restrict the movement of the objects inside of the backpack, in case the compartment is not filled, and there is some space between the things you have put in. In addition to zippers, there are also pull strings to tie zippers securely in place. This thought-out system restricts the zippers from opening up accidentally even in the event of a great fall.
The rucksack comes in 7 colors, all of which are of the camouflage shade, so all colors can easily blend in various terrains. The colors are black, dark earth, double-tap, Multicam, od, sandstone, and storm. Lastly, the main material of the rucksack is called 1000d nylon. This is a special thick and extremely tough fabric. It was originally made for WWII era airmen to protect them from debris and shrapnel. However, in modern times, this fabric's durability and strength proved itself to be essential for trekking, hiking, camping, and so on.
On top of the incredibly durable fabric, there is a 210D 118T PUx2 coating, which is notoriously efficient at keeping the water out. Even during the stormiest hikes, everything inside of closed compartments will remain dry. On the rucksack's top, there is a grab handle for easy lifting. Of course, the rucksack is MOLLE-compatible, so it is possible to attach even more packs and pockets, increasing the overall load of your backpack. Moreover, there is a built-in name tape and flag holders.
Finally, let us talk about why people love this rucksack. By buying this particular item, you are purchasing a security in that this item will not fall apart during a bug out. The zipper is not going to come undone and let your belongings get wet or fall out. The stitching is so superb that there is no possible way that the rucksack will rip up even when it is filled to the brim. My backpack has honestly been through fire and hell with me and has never failed me even in the direst of the situation. The bottom line of this rucksack is a justified sense of security.
---
PROS:
Incredible durability due to the fabric;
Lots of camouflage colors;
Very safe pull string/zipper system for compartments;
Enough capacity for a 72-hour bug out;
Outstanding adjustability and general comfort.
2. Orca Tactical Backpack 40L: Quality of the Top Tactical Backpacks with an Affordable Price
If you got extremely excited after reading the review of the previous rucksack, then looked at its price, and the excitement vanished, then I present this Orca Tactical Backpack 40L. Orca is a famous brand in the industry of tactical gear and apparel. The original owners concentrated on making premium-quality gear, but at a very comfortable price range.
This rucksack is a simple confirmation of that statement: being only one-third of the price of the previous item, it offers performance capabilities that can compete with the premium backpacks. Its dimensions are 13" x 20" x 13, and the general capacity is 40L. This level of capacity is barely enough to fit supplies for a 3-day bug out.
Also, the rucksack is MOLLE compatible on the front and sides, meaning that additional equipment can be successfully fitted onto it. However, some people indicated that their side straps fell off after a year or two of use, which may be a reason for concern. Surprisingly, the place to keep your liquids is not on the side with this rucksack but rather on the waist strap: it is possible to store bottles of up to 1.5L.
The main material used in the manufacturing of this rucksack is 600D polyester. To battle the fact that this is not nylon, this material is layered and double-stitched, which, of course, ensures high durability, but it has less flex to it. I know that this can be a point of frustration for some users. The rucksack comes in four colors, namely black, od green, khaki, and coyote brown, and it has water- and scratch-resistant coating. A very pleasant aspect of this rucksack is that even at this price point, the rucksack has YKK zippers.
The folks at Orca care about your comfort of wear, which is the reason this rucksack features remarkably comfy shoulder pads, as well as a pleasant mesh on its backside. As a result, this leads to a perception of a bigger range of available (and easier) movements even when the rucksack is equipped for a 3-day bug out. All in all, this backpack is a great alternative to some great premium brand rucksacks, offering almost the same kind of performance and usability.
---
PROS:
Durable and sturdy;
YKK zippers at such a low price;
Although small, the item is capable of holding supplies for a 3-day bug out;
Water-proof and scratch-resistant;
Special hidden compartment for valuable belongings.
CONS:
Side straps may fall off after extended use;
Not as flexible as some users would like it to be.
3. ARMYCAMOUSA Expandable Military Backpack – an Incredibly Durable Waterproof Tactical Backpack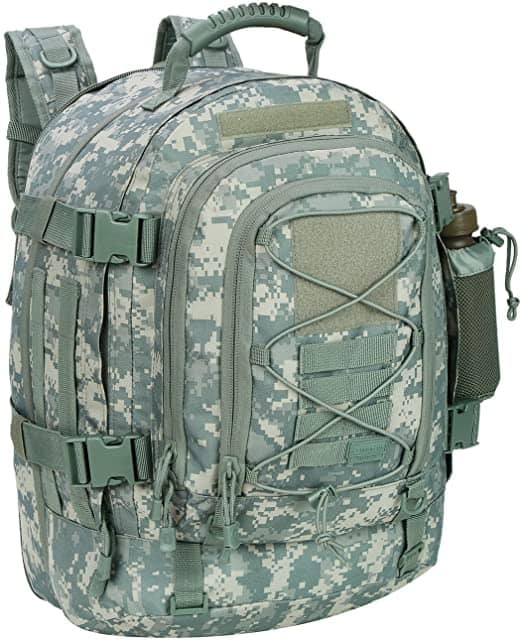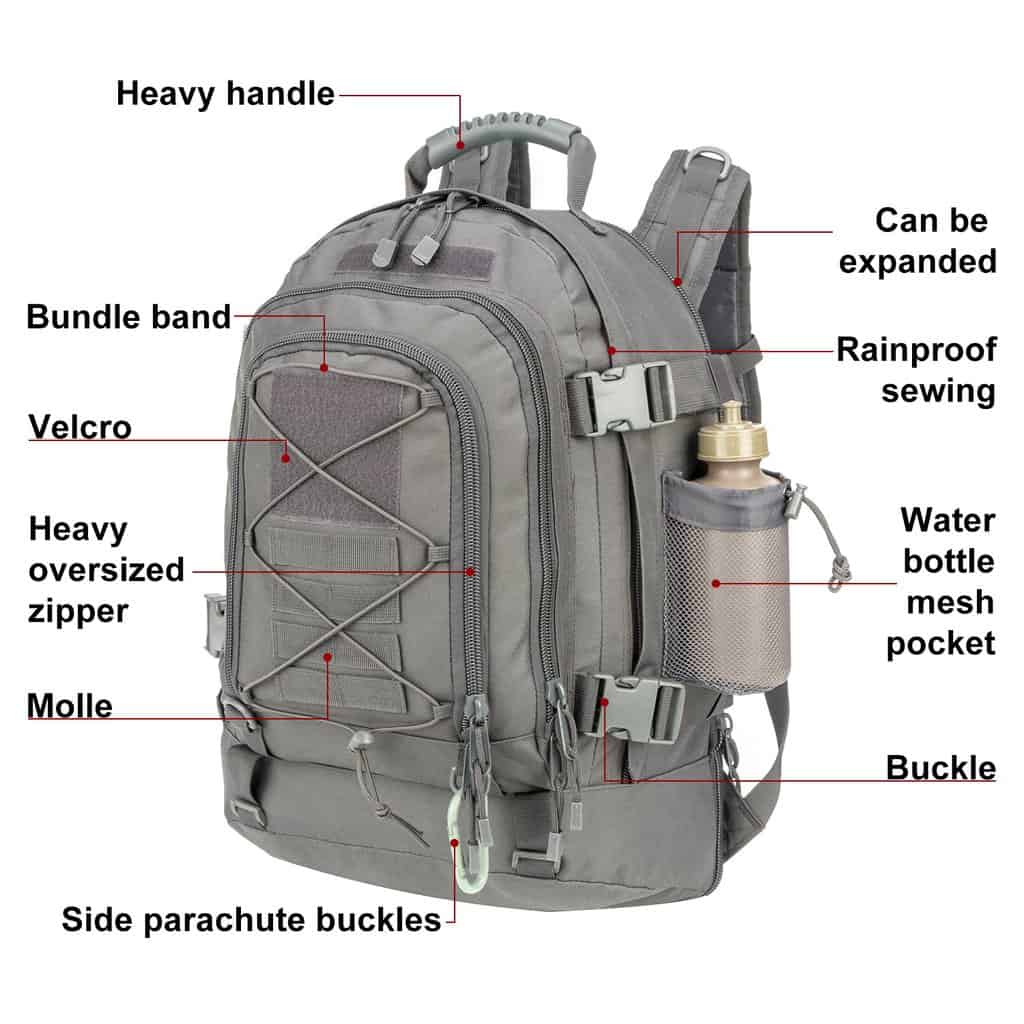 ARMYCAMOUSA knows the value of reliable equipment and gear, as they produce various products for police officers, firefighters, soldiers, and survival enthusiasts. Knowing that your gear will withstand any kind of task it may face to help you pull through in tough moments is incredibly important, and manufacturing such gear is of the essence to the people at ARMYCAMOUSA.
ARMYCAMOUSA Expandable Military Backpack features superior durability. I have no idea how manufacturers achieve this effect with non-premium materials, but they do. If your biggest fear is that your rucksack will give up on you and tear, then get this backpack, and you will not have such anxious thoughts anymore. On the top, nothing seems out of the ordinary with this rucksack: just a regular affordable piece that is manufactured of the same materials as other items in this price range. However, the way that the 600D polyester is being stitched and layered makes tears relatively impossible. Also, the polyester has a waterproof coating.
The dimensions of this rucksack are 14.5" x 21" x 8" with the capacity being 39L and 64L. You might ask: "How is this possible? The capacity can be either one or the other: it cannot be both; it is not some kind of Schrödinger's rucksack!" Well, apart from the stupendous durability, the main feature of this rucksack is that it is expandable. In its full form, the backpack easily fits all of the supplies needed for a 3-day bug out and a bit more.
When you are not hiking or camping, you can easily take the waist strap and fold a compartment of the rucksack, reducing its depth by 5". This makes the item a great option as an everyday urban bag. Luckily, it comes not only in camouflage patterns but also in plain colors; the available colors include ACU, Black Multicam, MultiCam, OCPC, black, grey, OD green, and tan.
The rucksack weighs about 3.7 pounds and is able to support up to 40 pounds of weight inside. Of course, the shoulder pads are present, as well as the backside breathable mesh and a grab handle on top of it. The rucksack is MOLLE-compatible, and the process of attaching other equipment is very easy. One of the rucksacks' disadvantages is its zippers: they are not YKK and do not seem to be of the highest quality.
---
PROS:
Extreme durability;
Ability to regulate the item's capacity;
Suitable for both the city and camping bug-outs;
Water-proof and tear-resistant;
Tons of colors to choose from.
CONS:
Zippers are not of the highest quality;
MOLLE is vertical, which diminishes greatly what you can attach.
4. Hannibal Tactical Backpack 36L – an Outstanding Urban Tactical Backpack
This rucksack is a lovely little piece that you should definitely get. Even if you decide that this one does not suit your traveling/camping needs, you will still fall hard for this rucksack as your daily bag of choice: yes, I can promise that. You can get some bigger bug out rucksack for extended hikes, and eventually buy this one to fulfill all of your inner-city needs.
I like to carry a lot of stuff with myself when I am going around my daily business: my laptop, tons of cables, an excessive amount of water, and some very basic survival gear. This rucksack handles such a load easily (while having tons of space to spare), and aesthetically it blends into the urban environment. Also, it does not look bulky at all, which is the main problem with using tactical rucksack as everyday bags. Some of them just look incredibly silly when you take them to your college, for example, especially if they have a camouflage pattern.
Of course, I said little, but this rucksack is only a 'little' item when comparing it to other products on this list. On its own, with 36L, the capacity is capable of holding enough supplies for a 2-day bug out with no problems whatsoever. Plus, regarding the size, it is not that inconsiderable, being 12" x 20" x 13". The item is pretty big when you compare it with another laptop rucksack. This backpack does not look bulky or inappropriate in a city environment.
Additionally, the brand thought about using it in the city, because there are special straps inside to hold the laptop securely in place.
The main material used in this rucksack is the 600D oxford fabric, which is known for being tough, yet quite flexible. It is also waterproof on its own without any special coating, which eliminates the possibility that the water-resistant coating will degrade over some time. There are two straps on each side for MOLLE-compatibility, as well as a compartment to hold hydration liquids of up to whole 3L. The backside mesh is a bit too thick, making it very soft but restricting the airflow. The shoulder pads are great. Zippers are not YKK, but the way the rucksack was constructed diminishes the pressure put on the zippers when it is full. Therefore, it is not a major point.
Hannibal Tactical MOLLE Assault Backpack, Tactical Backpack Military Army Camping Rucksack, 3-Day Pack Trip w/USA Flag Patch, D-Rings, Black
LARGE CAPACITY - Military tactical backpack size approx.:12"*20"*13" / 30*50*33CM (W*H*D) Capacity:40L, This tactical military assault backpack is made of durable and water-resistant High Density fabric, With Large Capacity allow you to carry all your tactical gears, it can be used as 3 day assault pack, bug out bag backpack, emergency backpack, combat backpack, range bag, molle emt backpack, EDC outdoor backpack, hunting backpack, travel backpack, survival backpack or trekking backpack
---
PROS:
Multi-purpose item: wonderful for the city and great for hiking;
Deep and profound compartments;
Holds 3L of hydration liquids;
Excellent fabric: waterproof on its own.
CONS:
Comes only in one color: black;
Backside mesh does not let through a lot of air.
5. LHI Tactical Backpack 900D – Just an All-Around Good Tactical Backpack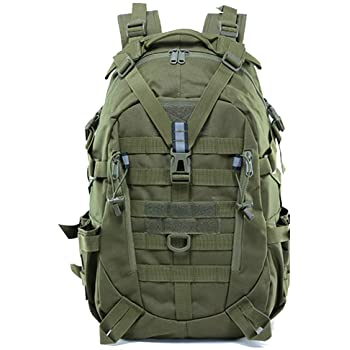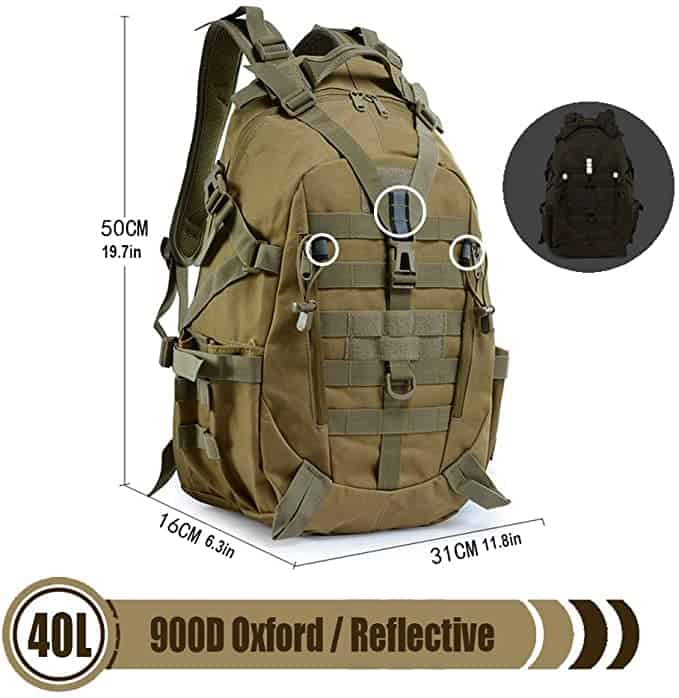 If you do not want to get bogged down with all of the different rucksacks, their features and varying usability, if all you want is just a simple compromise between full-on military rucksacks and laptop bags, then the folks at LHI have a solution for you. The brand specializes in creating rucksacks and bags for various purposes.
On the first look, LHI Tactical Backpack looks like any old regular rucksack you can see on the streets. Just like the previous entry, this one does not look too big, bulky, or awkward. Still, it is fully capable of holding enough supplies to last you or anybody else whole 72 hours, offering from 40L to 45L of capacity. The rucksack's dimensions are 12" x 20" x 6.3". It is made out of special 900D oxford fabric: the same fabric as in the previous rucksack, but this item is heavier. It results in the increased toughness and general durability (900D refers to the weight of the fabric, which does not necessarily reflect durability, though may influence it). Tearing this rucksack is quite a challenge.
The product comes in three different colors: army green, black, and khaki. This is, of course, more than the variety of colors provided by the previous product, but there are no camouflage patterns available. This is a considerable disadvantage, as otherwise, I would name this rucksack a great all-purpose backpack. Still, it is not a big problem, as the manufacturers have tinkered with the colors of the rucksack, making them very easy to blend in with the surroundings. The item encompasses a special place with straps for laptops with a diagonal up to 17".
The rucksack is not covered in MOLLE attachment points, which is a pro for its everyday usability, but not for its usefulness in a camping scenario. However, the item`s capacity is enough to hold your favorite equipment inside of it. Plus, it has two additional attachable outside bags, increasing the overall possible carry load. The rucksack has great shoulder pads that evenly distribute its weight when it is filled up with various items. Also, the backside mesh provides excellent airflow.
---
PROS:
Excellent compromise;
Great for short hikes and urban life;
Thick waterproof fabric;
Is not covered in MOLLE attachment points;
Very comfortable shoulder pads.
CONS:
No MOLLE-compatibility;
No camouflage.
6. AW 55L 600D Tactical Army Rucksack – the Cheapest Option that Is Still Great
AW has come out with the best budget option you can get. AW 55L 600D Tactical Army Rucksack is the cheapest among the items mentioned here. If you need a military rucksack that you will use once or twice a year on a camping trip, then opt for this one. Under such a workload, the rucksack will not tear or rip up. If you are on the lookout for something more long-lasting, then look for something else.
The rucksack's dimensions are 23" x 19" x 5.5". Additionally, it has 3 attachable pouches. The shoulder pads are of great quality. It is worth noting that there is a suspension air system implemented into the rucksack, making it feel very light when it is filled with items. This rucksack has tons of horizontal MOLLE attachment points. The item is surely only for hiking, trekking, and so on. The rucksack is comprised of a combination of 600D oxford fabric and 420D nylon: this makes it durable enough to survive basic trip challenges.
However, one very questionable thing is the rucksack's design. The fabric has this distorted honeycomb pattern, which is not suitable as camouflage in the wild, and it blends in even less in the urban setting. However, this rucksack is worth the money: this issue is not a problem at all. In simple terms, this product is perfect for a novice hiker who does not want to go far with his hobby.
---
PROS:
Exceptionally cheap;
Wonderful for novices;
Distributes weight excellently;
Tons of MOLLE attachment points.
CONS:
The backpack is not intended to be used often;
Questionable design pattern.
7. Another Budget Alternative: Suoki Tactical Backpack 55L
If the design is a major concern to you, then check on Suoki Tactical Backpack 55L. The parameters between this item and the previous one are almost identical; however, this rucksack is completely black. This backpack is made out of 600D oxford fabric and 420D nylon too, which makes it significantly more durable than a regular rucksack, but it is inferior to other materials found in this list.
Its dimensions are 12" x 20" x 10", which make the item very big: you definitely would not like walking in the park with such a large rucksack. The capacity is also stupendous: from 60L to 75L. This allows you to stuff your rucksack with enough supplies to last almost 4 days! This is not even considering that it has 3 detachable bags. Suoki is not a very well-known company, but it is a very promising one, which is why I decided to include it on my list. Also, their budget rucksacks are great, and I feel that more people need to be aware of this brand.
---
PROS:
Very affordable;
Wonderful for amateurs and novices;
Stupendously spacious;
Will suit even four-day bug-outs.
To Sum Up
Thank you for enduring this long-read. I hope that you enjoyed all I had to say about tactical rucksacks and that now you are more informed about them than before. As of now, picking a suitable rucksack should not be a problem for you, as I have reviewed both budget and more premium options, full-on camping/hiking bug out rucksacks, and those that are more suited for city use with an occasional hike.
When making a final decision, do not get flustered by all of the cool characteristics and features of various tactical rucksacks. Always think about what is important to you and what you need. If you are looking for a rucksack solely for long trekkings or camping endeavors, then think about a 5.11 or ARMYCAMOUSA backpack. If you want a multifunctional item, then consider an LHI or Hannibal rucksack.
Did you enjoy the article? Did I mention everything you wanted to know about tactical rucksacks? What do you look for when buying backpacks? Is it general storage capacity or useful features, like straps and compartments for specific belongings (laptops, phones, books, etc.)? Please tell me in the comments down below!