Hello, folks! I'm a huge fan of lakeside trips and hiking in the summer. Wherever I go, I always try to take along a bunch of things that can help me out in all kinds of scenarios, from a simple compass to a set of lightweight kitchenware.
So, with the arrival of the warm seasons, there comes a time of camping, marshmallow roasting, and long stargazing. For this, you might be looking for a comfortable and portable wood burning stove to provide you with functions and luxury to make your outdoor experiences worthwhile. But how do you know if one of those appliances fits your travel plan?
Well, as for me, I try to think of the actual benefits it can give me while camping:
You don't need to set up a bonfire, look for brushwood, or struggle with forest dampness.
You don't need to carry along sets of kitchenware for grilling, poaching, roasting, etc. since it's all included.
You get various dishes and don't need to live on canned food or half-junk products.
You can prepare food regardless of the weather.
You and the environment stay safe from possible fires.
But how do you actually choose the right one? Well, here, there's no ultimate answer. You have to select a product that suits your own needs depending on the dimensions, functions, and especially what you've planned for your dear vacation. Look carefully and wisely since you're choosing not only an appliance but also the comfort and peace of your trip.
Amazon Bestseller
Top 8 Best Camping Wood Stoves You're Going to Love
To make it easier for you while choosing a portable stove, I've come up with a list of wood-burning camp stove reviews. Here, we're going to have a look at the most top-notch items that have ensured pleasant outdoor experiences for myriads of people.
All of the following products have their pros and cons, whether eco-friendly or fuel-consuming, lightweight, or hefty, large, or minute. And only you can tell which one is the best wood burning camp stove for you.
Now, let's dig in and see what modern camping wonders there are to turn a casual hiking route into an exciting adventure.
EcoZoom Versa Camping Stove – Best Wood Burning Backpacking Stove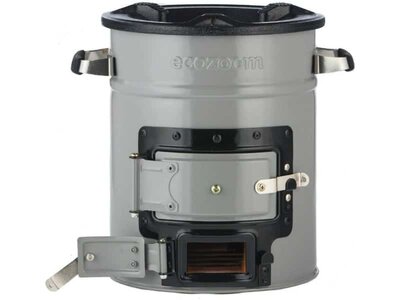 The first in our list is the Versa Stove by EcoZoom. Being a relatively young company, EcoZoom specializes in designing camping and outdoor appliances for food preparation.
The product is truly minute and portable. With the dimensions of approximately 14 by 13 inches, the stove takes up less space in your backpack than a regular laptop. At the same time, the weight is shy to 18 pounds making it extremely easy to carry.
Thanks to the size, the item is a perfect fit for the trunk of a car or even the basket of a bike. It can be carried along on road trips, set up on camping sites, or simply engaged in the backyard for a small family BBQ.
To turn on the stove, you'll need a bunch of small-sized wood logs or twigs. Put them inside, make sure they don't fall out of the burning chamber, and use matches to start the fire. When it comes to cleaning, it's only the inner part that needs maintenance. Lift the appliance by the handles and turn it upside down to get the ashes out. You can apply wet wipes to rub the places where the ashes have got stuck, no soap needed.
Ceramics insulates the warmth and doesn't let it out easily through the top layers of the coating. This makes it perfectly safe and heat-free on the surface. On the other hand, durable metal alloys are very resistant to high temperatures and burning, which excludes any fire damage.
Easy to use and even easier to clean, this versatile wood burning hiking stove heats up rapidly and cooks food twice faster. This is all done due to its small dimensions and durable, heat-preserving core materials.

Sale
---
PROS:
Compact and durable case;
No maintenance required;
Adjustable pot skirt;
No scents or smells preserved;
No combustion substances needed.
CONS:
Used for preparing food portions for a maximum of 2 people per one use.
---
Solo Stove Lite – Portable Camping Hiking and Survival Stove
Thinking about your comfort and style, Solo Stove has come up with this ultra-simplistic burner to fit your needs.
With the smallest possible measurements, the stove comes to approximately 4 by 4.5 inches in width and length and weighs slightly more than half a pound. Because the appliance is ultralight, it's perfect for short-distance hiking trips or travels with possible emergencies.
Yes, the utility is tiny and won't be much use for stewing a ragout or grilling a chicken. But its primary purpose is to perform the basic, most essential functions, like boiling water, heating soups or canned food, etc.
Unlike other burners, using Stove Lite doesn't require a lot of wood or multiple wood logs as it runs on soft and easy-to-find twigs or fabrics. When you start the fire, the air vents built-in at the bottom suck-in a stream of cold air, supplying the flame and dispersing the smoke. Make sure to keep a sufficient amount of wood to sustain a constant heat intake.
The product is resistant to moisture and water, which makes it probably the best wood burning backpacking stove. Thus, there's no need to worry about the appliance when you're hiding from the rain as it will endure any conditions. The durability is based on the stainless steel that makes up the outside corpus and nichrome-infused burner that secures the inside part.
Efficient as it gets, the utility is completely eco-friendly and doesn't pose any danger to the environment. As starting up the fire and putting it out has never been so easy, you're totally in charge of the food prepping process.

---
PROS:
Unbelievably light;
Corrosion and rust-resistant;
No fuel required.
Perfect for a backpack.
Sophisticated look.
CONS:
Not great for cooking from scratch.
---
Vargo Titanium Hexagon Wood Stove – Great Wood Burning Survival Stove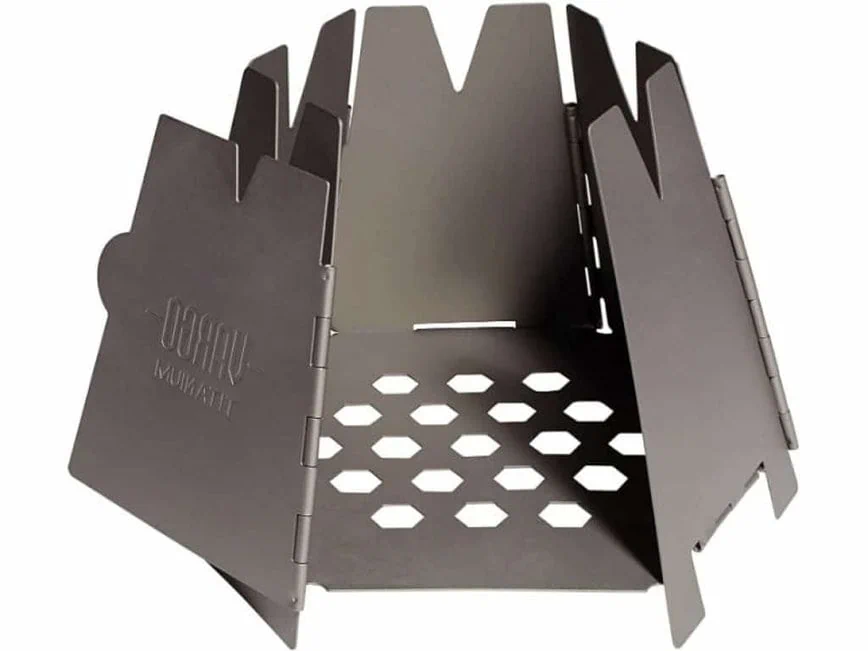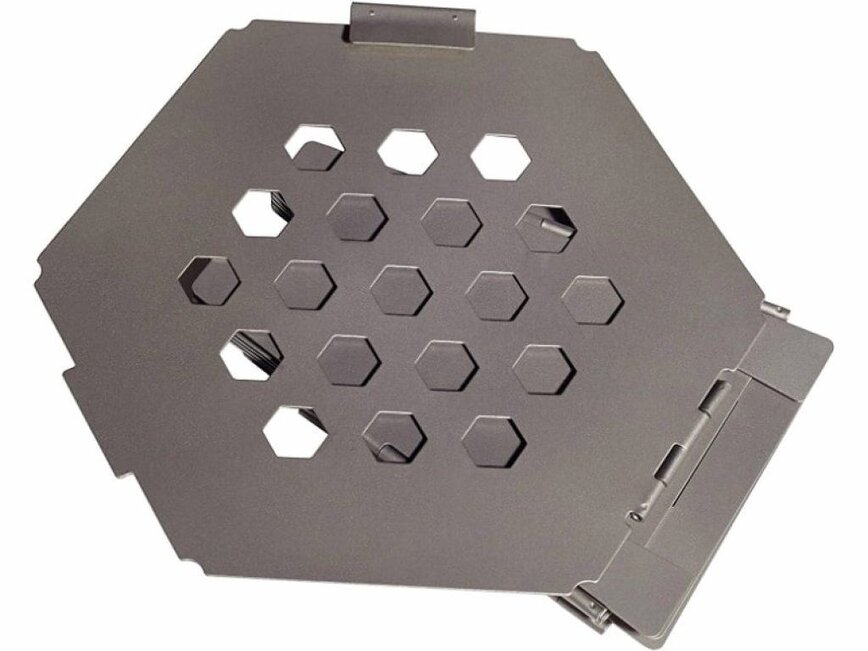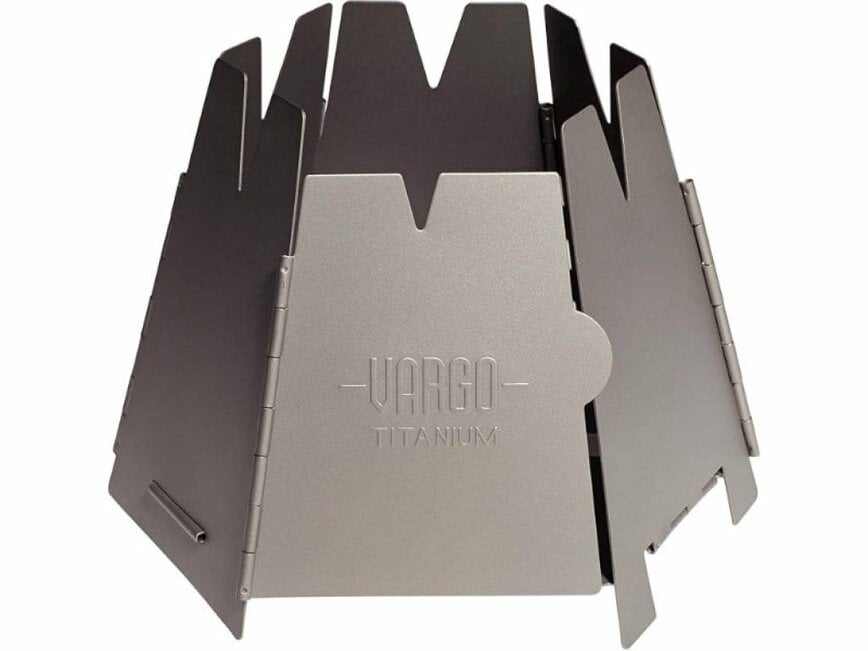 Another minute wood burning camping stove that one can find indispensable while traveling is the Hexagon by Vargo.
The product is straightforward to install and even simpler to disassemble, as it was designed with time-saving in mind. You take out the flatly compressed stove from the packaging, unfold it by the patterns given in the instructions, and it's ready to go. Always make sure that there is a snapping sound indicating that the grooves have matched and got firmly fixed.
The item is as small as it gets, it's only 4.5oz heavy with five by five inches both in width and length. With these dimensions, the stove can even fit in your pants back pocket and be assembled when needed.
The bottom edges are slightly wider than the top ones making it trapezoid to ensure that the heat circulates all over the volume. It forces the flames upward, which increases the temperature and, consequently, the cooking time.
Fueled by lightwood logs or brushwood, there is no need to carry any additional materials since everything you require is easily found around. To clean the utility, simply disassemble the item reversibly and get rid of the smothering fuel leftovers. Apply water to provide a full cleaning and follow it by about 20 minutes of drying in the sun before folding it again.
This titanium backpacking wood stove can withstand any external conditions, from the cold to the boiling heat without losing its warmth-preserving properties. Moreover, thanks to the hardened outer alloy of metals, the product is not susceptible to rust and will serve you for many years.

---
PROS:
Compressed into a flat packaging.
Resistant to various external conditions.
Easy to maintain.
Sturdy.
Ultralight.
---
BioLite Campstove 2 Wood Burning Electricity Generating & USB Charging Camp Stove – High-Tech Wood Fuel Camping Stove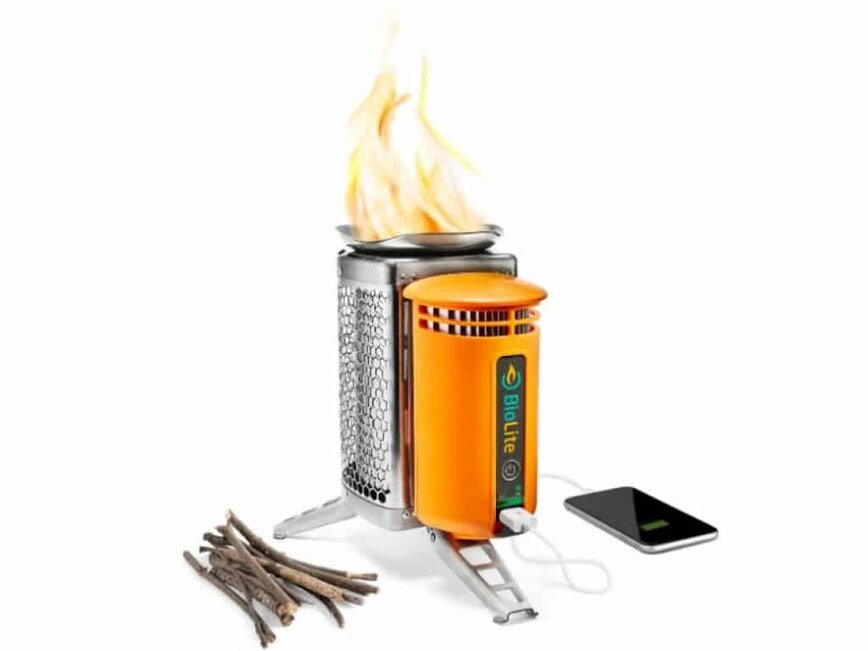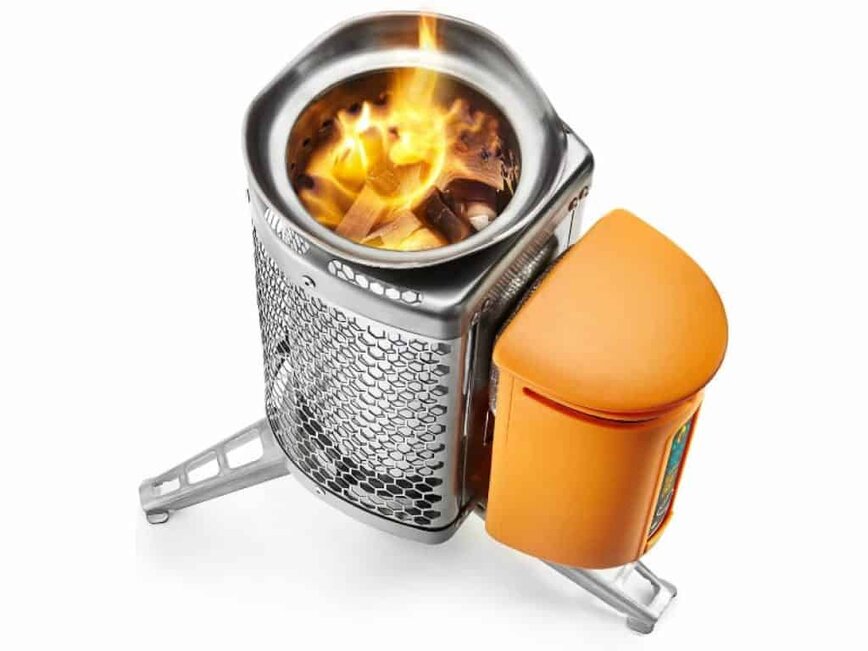 If you're looking for more than just a camping wood stove, I'd advise you to consider this BioLite product. The company aims to create cutting-edge items for delightful camping experiences by combining modern technology and multifunctionality in a single appliance.
Built as a prototype of a standard small stove, the dimensions of the product are very compact, which makes it lightweight, up to nine pounds. Taking it along on any trips won't create any discomfort, and the item is packed in a nice, easy-to-carry cover that works both as a case and protection against rain or excessive summer heat.
This biofuel camp stove has an array of functions that make it stand out among others of this kind. First, it's equipped with a strong battery that enables all other features and provides a constant electricity supply. Second, the monitor shows all currently activated functions, as well as the lifespan of the battery and temperature index of the produced heat.
Third, it's got an option of a portable charger that supplies your electronic devices with the necessary energy that is produced from the fire upon which you cook your meals. And lastly, the strong but silent vents ensure the support of the flames by circulating fresh air throughout the device; and get rid of nearly 9/10th of the produced smoke.
The appliance stays cool and safe for touching or moving regardless of the temperature of the combustion chamber. The reason lies in strong, insulating metals. Thanks to the stable tripod, the stove is balanced and unlikely to be tossed and accidentally flipped by the wind.
Whether you're cooking your breakfast, boiling water for some coffee, or charging your smartphone, this BioLite stove is a reliable utility on any trip.

---
PROS:
Versatile;
Durable and corrosion-free;
Water-proof;
Compact and easy to assemble.
---
Camp Chef Alpine Heavy Duty Cylinder Stove – Family-Size Wood Burning Camping Stove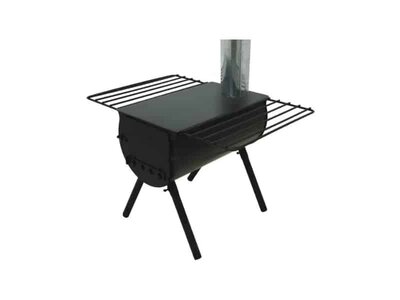 In case you need an option for a large family trip or a backyard BBQ, you might be interested in the Camp Chef Stove.
Unlike a small wood burning camp stove, this spacious product is perfect for people who like to cook a lot and enjoy their camping for long. With the dimensions of around 21 square inches, the product is meant for preparing large quantities of food on its specially designed food tray. The stove is equipped with a grate for constantly supplying wood and coal.
Therefore, it's effortless to maintain the fire and regulate it according to your needs. The 25-inch chimney is easily installed with a few turns of a screwdriver and carries out all the smoke right out of the tent, making it clean and neat for the user. Based on four removable heavy-duty legs, the unit remains stable and balanced under any weather conditions and won't be easily flipped over by children.
Made to last long and serve well, this wood fuel camping stove mainly consists of steel and is hardened to withstand. In case of a storm, the construction is modified with an arrester, excluding any chance of a lightning strike. Don't forget to clean the chamber from ambers and ashes, and rinse it with water or apply a sponge to keep it perfectly ready for your next camping.
Now, what can it be used for? The main purpose of the product is to provide you with the space and comfort of a real cooker. Grilling chicken on the grate, cooking a stew or soups, boiling water, roasting marshmallows, or even baking buns are easy here and require only your imagination and zeal.

Sale
---
PROS:
Heavy-duty;
Durable and sturdy;
Spacious and capacious;
Multifunctional;
Easy to clean.
---
Toaks Titanium Backpacking Wood Burning Stove – Truly Lightweight Wood Burning Stove
The size of a regular kettle, the Toaks Stove is another high-quality product for hiking and camping lovers.
The product is 4.5 by 7.5 inches big and destined by an American brand. It is deprived of any toxic or easily inflammable coating.
The top part is rolled down into a round one-layer brace that fits in the bottom part, making it very compact to carry. It's suitable for both a backpack and a gloves compartment when disassembled and is effortlessly put together by simply twisting the two round parts clockwise.
The principle of using the item is similar to other small products of this kind. The combustion chamber is filled with twigs or chopped wood logs and lit up using regular matches. Mostly, there is no need to apply any additional combustion substance, but it may be done in cases of harsh weather conditions.
When the flames are lit, you place on it compatible-size kitchenware, like a metal mug or a casserole, and start food prepping. The shelf can easily nest a 40oz piece.
As a must-have wood-burning survival stove, the product is made of pure titanium that ensures durability and a longer lifespan. Moreover, the holes covering the top sides of the stove are meant for proper smoke and heat regulation. Due to them, the unit stays smoke-free and doesn't disperse the burning fumes all over the place but simply directs them away from itself in a nice upward flow.
To make it even more efficient and prepare more food at once, you can place a long thin metal plate on top, creating more room for placing not one but two or three mugs, or cans of food.

---
PROS:
Ultralight;
It takes around 3 minutes to assemble;
Kept in a nice 3-inch tall case;
Powerful;
No odor.
CONS:
The inner ring can be too big for some tin cans.
---
RedCamp Wood Burning Camp Stove Folding Stainless Steel – Safe BioFuel Camp Stove
Are you feeling lost among all the folding camp stove wood burning products? Then you might want to take a look at this ultimate favorite, the RedCamp Stainless Steel Stove.
Unlike other compact camping cookers, this unit is more sophisticated due to its square shape and modified capacity. Thanks to the dimensions of approximately 11 by 8 inches, the product is handy and lightweight. When the item is folded, it's nicely fit in a sack for comfortable and secure carrying; and it takes up to 4 minutes to completely assemble the unit and make it ready for food prepping.
The square grill grate on the top makes it spacious enough for placing two kitchenware pieces at the same time that receive an even amount of heat. If you don't feel like taking along any casseroles or dishes, you can place meat or vegetables directly on the top grate for roasting and grilling.
To unfold the utility, peel off the protective coating from all the sides and set up the main body. Place the wider grate inside the body at the bottom to establish the site for fuel and ashes. Slide in the stainless steel metal sheet over the grate through a side groove and fix it firmly. Eventually, put the dense grate at the top, and the utility is ready to use.
Due to a tailgate, this lightweight wood-burning stove makes it easy to maintain the flames and secures any fire or heat leaks, making it perfectly safe for the user.
The whole surface of the stove is made of stainless steel, as well as the inside parts. This ensures perfect water-resistance and heat insulation that prevents burns and unnecessary injuries.

---
PROS:
Smart and bright;
Well-ventilated;
Equipped with a sheet for easy ash removal;
100% safe;
Warranty provided.
CONS:
The item requires regular cleaning.
---
Ohuhu Camping Stove Stainless Steel Backpacking Stove – Camping Wood Stove You Need
As one of the best camping stove wood burning utilities, the Ohuhu stove is an essential add-on to your traveler's kit. Not only does it do great with food, but it always cares about nature as well.
The regular (5.5 by 5.5 inches) container with a weight of less than one pound combines strength and style. Also, the construction is convertible to a small, easy-to-carry unit that comes with a nice water-proof and heat-resistant case. Such a feature helps you save space in your backpack and keep the stove in your vehicle for the rainy days.
To fill the utility with fuel, you'll need any biomaterial that burns, like leaves, grass, twigs, etc. Thanks to a well-elaborated fire stream channel, the air is constantly supplied into the vents, which supports the flames and doesn't let them quench in a strong wind or even drizzle.
Of course, the corpus is made of the best quality stainless steel that keeps the temperature insulated from its top layers, which provides excellent heat regulation.
Suitable for cooking and warming up, the stove comes with a nice grill grate installed on three holders. These supports are used for placing a casserole or kettle and work as stabilizers for the whole unit.

Sale
---
PROS:
Great price;
Equipped with 3 strong holders for kitchenware;
Fueled by a variety of materials;
No gas or inflammable items required;
Neat and safe.
CONS:
Difficult to clean out the ashes.
---
Bottom Line
As you can see, there is a great array of wood-fired camping stoves to take along when planning a trip. They can provide comfort, basic cooking conditions, and assurance of a delightful experience.
When choosing one of them, make sure to rely solely on your instinct and reviews of people who have already come across this product. This will save you the trouble of scrolling down the endless lists of unchecked items and help you invest your money in something that will prove most useful over time.
Don't forget that the quality of a product relies not only on the matter it's made of but also the functions it's meant to perform. Thus, pay close attention to details.
All in all, I hope you've found this article useful. Now, tell me if you've ever used a portable stove before? If yes, how good or bad did you find it? Would you recommend one of those to your friends or family? Make sure to leave a comment down below!