Hi, everyone. I don't know about you, but the adventures are calling me all the time. I think that the best way to spend time with friends or family is to go far away from the city and enjoy the magnificent nature. Sure thing, you need something to eat.
A few decades ago, it was hard to cook food in the forest or near the lake. But we live in the 21-st century where you can get any equipment you need. So, today I'm going to present to you the best camping gas stove reviews.
I will describe the burners that work on the propane or butane fuel. Sometimes the device can work on both. In most cases, the burner requires the propane cylinder, and there are some reasons. First of all, storing a large amount of propane is much easier because it exerts significant pressure.
Also, propane will stay in the gas condition at lower temperatures. This is an important feature for camping equipment because many people like to travel in the winter.
Amazon Bestseller
The Best Camping Gas Stoves Ever
The butane has one big plus – you need a small amount of it for the long usage. But it's usually hard to store a big amount of it. A tank usually has an 8 oz volume, while the propane cylinder has 16 oz. They both will work for about an hour. So, there is not a big difference between butane and propane.
If you want a burner that works during the cold temperatures, choose the propane cooker. If you want the lightweight fuel, choose a butane stove. I hope you understood my explanation, so let's go to the reviews.
Best Camping Gas Stove: Coleman Gas Camping Stove
Coleman knows what to do when the outside is calling you to have adventures. Just follow your desires. The company started with developing the first gas-powered lantern that you can take with you everywhere. That was a hundred years ago. Nowadays, they have revolutionized providing tents, lighting, chairs, sleeping bags. As you see, with Coleman, you will be equipped with a whole traveling kit. And we will begin with the best camping gas cooker.
Perfect flow and a perfect heat are about the Coleman device. No matter when and where you're going camping, a stove will work perfectly even in cold weather or high in the mountains. Its pressure control technology keeps the fire stable.
A great plus is that the stove burns almost all the fuel allowing it to cook food for longer with less firing. The device works up to 1 hour with a propane cylinder (sold separately).
The weather can simply ruin your weekend. But you should not be afraid of the strong wind because the device has the wind blocks. It is easy to regulate the height.
You can set the panels higher for the larger pans, or lower for the small one or when you don't need them at all. Besides this, the temperature also can be adjusted. A rotating dial allows you to control the fire input, just like at your home cooker.

Sale
---
PROS:
Has wind blocks;
You can control the temperature;
Works in cold weather;
2 burners.
---
Easy-to-Use Gas Burner for Camping: Gas ONE GS-3900P New Dual Fuel Propane or Butane Portable Stove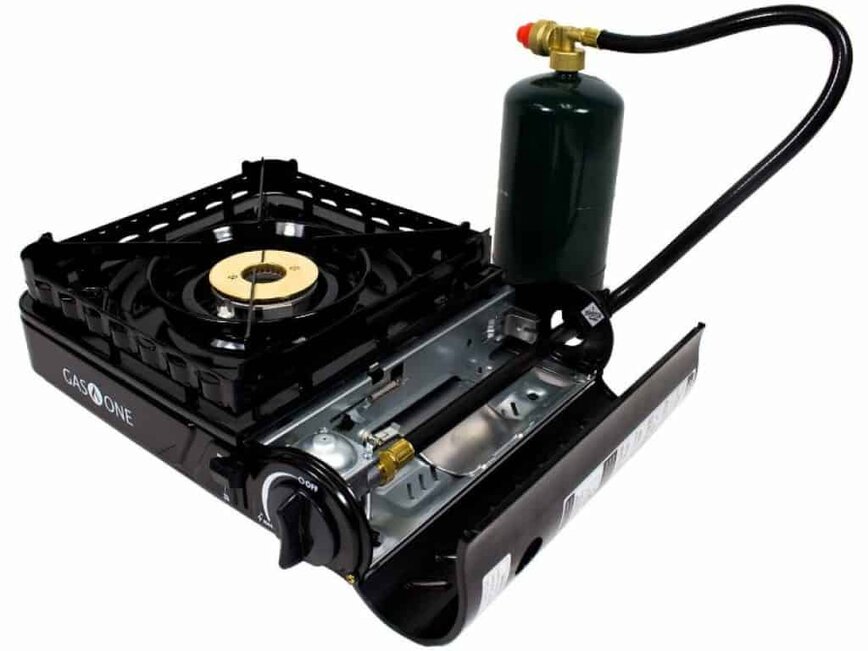 Gas One believes that nothing brings people together like the outdoors. And that's truly the thing. It's much easier for people to relax and be themselves when they're camping together or just have a picnic.
The barbeque will be more delicious with the best portable gas stove. Gas One family strives to provide well-manufactured portable stoves at affordable prices. I think they're doing great.
One of the most important things in gas stoves construction is safety. And that's what Gas one offers you with their device. The main feature is the automatic shut off system that reacts to the irregular pressure or temperature.
So, the stove will turn down if something is wrong without your help. This technology works on both: the gas flow and the gas cylinder that allows you to enjoy your holidays without stressful thinking.
A dual fuel system is something that makes Gas One device a little bit different from the other gas stoves. Usually, you can use one propane tank. That means your cooker will work for an hour or a bit more.
But, the dual-fuel technology allows you to set two 8 oz butane canisters or two 16.4 oz propane cylinders for the longer application. Sounds amazing, isn't it?
The Gas One device is not afraid of the wind! It has four wind blocks that protect the fire from turning off at the wrong time. I know it is unpleasant to change your plants because of the bad weather. Now, you can be sure that won't happen.
Also, there is no need for using lighter or matches thanks to the piezo-electric ignition. When you are far away from civilization with no fire source, it is what you need the most.
The compact size makes the stove easy to carry in your backpack, especially when you are traveling long distances. You may use the carrying case to simplify the transport. The cooker is not only comfortable to transfer, but you can also place it wherever you want: on a table, land, snow, etc. It won't slide thanks to the temperature-resistant rubber foot.

No products found.
---
PROS:
Compact size;
Work on butane or propane;
Dual fuel;
Has a security system;
Piezo-electric ignition.
---
Dual Fuel Camp Stove: Camp Chef Explorer Double Burner Stove
Want to cook tasty meals even if you are far away from home? Why not, Camp Chef will help you. They provide high-quality cookers for all seasons and reasons.
Once, the Camp Chef workers understood that many campers want a better way to cook outdoors, but sometimes they can't afford this.
That's how the company started to develop. Today, they offer many innovations that can make your vacation enjoyable and make you feel like you are not far away from home.
The feature that makes the Camp Chef stove very comfortable is adjustable legs. Four legs allow you to place the device on a suitable height to make the cooking process easier and more pleasant. If you want to set the cooker on a table, the legs can be removed.
The kit also includes a windscreen that protects the fire from three sides. Moreover, the gas stove is compatible with fourteen other Camp Chef accessories that are sold separately.
I think it is important for the burner to be durable. You don't need to buy another one for every new season, am I right? The strongest material is used for construction – the longer it will serve.
Camp Chef stove includes the two cast aluminum burners with the temperature controls. This metal is great because it makes the cooker durable and lightweight.
The cooking area is quite big, so you can prepare two meals in large pans at the same time. By the way, the company also offers ovens, grill griddles, barbecue boxes that will meet your every need. All these devices are compact and easy-to-use.
It is great to have a Camp Chef stove when you often have uninvited guests. You may enjoy cooking together outside with no long preparations.

Sale
---
PROS:
Has removable legs;
Include windscreen;
Powerful burners;
Durable construction.
---
Gas Stove Portable Outdoor: Goplus Outdoor Stove Portable Propane Gas Cooker
One burner or three burners – Goplus has two variants to offer you. The cooker is powerful no matter what model you choose. What makes it so convincing is the cast iron head that keeps heat for longer.
The food made on this stove is really delicious thanks to its construction and additional features. And what is more important – it is so easy to use this device that you will feel like you're truly on vacation.
The material does not only keep the fire well but also is highly durable. Cast iron is one of the strongest metals. It also makes the stove waterproof and anti-rust that is ideal for outdoor activities.
Even if you leave the cooker outside on a rainy night, it's not a big problem, and you will be able to prepare your breakfast quickly. A great feature for camping, isn't it?
Goplus gas stove for camping has adjustable legs. And you can regulate the height of the cooker due to your preferences. Removing the legs makes the item small and easy for transfer or storage. The construction allows setting the burner in a few minutes. No more complicated setups – only the satisfaction of using one of the best gas camp stoves.
Safety is the priority in manufacturing such products. It sounds dangerous to work with gas, especially when you are somewhere in the forest. The Goplus stove monitors the gas flow. When the internal or external leakage is detected, the mechanism may stop the cooking process. So, don't worry, you and your family will be safe.

Sale
---
PROS:
Compact;
Strong material;
Security system;
Adjustable legs;
Waterproof and anti-rust.
---
Lightweight Camping Stove: Coleman Gas Camping Stove
What makes a propane gas stove camping so good? In Coleman's case, it is the perfect technology that allows the fuel combustion process to be complete.
That means you need less fuel to prepare a good meal. Besides this, pressure technology makes the fire more steady even when the weather is not the best, or there is a little fuel left. All this is provided to simplify your camping and let you enjoy it.
You can turn on the Coleman cooker in a few seconds without any matches. When you push a button, the electric spark light burners. So, you can be sure you won't sit without dinner somewhere in the forest. There are the wind blocks to protect your fire. They are adjustable, and when the weather is calm, you can remove them for more comfortable usage.
If you don't use professional cookers while camping, it is hard to regulate the temperature. Sometimes, your breakfast may burn away just because you were inattentive.
Coleman took care of this too. A rotating dial allows you to control the temperature easily. The burner is powerful, so even at the low fire level, your food will be ready in a little time.
Material is an important part of choosing a gas stove, and you want it to be durable. This device is made of aluminum. It is rust-resistant and long-lasting. In addition, the material lightweight makes the burner easy to carry or transfer.
And the chrome-plated grate provides durability and makes it easy to clean the cooker. You may just dry the device with a cloth. No grease spots will be left on the surface.

---
PROS:
Lightweight material;
Matchless technology;
Perfect flow;
Easy to clean.
---
Reliable Gas Stove: Camp Chef Everest 2 Burner Stove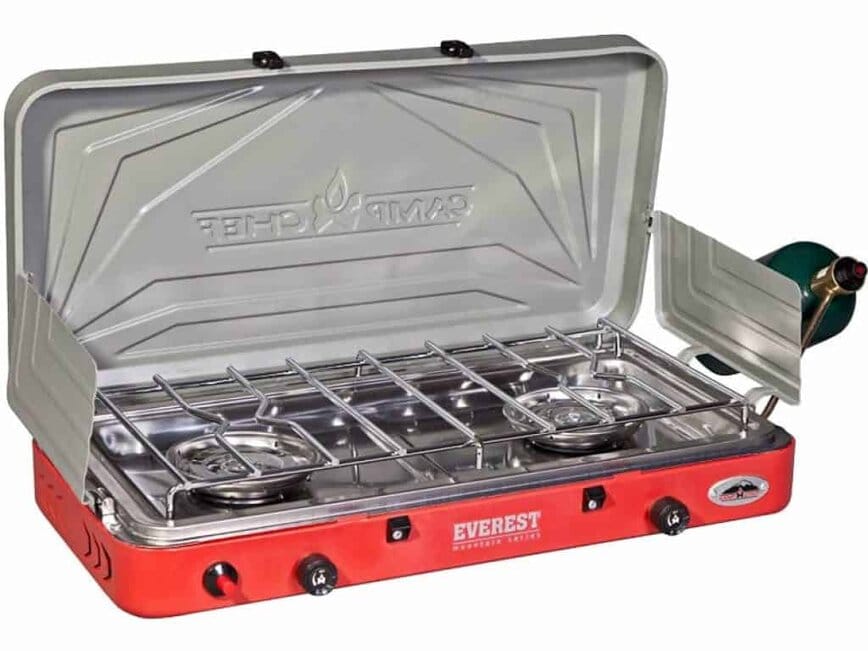 Because the Camp Chef portable gas stove camping looks very small on the first side, you may think it is not as powerful as bigger devices. But it's not like that.
The device has two burners that have a total output of 40,000 BTU. And that's enough to prepare dinner for a four-member family in a short period because you can make two meals at the same time.
A gas stove has a matchless ignition for easier application. After you turn on the fire, you can regulate the temperature by the heat-control dials. Thanks to this technology, it's enough to press a button to start working and exclude worrying about wet matches or burning your hand. And the heat control helps with the ideal temperature for specific cooking.
As the most professional gas stoves, the Camp Chef Everest Burner has wind blocks. You can remove them if the weather is calm. They don't bother your cooking process at all – you still can prepare the two meals at the same time using the largest pans you have.
The regulator adaptor for the gas cylinder is included. It allows controlling the propane output to prevent emergency issues.
The most important thing you need to consider while choosing the gas camp stoves is the compact size and convenience. You are going camping and need the most lightweight variant, am I right? The Camp Chef device is perfect because it is small.
Besides this, it has a handle to make the transfer a lot easier. The stove is lightweight, but the steel it is made of is strong, so it will be hard to break it. It is comfortable to clean the stove after cooking thanks to its construction. I'm sure it is one of the best gas stoves outside.

No products found.
---
PROS:
Powerful;
Matchless ignition;
Temperature control;
Compact size.
---
Long-lasting 2 Burner Gas Camping Stove: Gas ONE GS-3000 Portable Gas Stove
This gas stove has one burner because One Gas wanted to create a compact cooker for those people who get high in the mountains. Of course, in this case, you need a small and lightweight device.
One Gas burner is not only compact but also innovative and durable. It has a matchless technology, and it allows you to fire the burner without additional instruments simply.
A great plus is that the stove is sold with the four propane cylinders. Also, you can buy a windscreen if you want. It is high and big enough to protect the fire not only from the three sides – but also from the four. Additional features include the fuel regulator.
You may turn off the filing output if you think there can be leakage. Or use this regulator when you're changing the fuel tanks.
There is also a temperature regulator that smoothly controls the fire. You can easily leave the burner at a low temperature and be sure your food won't burn away.
But be careful, Gas One device is powerful, so it won't take a lot of time to prepare a meal. If you're looking for a fast and small gas stove – this variant is for you.

---
PROS:
Lightweight and compact;
Has a fuel regulator;
Includes 4 propane tanks;
---
Small Gas Camping Stove: Coleman Portable Butane Stove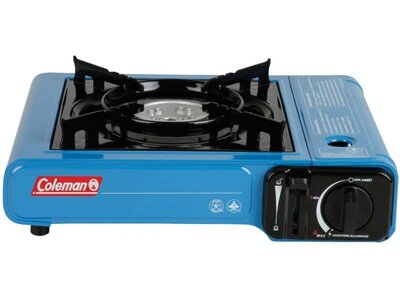 Coleman is known thanks to its durable constructions. And this one-burner gas stove has a steel base that will serve you for a long time. It also makes it easy to clean. An important feature, I guess, especially for the devices that help you with meals cooking.
The burner is made of aluminum. This metal is rust-resistant that makes the construction even stronger. It has a carrying case, so you can take a cooker wherever you want to go. Thanks to the materials, the stove is not heavy.
The working time is a little bit more than one hour at the highest temperature. That means if you set the low fire, the cooker will work up to two hours. For this, you need an 8,8 ounces butane cylinder. You can easily regulate the temperature with the fire control system.
Coleman butane stove has one burner that can fit the 10-inch pan, but not a bigger one. I think this gas stove is great for you if you are looking for a reliable burner that is not very big but powerful.

---
PROS:
Lightweight material;
Easy to clean;
Works for long;
Has a temperature regulator.
CONS:
Absence of windscreen;
Only one burner.
---
Final Report
I believe that a good camping stove can make your weekends or vacation much better. It's not only about comfort but also about the quickness of food cooking. Without the burner, it sometimes takes a few hours to cook dinner during camping.
Not a great pleasure, right? Nowadays, you can choose the best cooker for you. If you like to get high in the mountains, you may buy a compact one-burner device. And if you like to have a picnic near the lake with a lot of friends, you can buy two or even three-burner stove with strong legs for comfortable application. As you see, there is a big choice.
The most important thing is to choose wisely because a gas stove should serve you for a long time. I'm sure I gave you enough information about the specifics of camping burners. Now it's your turn to decide which product you like the most. Have you already used a gas stove? Is it comfortable to cook on it during camping? It will be great to read your stories in the comments below.