There is so much fun to be experienced when engaging in outdoor activities. Moreover, there is a lot of joy to be derived from such outdoor hobbies if you have the right kits. How could I possibly know it? My name is Eddie, and I am a tourist and a big fan of hiking. Therefore, I am fully aware of the peaks, traumas, fatigue, and joy of not only being outdoors, but also achieving the goals of your mission.
Why do you need a hiking backpack?
Among the most important components of your outdoor activity kit is a backpack. You will definitely need one for stuffing all the necessary supplies you require for your trip or outdoor experience. It is the most flexible form of luggage for adventures. Why is it? For starters, it will not inconvenience you in terms of your travel plans. Further, it gives you enough reason to carry just what you need for your planned activities.

But how can you choose the right backpack for your outdoor activity? This is always the trickiest part for most people. The decision is harder to make as there are several brands to select from, with each of them offering its pros and cons. I could share with you one of the tips I use when making the right choice.
The secret is to realize that there is no perfect backpack for your every outdoor/travel setting. For this reason, when deciding a decision on what to buy, it is important to purchase a bag that meets your personal needs. By this, I mean one that helps you to achieve the goals of your outdoor activities. In deciding which backpack meets this criterion, you will probably be looking for attributes. These characteristics include weight, size, durability, pricing, right fitting, comfort while carrying, and weather resistance of your preferred bag.
I want to help you make a better decision, and this article reviews some of the suitable backpacks you could add to your wish list or shopping cart.
Comparison of Hiking Backpack Features
| Product Name | Dimensions | Package Weight | Capacity | Water-Resistant | Outer Material | Price |
| --- | --- | --- | --- | --- | --- | --- |
| High Sierra Pathway Internal Frame Hiking Backpack | 25×13×9 inches | 4 pounds | 70 L | Yes | 600D Polyester Dobby | $107.99 |
| Teton Sports Scout 3400 Internal Frame Backpack | 25×13×9 inches | 4.5 pounds | 55 L | Yes | Polyester | $79.99 |
| TETON Sports Oasis 1100 Hydration Pack | 19.5 x 12 x 2 inches | 2 pounds | 18 L | Yes | Honeycomb Ripstop nylon | $39.99 |
| Ubon Ventilated Hiking Backpack | 5 x 5 x 5 inches | 4.7 pounds | 50 L | Yes | Nylon mesh | $74.49 |
| Loowoko Hiking Backpack | 23.6 x 11.8 x 2.8 inches | 2.4 pounds | 50 L | Yes | Polyester | $44.99 |
| AmazonBasics Internal-Frame Hiking Backpack | 18.5 x 29 x 8 inches | 6 pounds | 75 L | Yes | Polyester | $57.51 |
| NACATIN Internal Frame Backpack | 13 x 1.6 x 24 inches | 3.64 pounds | 70 L | Yes | Polyester | $54.99 |
| NEVO RHINO Internal-Frame Hiking Backpack | 26 x 12.6 x 9.06 inches | 3 pounds | 45/50 L | Yes | Nylon | $61.99 |
| MOUNTAINTOP Hiking Backpack for Outdoor Camping | 20 x 12 x 4.5 inches | 2.1 pounds | 40 L | Yes | Polyester | $39.99 |
| Ubon Internal Framed Hiking Backpack | 5 x 5 x 5 inches | 4.6 pounds | 60 L | Yes | 600D nylon | $66.49 |
Amazon Bestseller
What Are the Best Hiking Backpacks Under 100?
In this section, I will conduct a comprehensive analysis of the common hiking backpacks. Since you may be interested in the peculiar features of the backpacks, I will discuss the products in detail. I will also highlight the benefits you can reap from using the bags without forgetting to mention their limitations.
1. High Sierra Pathway Internal Frame – Best Affordable Hiking Backpacks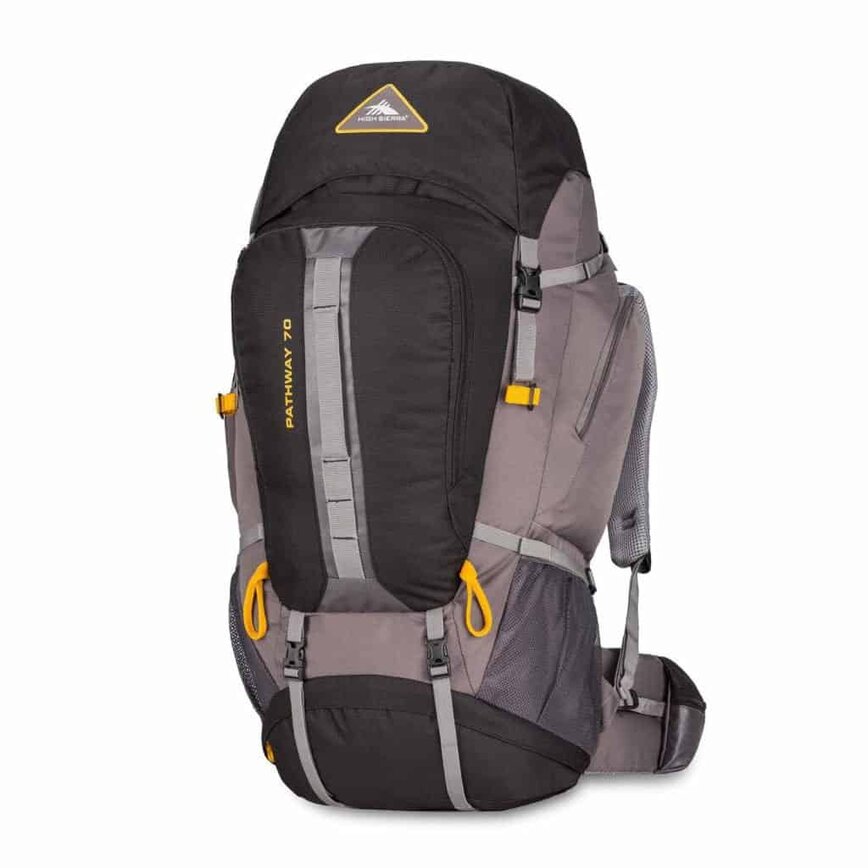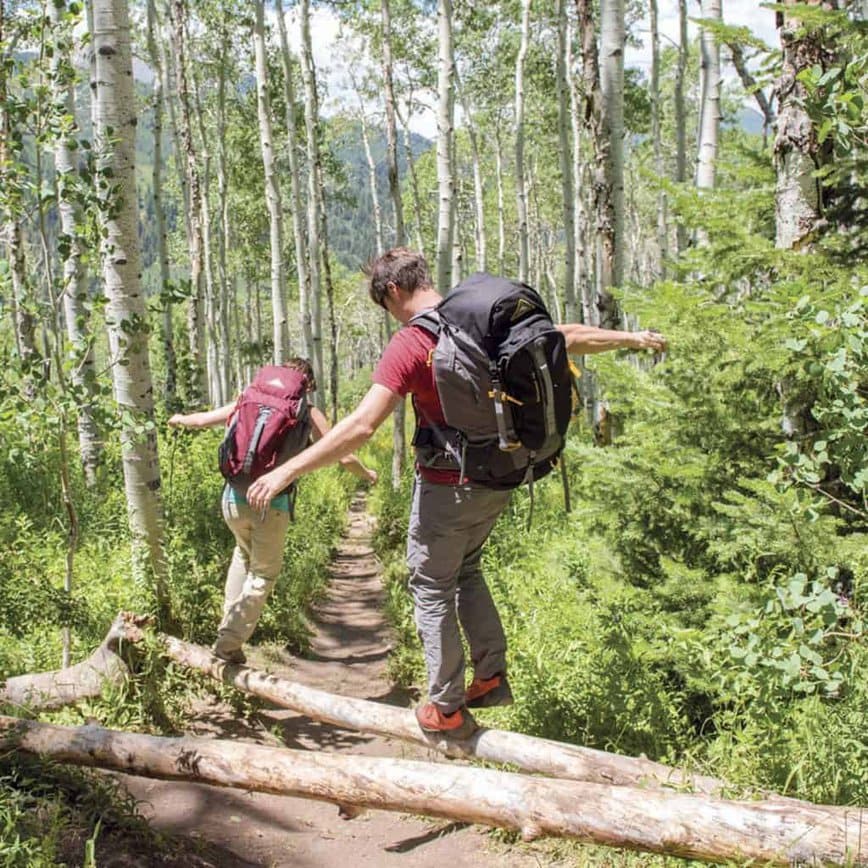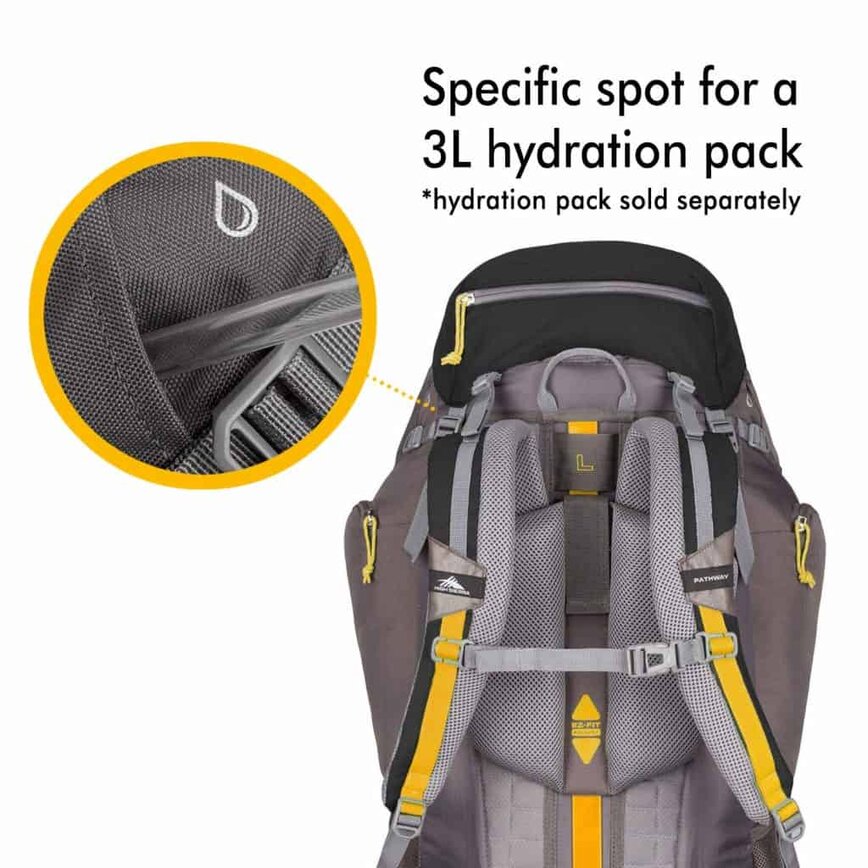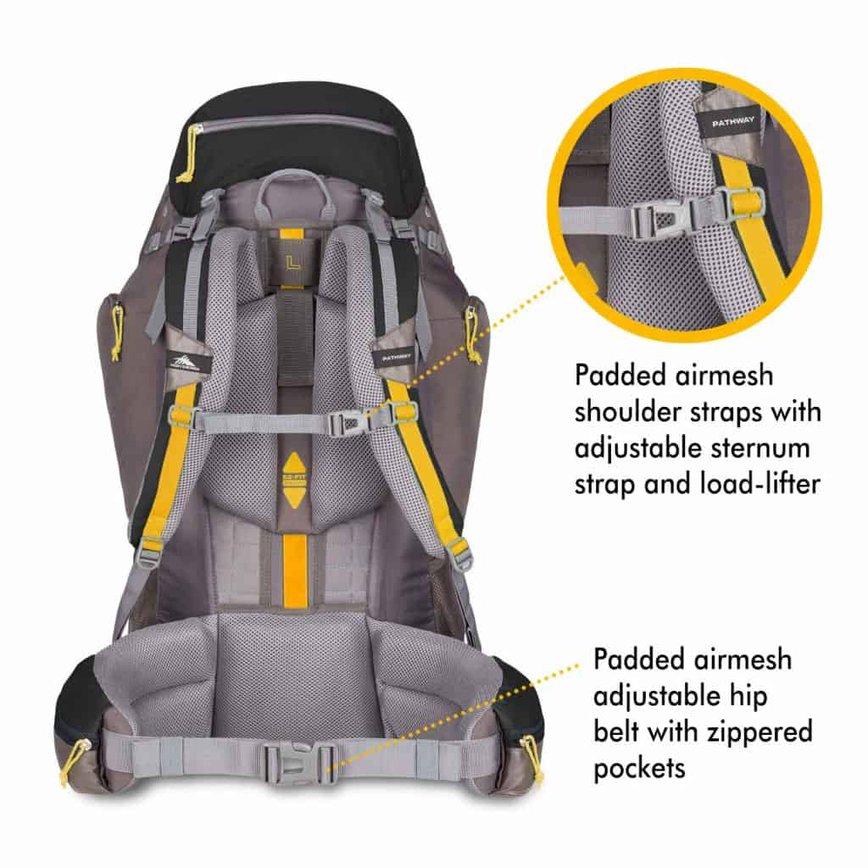 When you think about taking a weekend off, consider High Sierra. It is a suitable bag for carrying during long adventures, due to its storage capacity of 70 liters. Its top-loading compartment also has a removable lid, which enables you to cover your items. Also, its bottom compartment has a zipper; hence, you have easy access to the items.
Besides, this bag is fitted with an organizer pocket. You can use this pocket for storing accessories and your items. When traveling with this bag, dehydration will not be a problem, as there is a hydration port that acts as a reservoir.
You can not but be impressed by this bag's design. It has strong shoulder straps. The back panel of the bag is also fully adjustable. Thus, regardless of your torso size or height, you can easily carry this bag around. Also, the fabric is impenetrable, thereby protecting your gear from the water.
---
PROS:
Includes a hydration port;
Plenty of storage space.
Made of impervious fabric.
CONS:
Does not include a rain cover.
2. Teton Sports Scout 3400 Internal Frame Backpack – Best Hiking Backpack for Under 100 with a Water Bladder Pocket
This backpack from Teton is appropriate for anyone looking for an affordable qualitative backpack. It is reasonably priced considering its set of features that boost its performance. One of these features is its versatility; it has a space of 55 liters and thus is suitable for carrying during 2-4 day adventures.
Another characteristic is the ability to customize it to fit a variety of body sizes; its design allows multi-position torso adjustments. It also has numerous compartments. A lot of pockets make it easier to plan outdoor activities. You can pack different things in various compartments. Its design also integrates a rainfly to keep your items dry when it gets wet. You can also tuck it away when not in use.
---
PROS:
Large storage capacity;
Ample pockets and compartments;
Water bladder pocket.
3. TETON Sports Oasis 1100, Hydration Pack- Best Small Backpacks for Hiking
I consider the Teton Sports to be one of the most affordable and reliable brands. True to its name, it can serve as an oasis when you are stuck in a desert trail. It contains a storage capacity of 18 liters. Besides, the design of this bag includes a hydration bladder with a capacity of 2 liters. This enables you to drink hands-free, making the backpack suitable and useful for those going on a cycling adventure as well.
Since the hydration bladder is a tube made of plastic material, it is necessary to clean it regularly to avoid an unpleasant taste of water in your mouth. You should not worry about cleaning this hydration bladder. It has a 5 cm opening for ice, and thereby it is easy to wash.
Additionally, with this backpack, getting a perfect fit won`t be an issue of your concern. The reason is it comes with full adjustments; you only need to fine-tune the straps to fit your body comfortably. You can also carry this backpack for a long time because its strays are made using a high-density foam stabilizer as well as mesh covering. Thus, do not fret over discomfort when going for those long hikes carrying this backpack.
---
PROS:
Large hydration capacity;
Fits all body frames comfortably;
Has comfortable straps.
CONS:
Water bladder requires regular cleaning.
4. Ubon Ventilated Hiking Backpack – Best Hiking Backpacks for Under 100
If you are going for a lengthy outdoor adventure, you will need a backpack with even larger hydration capacity like the Ubon ventilated hiking backpack. This backpack will ensure essential hydration during the adventure owing to its capacity of 50 liters. Thus you can store plenty of water and other necessities. Besides, this backpack also gives you plenty of room to include water bottles; it has two side mesh water bottle pockets. Therefore, hydration will not be a cause of concern with this backpack.
Another impressive feature of this bag is the organization of its space; it has a lower divider that can help you compartmentalize. You may carry your hiking gear and sleeping pad in the upper compartment, and your clothes in the lower part. This backpack also allows you to carry electronics like laptops as it is fitted with a laptop pouch.
This Ubon backpack is uniquely good because of its ventilation system; it ensures that there is permanent air circulation inside the pack. This, in turn, keeps your back cool. I like this bag also because it is quite comfortable to carry around, owing to padded shoulder straps. The hip belts also ensure that your body will be balanced even on tough terrains.
Also, I am fond of this backpack because there is no need to worry when it starts raining if one is carrying it. It is made of a nylon fabric, which is impervious. Furthermore, it comes with a rain cover, which provides additional protection to your belongings during the rain.
---
PROS:
Rain cover;
Large hydration and storage capacity;
Ventilation system.
5. Loowoko Hiking Backpack- Best Lightweight Hiking Backpacks
Your search for the lighter backpack ends with this Loowoko hiking product. Considering its large capacity of 50 liters, it is quite a lightweight backpack that weighs only 2.6 pounds. Think about carrying it if your adventure involves walking for a long time.
Besides, its immense capacity enables you to carry plenty of supplies and equipment that you would require in your trip. The backpack is water-resistant, meaning that it can prevent water from absorbing during wet weather.
In case of extreme wet conditions, the additional rain cover also will come in handy. Apart from its practicality, this backpack is also very comfortable. Its shoulder straps are made using a sponge padding that relieves the strain from your shoulders.
---
PROS:
Very lightweight;
Large storage capacity;
Made of an impervious material.
CONS:
All pockets are not easily accessible.
6. AmazonBasics Internal – Frame Hiking Backpack – Tthe Largest Best Backpacks for Hiking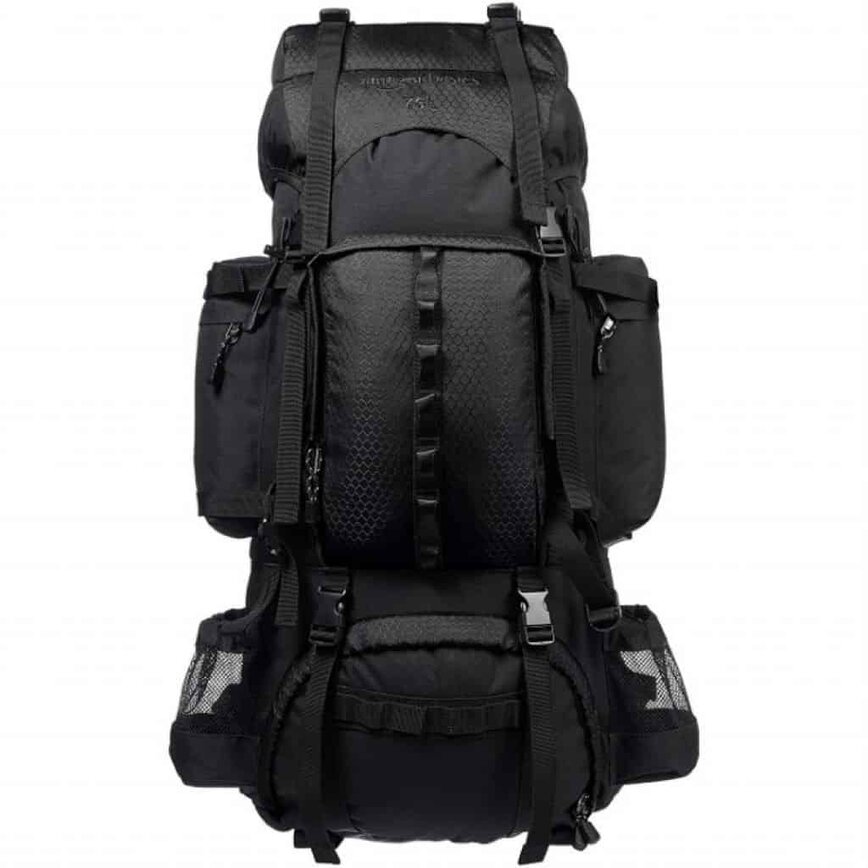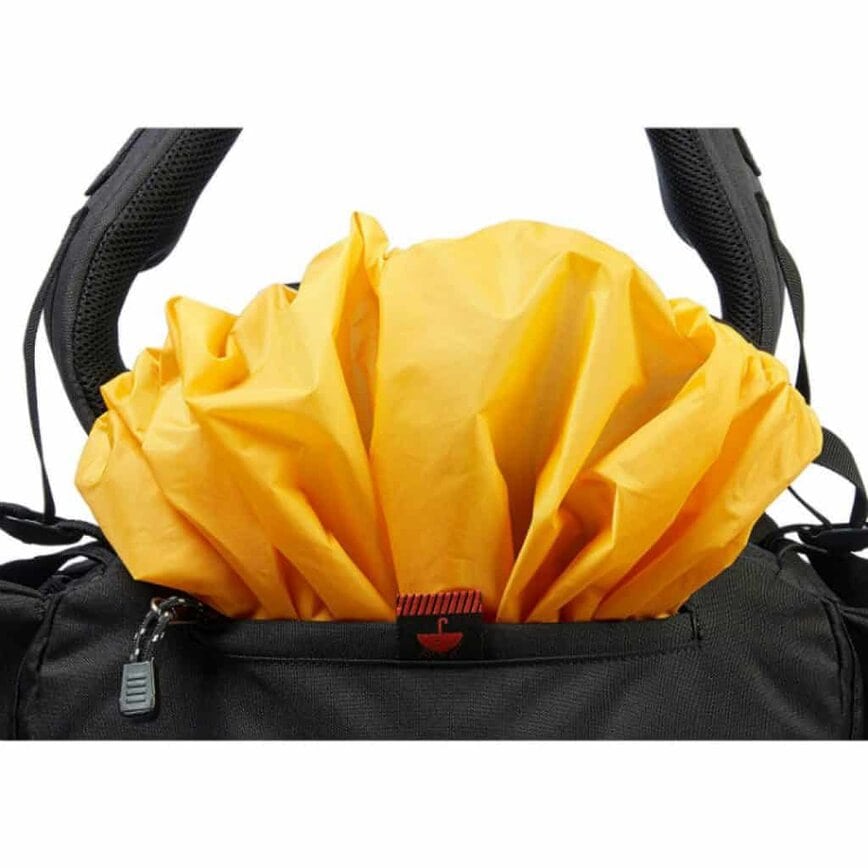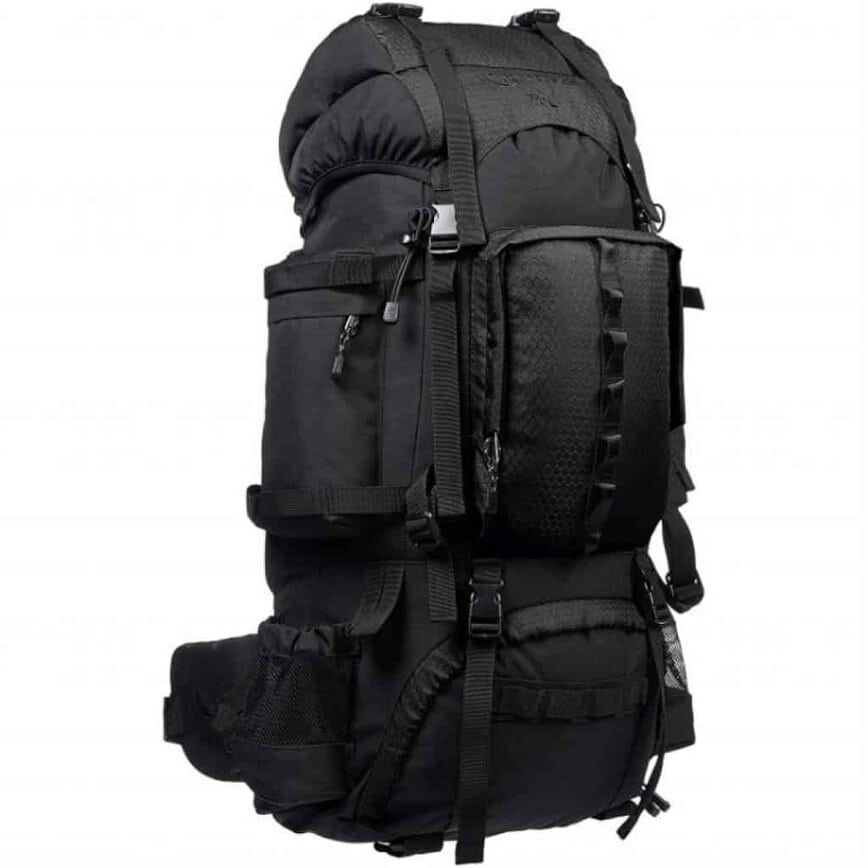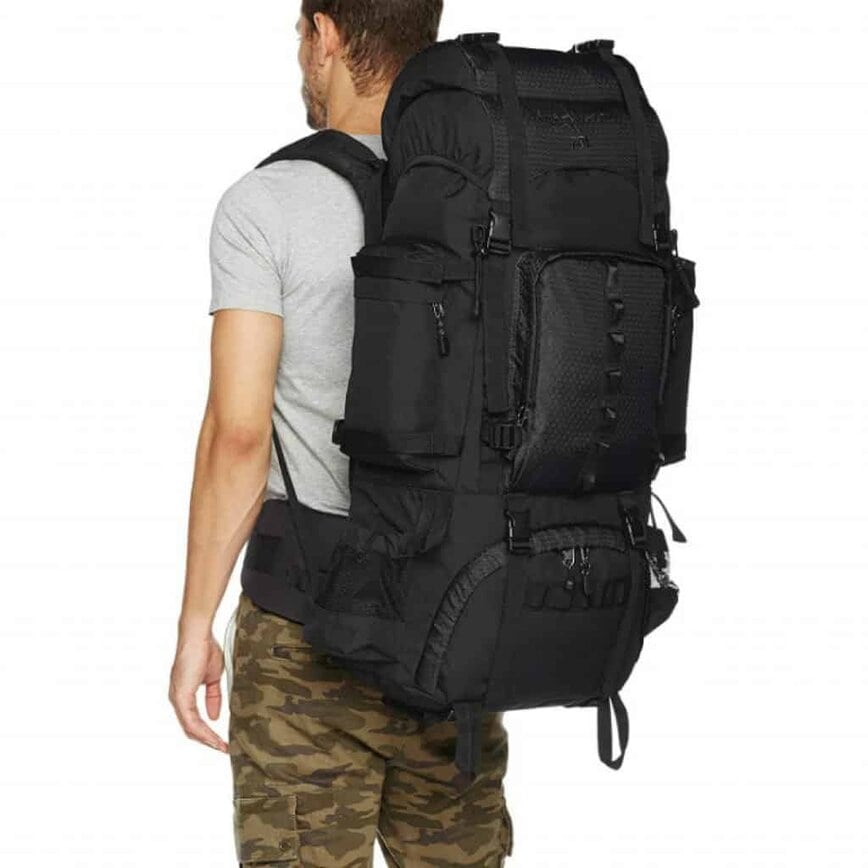 For a versatile and affordable backpack, consider this hiking backpack from Amazon. It has quite a large capacity of 75 liters and a 5-liter room for extension. Inside, there is enough room for all your hiking and adventure essentials. Also, it is easy to access your stored items, as the roomy compartments help you to locate things in the bag thoughtfully.
When you are using AmazonBasics, the rain will not slow you down during your trip. It is due to the design with a unique exterior non-porous coating. Besides, it is integrated with a watertight rainfly and an impervious cover to protect your items from light and heavy rain, respectively. Carrying this backpack also ensures your comfort since its design includes adjustable straps; the straps on the shoulders are also padded.
---
PROS:
Many storage compartments;
Large storage capacity and 5-liter room for expansion;
The exterior is water repellent.
7. NACATIN Internal-Frame Backpack – The Comfort You Will Appreciate
If comfort is the first thing you are looking for in backpacks, this NACATIN backpack will satisfy this need. The open-cell foam used in the hip and back parts of this bag will maximize your comfort. Also, the product is made with many compression straps that will provide stability during your outdoor adventure.
The mesh design on the back of this backpack also ensures that all sweat evaporates and then boosts airflow around the bag effectively. With a package weight of 3.64 pounds, this bag still feels relatively light.
Additionally, once you buy this NACATIN bag, you will forget about purchasing other backpacks for a while. Its double-line shell ensures that it is penetration proof and quite sturdy. Its design is also integrated with a shape-forming backer board to enhance its durability.
---
PROS:
Highly durable;
Relatively lightweight;
Large storage capacity.
CONS:
Lacks an extension for storage capacity.
8. Nevo Rhino-Internal-Frame Hiking Backpack – Lightweight and Versatile Backpack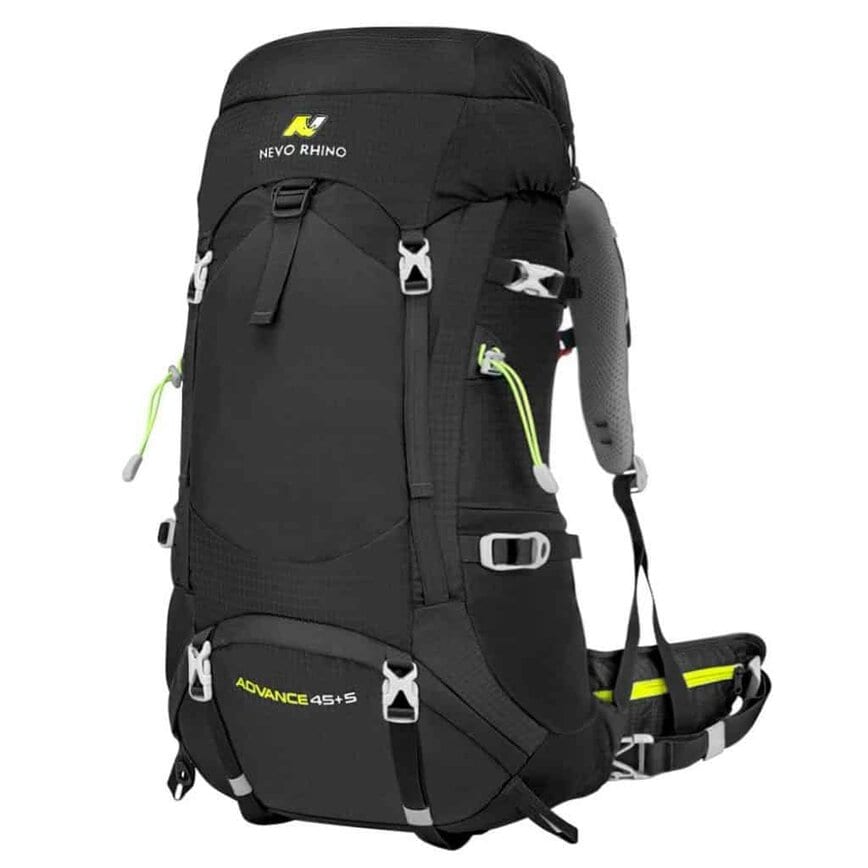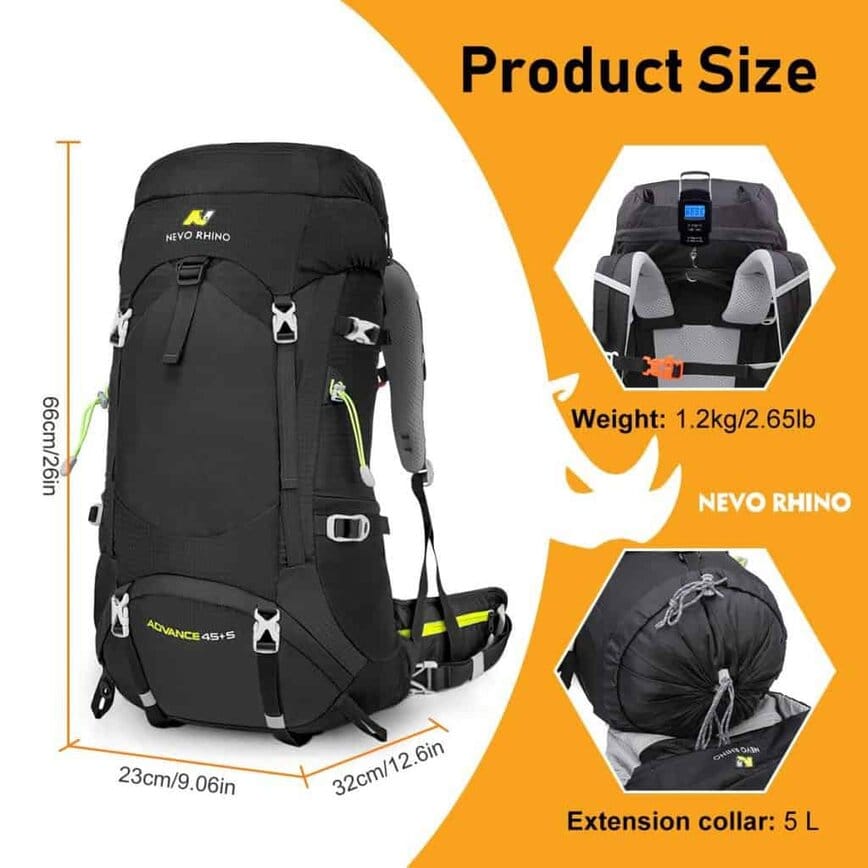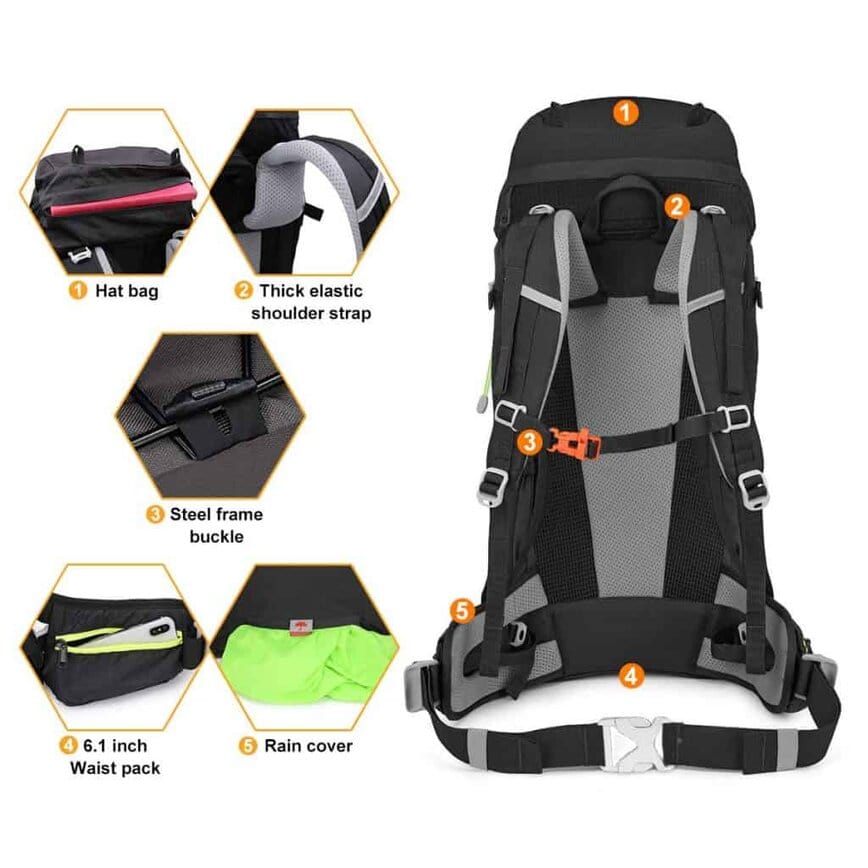 This product is ideal for hiking and camping enthusiasts owing to how roomy and lightweight it is. Besides its practicality, you get to enjoy an innovative design and a sturdy quality with this bag. It is designed with a waist buckle system that enables easy tightening. It also has several pockets where you could slip several other items.
Furthermore, this bag has impressed me because it is fitted with durable zippers. This is very important because it makes me less worried whenever I am zipping and unzipping it. Also, you do not have to worry when it starts raining as the bag is fitted with a rain cover.
It is also impressive that this NEVO RHINO bag is fitted with a breathable system. Therefore, sweating while carrying it will be the least of your worries; the system allows easy circulation of air, thereby maximizing the comfort of your back.
---
PROS:
Relatively light;
Comfortable design;
Plenty of storage pockets.
CONS:
No top pocket that can be zipped.
9. MOUNTAINTOP 40L Hiking Backpack- Best Hiking backpacks for Women
This backpack weighs only 2.1 pounds, which means you can comfortably pack your necessities and still carry it around comfortably over vast distances. Besides, its size makes it an ideal bag to carry if your trip involves some flying on an airplane. It meets the personal carry-on requirements for airlines.
Despite being a small-sized backpack, this Mountaintop bag is relatively spacious. It can fit up to 4 days necessary clothing and other outdoor gear like a sleeping bag, an emergency kit, a trekking pole, dry food, and water. Furthermore, this bag's main compartment is quite roomy and can fit a 17-inch laptop.
If you are traveling during the rainy season, carry this backpack as it comes with a rain cover for shielding your items against the rain. Your comfort is also assured with this backpack as it has a belly strap and a waist belt that help you adjust it properly to fit your frame. Another thing I like about this brand and this specific backpack is that there is a wide variety of colors to choose from.
---
PROS:
Capacious and satisfies airline carry-on requirements;
Lightweight;
Comes with a rain cover.
CONS:
No specific space for a water bladder.
10. Ubon Internal-Framed Hiking Backpack – Large Room for Your Gear and Supplies
Evident from its design and features, this Ubon backpack is ideal for outdoor activities. One of its features is its capacity. It comes with a volume of 60 liters, 50 of which are covered by the main sleeping pad compartment. The other 10 liters are an extendable top pocket that has a zipper. This ensures that you will be able to move your sleeping pad easily.
Its design also includes a rain cover at the bottom of the backpack. This is a guarantee that your backpack will remain dry in rainy weather. Besides, this bag's back length is adjustable up to 7 variant levels. This means that people of different sizes and frames can adjust and carry this bag comfortably.
If you like waist pockets – this backpack will impress you as it has one. It is a nice place to store your small personal accessories or items. The top of the backpack is also well-designed and divided with a drawstring, thereby ensuring the safety of your items.
This Ubon backpack is also long-lasting as it is made using a nylon fabric, which is impervious and tear-proof. Its durability has been further enhanced by the use of high-quality and sturdy zippers.
---
PROS:
Quite spacious;
Includes a waist pocket;
Large room for back length adjustments.
CONS:
Relatively heavy to carry around.
Important Information You Should Know About Hiking Backpacks
In this section, I will discuss additional facts about hiking backpacks. I will highlight the characteristics you should evaluate when selecting a backpack. Some of the most important features I will pay attention to include the size of the bag and the material used for its producing.
How to Pick a Hiking Backpack
As I have mentioned earlier, choosing the right backpack is an important step in planning your outdoor trip. This is an aspect you shouldn`t get wrong, otherwise, it may spoil your entire experience. Therefore, to ensure you get it right, you have to be aware of the features to look for in an ideal hiking backpack. Among the notable characteristics to search for are:
Everyone who loves outdoor activities will agree with me that the size of your backpack is very crucial. In a certain way, it determines what you can and can't carry during your trip. Therefore, the distance of your trip and the time you intend to spend hiking will influence the size of the bag you should carry. The duration of your trip is important too, as it determines the amount of weight you should take. There is no way you can scale a huge mountain with a huge load on your back.
The size of a backpack is determined in liters. If you are going for a hiking trip that will last for a single night, then a bag of fewer than 35 liters will suit you the most. This capacity is enough to hold your sleeping gear and supplies that can extend to the next day. For two or three days' experience, you should shop for a backpack that is between 35 to 50 liters. This will help you to add extra items such as a cooking stove, food supplies, navigation equipment, change of clothes, and a first aid kit.
However, if you are thinking of a trip that will last from several days up to a week, you will need a bag that exceeds 50 liters. Such a bag allows you to stock enough food supplies, pack enough clothing while also accommodating enough survival gear. The design of such kind of backpacks should contain enough straps and loops for attaching the extra gear, or in case you decide to pull it around.
Another aspect worth considering is the material used in producing the backpack. It will help you appreciate several aspects of the bag, such as its durability, strength, and water resistance. In most cases, these factors can be compromised depending on the price you are willing to pay. For example, you can choose a semi-waterproof material that is reliable enough to hold your gear.
Hiking backpacks have been structured in different frames. Each of them is suitable for a given purpose. One of these variations is the frameless bag that is ideal for carrying lighter loads of between 20 to 25 pounds. It can be your choice if you are planning for an ultra-light hiking trip.The internal frame is a common choice among most hikers as it feels comfortable when on. It evenly distributes the weight on your hips as opposed to the shoulders. It also has sufficient ventilation and suspension. On the other hand, an external frame is ideal for those hikers carrying heavier weights.
While hiking may be fun, there is a lot of fatigue involved. This being the case, you won't want anything to make you feel uncomfortable. Therefore, look for a backpack that has enough pad, especially on the straps, to help minimize tension on your shoulders and back.
This is one of the greatest considerations when buying a backpack. You have to buy something that is reasonably within your budget. Luckily for you, we have reviewed some of the most affordable backpacks for hiking above.
What Kind of Backpacks Should You Use for Hiking
In this article, I have reviewed the 10 most suitable hiking backpacks. I have also explained some of the aspects to consider when choosing a hiking backpack. However, in terms of hiking, the kind of backpack is influenced by certain factors. The most important of them is personal comfort. Supposedly, you will be experiencing a lot of uncomfortable situations in your journey, so the bag should not be on that list. Therefore, choose a bag that has hip belts and enough pads depending on the weight it is expected to carry. In this respect, internal frame backpacks are both easier and more practical to carry.
How to Use Hiking Backpacks
If packed efficiently, a backpack can carry unimaginable amounts of stuff. Have you ever looked at your backpack and wondered how all your hiking gear will fit in it? As for me, I have. However, with the right packing tips, you will be amazed at how compact your stuff is.
For you to effectively plan the space of your backpack, you need to be sure of what you will be carrying. Having all the things in one place will help you to determine which items are essential and the ones that can be left out. Once you have the necessary gear, it will be easier to plan on how to fit it in your bag. It also helps to make a decision on what items to pack in a particular compartment of your backpack.
Pack the backpack's bottom
Effective usage of your backpack is influenced by how well you economize your space. One way to do this is by ensuring that you begin arranging your items from the bottom. This entails deciding what item to place at the bottom of the bag. It is advisable that you place the light items at the bottom to distribute the weight evenly. This tip will also allow you to pack the items that are less frequently used. For example, your camping equipment, sleeping pads, and change of clothes should be placed underneath all other stuff.
Pack your backpack's middle
This is where you should place all your heavy gear. The science behind this concept is that it helps in lowering the center of gravity by directing the load towards the bottom as opposed to the back. Therefore, you should pack items such as food supplies, a cooking kit, and a flashlight. If you have noticed, such heavy supplies are usually bulky. Therefore, they are hard to be located effectively. This may actually work out in your favor because they leave enough space that you can fill with the smaller items. Such items include rainfly, clothes, and your tent`s body.
On top of this layer, you should put the supplies required during your trip. They include items such as rain jackets, snacks, first aid kits, maps, and compasses. For effective space utilization, attach any extra gear to the straps and loops available on the outside of your backpack. For example, it would be the perfect place to carry your tent and hiking poles. Also, the side pockets are good for carrying accessories like sunglasses, GPS, water bottles, bug sprays, and compasses.
How to Transport Hiking Backpacks by Airlines
Sometimes your hiking adventure may take you to far geographical locations that may require air travel. In these cases, most hikers end up being disappointed by how their luggage has been handled by their respective airlines. However, with the right tips, you will enjoy the air travel part of your hiking trip.
One of the measures you should implement is trying to have it as part of your carry-on stuff. By this, I mean that if possible, you should not check it with the rest of the luggage. A simple way of doing this is by ensuring you pack it light so that you do not exceed the maximum baggage limit set by the airline. The idea here is to minimize pilferage and damage to your items. However, in case it is taken as luggage, take the necessary measures to protect it. This entails activities such as tying your shoulder straps together, ensuring all the zippers are secured, and ensuring that all the valuable electronics have been removed from the backpack.
On the other hand, you can take several steps to minimize the size of your luggage. For instance, for the bigger items, you can send them using express shipping services such as FedEx. Also, try to buy some of the necessary supplies once you reach your destination, to avoid security inconveniences at the airport. For example, having a knife in your backpack may cause you problems at the security counter.
Ready to Choose the Right Backpack to Your Liking
This article has provided all the information you may need to know about hiking backpacks. In the introduction, I have shared a summary of the major characteristics present in the backpacks. It is followed by a review of the backpacks you may consider based on the relevant attributes.
The discussion has also included some important considerations that should influence your decision to buy the preferable backpack. They include the capacity, material, padding, pricing, and the nature of its back frame. Therefore, based on the information in this article, which of the reviewed backpack is above your shopping list? What other factors do you consider before purchasing your hiking backpack?
FAQ
What size backpack do i need for a 4 day hike?
A small to medium sized backpack should be sufficient for a four day hike.
How many liters for hiking backpack?
There is no definitive answer to this question as it depends on numerous factors, such as the duration of the hike, the climate, the terrain, and the individual's hydration needs. A general rule of thumb, however, is to packing 1-2 liters of water per person, per day.
What size backpack for day hiking?
There is no definitive answer to this question as the best backpack size for day hiking depends on a number of factors, including the type and duration of the hike, the terrain, the weather, and the size and weight of the individual hiker. However, as a general guideline, most day hikers find that a backpack with a capacity of around 30-40 liters (1,800-2,400 cubic inches) is sufficient for carrying all the necessary gear, food, and water.
Why do hiking backpacks have frames?
Hiking backpacks often have frames to keep the backpack from sagging and to distribute the weight evenly.
Do hiking backpacks count as carry on?
Most airlines allow you to bring a carry-on bag and a personal item, such as a purse or laptop bag, on board. If the bag you want to bring as your carry-on is larger than the size limits or doesn't fit in the overhead bin, it might have to be gate-checked.