Hiking is very fun. No argument here, right? You can spend some quality time with your family or friends, enjoy the beauty of nature, or even find peace within yourself!
There is, however, another side of the coin too. Wilderness wandering is hard. The walking strains your body. There is a constant need for resourcefulness. The chances of you meeting dangerous animals in the wild are pretty high. Things are specifically bad when the weather is your enemy. If you are not an experienced hiker in the wilderness, and there is a downpour, then the hike can go deadly in mere seconds.
By the way, hi! I'm Eddie. After years and years of hiking and endangering myself, these situations are very well-known to me. I know how satisfying it is to reach that peak, just as I know how risky it is being unprepared for the hike.
Recently, I have concluded that rain ponchos are better than raincoats. I know, I know, a highly controversial statement. Think about it: rain ponchos for hiking are not as hot as raincoats, they are cheaper, easier to pack, and better at keeping the rain out. Additionally, a poncho allows wearing anything you like underneath, unlike a raincoat. Plus, ponchos are mostly gender-neutral: rain ponchos for women are rain ponchos for men and vice versa.
What Is The Best Rainproof Poncho for You: My Recommendations
Anyone could think that there is nothing special about rain ponchos and there is no difference between any of them. However, that train of thought is wrong. Yes, rain ponchos are incredibly numerous and simple in their conception, but that doesn't mean that any poncho will suit the needs of every person.
Have I spiced up your interest regarding rain ponchos? Intrigued, right? Well, then let me familiarize you with the best from rain-protecting articles about clothes that I have encountered so far.
1. Great Poncho for Rain Protection
The first one on the list, starting us off, is the Frogg Toggs Ultra-Lite Poncho. As the title suggests, the poncho's creators are the company called Frogg Toggs. The brand exists for about 23 years and has accumulated quite a following since its inception. The folks at Frogg Toggs have made themselves known for delivering high-quality, reliable, and durable products at affordable prices. Of course, I do have to tell you that I myself have fallen "victim" to this brand and currently in possession of a couple of their products, including footwear and all-weather jackets.
Steering away from how awesome the brand is, we have a fantastic value for the cost on our hands. If you're searching for a durable rain poncho, your searches have come to an end. You can click the "Check the price" button and be on your merry, rain-free way because this rainwear article survives fire and rain. Disregard how thin this poncho is and just buy it, you won't believe your eyes. I certainly did not believe mine when the first signs of the poncho becoming worn in came around after 3 months of intense usage. I initially bought this poncho with the intention of throwing it out after using it one time, as I thought it wouldn't last even one full hike. That was 3 years ago, and I still have it, and it is relatively intact up to this point in time. And the Frogg Toggs market this poncho as trading due to its durability, packability, and lightweight.
The boys and girls at Frogg Toggs achieve the extreme durability by employing their branded ultra-lite fabric as the primary material of the poncho. The outer layer is something called DriPore Gen 2. Without getting too caught up in the details, this fabric offers excellent packability and reduced weight combined with high sturdiness. The lower layer is a blend of nonwoven fabrics granting the poncho breathability, smoothness, and soft touch. The Frogg Toggs Ultra-Lite Poncho is being sold only in one size, which is 40" in height and 54" in width. This size allows everybody from 5'2" to 6'0" to be protected from the rain. The higher folk, however, will feel left out. Of course, for the individuals of the latter height, the rainwear will be mostly short. The visual composition aspect of this article is nothing to be amazed about. The Frogg Toggs Ultra-Lite Poncho can come only in 4 color variation: blue, carbon black, dark green, and gray. You will find absolutely no pockets, but it has side snaps, so it will firmly sit on you. Let us also not forget the adjustable hood that will keep your head from becoming soaking wet. Additionally, this poncho is eco-friendly, as it can be easily recycled.
---
PROS:
Extremely lightweight;
Compact size;
Sits firmly;
Durable;
Recyclable
CONS:
Bland design;
May feel too thin.
Key Features
Brand: Frogg Toggs
Material: Nonwoven, polypro material
Poncho size: One Size
Weight: 9 ounces
2. Waterproof Poncho That Is a Real Lifesaver
Next up is Anyoo Waterproof Rain Poncho. Anyoo is a mysterious brand. What do I mean under "mysterious"? Well, I don't know about you, but I have never seen a brand to be so popular on Amazon yet have so little information about it online. Not turning in to Miss Marple: every product that Anyoo offers is camping-related, ranging from camping hammocks to tents too, you guessed it, rain ponchos. As for how good said products are, I can only vouch for ponchos.
And I must admit indeed: this particular clothing article can be regarded as a heavy duty rain poncho. This rainwear is a wonderful replacement for those nasty raincoats. The Anyoo Waterproof Rain Poncho can be useful in a multitude of instances, not only when hiking but also when camping and road-tripping. I remember only starting to get into camping and ended up making my stay in the mountains. The weather forecast didn't say anything about rain, but, as you probably already guessed, it rained. My tent wasn't very good at keeping the rain out. The Anyoo Waterproof Rain Ponch, which I grabbed with me just in case, was good at protecting me from becoming very-very wet. This article was the only reason I didn't leave the mountains with a nasty cold, if not something worse.
Returning to our review: this rainwear mainly consists out of polyester. Being made from polyester doesn't help its breathability. However, Anyoo has solved the heat problem by designing the arm and bottom holes to establish a pleasant air current. The poncho's length is 86", and width is 55", which are its only available parameters. Please note that I said length because this rainwear is versatile. It can be used as a shelter, groundsheet, or even as a sleeping bag thanks to the poncho's loop side fasteners. This rain-protecting article comes with a modest 9"x3"x3" bag, into which it nicely fits. The cape's design is unmistakably neat, and it comes in 42 colors (!), so you will definitely find something that suits your aesthetic needs. Still, no pockets, though this poncho doesn't really need them.
---
PROS:
Neat design;
Compact size;
Breathable;
Multifunctional.
CONS:
Side closures are a bit hard to operate.
Key Features
Brand: Anyoo
Material: 210T ripstop polyester + PVC coating
Poncho size: 86″ X 55″
Weight: 11 ounces
3. A Rain-Protection for People Higher Than 6": A Large Rain Poncho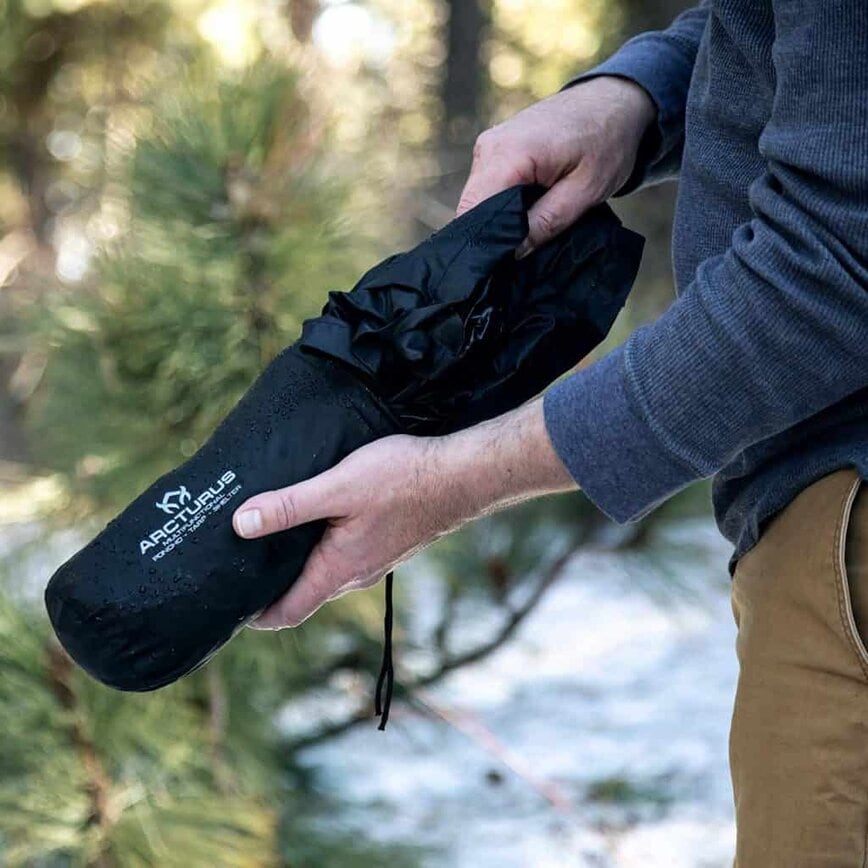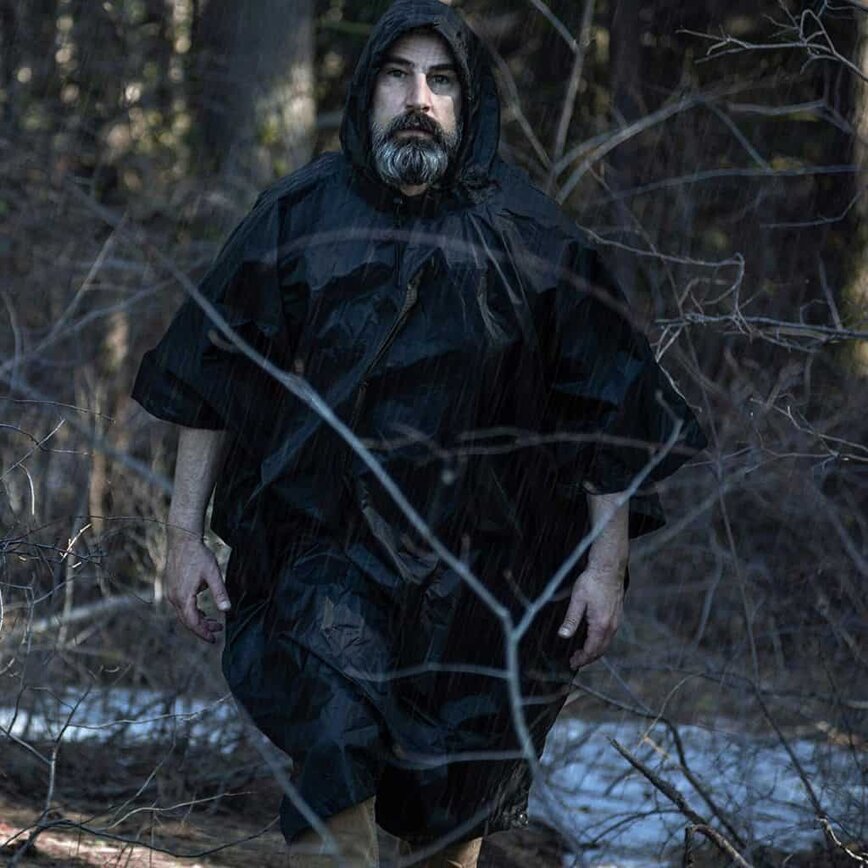 Arcturus Reusable Rain Poncho is another great contender for the place in our rain-protecting champions lineup. Arcturus is a typical all-American company, offering without a doubt military-oriented gear and paraphernalia, including survival blankets, ghillie and leaf suits, gun socks, rifle wraps, etc. They are army-fanatics, so don't expect anything less than perfect regarding the quality of their products.
I will reveal another fact about myself: I am 6'1". Being 6'1" makes not every utility piece of clothing like our very much discussed ponchos raincoat available to be worn by you. This is the real truth about being moderately high. I am honestly concerned for people who are even taller than me. I am that height for the better part of my life, and I have already come to terms with it: some things will be short for me, and there is nothing I could do about it. I approached rain ponchos with this mindset and didn't really give attention to this problem. However, it was a blessing to discover that your legs don't have to get wet every time it rains when you're out hiking. With my height, Arcturus Reusable Rain Poncho easily reaches my ankles. This kind of detail is very nice, especially when having to spend two, three, four, and more days out in the wilderness.
This particular one can be considered an extra-long rain poncho, coming in at 54" width and 96" length. The monster that we have here can protect you, your family, and your backpacks without a hiccup. Still, this rainwear can fit into a deceivingly small, 8"x4" sack with and in which this article arrives at your doorstop. Arcturus Reusable Rain Poncho is made from 210T Ripstop Taffeta, which is covered with two rows of waterproof polyurethane finishing. This composition makes the poncho a heavy duty poncho, but it also means that this rainwear is not as breathable as the previous entries on the list. The rain cape comes in only three hues: black, olive, and camouflage. Yuck! I'm not a military-minded person myself, which is a bit of a letdown to me. The rainwear article is additionally very efficient at being a tarp or shelter thanks to its size.
---
PROS:
For the bigger folks;
Extremely durable;
Can be a tarp/shelter.
CONS:
Dull design.
Not as breathable.
Key Features
Brand: Arcturus
Material: 210T Ripstop Nylon and coated with 2 layers of waterproof polyurethane
Poncho size: 54″ x 96″ (4.5ft x 8ft)
Weight: 11 ounces(310 grams)
4. A Fashionable Ultralight Rain Poncho? Why Not!
As a complete contrast to the last entry on our list appears the Rain Poncho Jacket Coat Hooded for Adults with Pockets. Despite the uninteresting denomination, this article of rainwear is produced by a company called SaphiRose, and unlike the previously mentioned company, SaphiRose is aesthetics-oriented. The people at SaphiRose have achieved something unbelievable by offering utility rainwear that has a lovely design. They propose that rain is breathtaking, and you should be so as well. Isn't it charming?
The rain ponchos specifically are inspired by Japanese and Nordic styles. The SaphiRose ponchos are the best combination of fashionable and practical items: I can attest to this statement. The ponchos nowadays are seen as bulky, oddly-fitted, and not neat at all. Nonetheless, the SaphiRose ponchos go against the grain here, as in them you will feel confident and good-looking just as in any everyday article of clothing. I myself have bought a couple of designs just to mix my hiking up from time to time.
In my opinion, the most significant attraction of this particular article of clothing is its composition. The color and form composition is minimal, the sleeves are lengthy, the big hooded cap is present, the holes are simple, and the color palette is vast. Maybe I shouldn't say color palette, as the rain cloak comes in many colors, with the most varied, complete designs: everything from diamonds to yellow points. It is made entirely from Polyester, which means the rain cape is highly water-resistant, elastic, recyclable, and soft to touch. The air flow of this rainwear is quite good, thanks to the fabric. Length is 78", width – 57", making it a bit smaller when compared to our previous contestants on the list. No problems in fitting the rainwear into a 6"x10" pouch with which it arrives. One of the special features of this poncho is the presence of two basic pockets which makes a big difference, especially if you are using it in town. It has a sturdy zipper closure that seals you off from the annoying rain altogether.
No products found.
---
PROS:
Design;
Very breathable;
Pockets;
Perfect for smaller-sized people.
CONS:
Zippers are known to be prone to breaking.
Key Features
Brand: SaphiRose
Material: 100% Polyester (It is fabric, not plastic)
Poncho size: 5.9×9.8 Inch
Weight: 280 grams
5. A Perfect Rain Poncho for Women
Women Rain Poncho Stylish is the result of the hard work at Freesmily. Freesmily is a Chinese brand that imports a range of rain-protecting products: umbrellas, shoe bags, and rain ponchos are only the beginning of their offered products list. No matter the origination of the poncho, it is terrific. While I didn't wear the poncho myself, my friend did, and she liked it by a mile. You could say she absolutely fell in love with it. Maybe I should be starting to get jealous.
I have seen the poncho perform excellently with my own very eyes. My mate and I have been to several concerts and festivals, and I haven't seen it rip or let the rain inside. She remarks about how this almost weightless rainwear breathable is.
The clothing article is only 76" in length and 57" in width, which causes it to be an excellent match for a large majority of women. Although the зolyester seems deceitfully plastic, the poncho is incredibly lovely to touch and feel on the skin. It takes the place of a small book in almost any bag, making it an impressively compact rain poncho. If you don't want to say goodbye to one of your things, then the poncho has a clip, so that it can be attached to bags outside. It has a drawstring that can be tightened around the head, and it has three full snaps, making it sit on you tightly. The available 26 designs and colors are a definite attractive point of this rainwear. Being so affordable, any woman could buy a couple of these ponchos and always look stylish in the rain. Sadly, there are no pockets here, which would make this rainwear perfect for 1-day outings.
---
PROS:
Offers a multitude of designs;
Breathable;
Specially designed for women.
Key Features
Brand: no brand
Material: 100% Polyester
Poncho size: 9.45 x 5.51 x 1.57 inches (front lenght: 36.2″(92cm), back length: 40.6″(103cm), width: 57.5″(146cm))
Weight: 10.58 Ounces
6. Children Won't Be Left Out in The Rain with This Poncho
The last entry on our list is the Lightweight Kids Rain Poncho Jacket Waterproof Outwear Rain Coat. This rainwear article comes from the company we already had on our list – SaphiRose. They have created outstanding rain ponchos for adults, but, for the littlest fellows, folks at SaphiRose have brought tremendous amounts of effort to exceed any existing expectations. From my personal experience, these rain ponchos were worn by my nephews during the camping, and not a single scratch was to be found after the 5-day escape to the forest. Remarkable. I honestly think that there couldn't be a better poncho rain protection for children.
Let us start from the beginning, and there are many sizes for children of all complexion, ranging from small to extra large rain poncho. Any child from 31" to 63" will be protected from the rain. The material is, again, 100% Polyester, making the poncho eco-friendly. Because this poncho is from SaphiRose, I think there is no use in praising the rainwear on how the poncho waterproof breathable is. It has no pockets. The rain poncho offers 14 designs with unique cartoon patterns. Of course, you will get a color-matched pouch. The sleeves have buttons, allowing for a tighter fit on the extra active children. One small pet peeve is the absence of a line wire in the hood, making it impossible to tighten the hood.
---
PROS:
Cute designs;
Breathable;
Extremely water-resistant;
Many sizes are available.
CONS:
No line wire in the hood.
Key Features
Brand:SaphiRose
Material: 100% Polyester
Poncho size:S-XXL
So, Which One to Choose?
I have listed the best durable and light weight ponchos currently on the market for you. Hopefully, this list will aid in your journey to not being annoyed by rain. I admit my advocacy for the lightweight rain poncho breathable against the raincoat, but I only want to help people see the numerous pros of ponchos.
Indeed, I have used raincoats in my journeys, and I was absolutely disappointed by their performance every single time. In warm conditions, the raincoat is deadly hot; in cold conditions, I was freezing in those things. You are always sweaty in those things. Even the pricey raincoats let some rain in due to their close fit. What a pain in the neck! That is why I urge you to try going with a poncho on one of your outdoor adventures. If you haven't already, it will change your life!
Deciding upon something can be hard, especially when you're not well-versed in the area. When I am in such a situation, I usually make a list of essential characteristics or features that a perfect product for me should have. Then I prioritize that list, singling out the most crucial points. After that, I find a couple of Top 10 lists based on the points. Lastly, I cross-reference my list with the lists I have found on the internet.
The Benefits of Rain Ponchos
There are many benefits to wearing a rain poncho. For one, it keeps you dry during a rainstorm. It also provides protection from the cold and wind. Additionally, a rain poncho can be used as a makeshift shelter in an emergency situation. Finally, rain ponchos are relatively inexpensive and easy to find. Some poncho raincoats are suitable for hot weather because they are made of thin material.
Cons of Rain Ponchos
Rain ponchos are not the most stylish item of clothing, and they can be quite awkward to wear. They can also be quite uncomfortable in warm weather, as they can make you feel quite hot and sticky. Another downside of rain ponchos is that they can be quite flimsy, and they don't always provide the best protection from the rain.
How to Use a Rain Poncho
A rain poncho is a great way to stay dry in the rain. Here are some tips on how to use a rain poncho:
Put the poncho on over your head and make sure it covers your body completely.
Make sure the hood is up and the poncho is fastened at the neck.
If the rain is heavy, you may want to use a rain hat or umbrella in addition to the poncho.
If the poncho gets wet on the inside, turn it inside out so the wet side is on the outside.
When you are done using the poncho, remove it and shake it off. Then fold it up and store it in a dry place.
Tips for Staying Dry in the Rain
If you don't want to get wet in the rain, there are a few things you can do to stay dry. First, make sure you have a good rain poncho. A rain poncho will keep you from getting soaked by the rain. second, try to stay under cover as much as possible. If you can't find a shelter, try to stay under a tree or other large object that will keep the rain off of you. third, avoid puddles and other wet areas. fourth, if you do get wet, try to dry off as soon as possible. fifth, dress in layers so that you can easily remove wet clothing. By following these tips, you should be able to stay dry in the rain.
FAQ about hiking ponchos
Which is better poncho or raincoat?
Hiking ponchos offer more protection from the rain than a regular raincoat, as they usually go down to mid-thigh and sometimes even to the knees. This means that if you get caught in the rain for an extended period of time, a poncho will allow you to stay dry longer. Ponchos are usually made from a single piece of material, meaning there are fewer seams that can leak.
How do I know what size poncho to get?
The size of the poncho should be based on the size of the person wearing it and the size of their backpack. Most ponchos are around 60 inches wide when finished. The fabric usually comes in 60 inch widths from the mill. The poncho's usability and comfort are based on its size. All ponchos are designed to protect the body from rain and cold weather, but some people may want a bigger poncho to cover their backpack as well.
What are the benefits of using rain ponchos?
A heavy duty rain poncho will keep you from getting wet during a storm and will also protect you from the wind. This is important in cold weather, as wind chill can lower your actual minimum temperature depending on wind speed. On hikes, every gram on the back is important. A large rain poncho for travel is easy to store, making it ideal for sudden weather conditions. If you're going on a kayak trip, in national parks, in the mountains, through the jungle, take a raincoat. They can withstand downpour, drizzle, and wading river waves and cover more of your body and gear than a standard rain jacket.
What is your methodology for choosing something? Tell me in the comments section below!