Best Camping Towels for Comfort and Leisure: 2020 Edition
For years and years, I've been engaged in hiking and mountain climbing using all kinds of equipment. The gear has always been there for me, whether it was cooking with a portable stove, resting on the uneven ground on a mat, or carrying water in a nice, handy water jar.
Even though I've taken all those marvelous comforts, I've always lacked some simplest essentials, like towels. Now that I've done some thorough research and tried out various products, I'm about to tell you more about those essentials and give you some detailed camp towel reviews.
Camping towels aren't a luxury anymore but more of a necessity and hygiene requirement. Having a handy piece of cloth on a long, energy-consuming trip is always a good idea due to its multiple functions and comfortability. However, choosing one might not be the easiest task since the range of such products is almost boundless.
While hiking or camping, fishing, or simply jogging, a towel you take along has to be designed specifically for such purposes. Natural, eco-friendly microfiber provides you not only lightness and breathability but also sturdiness and resilience. Regardless of what towel you choose, the product has to be moisture and water-absorbent. Otherwise, you're going to have to carry a wet, filled with liquids disposable piece of fabric.
Besides, as you pick your product, it's important to consider the weight and size that can deal you a bad hand while carrying all your equipment.
Hopefully, I've made it clear that deciding to purchase the best camping towel can be confusing and time-consuming. To release you from shoveling through the endless feeds of towel products, I've compiled a short but abundant list of items that will surely prove useful when the time comes.
Top 10 Camping Towels to Help You out in the Wild
Among the many products offered online, there are some good-quality items that are worth considering. Varying in the texture, fabrics, functions, and properties, such items can be designed for specific purposes. Finding and determining such can be a complicated task.
Nonetheless, when choosing one among the many, always tend to rely on your own needs and feelings. Maybe, it's worth sacrificing the lightness for comfort or moisture-absorption properties for durability, etc.
Now, let's dig in and see what beautiful and highly-functioning items there are on the market today.
back to menu ↑
Wildhorn Microlite Camp Towel Set — Among Best Microfiber Camping Towels
The Wildhorn Microlite item is a great example of comfort and functionality. Produced and manufactured by Wildhorn Outfitters, the towel has been around for quite some time, which has backed up its reputation among travelers.
The item is meant for multiple, many-time use throughout the day thanks to its absorption feature. Based on a pure, non-allergenic microfiber, the towel doesn't require sunlight to dry up. Simply by lying in the open air, the product gets rid of all the dampness and restores its drying properties within half an hour.
Comprised in a nice, handy cover, the towel is extremely compact to carry in hand or take along in vehicles on long trips. The case is very breathable, meaning that regardless of the moisture that the towel has taken in, it will dry up with time.
Since microfiber is known for being odorless itself, as well as for being resistant to natural and synthetic smells, you don't have to worry about it. The product will filter off any odd smells and scents and restore its initial freshness.
Recognized for its softness, microfiber is very pleasant to the touch. Moreover, it excludes any possible allergens and alien particles that might get attached to the fibers. Unlike the towels made of other materials, this one is highly unlikely to irritate the skin or cause inflammation.

---
PROS:
Fast to dry up;
Soft, not irritating;
Breathable and odorless;
Comfortable, handy case to carry;
Stretchy.
---
back to menu ↑
PackTowl Personal Quick Dry Microfiber Towel — High-Quality Quick Dry Camping Towels
As always, PackTowl has prepared a truly useful and compact travel towel for both indoor and outdoor purposes.
Created to deal with moisture mercilessly and on the spot, the PackTowl Personal Towel is perfect for camping, outside sports, hiking trips, and other activities. Coming in specifically designed sizes for the face, hands, body, and beach trips, the item deals well in all kinds of environments.
It absorbs sweat and water instantly and forces the wetness to evaporate more rapidly. Thanks to the durable microfiber, you won't feel the need to turn the towel around every time it's used. The material spreads the moisture evenly all over the surface, which improves its drying properties.
The manufacturer provides a nice polyester zip-bag for compact packing. Sawn with strong, elastic threads, the case is resistant to water and heat which keeps the product preserved in a cool and bacteria-resistant environment.
If you're worried about odors that might stay on the towel after multiple uses, then you can rest assured. The product doesn't completely absorb the liquids but keeps them on the top layers of the fiber. Due to this, the smells and stain don't soak in thoroughly and disappear shortly afterward. To ensure the proper hygiene, you can wash the towel in a washing machine at a normal temperature regularly.

---
PROS:
Variety of color options;
A set of specifically designed products for the face, hands, and body;
No fading;
Machine-washable.
CONS:
You need to buy each item separately.
---
back to menu ↑
Wise Owl Outfitters Camping Towel — Perfect for Sports Pack Towel
I've heard quite a lot of positive feedback about these Wise Owl products, both from my friends and family.
The towels are a great fit for people who tend to spend lots of their time outside. Whether you're into yoga or simple walks along trail paths, it's easy to rely on the Wise Owl towels.
Thin and ultralight materials assure the product's lightness and air circulation. Unlike many other similar towels, the wetness is not trapped in the microfiber, but it's rather exposed to the fresh air. Based on this technology, the item loses any dampness slowly but surely.
Weighing half a pound, a regular two-towel set is no longer than 1 by 2 feet. It's great for personal use on short trips and always comes in handy when you need it in your vehicle. On the other hand, a bigger 2 by 4 feet long set that still weighs less than a pound is an option for long campings and resort stays. Using the smaller towel for wiping the face and hands, whereas the larger one for lying on a beach, you're always equipped for any case scenario.
Regarding the design, the product is very simple and stylish. Coming in all varieties of colors, you can match it to your outfit or other sports equipment. With the microfiber of the highest quality, the matter stays sturdy but soft on any surface. Moreover, it's very durable, does not tear easily, and pet-proof.

---
PROS:
Smooth and gentle fiber;
No friction or synthetic feeling;
Resistant to the sun and water;
Dries up faster than regular packable towel products.
CONS:
A carry sack is provided only for the XL product.
---
back to menu ↑
Bagail Microfiber Camping Towels — Insanely Packable Towel
If you're looking for a time-proven, versatile product to use on vacation, then you might want to consider this best backpacking towel.
Designed by Bagail Basics, the product is made thinking about style and functionality. Compared to other similar items, this towel truly stands out due to its absorption properties. It's proven that this product can take in and hold an amount of water and moisture that is double the weight of the very towel.
With this function in mind, you can squeeze the water out simply and effortlessly, thus getting rid of up to 90% of the product's wetness. To dry it up completely, it's advised to place the item in the sunlight so that the dampness vaporizes faster than usual.
As for the versatility, the towel can be folded ten times the size of the spread towel. Provided with a nice, thick case, it's very easy to roll it down. The packed product can be carried both in a backpack and even in a pocket without taking too much space. Apart from using it as a beach towel, you can utilize it as a simple bath towel in case a need emerges.
Among other interesting features, this item is very resistant to bulky materials, like sand, pebble, or soil. The particles don't get stuck between the fibers or cling to the trimmed edges. To get your towel clean, you simply need to shake it a few times.

---
PROS:
Very foldable;
Nice and compact solid case;
No need to avoid sand or soil;
Easy to wash.
CONS:
Every case fits only a single towel.
---
back to menu ↑
Bogi Microfiber Camping Towel — Alternative Microfiber Bath Towels for Camping
Are you into outdoor sports, like yoga or fitness? Then the Bogi towel can be just the perfect match for your outside activities.
Though the product doesn't single out certain sports as a priority, its durability speaks for itself.Manufactured with strong and capable microfiber, the towel can withstand almost any physical pressure.
It's practically impossible to tear or rip since the elastic and stretchy threads embedded into the item keep it together under any circumstances. Take it out to the park lawn or use it on solid concrete, the product will remain soft and neat. Due to this fact, it provides great support for the spine and resembles memory foam bedding pieces that embrace your shape and keep it up even when you toss at night.
Thanks to its absorbent properties, this packable towel is not susceptible either to fresh rainwater or salty liquids. It doesn't collect salt or other mineral particles that might be in the water, thus being very resilient to staining.
In case you're tired of having to carry your regular towel around in your hands or backpack, this company has come up with a great solution. Because they've equipped the mesh case with a nice string and a hanger, it can be used as a handle or strap. Wrap it around your wrist or shoulder to feel the real comfort.

---
PROS:
Resilient and sturdy;
Fluffy and spacious;
Allergen-free;
Equipped with a comfy handle/strap.
---
back to menu ↑
The Friendly Swede Microfiber Towels — Multipurpose Best Backpacking Towel
This other honorable mention has taken one of the top places among the best microfiber camping towels on Amazon.
Eco-friendly and allergen-free, the Friendly Swede product can become an indispensable part of your traveling kit. As a combination of polyester and microfiber, the towel deals nicely with moisture and doesn't get that musty smell over time. The wetness drains down through the meshy body easily and is not trapped in the fabrics.
Let alone the durability, the product is completely reversible. Unlike other similar items, both sides of the towel are made to be used. There is no 'front' or 'back' side that so often differ in texture and composition. Flip the item around and utilize it as a brand new, fresh cover.
If you're not sure about the size, the company offers a wide range of all-size options. Choose the navy blue or imperial blue item with minute dimensions for your children and standard dimensions for yourself.
To carry the towel around, it's possible to compress it to the size of a smartphone with a few simple folds. Pack it into a smart square string sack to put it aside until the next time. Also, the sack itself is quite breathable, thanks to the mesh-like material. The towel doesn't get overheated and dries up very quickly.
Moreover, this feature prevents harmful bacteria from spreading and propagating, which so often happens due to dampness inside completely sealed cases.

---
PROS:
Machine-washable;
No trapped wetness;
Preserves its fresh and neutral smell;
Ultralightweight.
---
back to menu ↑
Eccosophy Microfiber Camping Towel — Ultralight Backpacking Towel to Brighten Up Your Routines
Though most fast drying travel towels are designed to be simplistic and plain, I recommend taking into consideration this Microfiber Camping product by Eccosophy. Offering an impressive array of bright and colorful items for camping, gym training, yoga practice – it might just become your favorite.
A separate section of reviewing should be devoted to the prints. Fresh, vivid, and surreal colors give the product attractiveness that other similar items lack so much. With more than 8 coloring and print options, you can pick the one you like the most without having to sacrifice your taste for duller ones.
Even though it resembles a simple blanket, the towel is designed specifically for outdoor activities. Again, the polyester intertwined with bacteria-free microfiber creates a special blend to resist moisture, as well as control the temperature. The product keeps the body and fabrics cool regardless of the temperature outside and doesn't collect any condensate.
Unlike other towels with prints, this one is an exceptionally lightweight camping towel. Apparently, the fabrics are quite meshy, which makes up for the weight by letting fresh air circulate in and out. This ensures a constant free-of-charge refreshment for the microfabrics depriving it of any sticky smells or odors from the water, animals, plants, or human body.
Accessorized with a fancy case, it can be folded multiple times without damaging the print. Also, the zip-bag is equipped with a nice loop to hold by or simply hang in a visible place in your vehicle or camping site.

---
PROS:
Colorful and vivid;
Sturdy and steady;
Lighter than the average product;
Perfect for women.
CONS:
Requires several washes before using.
---
back to menu ↑
Elite Trend Microfiber Camping Towel — Top-Notch Beach and Hiking Towel
Floral and sandy, striped, or watery, these Elite Trend products can be a great substitute for your ordinary hiking towel favorites.
Coming in different dimensions, the item is perfect for beach and lake routines. With its highly-absorbing properties, it can condense up to twice the weight of its fabrics and spread it evenly for better evaporation.
This product stands out thanks to its lightness. Compared to regular microfiber bath towels for camping, the Elite Trend one feels weightless and takes very little room in your backpack, purse, or gloves compartment. Different prints embellish both sides and give the product a nice, stylish look that will most likely drag some attention passers-by.
Feeling like silk to the touch and being extremely sturdy to any tearing or stretching, the towel lasts long enough for you to enjoy numerous camping seasons. It's resistant to moisture and doesn't get smelly after many washes. By the way, the product is designed to endure normal machine-wash conditions. Just load it with other colorful clothes and use regular temperature to rinse it well.
To assure the eco-friendliness of the product, the company has supplied customers with natural, recycling eco-bags. Being small enough it fits in your carrying bag, the case has a nice hook for hanging or wrapping around your finger. The bag can be used as a nice belongings container while you're off enjoying swimming or fooling around.

---
PROS:
Natural softness and silkiness;
No synthetic or paint odor;
Gets rid of dampness very well;
Comes with a nice, multi-functional zip-sack.
CONS:
Might feel bumpy when placed on an uneven surface.
---
back to menu ↑
Hoeaas Microfiber Camping Towel — Stylish and Lightweight Camping Towel
Diversifying a simple pack towel for people who are in love with nature and fresh air, Hoeaas has come up with this minimalistic yet multi-purpose item.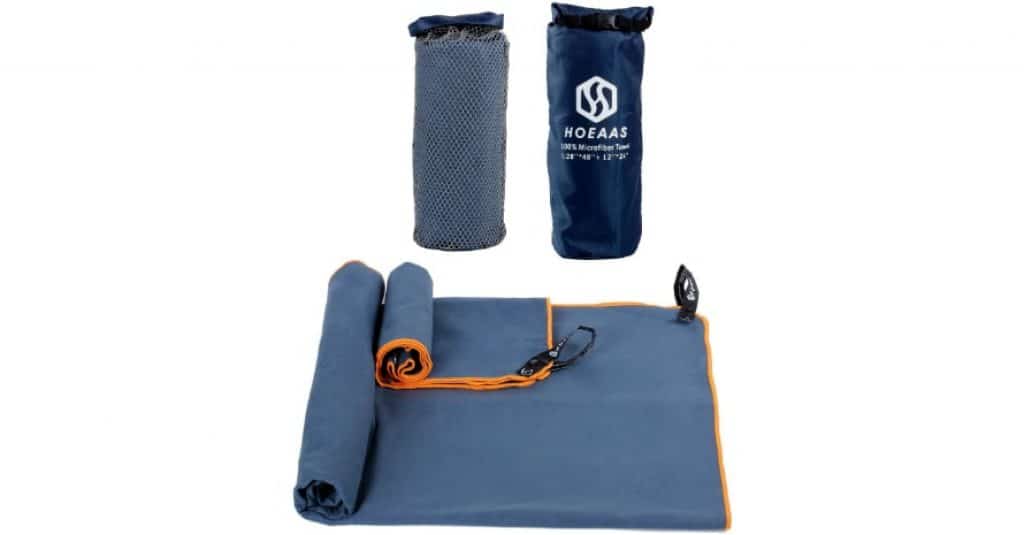 The drying speed of the towel is a competitive quality that puts the product among the best backpacking towel favorites. It can dry up ten times faster than a regular towel regardless of the volume of water it has soaked in. This is done because the microfiber is resistant to liquids enough not to absorb it all the way through. Thus, keeping the dampness in the top layers of the material which is better exposed to the sunlight.
Starting with doing sports and finishing with warming up, the towel can be used in various ways. For instance, it's so odor and scent-free that you dry your dog's or cat's fur with it. The product won't acquire any of your pet's smell but if it does, then simply hanging up in the airflow will rid it of the smell for good.
Now, you don't have to be ashamed to carry your towel around downtown or take it to work. Because the stylish and smart cover can be easily folded into a minute, accurate tube, you can slide it into the case and grab it by the handle.

---
PROS:
No smell preservation;
No fading or dulling;
Present-material;
Resistant to detergents.
---
back to menu ↑
Frogg Toggs Camping Towel — Cooling and Compact Travel Towel
Dissimilarly to other quick dry camping towels, the Frogg Toggs product uses a drastically different technology for providing comfort. The towel doesn't avoid or reflect dampness from its core fabrics but rather absorbs it in and processes it.
When water or moisture has accumulated enough, the item begins to vaporize it and cause a cooling effect. Thanks to this, regardless of the temperature around the user, the towel remains fresh and soothing. The effect lasts for about three hours and requires another supply of wetness for continuing it.
Since this effect causes the water to vaporize rapidly, the item is perfect for use in areas with high humidity or close water sources. Dry it before folding or fold it still wet, the towel will keep its shape. It will also dry up completely by the next time it's taken out of the container. Thickness and sturdiness make this product a perfect cover from the sun and a reliable warm blanket in chilly or cool weather.
To protect the towel from any bacteria or unfavorable weather conditions, the item is equipped with a sealing hard-plastic tube. A slight twist to the side will open the container and make the towel ready to go.

---
PROS:
Dampness-free;
No odor;
Reasonable price;
Soft and gentle.
---
back to menu ↑
Bottom Line
With the arrival of the warm seasons, there comes a time of outdoor adventures. Camping with the family, hiking in vast, leafy forests, soaking in the sun on a beach, or any other activity demands comfortable and resilient equipment. And wherever you go, a good camping towel is a must.
Looking for the best quick dry towels for backpacking can be bedazzling with all those options swarming around online. To make the right decision, it's essential to realize what purposes this item is going to serve. Maybe, you don't need an all-absorbent towel but a simple, light moisture-resistant one? Maybe, it's the other way around. Choose wisely and think of it as an investment – an investment in your comfort, safety, and leisure
Nonetheless, I sincerely hope that you've found this article useful. Or perhaps, you've laid your eye on one of my favorite products. Have you? Or, have you found any other brands that can compete well with the ones above? Or do you prefer completely polyester-based camping towels? Make sure to let me know your thoughts in the comments section below!