Have you ever needed reliable and robust support for your camping equipment? Maybe, you've done climbing while being unsure about the strength of the ropes and paracords you were using? I have, and it has caused me to do some digging to find the best paracord for peace of mind.
Deriving from two merging words 'parachute' and 'cord', a paracord has been introduced as a safe, stable, and resilient material for strapping parachutes. However, the product has evolved beyond that and is now used more diversely. There are around 20 various types of paracord that differ in their thickness and materials they're made of.
For instance, a typical 550 cord is meant for dynamic, challenging uses – is often used in the military or advanced mountain climbing. On the other hand, tinder or survival cords are great for camping, setting up a tent, or even weaving bracelets. They offer less durability, but they are softer and easier to utilize.
What is the best paracord?
In my opinion, one of the best paracords is TOUGH-GRID 750lb Paracord/Parachute Cord – Genuine Mil Spec Type IV 750lb. It is available in spools or coiled into bags of different lengths (50, 100, 150 feet). It is worth noting that the diameter of the rope is from 5/32 inch to 3/16 inch, or from 3.97 millimeters to 4.76 millimeters. TOUGH-GRID 750lb Paracord is made of 100 percent nylon, and has 11 internal triple strands. It is recommended to use this type of paracord for: camping, hiking and other outdoor activities.

This being said, it's time to have a better look at the whole variety of products that can help you out greatly in the wild, facilitate the set-up of your camp, or be a necessary survival kit piece when the time comes. Now, let's see which is the best paracord brand on the market today!
Top 8 Best Paracords
Acquiring a durable and hardened paracord is a must for people who enjoy doing dangerous sports, military, and special forces assets, as well as simple travelers. Though there is a great array of such products nowadays manufactured in or out of the state, a lot of uncertainty still remains.
I did a great deal of research at my time to find the best quality items that would be helpful and reliable. To take it off your shoulders, I've compiled a paracord review list with my top-priority picks. Let's dig in!
Tough-Grid 750lb Paracord — Strongest Paracord to Withstand Anything
If you're looking for the best quality paracord to secure your sports, training, or modify your tools, then the Tough-Grid item might be perfect for you.
Created with tough Nylon threads, the product can withstand harsh physical challenges and pressure. Woven with more than 10 strands from the inside and a similar quantity of strands from the outside, the construction is hardened by its integrity and unity of the thread. Nylon provides ragged strength that has proven more useful than most hardened materials that regular ropes or straps are made of.
The product can endure more than 200lbs of pure weight, both statically and dynamically. Though the material inside is meant to maintain its form and integrity, it's rather stretchy, which ensures additional durability. It's estimated that this survival paracord can stretch up to 20% of its former length providing extra pressure relief.
Thus, excluding any chance of concentrated pressure that so often causes paracords to tear or rip.
Since the item is woven of two different layers, both from the inside and outside, it's made to be thick. The thickness is meant not only to add durability but also to make it more comfortable to the touch. This proves useful in case you're intended to apply the cord to secure tool handles or weave a survival bracelet.
Let alone the pleasant to the touch feeling, the material causes no skin irritation when it comes in contact with the body. This is perfect for training and survival practices.

---
PROS:
Sturdy and firm;
Suitable for tent set-ups and parachute jumps;
Soft and non-inflammatory to the skin;
Water-resistant.
---
SurvivorCord Military 550 Paracord — Best Survival Cord to Find
Taking its deserved place among the best 550 paracord offers of 2020, the SurvivorCord by Titan Paracord truly stands out.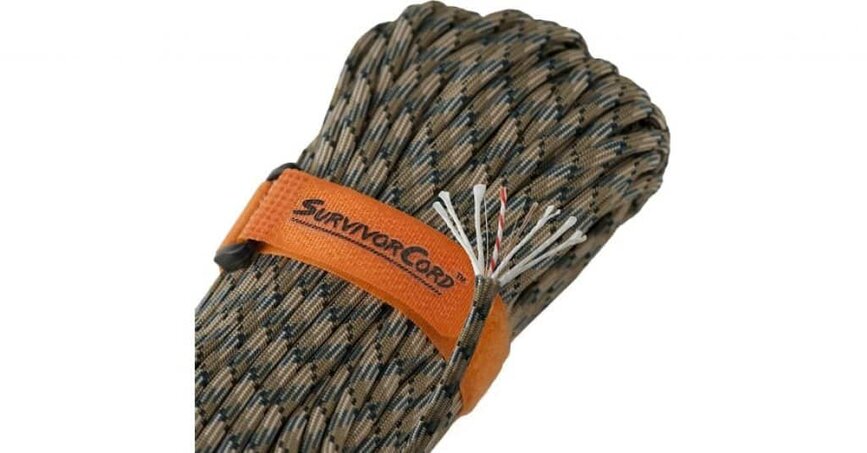 Designed specifically for military operations and training, the product is made of four different components to increase its durability. 30 American Wire Gauge threads combined with a fishing line provide the paracord with a necessarily hardened core. Considering the product's elasticity and flexibility, the provided materials are perfect for helping the user diversify the many purposes of the product.
To increase its sturdiness, the manufacturer has embedded the item with 550 paracord fibers that act as a reliable and tough body that easily withstands large weights and strong physical pressure. Due to this, the item can be called one of the strongest paracord products there are today. Thinking about possible harsh weather conditions, the fourth material that is tinder-like threads plays a significant part in survival situations. It isn't susceptible to water or moisture because it's covered with other protective substances, thus being water-proof and humidity-resilient.
With over 100 feet of strong, sturdy cord, the item is very versatile and is meant for multiple purposes. It can be used for hunting and trapping agile animals and fish to provide you with essential nourishing. For this, the cord is utilized as a fishing cord for fishing by simply adjusting a hook to its specifically designed output. Moreover, loop the flexible cord a few times for setting up a trap for small and medium-size animals.
Thanks to the tinder-infused insides, the product is easy to light up for creating a bonfire. Cutting and rubbing it with a knife will shortly give you the necessary amount of sparks for starting a fire.

---
PROS:
Versatile and highly-functioning;
Four-layered for security;
Completely moisture-resistant;
Extensively long.
---
SGT Knots Paracord 550 Type III — Best Paracord Brand with Years of Experience
Relying on care and necessity, SGT Knots has introduced its product not so long ago. The item is made to be last and to provide the assurance of safety and reusability.
With its completely Hylon insides, the cord is entwined of more than six plies. Each ply is meant to hold through extensive pressure and preserve its shape regardless of circumstances. Unlike many other similar products, this one isn't excessively thick.
It's easy and comfortable to handle and doesn't have the rough feeling of coarseness. The very threads are resistant to a whole array of substances, as well as moisture, solar radiation, and corrosion. Thus, being useful in the forests, deserts, mountains, and even in the backyard.
The company has utilized its many-year experience to create a durable cord for your extensive training. To provide a real multi-purpose product, the manufacturer has developed three length options that you can choose from. Starting with a smaller, 34-yard product for rather local uses and finishing with a 333-yard one for parachute or climbing training. By the way, the paracord is designed to be suitable for mountain climbing equipment, thus having a handy output for joining with a variety of locks.
The paracord strengths include flexibility and toughness, as well as many years of service. Stretch the product to provide support for your tent while hiking to ensure it from caving in.
Wrap the product around your tool handles to protect your palm skin from blisters and burns. Or simply tighten your backpack with the cord to make it stable while climbing.

SGT KNOTS Type III Paracord Rope - 550 Paracord for Camping, Hiking, Crafts - Survival Paracord and Parachute Cord for Outdoor Adventure
The All-Purpose Adventure Accessory - If you love spending time in the great outdoors, DIY projects, or repairing a variety of items around the house, you'll love our incredibly functional and versatile tactical paracord. The strength and durability of our 550 cord makes it perfect for survival rope, paracord bracelets, lanyards, belts, rifle slings, handle wraps, securing your gear, setting traps, tie-downs, and camping. You can depend on our heavy duty nylon cord for all your needs.
---
PROS:
Perfect for mountain climbing;
Great length options;
Resistant and durable;
Suitable for locks and clips.
CONS:
Can vary in the number of strands.
---
5col 550 Type 3 Nylon Parachute Paracord — Beyond Any Paracord Ratings
In case you're in search of a firmer product with a paracord material to endure, then you might want to check out this one. 5col Survival Supply specializes in designing long-lasting for military purposes.
Based on pure Nylon, the paracord contains twice more threads than a regular 4-strand cord. As the integrity of these components enables the item to withstand a lot, the three plies embedded into each thread make it tougher than anything you've ever seen before.
The main property that so many people find useful about it is the stretchiness. Compared to typical paracords, this one can lengthen up to over 25% of its initial footage. Despite such an impressive elongation, the cord remains intact and doesn't lose its firmness.
With a minimum of 500 pounds of tensile force, the product can be applied to various situations. First, it's great for equipping a parachute. Regular straps can be made of low-quality materials that endanger your life, whereas this paracord is designed for safety. Second, the cord is a great substitute for cheap laces and strings used in setting up small and medium-sized constructions. Camping tents or rain covers are easily fortified by combining the cord with the default supports.
Being one of the most innovative paracord USA made items on the market, it's also perfect for pre-training preparations. The thickness of the cord is compensated by its lightness and elasticity. Thus, making it perfect for knotting work, making bracelets, as well as securing camping provision.

---
PROS:
Flexible and stretchy;
No water-absorption;
Fire-resistant;
Nice for equipping utilities.
---
OUTDOOR Paracord Planet — One of the Best 550 Paracord There Are
Although most paracord products are meant for military and hard-core training, there are still options for regular, routine uses. With its seven-layer composition of high-quality Nylon, the product can succumb to all kinds of pressure without giving a single rip. Perfect for household application, as well as normal outdoor activities, this cord can come in handy to everybody.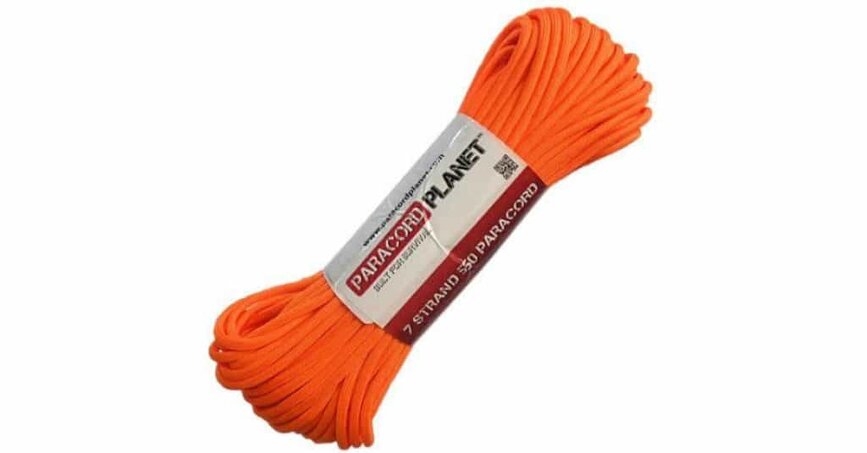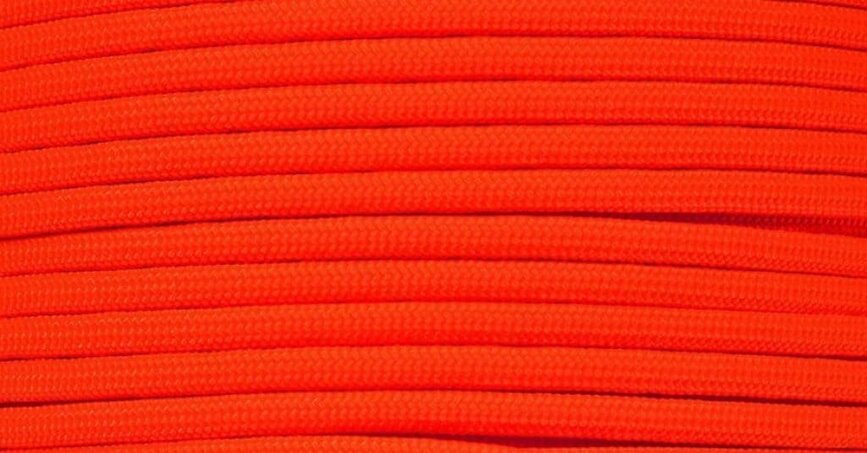 Due to the availability of sizes, it's easy to choose an item that will fit your needs. The smallest yarn available comes to 10 and 15 feet in length. With this compact yet stretchy cord, it's possible to maintain the household, make a survival bracelet, or secure the garden. On the other hand, longer options with a maximum of one hundred feet are perfect for camping and climbing.
Tactical Paracord Ratings have placed it in 3rd place among the best military standards times. Because of its lightness and impressively minute diameter, the cord is neat and has no rough fibers, which are so often very unpleasant to the touch. Moreover, the product is relatively light and weighs less than a pound.
This makes it perfectly suitable for backpacking or carrying on your wrist. Also, it's nice to apply the paracord to your tool handles, like hammers, axes, or hoes. The bouncy surface provides comfort and lightness to the palms, which increases your productivity and allows you to conduct your daily routine longer than ever.

---
PROS:
Small size available;
Soft and pleasant;
Low-weight;
Variety of colors.
---
X-CORDS Paracord — Made of a Super Durable Paracord Material
Effortlessly competing with different types of paracord, which are created for military purposes, the X-Cords product has a ton of benefits.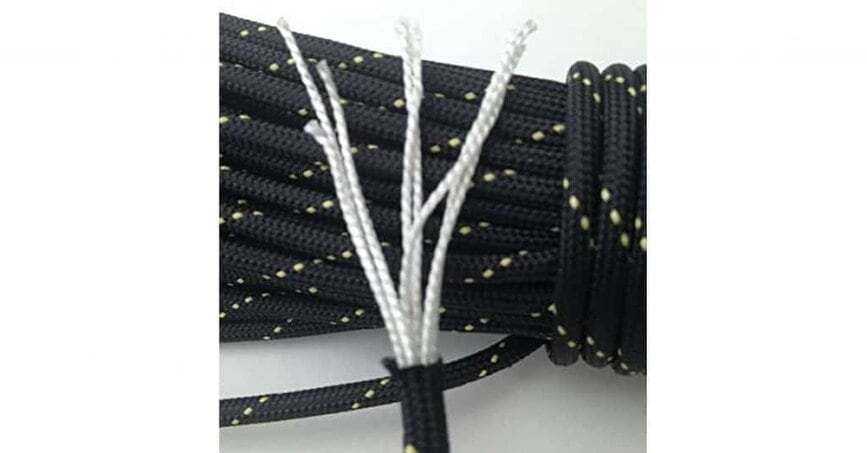 As an 850 multi-purpose paracord, it consists of eight inner strands to make it extremely durable. Though many 550 and higher products guarantee sturdiness, this one has proven to withstand excessive friction and loading. The tensile force for this one is around 900 pounds, which is very impressive for a cord of this diameter.
Approved by a multitude of authority bodies, the paracord secures your straps and locks while climbing or sliding down the most uneven surfaces. A single yarn of the X-Cords paracord is enough both for a parachute jump and a tent set-up. Use it for your survival bracelet to stay safe, even in the most dangerous environment. By the way, the company offers a large array of guides on how to use their product most efficiently, which can be found on Youtube or their website.
Since many paracords tend to succumb to moisture and temperature fluctuations, it's common for them to start rotting and decaying with time. On the bright side, this product is completely free of mold and decomposition. You can leave it in the wet grass or locked in a garage cabinet in the winter, and it won't even flinch.
For your comfort, the manufacturer provides a nice handle to carry this best survival cord. Wrap it around the plastic frame to assure readiness for your next use: no more tangling or time-consuming unwinding.

---
PROS:
Mold and decay-proof;
Stronger than most paracords;
Equipped with a functional handle;
Reusable.
CONS:
Can be too sturdy for small-size applications.
---
GeGeDa Paracord 550 — Unparallel Paracord Strengths Embedded into a Single Item
Topping all other regular paracords, the GeGeDa product is great for heavy-duty and long use. The 9-thread technology fills the core leaving no space inside the body of the cord. Due to this, any inside strand friction or unnecessary motions are eradicated, as well as weak spots and dents.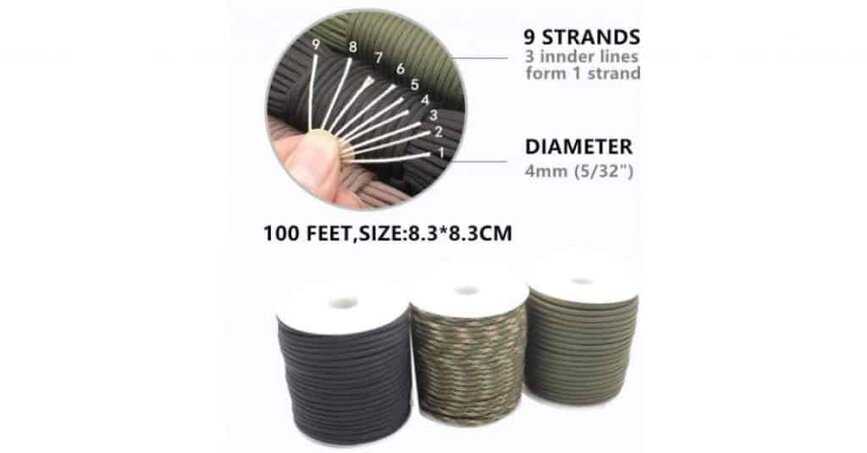 Each strand is properly calibrated and manufactured with a 3mm-diameter. Altogether, the strands are firmly fixed inside a softcover. Able to undergo more than 500 pounds of pure weight, the item can be utilized for hiking and camping activities, moving heavy objects, starting a fire, etc. Let alone the versatility, the cord is a nice material for crafting emergency utilities, tool enhancements, and securing provision while traveling by car or water vehicles.
Thanks to the efficient thickness, the product is durable enough for multiple uses. With hardened strands like these, it won't wear holes or rips in the cover. Moreover, the water-repelling technology used in production helps to keep wetness and dampness away from the core strands. Hence, no mildew or musty smell.
In case you need to adjust the paracord to a compatible lock or carabiner, you can apply some lighter fire to an end of the rope to melt it down a bit. Afterward, shape the thawed end the way it fits in the input hole.

---
PROS:
Moisture-repelling;
Modified strand and ply twines;
Widened diameter;
Odorless.
---
UST 30 Foot ParaTinder Utility Cord — Impressive Survival Paracord with Tinder
Tougher and heavier than other paracord types, the UST 30-foot Cord is nice for unpredictable situations as the last-minute solution.
The 30-inch long product is made of strong tinder and Nylon threads that compose the core. Seven strands make up a sturdy and reliable filling to hold the cord together regardless of the tensile force applied to it. The strands are covered with a water-resistant coating to provide protection and safety while using in the rain or excessive heat.
This thick and sturdy paracord is less than a pound in weight and doesn't take much space. It can be wound around wooden or plastic handles to facilitate next-time uses.
Regarding the two composing elements, each of them can be utilized for emergencies. For instance, the crimson string that is the tinder strand is a solution to starting a fire when in the wild.
Simply peel off the coating with a knife to access the strands and light it up. Since tinder is specifically good for preserving heat, the strand will keep the paracord from combusting into flames. Thus, giving you enough time to apply it to your brushwood prepared in advance.
On the other hand, the pale threads inside the core can be effortlessly pulled out and used for making accurate stitches. Remove as many as you need and pull them through the eye of a needle to start patching up fabrics.

---
PROS:
Stretchy and elastic;
Water-resistant;
Multi-purpose;
Reasonable price.
---
What to Look for in a Paracord?
Now, to better understand the difference between the varieties of paracord options, it's essential to be aware of their basic characteristics.
Length and diameter
When choosing a cord for specific purposes, it's a must to know the exact length of your potential purchase. The shorter a paracord is, the more locally it can be used. Products that vary from 10 to 20 feet in length are good for strapping or securing provision and backpacks while hiking and camping.
Besides, they can also be applied for enhancing your tool handles or preparing survival bracelets. On the other hand, the longer ones, from 20 to 1000 feet, perform heavy-duty functions, such as being used for mountain and cliff climbing, military training, or moving large and heavy objects.
The same applies to the diameter. Thinner cords can withstand less pressure, but they're more comfortable to use; whereas the thicker ones have increased tensile force, but they are larger and bulkier.
Strands and plies
For starters, there will never be a collision 'Paracord vs Nylon' since most of the modern paracord products are based on the latter. Moreover, their strength is measured with nylon strands and plies.
The number of strands in a single cord per square inch determines the durability and sturdiness of a cord. Regular 6 or 7-strand products have an average breaking strength of about 500 pounds. It's more than enough to hold an adult firmly. However, some occasions may require modified paracords whose breaking strength can fluctuate between 700 pounds to 12.000 pounds.
FAQs:
To save you from having to Google some basic questions all by yourself, I've prepared a list of questions and answers that might have already crossed your mind.
What is paracord made of?
A paracord is normally made of hardened Nylon, which is a kind of synthetic fabric. The material is known to be very durable and withstand excessive pressure or force applied to it. Modern paracords usually contain additional elements, like tinder, and water-resistant particles.
What is the strength of paracord?
Normally, the strength and durability of a cord are determined by the number of strands and fibers embedded in it. Regular prototypes have an average of 6-7 threads, which make a cord sturdy enough to be succumbed to about 500 pounds of pure weight. But there are, of course, tougher options that can handle up to 1000 pounds.
Nylon vs polyester paracord?
There is very little difference between these two compositional materials. Both of them are equally flexible and strong. In fact, most people buy Nylon-based cords exclusively because of the limited advertisement of the latter. Polyester is gradually becoming a great substitute for Nylon due to its lower price and abundance.
How to use paracord?
A single yarn of paracord can be applied to an array of occasions, from domestic chores to military operations and survival in the wild. Use it for securing your garden from dogs and stray animals; fixing your backpack firmly while hiking not to lose your essentials; setting up your tent by tightening the edges with a few feet of paracord. The options here are boundless as long as you know what exactly you need to be bettered.
Final Thoughts
With this being said, acquiring a high-quality paracord is a good money investment. Applicable for almost any life situation, a cord can save you a lot of time and nerve if you know how to use it well.
Although there is a vast range of products with their pros and cons, strong sides, and weak spots, it's essential to choose wisely. For this, always keep in mind the purpose you're buying a product for.
Maybe, you don't really need an extremely long paracord if you're not planning on climbing a mountain in the next couple of months? Perhaps, a thinner 2-ply item will do well, and it's not necessary to purchase a thick 9-strand 3-ply military spec one. Assume the best, but prepare for the worst.
Anyway, I hope you've found this article of great usefulness. Now, it's your turn to tell us a bit more about your experience with this product. What kind of paracord are you using now? Has it ever helped you out in the wild? Have you considered changing your favorite brand for a new one? Make sure to comment below, I'd love to hear more from you. Take care!