Hello, I'm Travis, and I'm addicted to hiking. In fact, I'm so hooked on it that I can't imagine ever quitting. Now that I've been doing it professionally for years, I'm pretty sure there's nothing like pursuing your goal through the hardships of the trail and then, finally, arriving at the destination safe and sound.
I also know I'm not alone in my obsession but rather part of a community. That's why I swear by the Leave No Trace philosophy, meaning that you should leave the place you've been to as close to its original state as possible. This includes hiding away the solid discharge of our bodies so that it doesn't ruin the view for other campers. A popular solution is using a camping trowel to make what is commonly referred to as a cat hole – a little pit that you use to dispose of your feces in a responsible manner by burying them.
For this purpose, you need a trowel that combines strength and portability, and more. Some benefits may be less obvious than others, so I've made up a list of ten backpacking shovel reviews that will hopefully help you make the right choice.
Amazon Bestsellers
Top Ten Backpacking Trowels
The models below are all hiking-friendly, meaning that they will withstand the hardships of a backcountry outing. However, they all differ in certain aspects, so make sure to choose the best combination for you.
Wilcox All Pro Trowel: A Super Sturdy Digging Trowel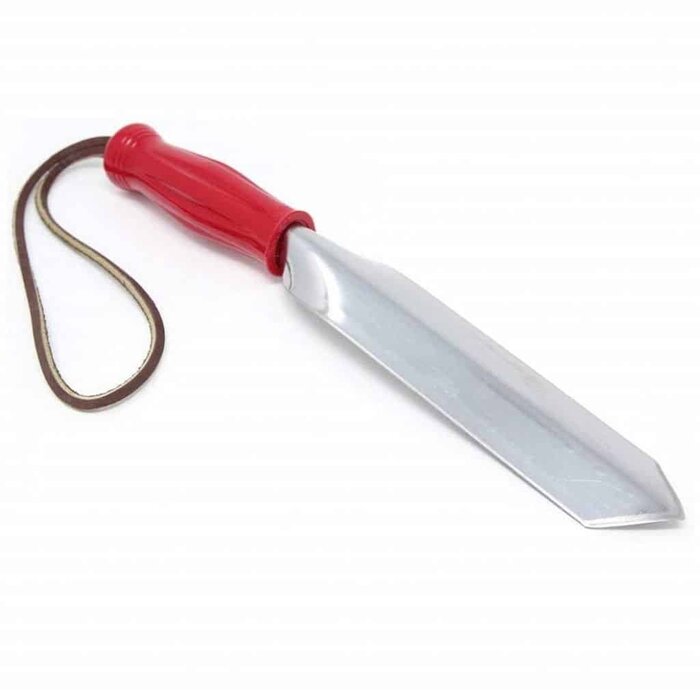 On its website, Wilcox All Pro described itself specifically as a digging tool manufacturer. Indeed, the company makes a wide range of trowels plus some gardening products such as weeders, focusing primarily on strength and durability.
The trowel under review is made of rugged 16 GA stainless steel, which means the sheet is about 1/16 inch thick. Apart from this, it stands out due to its shape, featuring a sharp bend that goes down from handle to tip, also adding to general durability.
There are several blade sizes to choose from, namely 9, 10, 11, 12, or 22 inches, but I feel like the 9-inch mini version will do the job perfectly well, so there's no need to carry a bulkier shovel. Please note that blade shape differs a bit depending on the size if you're inclined to bigger options. This review deals with the 9" shovel.
The blade is pointed for increased digging efficiency, and I must say it's quite adequate for most terrains, including rocky areas. As a rule, stainless steel is harder to sharpen than other, softer materials, but it also lasts longer and doesn't bend. I can tell from my experience that this shovel is unlikely to require any sharpening in months.
It comes with a non-slip handle that makes it very easy to maneuver, with a wrist strap that goes through a hole in the plastic.
Although Wilcox doesn't provide any safety recommendations, I find that it's not the safest shovel model on the market, and precautions should be taken when digging with it. Another major drawback is that it's not what you call a lightweight trowel — the unit it as heavy as 3.48 oz, which can be a problem where every gram counts.
The manufacturer offers lifetime warranty for all of their shovels, which is really a nice touch for heavy-duty equipment. All in all, I can recommend this basic model for its highly reliable, efficient design and moderate price.
---
PROS:
Fair price
Super sturdy stainless steel blade
Efficient pointed blade design
Comfortable handle
Lifetime warranty
CONS:
Could be more lightweight
Not especially safe
Iunio Hiking Trowel: The Most Versatile Small Metal Shovel
Unlike the previous brand, Iunio's scope includes sports and outdoors, as well as home and gardening tools.
This rugged, stainless steel trowel looks exactly the way most people might imagine the perfect survival tool. Apart from being pointed, the 2.87" wide blade also features a serrated edge and some tools embedded into it, such as a saw, a nail puller, a hex wrench, and a ruler so that you can measure the depth of whatever you're digging. It might look somewhat short, since the whole shovel is only 10.43", the handle included, but it works well with any terrain. A 110-inch paracord is included over the handle. The manufacturer even specifies that the shovel can be used for fish spearing.
As for the handle itself, it's relatively comfortable to use as it's wider than average. A wrist strap is attached to it at the top that will easily accommodate larger hands. However, the cord might slip occasionally.
The shovel itself is 6.8 oz, which is double the weight of the above model but still quite agreeable, especially given the functionality. A soft pouch is included for portability and extra protection, with a belt loop that enables you to carry it hands-free.
iunio Hiking Trowel, Camping, Backpacking, Portable Shovel, Multitool, Ultralight Camp Tool, with Carrying Pouch, for Gardening, Outdoor, Survival (Silver)
Sturdy & Durable - Made of stainless steel which is high-strength and wear-resistant. This portable shovel trowel has passed the durability tests and our destruction tests.
Multifunctional - This portable shovel trowel features a regular trowel doesn't even have: Shovel, Saw, Ruler, Nail Extractor, Hex Wrench, Paracord(110 inch). It can also be used as a spare tent stake by burying this portable trowel in the dirt, sand or snow to use as a tent peg on a windy day.
Perfect Gift Idea - Ideal gift for anyone to use, campers, backpackers, hikers, gardeners, survivalists, hunters. Great for backpacking, camping, hiking, fishing, hunting, gardening outdoor activities.
---
PROS:
Moderately priced
Highly portable due to the pouch included
Extremely versatile
Rugged stainless steel blade
Good at digging any terrain
CONS:
Handle cord can slip
Not the most lightweight model
TheTentLab Ultralight Backpacking Trowel: The Best Ultralight Backpacking Trowel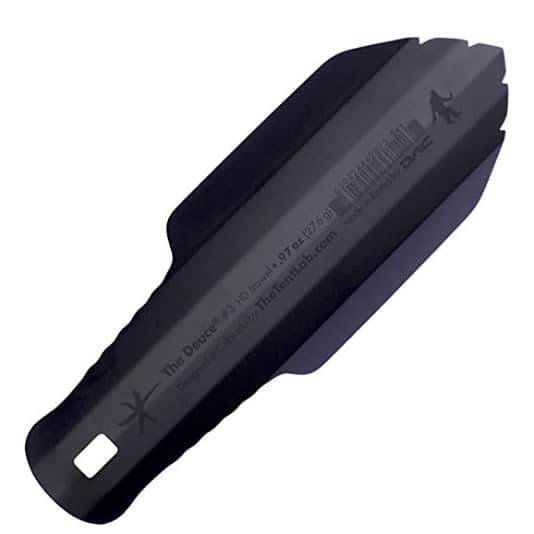 As the name suggests, TheTentLab produces camping equipment and accessories, from tents proper to stakes, cords, and shovels. The US-based business attaches special importance to adopting an experimental approach, meaning that you should expect something quite unique.
Indeed, the shovel under review stands out as an extremely lightweight, highly portable tool. It comes in three sizes, including the 6.5 inch x 2.4 inch "weight fanatic" option that's as light as 0.45 oz. Other versions include 6.8 inch x 2.5 inch at 0.6 oz and the full-sized, sturdy 8″ x 2.6″ variant that's still just 0.97 oz.
The trowel features a curved U shape that's supposed to make it strong provided that you pry in the right direction. There's a manual included with it that specifies how to apply force, warning that the piece might prove too brittle otherwise. This means you'll need to be extra careful when using the equipment. Still, the tradeoff between weight and ruggedness seems to be inevitable, so I don't perceive it as especially discouraging.
The blade comes with four teeth on the leading edge for cutting roots up to 0.5 inch thick. It's made of aerospace grade aluminum that's more lightweight than stainless steel but naturally less durable.
Most remarkably, this trowel doesn't have what could be described as a full-fledged handle. It just narrows down with finger-grip contours included in the part to be held for extra comfort, and there's a hole in the top part that you can use to attach a wrist strap or, probably, a carry loop. The handle is considerably less hand-friendly as compared to the previous model, but this is surely a necessary evil when it comes to achieving ultralight weight. Besides, it's more convenient than most handles of the kind.
---
PROS:
Extremely lightweight
Sharp, serrated blade
Good at cutting roots
Comes in three sizes to choose the optimum weight-functionality ratio
CONS:
Pricey
Prying directions must be followed to make it last
UST U-Dig-It Light Duty Aluminum Shovel: A Minimalist Lightweight Mini Trowel
Based in Columbia, Missouri, UST has been creating survival and camping accessories for over eight decades now with a heavy focus on reliability and sturdiness.
The U-Dig-It shovel is described on the manufacturer's website as the perfect backpacking tool, highlighting its light weight and portability. Indeed, this small 6.8" H x 2.4" W x 0.8" D trowel is only 0.64 oz, meaning that it won't become a burden on a lengthy outing.
Made of 7075-T6 aluminum, it's not meant for heavy-duty tasks like rock lifting but has proven reliable in making cat holes where terrain is not particularly tricky. Unfortunately, the blade doesn't feature a serrated edge, so thicker roots can become a problem as you dig into the ground.
Just like the previous model, this shovel has a handle that's one with the blade. The edgy shape makes it rather inconvenient to hold, especially when exerting a lot of pressure. Besides, there's a carabiner included that tends to get in the way while you are digging.
Generally speaking, this is a nice minimalist tool for someone who's looking for a cat hole shovel that won't add too much to their backpack weight.
---
PROS:
Very lightweight
Reasonably durable
Carabiner included for portability
CONS:
No teeth on the blade
Inconvenient handle
SE Stainless Steel Mini Folding Trowel: The Best Folding Trowel on a Budget
SE stands for Sona Enterprises, an extremely versatile Chinese brand that makes all kinds of tools for outdoor activities, survival, prospecting, and hobbies such as crafting.
The best thing about this trowel is that it's foldable, collapsing from 8 3/4″ inches when extended to 5 3/4″ inches for storage and carrying. A mixed nylon and canvas case with a belt loop is included for increased portability, although it's not the most convenient carry case you'll find since it fits the shovel somewhat too tightly.
Both the blade and the foldable handle are made of heavy gauge stainless steel that's unlikely to corrode and break even in heavy-duty settings. With a weight of just 3.2 ounces (the case not included), it's also reasonably lightweight given the material. This is achieved by reducing the handle to a loop of steel, which I find somewhat inconvenient to use on difficult terrain where you need to apply a lot of pressure.
Another drawback is that the folding mechanism isn't as smooth as I'd like it to be. You'll probably need to find the optimum hand position before you stop hurting yourself with it, and the handle doesn't lock in the open position. This said, I wouldn't recommend the model to anyone who have reduced mobility or pain issues. Otherwise it's a viable solution if you're seeking to keep your packing weight to a minimum on a budget.
SE Stainless Steel Mini Folding Trowel - 8794SP
Premium grade hand tool folds and stores in its own belt holster
Heavy gauge stainless steel blade and handle stands up to tough use, will not rust or corrode
Extended length: 8-3/4", folded length: 5-3/4" for unobtrusive storage and carrying
---
PROS:
Relatively lightweight
Small and portable
Very durable
Affordable
CONS:
Difficult to fold
Not the most convenient handle
Redcamp Small Ultralight Backpacking Trowel: A Small Metal Shovel That Has It All
Redcamp is a US-based company that makes a wide choice of reasonably affordable, high-performance outdoor furniture and accessories, from tables to sleeping bags to walking sticks and everything in between.
The mini shovel under review is advertised as an all-in-one survival tool. Indeed, this 10.4″ x 2.8″ model has pretty much everything you might need when out in the bush. The pointed blade is bent to a curvy U-like shape for extra strength and features a ruler that can also be used as a knife, a saw, a nail puller, and a wrench. A 114" rope is wrapped around the handle for emergency use. It feels soft to the touch and not slippery at all, which is a great bonus with a paracord handle. The same rope is used as a wrist strap.
The only fault I've been able to find with this extremely sturdy 420 stainless steel model is that it's as hefty as 8.8 oz, not including the very convenient carry pouch that it comes with. The latter has a loop so that you can attach it to your backpack or belt.
REDCAMP Small Ultralight Backpacking Trowel for Camping Hiking, 7 in 1 Backpacking Shovel with Carrying Bag,Silver
▲SERRATED EDGE DESIGN. The sharpened edge is for digging and the serrated saw edge cuts through woods
▲Comfortable and Ergonomic Grip: The handle is made from comfortable and soft Nylon Rope. The rope can be unfastened for unexpected emergency use
▲Ultralight and Easy to Carry: Amazingly lightweight and portable. Only 0.55LBS. This sturdy shovel is convenient to store in your bag. The carry pouch has a loop so the shovel may attach to a belt or backpack
---
PROS:
Relatively small
Convenient carry bag included
Extremely versatile
Durable sharp blade
UST ParaShovel PRO with 4 Inch Trowel: A Premium Stainless Steel Camping Trowel
This is not the first model on the list, but ParaShovel PRO is very different from the above U-Dig-It in that it's a heavy-duty, high-end product rather than an entry level one.
The 4-inch stainless steel blade is designed to include a tent peg pry tool, which also helps it cut thick roots while digging. Other accessories include a ParaTinder cord, a saw blade, and a whistle — quite a unique feature with trowels. To be more precise, the latter is a standalone item that comes with this shovel, and there's a conventional fire starter attached to it. The blade also bears measurement marks for hole depth control.
A compact, well-designed carry sheath is included that can be attached to your belt. Although quite portable, the trowel is not the lightest model on the market, reaching a full 5 oz.
The paracord handle looks like it might be uncomfortable to hold but has proven to be just the opposite. I haven't noticed any slipping or potential to cause blisters while using it, and it fits the hand perfectly well.
Sale
---
PROS:
Versatile blade design
Durable stainless steel
Convenient paracord handle
Portable
Agreeable weight for the durability
Tye Works Backcountry Backpacking Trowel: The Most Unfussy Aluminum Trowel You'll Find
Registered in Washington, Tye Works has been making and reselling outdoor accessories and equipment from hand washing systems to beverage holders for over a decade now. The product in question is the only trowel model they offer, and I have to admit it does stand out among others as radically minimalist.
The shovel is cut from thick, 16 gauge sheet aluminum and shaped by hand. The blade has the characteristic U shape that many camping shovels have, but the bend is somewhat less steep. The company stands behind each trowel sold by offering lifetime warranty.
The whole unit measures as little as 6 inches, including a handle that's rather an extension of the blade but is hand-polished for optimum smoothness, so operating the shovel isn't an issue.
Most importantly, the piece weight just one ounce if you don't include the lanyard (there's one that goes through a hole in the handle, and I'm afraid it might interfere with the work).
No fancy tools are included to add versatility to this very basic design, not even a serrated edge, which could be a bonus in areas where plant roots are thick and stubborn. I still recommend it as a lightweight, highly portable entry level shovel that will last.
Sale
Backcountry Backpacking Trowel (Weighs 32g)
Weighs about 32g (1oz.) without lanyard. As these are hand shaped and polished there is a slight variation from one to the next. Lanyard colors may vary.
Cut from 16 gauge (1/16") aluminum sheet, the Tye Works Backcountry Trowel is up to 50% stronger than similar wilderness trowels. It is unconditionally guaranteed for life. Send it back to us (Tye Works) and we will replace it. Length is just over 6" to measure the depth of your hole.
Handmade in Washington State from post production materials. It is not anodized to avoid use of caustic etching agents.
---
PROS:
Lightweight
Solid, simple design
Very sturdy
Nice smooth handle
Good for cat hole digging
CONS:
The lanyard gets in the way as you dig
A toothed edge would be welcome
Coghlan's Backpackers Trowel: An Ergonomic Plastic Hiking Trowel
Coghlan's is one company with a long history, dating back to the 1950s. Although initially originating from Canada, it's currently based in the State of Washington. The company offers a broad variety of camping and outdoor equipment, including cookware, soaps, and much more.
This bright orange trowel offers a great balance of light weight and durability as it's designed to withstand considerable pressure while only being 2 oz heavy. Unlike most camping shovels, it's made of strong plastic rather than metal, which does have a limiting effect on its cutting ability. The blade is flat, although pointed, with no extra features such as a toothed edge. This means you'll have trouble cutting plant roots if this is the case with your terrain, and the durability is surely inferior to that of thick aluminum.
One advantage of this shovel is that is measures 2.8 x 1 x 11 inches, with a longer-than-average handle that makes it easy to leverage the blade efficiently and is smooth to the touch. Although there's a hole in the handle, no lanyard is included. It is thus a very basic weight- and budget-conscious model.
Sale
Coghlan's Backpackers Trowel
The Coghlan's Back Pack Trowel is amazingly strong for its 2 ounce weight.
It is an ideal hand shovel and digging tool for ultralight backpackers.
---
PROS:
Reasonably lightweight
Ergonomic
Easy to find due to the color
Budget-friendly
CONS:
Not the sharpest blade
Not heavy-duty (plastic)
Grizzly Peak Backpacker's Trowel: The Best Camping Trowel on a Budget
Grizzly Peak offers an extensive range of outdoor products such as duffle bags, backpacks, and trowels at surprisingly affordable prices, which make it a viable option for beginner hikers who aren't sure what to invest in yet.
The shovel under review has a lot in common with the above model but is even more inexpensive. Also made of tough plastic, it has a wider blade, measuring 11″ and 3.5″ overall, and weighs just under 2 oz. While less durable than metal, the solid, single-piece design will readily withstand moderately dry soil, and the blade is effectively pointed.
Unlike the above trowel, Grizzly Peak comes with a number of extra features such as measurement marks on the blade and a thumb grip. The handle is textured to prevent slipping but feels rougher than ideal, especially when dealing with difficult terrain.
Probably the worst thing about this model is that the plastic is prone to scratching and will soon lose its aesthetic appeal. Otherwise, however, it offers amazing value for the money.
---
PROS:
Quite lightweight
Easy to hold
Very inexpensive
No-slip handle texture
Relatively wide blade
CONS:
Not meant for heavy-duty operation
Scratches
Buyer's Guide
Now that you are familiar with some of the best models on the market, you need some solid criteria to guide your decision. In this section, I'll tell you how to spot the best trowel for backpacking and how to make use of your shovel.
How to сhoose the best backpacking trowel?
Like with most kinds of outdoor accessories, there's always the light weight vs. durability dilemma that can only be solved based on your specific situation. Generally speaking, a shovel isn't the heaviest piece of equipment that you're likely to have in your backpack, so it's not always worth reducing weight at the cost of performance. However, people who travel over long distances or have medical conditions that cause them to limit backpack weight might find ultralight models to be the optimum solution.
When it comes to weight and durability, the material is key. Plastic is the most brittle and, usually, the lightest of all. However, well-made aluminum models can prove even more weight-conscious while being sturdier (this usually means a higher price, though). Stainless steel is a very rugged material that tends to be weighty and hard to sharpen, which can be made up for by introducing clever blade designs.
Whether you'll need extra features like a nail pulling device depends on what else you're going to bring on your outing. My general recommendation is that serrated blades are a must for digging in the woods with lots of thick roots getting in the way, and a ruler can be useful for tent setup.
Finally, pay special attention to the handle, as a poorly designed grip can be a pain both literally and metaphorically.
How to use a backpacking trowel?
The most common use for a camping shovel is to dig cat holes, i. e. little pits 6 to 8 inches deep where you can bury your discharge. By doing it, you prevent pollution of the trail and keep the place clean for other hikers.
Alternatively, you might want to use a trowel while putting up a tent by burying the anchors in a quick and efficient manner.
More smart ways of using camping shovels have been reported, such as replacing a tent stake (provided that the trowel is long sturdy enough). However, these are secondary to the main purpose, namely leaving no trace as you walk the trail.
Summing It Up
While there's been a lot of debate as to whether a hiking shovel is a must or a bulky nuisance, I'm now a strong advocate for this easy-to-use accessory that helps you travel without leaving a gross, nasty trail.
My recommendation is that you look for a reasonable balance of weight and durability by paying special attention to blade material as well as design. An ergonomic handle is also a great plus that often comes at the cost of increased weight, so it's up to you to set the limit.
Are you a trowel user already? If not, what do you use to make cat holes? You're welcome to share in the comments!
Last update on 2022-08-17 / Affiliate links / Images from Amazon Product Advertising API