Summer is probably the most popular time for camping, with green woods and deliciously cool lakes attracting beginners and experienced campers alike. Unfortunately, there's a downside to the warmth that this season brings about. While staying warm during the night is not much of a challenge during the hot months, you want your temporary abode to be as cool and breathable as ever.
Apart from keeping you cool when the sun is high, you'll probably expect a good warm weather tent to be lightweight, portable, and easy to use. These are basic requirements that apply no matter what season it is.
Since there are many factors that influence these parameters, shopping for hot weather camping gear might turn out to be a confusing task.
As a professional hiker with years of experience, I've had more than one opportunity to test whatever the market has to offer in terms of summer tents.
I also know what a pain it can be to toss and turn in a tiny stuffy space underneath a sheet of heavy, hot fabric. That's why I decided to make up my personal top favorite list. I've also included a Buyer's Guide section in case you're in doubt as to what your base your decision on.
Amazon Bestseller
Seven Best Hot Weather Tents
The tents below differ in price as well as material and versatility, so it's up to you to choose the combination that best fits your needs. I hope that the excellent products below will add a lot of comfort to your outings this season, no matter which you choose.
Coleman Cabin Tent with Instant Setup: The Best Heat Resistant Tent for a Big Company
Coleman is a brand that hardly needs to be introduced to those who like to spend their time outdoors with maximum comfort. It has a long story that dates back to 1914, when the first gas-powered lantern designed by W.C. Coleman, the founder, was introduced. After about 60 years, a series of
sleeping bags
, tents, and chairs were launched. This means approximately six decades of designing and manufacturing tents for various settings, such as the highly versatile model under review.
The tent comes in three sizes that will host four, six, or ten people, respectively. Since there are many noteworthy two-person options on the market but much fewer larger tents, my review will be centered on the biggest variety.
Although not labeled specifically as a summer tent camping solution, this product uses the so-called Dark Room technology to block off most of the sunlight coming from the outside, which is particularly useful during the hot season. The feature also serves to reduce the in-tent temperature. Apart from this, the Polyguard 2X double-thick fabric that the tent is made of is quite breathable while offering extra sturdiness in rigorous conditions.
The integrated rainfly is just part of the anti-rain protection that Coleman's tent comes with. It also includes the so-called Weather Tec system of inverted seams and welded floors that is supposed to keep the tent extra dry.
However, I've found the model to have mediocre rain performance with the water seeping into the interior in bad weather. Finally, the tent is a very effective anti-bug shelter that's very unlikely to let in mosquitoes or other critters.
One great advantage of this tent is that it comes with the poles pre-attached, reducing set-up time to virtually minutes and making it an easy job even for beginners.
The model features a patented hinged door for easy access. Designed with big companies in mind, it contains a room divider to secure privacy. It also comes with a carry case that's fairly comfortable to use and doesn't take up too much space. The case has a rip strip for added storage capacity, too, which is always a plus if you lack room.

Sale
---
PROS:
Sunlight reflecting fabric technology for a dimmer, cooler interior;
Roomy;
Sturdy material;
Quick and easy to set up;
Breathable.
CONS:
Not the best option for a rainy day.
---
Mountainsmith Morrison 2 Person Tent: One of the Best Ventilated Tents for Two
Founded in Golden, Colorado, Mountainsmith celebrated its 40th birthday in 2019. The company produces a wide range of outdoor products, from trekking poles to tents to backpacks, attaching extreme importance to functionality and durability.
The tent under review is a part of the 3-season series that Mountainsmith offers, meaning that it's good for any time of the year except for winter, combining lightweight and the ability to stay cool during the day with rain and wind protection.
Made of durable polyester, it still offers great breathability due to the ventilation windows included, and the somewhat bulky fly and sturdy floor add to rain resistance, making it a better option for wet weather as compared to the previous product.
Rain-worthiness is further increased by a bathtub floor to prevent the water that might accumulate under the tent from seeping inside. Besides, two zippers on the fly door can be opened for better airflow, and the separate doors ensure excellent cross-ventilation.
As for wind, however, an improvement would be welcome for gusty days. It's the higher-than-average 43-inch peak height, clearly introduced for increased roominess, that makes the tent relatively vulnerable to heavy winds. Bugs aren't an issue with this Mountainsmith tent, which is a valuable bonus in the summer.
Measuring 92 x 56 x 43 inches when set up, this tent offers considerable private space to its two occupants, in particular thanks to the two roomy vestibules. With a weight of 5 lbs 9 oz in the packed condition, it's clearly not the most lightweight option you can get but decent in this respect, too.
The price tag for this model is somewhat higher than average, so you might want to look further if you're shopping on a budget. However, it offers good value for the money as it's clearly made to last and is relatively easy to use and set up.

---
PROS:
Roomy interior with two separate vestibules;
Very good for rainy weather;
Excellent ventilation;
Versatile three-season solution.
CONS:
Higher-than-average price;
Wind performance could be better.
---
Featherstone 2 Person Backpacking Tent Lightweight for 3-Season Outdoor Camping: The Most Easy-to-Use Breathable Tent
Featherstone Outdoor is a small, highly specialized brand headquartered in El Monte, California, that produces a limited range of well-thought-out camping goods, mostly tents. The company's philosophy is centered largely on a healthy balance between affordability and quality, of which the 2-person tent is a vivid example.
Just like the previous option, this is a three-season solution that will perform well from spring to autumn, with special features added to increase comfort during the hottest time of the year.
Measuring 84 x 51 inches, this tent for two is somewhat less roomy as compared to the above model but also offers a lot of overhead space due to a peak height of 43 inches. It also has two separate entrances and two vestibules for increased storage capacity.
What makes it one of the top hot weather tents, however, is the no-see-um mesh canopy that enables excellent ventilation, also enhanced by the two doors, while keeping away all kinds of bugs. The rainfly is made of durable 75-denier polyester that's resistant to ripping, enhanced with 3000mm polyurethane hydrostatic rated coating to keep you dry in rainy weather.
A dense nylon floor with a coat of polyurethane over it has the practical bathtub structure to prevent water underneath from seeping into the tent. The design is also good for gusty weather unless the conditions are really extreme.
This tent by Featherstone is quite easy to set up and features a standalone frame that can be relocated without disassembling, making it way more fun to use for beginner campers. It is also well-made with thick, sturdy poles and well-made seams. Unfortunately, the ruggedness comes at a cost, namely a packing weight of a full 6 lbs. While this is hardly a problem for short outings, longer expeditions might require a more lightweight solution.
Another minor flaw I've found with the product is how small the carry bag is. It's rather a challenge to pack after you've been using the tent for a while, making it time-consuming yet space-saving.

Sale
---
PROS:
Outstanding breathability;
A pair of separate vestibules and entrances;
Good for rainy and windy weather;
Affordable price for the quality;
Can be relocated without take-down.
CONS:
Not the easiest tent to pack;
Relatively heavy.
---
Coleman Dome Tent for Camping: The Best Tent for Hot Weather and Strong Wind
I've already mentioned the long history behind Coleman's great reputation with lovers of the outdoors, and this product is a great example of the quality that the company is famous for.
One common problem with tents that stay cool on a hot night is that their performance is often inferior to those made of thicker, heavier, and less breathable fabric when the weather is windy. However, this model has a particularly strong frame that's claimed to withstand gusts up to 35 mph and more, making it an excellent option for windy summer days.
The tent comes in two design options, namely the classic dome and a dome tent with a screen room attached to it as weather- and bug-proof porch. It also varies in size, potentially hosting 4 or 6 adults.
Just like the first model on the list, this tent boasts Coalman's Dark Room technology to block off 9/10 of the light that a common tent by the same brand would let it, meaning that you'll be able to sleep well into the day, undisturbed by the sun as well as the heat, as this solution also helps to keep the interior cooler.
Weather-proof solutions such as welded floors and inverted seams are also included and are effective at keeping rainwater away.
The rainfly included will only cover the middle section, meaning that the screened porch will inevitably end up wet if the weather is rainy. However, it does a good job of protecting you against pesky bugs and prevents mud from accumulating inside the tent.
Although not particularly spacious, the tent includes a number of features for extra comfort, such as storage pockets attached to the walls and an integrated E-port so that you can run a cord easily into the inner space without exposing it to potential bugs and rainfall.

Sale
---
PROS:
Quite breathable and cool;
Very dark due to the Dark Room technology;
Features a screen room (not in all configurations);
Excellent wind and rain performance;
E-port and storage pockets included for convenience.
---
ALPS Mountaineering Zephyr 3-Person Tent: An Incredibly Easy-to-Set-Up Heat Resistant Tent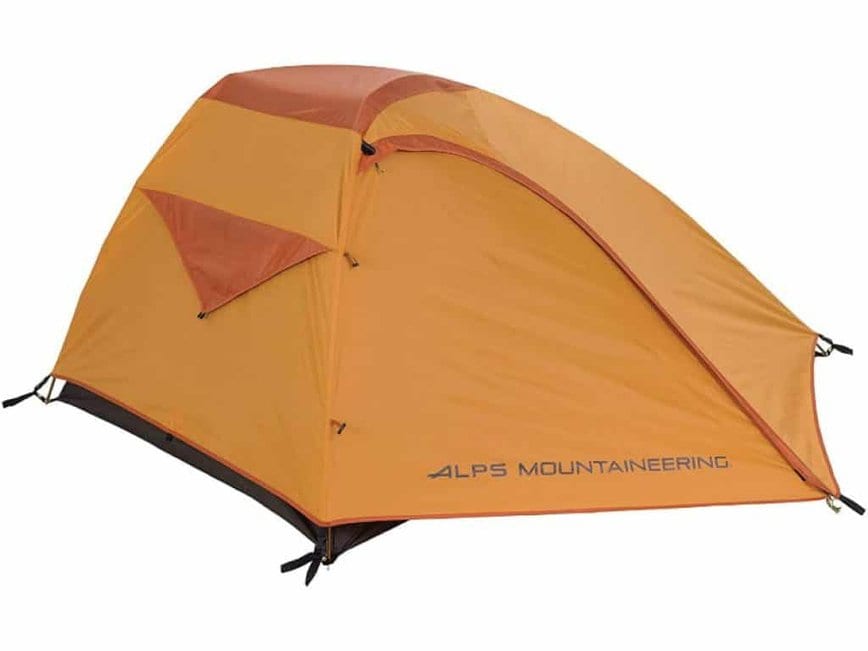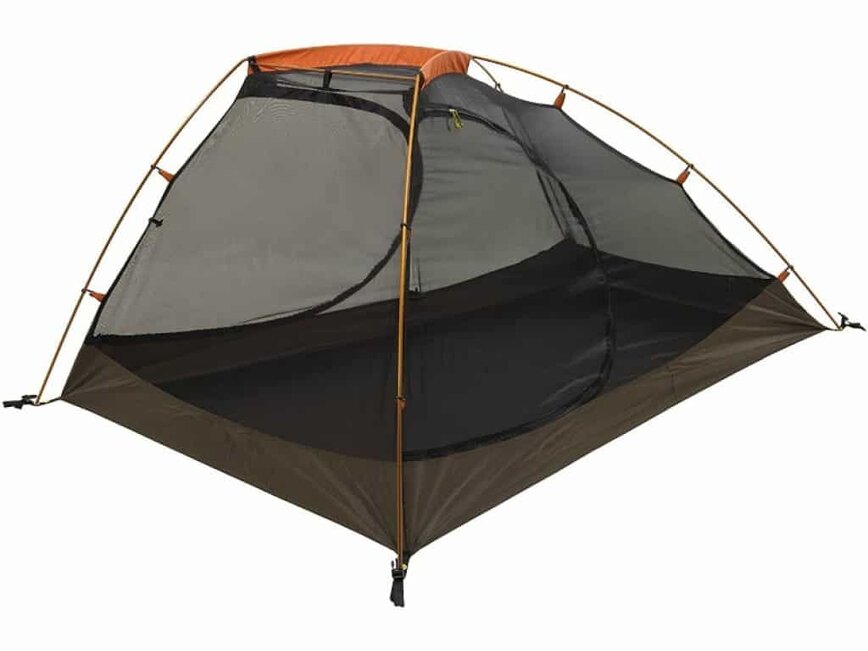 ALPS is another well-established brand based in North America that's made a reputation as a manufacturer of high-quality outdoor goods such as tents, camping chairs,
sleeping bags
, and more. Founded in 1993, the company has gained recognition for its attractive quality-price ratio, offering premium goods for what's a bit lower than premium prices.
The Zephyr tent was clearly designed with a view for quick and easy installation that's ensured by using a two-pole configuration. As the name duly suggests, setting up this tent is a breeze.
Although meant to host three people rather than a couple, this is not a particularly roomy model – its floor area is just 40ft², meaning that you'll sleep side by side with no space in between and only the two vestibules to be used for storage. Like some of the 2-person tents discussed above, Zephyr features a dual entrance/vestibule system for improved ventilation.
The effect is further enhanced by full-mesh anti-insect walls and a relatively ample overhead room. A polyester rainfly with 1500mm coating and floor made of 75D 185T Poly Taffeta, another kind of 100% polyester material, is combined with factory-sealed seams for effective rain protection.
The vent window, which is also useful when the weather is hot, stays dry during the rain as well. As for wind performance, the frame is fairly stable on a breezy day, making it a versatile solution in terms of climatic conditions.
A gear loft, as well as mesh pockets, are included for extra storage capability, and ALPS will readily supply you with spare parts such as guy ropes or stakes to match this model, so you don't have to worry about forgetting things.
The tent weighs a total of 6.1 pounds – fairly lightweight for a 3-people abode.

---
PROS:
Hosts 3 people;
Full-mesh walls for added breathability;
Dual entrances and vestibules increase convenience and ventilation;
Good rain and wind performance;
Extremely easy to set up.
CONS:
Could be roomier;
Somewhat pricier than average.
---
Coleman Sundome Tent: The Best Tent for Summer Camping on a Budget
Another tent variety offered by the famous Coleman, Sundome stands out as a particularly affordable solution for summertime outings.
This is a basic model that has all it needs to perform reasonably well from spring to autumn as it is essentially a three-season tent. However, a number of summer-friendly features have been added to make it as comfortable as possible on a particularly hot day.
These include large windows and a ground vent for sufficient ventilation to make up for the not-so-breathable polyester walls, which do a good job of keeping the tent dry during the rain, especially when paired with the rainfly, made of 75 denier polyester taffeta.
The model uses the same WeatherTec technology as the other two Coleman tents featured in the articles, and the thoroughly covered seams appear to work just fine in heavy rain. The frame is also built to withstand wind gusts reaching 35 mph and more.
Sundome comes in a number of sizes, including variants to host 2, 3, 4, and 6 people. Remarkably, all the configurations are 4 feet high, which is considerably more than average and offers a lot of overhead space. The interior isn't particularly roomy in other respects, however, and the 2-person tent only has one entrance instead of the dual vestibule system celebrated above, which means you'll probably have to crawl over your companion. Another reason why a second entrance would be welcome is that it potentially improves air circulation in the tent.
One thing that's definitely good about this tent is how easy it is to assemble it. The full set-up procedure will probably take you around 10 minutes – a great number for an inexpensive product like this.
If you're looking for entry-level yet reliable hot weather camping gear, Sundome is a very likely candidate as it combines ease of use with affordable price and unfussy design. It also makes a reliable shelter for those who can't stand the whining buzz of mosquitoes around them.
The tent is relatively compact and packs well sue to the clever carry case included with it, but the weight is somewhat disappointing, nearing 7 pounds for the 2-person configuration. Given this fact, I'm not inclined to recommend it to anyone planning a lengthy backpacking trip in trying conditions.

---
PROS:
Inexpensive;
Well-made for the money;
Quite breathable due to the ground vent;
Highly resistant to rain;
Withstands wind of 35+ mph.
CONS:
Relatively heavy;
Single entrance in the 2-person variant.
---
Clostnature Lightweight 2 and 3 Person Backpacking Tent: An Ultralight Warm Weather Camp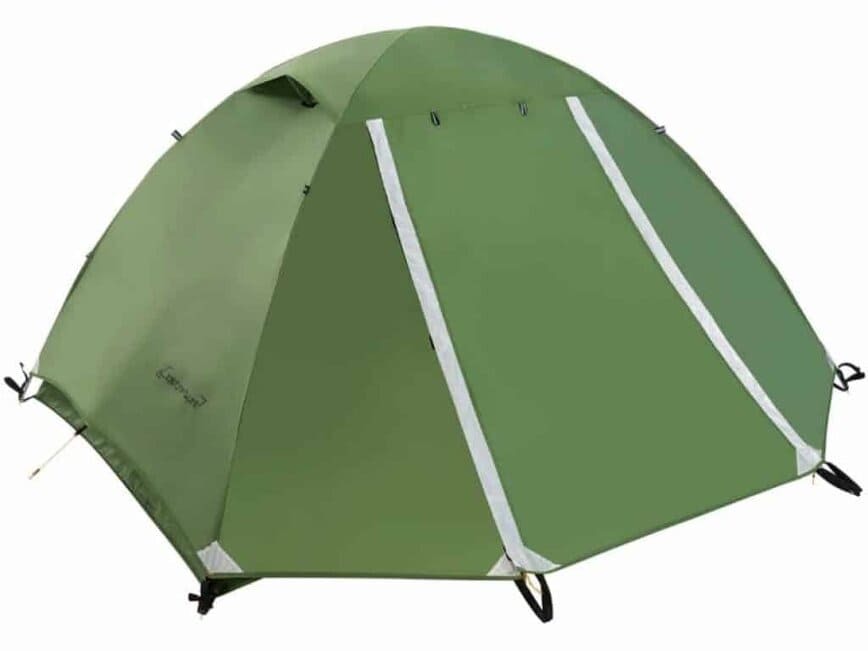 Founded in 2006, Clostnature is a relatively young brand that sells a limited range of outdoor products such as sleeping bags and tents. My general impression is that the company prefers to have a couple of models that will stand out rather than expand the choice of goods, and the tent I'm focusing on is a good example of an affordable yet high-performance versatile product.
Although the product name line on Amazon describes it as a 2 and 3 person tent, two size options are available, namely for 2 or 4 people. Both are remarkably lightweight for the price, which is very far from premium, the smaller tent reaching 5.4 lbs, and the one for 4 people – 7.4 lbs – a welcome feature for those who prefer long backpacking tours where every gram matters.
Measuring as high as 48 inches at its peak, the tent offers adequate overhead space to sit up comfortably, and the 7'3" x 4'11" double configuration is relatively roomy with a considerable aisle between the two sleepers and enough space for a tall person to lie down comfortably. It also comes with two entrances, sparing you the need to crawl over your partner, and the vestibule area is quite large.
Another advantage of Clostnature's tent is the free-standing structure that enables you to lift and relocate it without disassembling the whole thing.
The walls of this tent are made of mesh, offering excellent insect protection, ventilation, and breathability, while the 210T Poly rainfly with polyurethane coating does a great job of keeping the interior dry. The features are paired with a bathtub floor to prevent water from pooling inside during the rain.
Unfortunately, wind performance could be much better, so I cannot advise the model for gusty weather.
The tubular carry bag that comes with the tent is not particularly easy to pack but does help to save space. Please note that the footprint is not included in the pack, so you'll need to purchase one separately, while a pole emergency repair kit is part of the original kit.

---
PROS:
Fairly inexpensive;
Breathable due to mesh walls and two entrances;
Spacious interior with plenty of overhead space;
Very lightweight;
Good for rainy weather.
CONS:
Better rain performance would be welcome.
---
Best Tent Material for Hot Weather
When it comes to choosing the right tent for a warm day, the material should play a key role in the decision-making process as it's a lightweight and breathable fabric that spares you the question of how to keep the tent cool in summer. Apart from these features, you'll probably want the fabric to offer protection against rain and bugs such as mosquitoes. Since there are many options to choose from on the market, with the price varying greatly, I've included a quick tent material guide for hotter days.
Canvas and cotton, both natural fabrics, are the absolute best in terms of breathability. Yet, both have the same drawbacks, namely heavyweight and relatively high cost, making them an unpopular choice among backpackers and a rare offer.
Nowadays, most of the camping gear is made using cheaper-to-make synthetic materials such as polyester and nylon, often with a polyurethane coating for increased rain resistance. These fabrics are very affordable and lightweight but definitely inferior to the above in breathability.
If you've been wondering what the difference between the two might be, it's mainly that nylon is stretchier, often causing aesthetically unpleasing wrinkles. This also brings about improved strength at the same weight, as the fabric's ability to stretch makes it less prone to tears. Nylon is the fabric of choice when a lot of abrasions is likely, too.
The most common problem with polyester is ripping, but it can be overcome by increasing the density compared to a similar nylon tent. It's also a common belief that polyester is more UV-resistant than nylon.
Finally, poly-cotton, which stands for polyester-cotton blend, is a mixed material that has the best features of its two constituents.
While being heavier than plain polyester, the fabric boasts the great breathability of cotton and prevents excessive condensation due to its moisture absorbing properties. What you get is a tent that's cool in hot weather and relatively warm when it's cool outside. It also provides good UV protection and hardly makes any noise in windy conditions, which can be a plus for light sleepers.
Takeaways
Choosing camping gear for a hot day maybe a pain with too many fabric and design options to choose from. What you need to remember is that good tents for hot weather must ensure adequate circulation of fresh air by being highly breathable. Additional ventilation solutions such as flaps and dual entrances for cross-airing can be a plus, too, also potentially adding to privacy and comfort if you're sharing your abode with a companion.
Material is key when it comes to choosing the best summer tent. While natural fabrics such as cotton and canvas have a good reputation for letting in plenty of fresh air, they are way too heavy and costly to make a decent backpacking tent on a budget.
Therefore, you'll most probably end up choosing between nylon, polyester, and the somewhat more expensive poly-cotton. Remember that there's always a tradeoff between weight and breathability, and resistance to water is another aspect to factor in if you expect rain during your outings.
Wind performance and the ability to keep bugs away, for example, by using the so-called noseeum mesh, are also essential in most climates, so make sure to choose a tent with a sturdy frame and, preferably, an anti-insect screen room.
Do you feel like I missed something? Feel free to suggest more things to consider when shopping for a summer tent or share your experience in the comments section!