Welcome to my blog, where I share useful tips and experience-based product reviews related to hiking and other outdoor activities. In this article, I tell about the worthiest dog-friendly tents that I have tested over the last few years, and which remain the best in 2020 and beyond.
Letting your dog be your companion during hiking, you make every moment much brighter. Your pet will be happy to travel next to you, which will let you see more beauty around. But how to ensure that your dog feels good enough? You have to apply a bit of planning and stick to simple rules to make things right. And one of the important points is choosing one of the best pet-friendly tents.
But is a dog in a tent a good idea? The answer is "yes". It's a good idea under any circumstances! First of all, it's much safer for your dog to sleep inside the tent. You don't want it to encounter a skunk or something else, right? Secondly, you can share the warmth with each other and sleep better. Besides, your doggo is much more sensitive than you, which means that sleeping next to the pet is more secure for you and your family too.
What is the Best Tent for Dog Owners
For dog owners who enjoy camping, finding the best tent to bring their furry friend along can be a challenge. There are a few things to consider when choosing a tent for camping with a dog. The size of the tent is important to make sure there is enough room for both the human and the dog to sleep comfortably. Another thing to consider is the fabric of the tent. Some dogs like to chew on things, so a tent made with a tougher material may be a good choice. Finally, consider the climate you'll be camping in and make sure the tent has features that will keep both you and your dog comfortable in that environment. Based on these recommendations, consider the following rating of tents for camping with your dog.

Table of recommended for best tent for family and dog
Product
Title
E-Z UP Camping Cube 6.4, Converts 10' Straight Leg Canopy into Camping Tent, Royal Blue
Coleman Elite® WeatherMaster® 6 Screened Tent,Multi Colored,6L x 9W ft. (Screened Area)
Yolafe Dog Camping Tent Portable Cave Bed Playpen Kennel with Innovative Instant Setup Centre Hub Design Ideal for Camping with Cats and Dogs, Brown
Coleman Steel Creek Fast Pitch Dome Tent with Screen Room, 6-Person , White, 10' x 9'
Wenzel 8 Person Klondike Tent, Blue
Pros
Extra-durable frame construction
Can withstand up to 35-MPH wind
Large convertible screen room
Product
Title
E-Z UP Camping Cube 6.4, Converts 10' Straight Leg Canopy into Camping Tent, Royal Blue
Product
Title
Coleman Elite® WeatherMaster® 6 Screened Tent,Multi Colored,6L x 9W ft. (Screened Area)
Pros
Extra-durable frame construction
Product
Title
Yolafe Dog Camping Tent Portable Cave Bed Playpen Kennel with Innovative Instant Setup Centre Hub Design Ideal for Camping with Cats and Dogs, Brown
Product
Title
Coleman Steel Creek Fast Pitch Dome Tent with Screen Room, 6-Person , White, 10' x 9'
Pros
Can withstand up to 35-MPH wind
Product
Title
Wenzel 8 Person Klondike Tent, Blue
Pros
Large convertible screen room
Best Tents for Camping with Dogs: Top 7 Products
Now, let's take a look at the best items for convenient tent-camping with dogs. My selection includes tents of different sizes and construction types so that you could choose the best one for your particular camping needs.
Now let's take a closer look at each type of tent from our top.
1. E-Z UP Camping Tent With Dog Door – Large Tent With Dog Door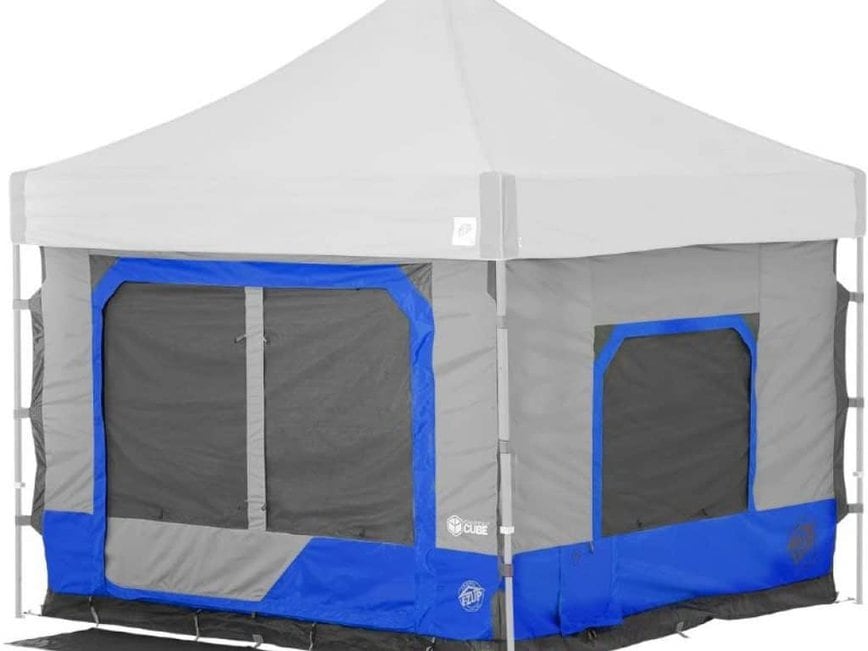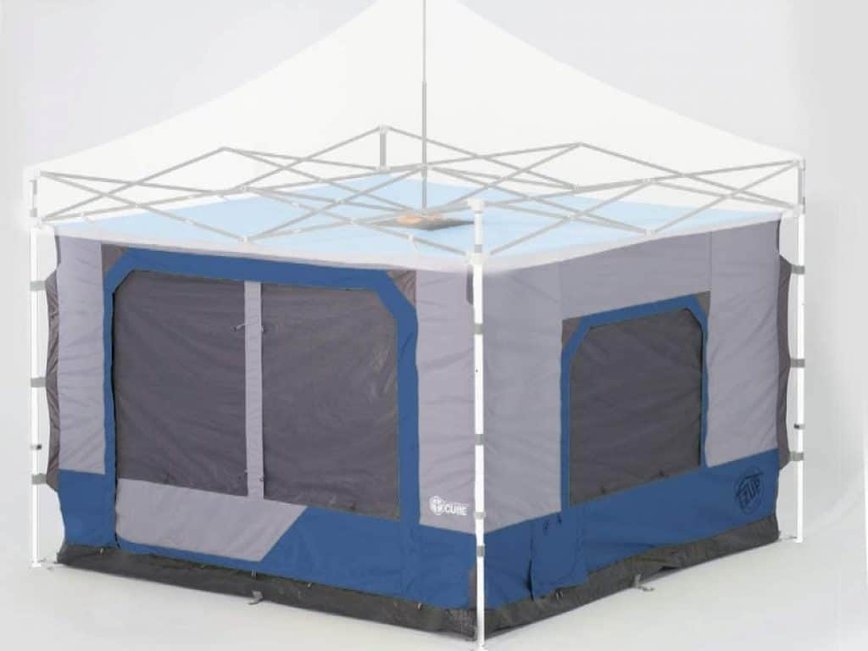 E-Z Up tent isn't the most compact model, but it provides so much space that I agree to carry a bit mode gear. The whole construction that includes the cube tent itself and the Footprint P100 frame is packed into 2 bags and weighs around 25 pounds, which is just the right weight if you weigh 140 or more pounds.
The cube has a 111×111-inch perimeter and a 76-inch ceiling. Such a massive space lets you get in easily and stand inside without touching the ceiling. The perimeter is enough for comfortable accommodation of 6 adults and one big 4-legged friend or several small ones. If you feel like there's not enough space because your gear takes too much, you can hang stuff using convenient hooks under the ceiling.
Due to the convenient dog door on the side of the cube, dogs of any size can move in and out freely. The flap is made of the same material as the entire cube and includes a sturdy water-resistant zip. The front door is water-resistant as well. The walls of the tent are made of UV-blocking materials that keep exessive heat outside, while the fresh air easily flows in through the large windows. You can close each of them to keep warmth inside. And if you need to cool your tent, then we recommend reading the article "How to Cool a Tent?"
I like this item as it's very easy to set up alone, and it's not too heavy if you're hiking with 5 more people. Your dog will definitely enjoy the easy-access door and the spacious sleeping place. In addition, you can easily connect the cube to electricity via the power pocket and enjoy charging up your gadgets inside.
This tent is a good choice for campers who need a full-size solution with convenient extras. I'd recommend it for those cases when you're not planning to change your campsite for several days in a row.
Sale
E-Z UP Camping Cube 6.4, Converts 10' Straight Leg Canopy into Camping Tent, Royal Blue
Enhancing Add-on – The Camping Cube pop-up tent add-on is not self-standing. The 6. 4 Camping Cube is designed to work with a straight leg frame. Recommended compatible models: 10' x 10' Vantage, 10' x 10' Pyramid, 10' x 10' Eclipse, 10' x 10' Enterprise, 10' x 10' ES100S, or 10' x 10' Hi-Viz. Not compatible with 10' x 10' Ambassador or 10' x 10' Envoy Shelter.
Transform – the camping cube add-on works to transform a 10' x 10' straight leg Shelter into an entirely new space for any upcoming camping trip. Frame/top (Shelter) not included.
Spacious – the camping cube 6. 4 add-on accommodates up to 6 People with room for your 4-legged friend (That's where the . 4 comes from) with built in pet entry. Highest Height setting is 6'4" (approx. 76"). the camping cube measures 111" L x 111" W x 76" H (350 cm x 281 cm x 281 cm) offering more 541 cubic feet (27. 6 M3) of room.
---
PROS:
Easy to attach and detach (around 2 min);
Spacious cubical design;
Excellent sun protection;
Dog door included;
Free airflow.
CONS:
Requires a companion straight leg frame (not included);
No screen-room.
2. Core 11 Person Family Cabin Tent with Screen Room – Spacious Tent With Dog Area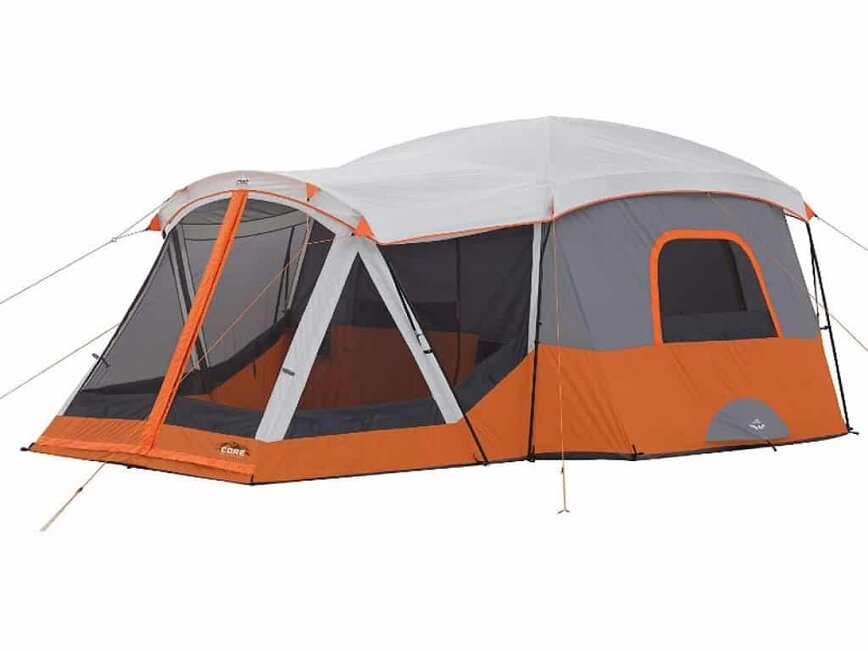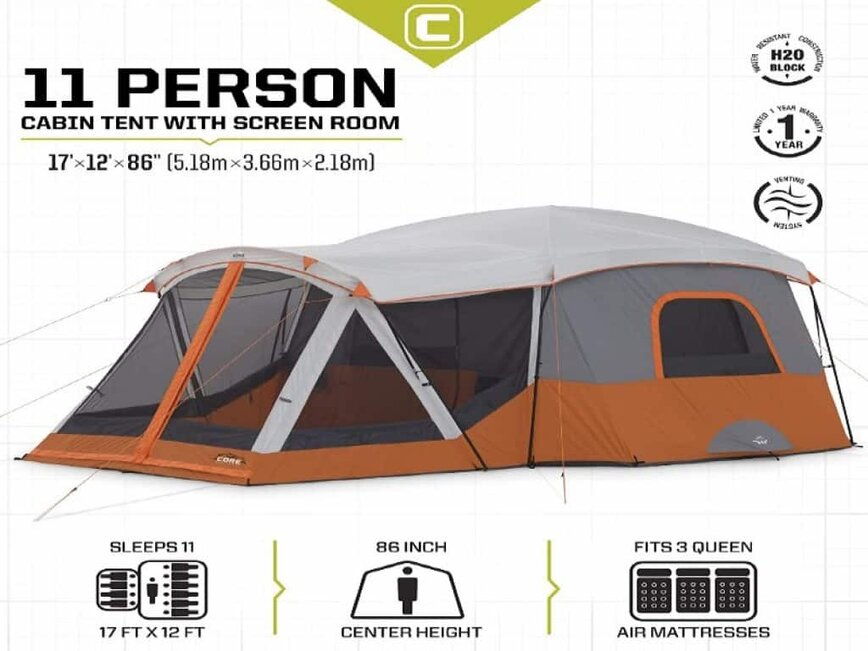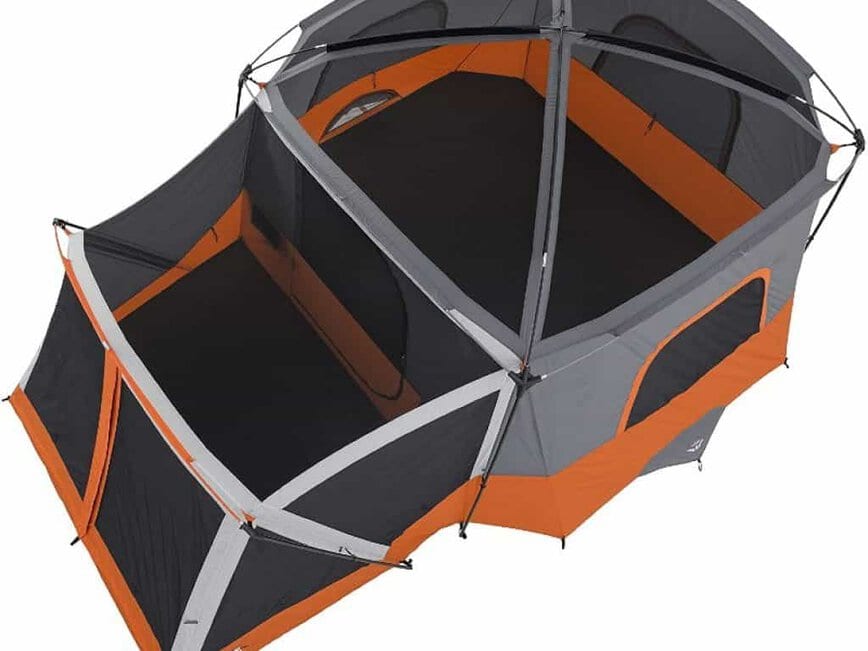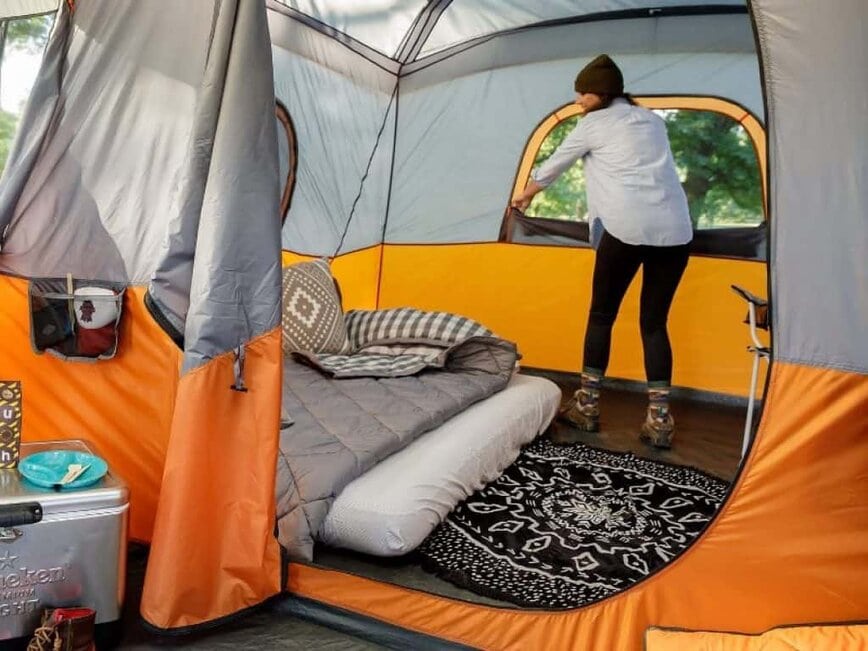 Here is another super-spacious solution. But unlike the previous tent, this one doesn't require you to buy an additional frame. Instead, it has a classic lightweight easy-to-assemble frame that makes the entire construction stand firmly.
The perimeter of the assembled construction is 17'x12', while the highest point in the center is as high as 86 inches. Maximal capacity of this tent is 11 adults and a dog, but you can also live there together with your partner and a couple of dogs and feel yourself almost like at home. In addition, there's an electrical access port that lets you electrify your campsite dwelling in a safe way. The entire tent is waterproof and sealed with thermal seams.
If you think that it may be hard to breathe inside if the tent is full of people, you will enjoy the smart ventilation system that includes not only windows on all sides, but also small cool air vents near the floor. If you open them, the cool air will push put hot air, and make it much easier to breathe. Dogs will enjoy this tip too.
This model has a classic design and a spacious screen room that is big enough for up to 4 people or a couple of large dogs and your camping belongings. Animals will enjoy a good view through the large screen room mesh walls. You can also leave the front door open for them, keeping the inner door closed. That's a good alternative to a separate pet door. Such a tent will fit a couples camping bed that can accommodate a couple, children, or your dog can settle in to sleep next to it.
The complete set includes all the needed gear for quick installation and transportation. Still, the kit is quite heavy (36 pounds), so you'd better transport it in a vehicle, or carry it on your back without the extra stuff.
Sale
---
PROS:
Extra-spacious model (up to 11 people);
Large screen room;
Easy-to-assemble frame;
Excellent ventilation;
All parts provided.
CONS:
The screen room doesn't have privacy covers;
It's rather heavy.
3. Coleman Elite WeatherMaster 6 Screened Tent – The Most Durable Solution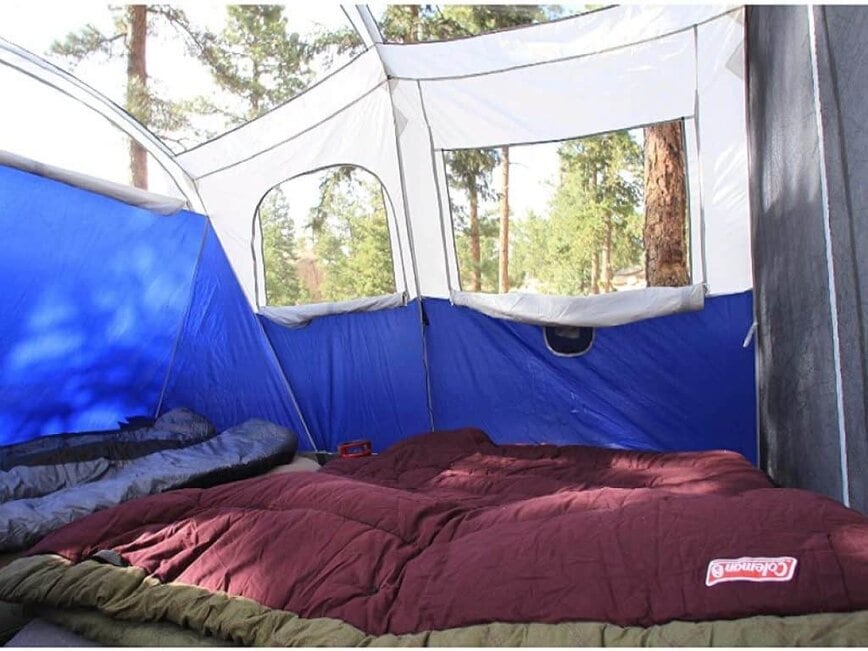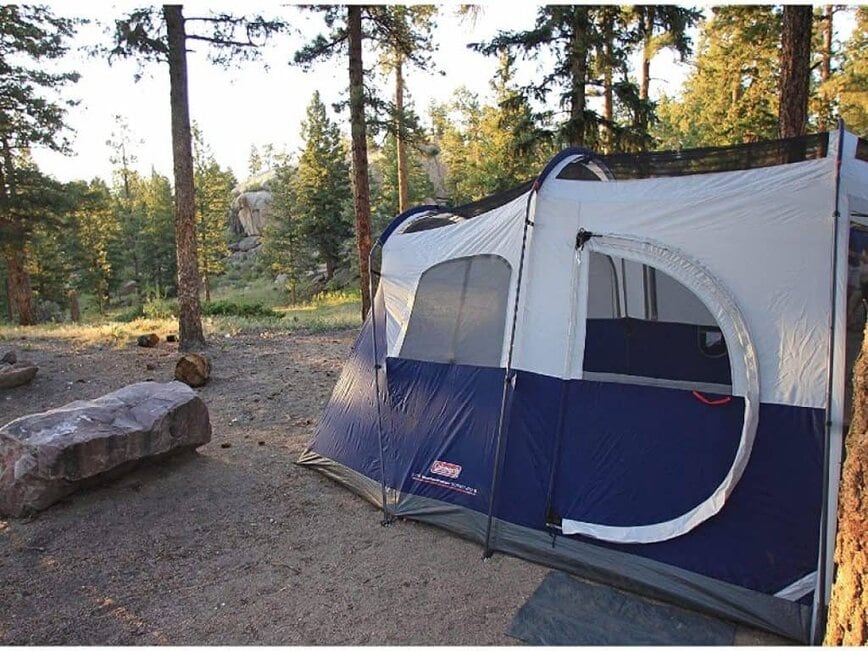 Although this tent is notably smaller than the previous two, it offers a significantly sturdier frame that can handle heavy weather conditions with up to 60MPH wind speed. Coleman tent with dog doorconducts severe durability tests for each tent construction, which you can find on YouTube.
Fortunately, I didn't have a chance to test it in such circumstances, but I've experienced one of the heaviest rainfalls in my life inside this product. We were surprised that we couldn't find even a single leakage afterward. The negative side of such sturdiness is weigh. The total weight of the item is over 42 pounds. It's just too hard to carry it on your back if you're backpacking. If you came to the campsite by car, you will enjoy the wheeled travel bag. The wheels aren't as big as I wish, but they make transportation easier anyway.
The room is large enough for 6 adults and a large 4-legged friend, which can enjoy the fresh air and the sight in the spacious screen room. Unfortunately, there's no exterior door in that section so that you and your pet can get inside only via the main door at the side of the tent. It's an unusual design solution that really lacks a pet door, but it's not difficult to get adjusted.
Additional features include an electricity port and a default LED system, which is a really nice bonus. It offers 3 brightness regimes and fills the entire room with bright light. You can also use the ceiling crane to attach other devices and power supply via the special electricity port.
This tent is a superior option for campers who value extra sturdiness and don't mind the heaviness of this tent. Due to the large screen room, you can travel with your dogs and be sure that they feel good enough inside. The lighting system and the feeling of reliable protection make you feel like you're home.
---
PROS:
Large screen room for your canine;
Protected port for electricity;
Bright LED lighting with a wall switch included;
Extra-durable frame construction;
Convenient wheeled carry bag.
CONS:
No exterior door for the screen room;
Heavy (42.3 pounds).
4. Yolafe Portable Pet Tent – Finally The Best Tents for Dogs
Sometimes, getting a separate portable house for your 4-legged friend is the best solution. If your animal doesn't like it to spend time inside the screen room, or it sleeps too loud, you can always use a separate room to let both of you feel more comfortable.
This item by Yolafe lets you isolate your animal on the campsite without the need to use the leash. The single-sided zipper makes it impossible to open the door from the inside, even if your buddy is the smartest in the neighborhood. Although the bottom of the door is hermetic and keeps the rainwater outside, the upper part and the ceiling are made of mesh that provides perfect ventilation and prevents the accumulation of condensate.
Perhaps, small dogs won't like the absence of mesh at the bottom, but it's the lowest price for their safety. The material can stand up to 1500mm of rainfall and heavy wind, so make sure to anchor the construction
The whole thing weighs less than 7 pounds, which lets you carry it anywhere without problems. You shouldn't think that the installation of an extra tent will take too much time. The entire process takes less than 2 minutes due to the cross-brace construction of the frame. In addition, there's a central hub that lets you pull the frame up or down for instant setup. The dimensions of this cute home are big enough for breeds similar to retriever and a bit bigger. The floor is 36"x36" and the top point of the ceiling is 26".
I recommend this product to dog owners who have pets that misbehave at night. On the other hand, I recommend you to train your dog not to bark or scratch the tent from inside. You can buy it in advance and teach it to behave inside.
---
PROS:
Water-resistant material;
Lightweight model;
Good for small and big breeds;
One-sided security zipper;
Quick installation process.
CONS:
May appear a bit tight for big dogs.
5. Coleman Steel Creek Fast Pitch Dome Tent with Screen Room – Best Tent for 2 Adults and a Dog
It's the second of three products by Coleman in my article, and I consider it the best option for a couple with a dog. But it's a 6-person tent, isn't it? Well, it is. However, I consider smaller models too cramped for comfortable accommodation. Besides, the extra 2 places are located in the screen room, which isn't protected from harsh weather conditions. You can let your dog sleep there when the weather is good and let it inside when needed. You won't feel short of space in both cases.
Similarly to the previous products in the article, this one lets you stand tall inside. However, it's significantly easier to install due to simplified construction. It took me about 10 minutes to set it up for the first time. Color-coded poles helped me to avoid getting into instructions.
The screen room is large enough for keeping your stuff and letting you sit in folding chairs and enjoy the view from behind the mosquito mesh. There's no separate door for pets, but you can leave the mesh open at the bottom for the same purpose. But don't forget to close it at night.
This tent isn't as durable as it's brother WeatherMaster, but it also includes strengthened poles and supporting triangles, which is enough to withstand up to the 35-MPH wind. Water protection is also excellent.
Additional features include storage pockets on the walls, a flap for power supply connection, and reflective lines that let you find the tent faster if you are returning to the campsite lately. I recommend it to couples who go hiking with a dog as it's spacious enough for convenient for long vacations and convenient activities inside if it's raining heavily. It's easy to assemble even if you're not experienced at all. It's also not too heavy for an average backpack.
Sale
---
PROS:
Lightweight construction (19 pounds);
Color-coded poles for easy assembling;
Wide range of settings;
Can withstand up to 35-MPH wind;
Extreme water protection.
6. Wenzel 8 Person Klondike Tent – Classic King-Size Solution
This large classic tent offers over 95 square feet of space, which is enough for up to 8 adults. You can either let you dog get inside the main room, or leave it in the screen room. Both sections have large mesh windows and excellent ventilation. Unfortunately, there's no door for pets, but you already know how to replace it. The height of the main dome is enough to let you walk inside without ducking. Despite such a large size, the entire construction weighs less than 30 pounds. The assembly system includes a modern pin-and-ring technology that simplifies the setup a lot.
The dog pass isn't provided, but you can successfully use the mesh door for that. The Screen room of this item lets you locate all the bags and house up to 3 four-legged friends without problems. The area is perfectly ventilated and ensures protection from up to 2000mm of rainwater. If the weather is too severe, you can take all the bags and your pets and place them in the separate screened room. The main section is easily divisible into 2 parts, letting you come up with various solutions. Large mesh windows can also be closed with hermetic flaps from the inside, while the roof mesh protected by the lightweight fly.
I recommend Wenzel Klondike to families and co-family hikers who need divisible space and want to have a sturdy floodlit tent that doesn't require too much time to be set. This solution is good for both the permanent campsite and daily migration hiking style. It's also perfect for dog owners who take 1-4 pets to the campsite. There's enough space for everyone!
Sale
---
PROS:
Pin-and-ring installation system;
Light enough for backpacking;
Large convertible screen room;
Effective hi-low ventilation system;
Extra mesh partition inside.
CONS:
No door for pets;
No electricity port.
7. Coleman Dome Tent with Screen Room – Sturdy Economical Solution
Meet the last but not the least tent by Coleman. This large dome-type tent offers you to benefit from the universal classic construction and some unique extras. First of all, it's very simple to install due to the dome fly type. The fly works as a roof, but unlike other tents, it doesn't only cover the ceiling mesh but also protects the windows from rainwater removing the need to close them even if it's raining heavily.
As a result, you have to apply zero effort to handle the tent during your stay, independently from weather conditions. All the seams of the tent are welded and inverted, keeping moisture outside. If the weather is dry, you can remove the dome entirely and enjoy the beautiful view at the starlight.
The screen room offers convenient shady space for your pets and stuff. The large mesh door has a T-style zipper, which lets you create a small door for pets to let them enjoy their stay too. You can even sleep in the screen room when it's dry outside, but it's not as big as in other models. The water protection of the screen room is also a bit low, while the main section is resistant to heavy wind due to strengthened poles and can help you sit out heavy rains without a single drop of moisture inside.
This tent is available in 2 sizes – for 6 and for 8 people. The first option is also perfect for couples and families with dogs. I don't think that it's a good idea to put 2 people in such a tight screen room, so always leave it free enough for your dog. In addition, this solution is relatively cheaper than all other offers. If you can sacrifice a power port and large windows on the site, you should really consider this offer. Coleman proved that it's one of the best manufacturers, so you can also take a look at their other offers. Still, these are practically tested, so I trust them more.
Sale
---
PROS:
The screen room is convenient for animals;
Permanent ventilation;
Storage pockets included;
Welded seams;
Online installation manual.
CONS:
No port for electrification.
How to Camp with Dogs
Camping with a dog where does the sleep take place, you have to follow several simple rules that will make your active leisure with a companion unproblematic. First of all, you have to purchase a tent with dog room. My reviews and recommendations below will help you a lot with that.
Now you have to gather all the needed pet gear. You have to take poop bags to dispose of waste properly and avoid attracting wild animals and damaging forest soils. Next, ensure that you have enough kibble, water, and your doggo's bowl prevents the food from falling out. In addition, you always have to dispose of leftovers. This way, you will avoid attracting other animals. I also recommend you to take the collar to keep your canine from chasing squirrels and neighbor animals. You can polish the "leave it" command instead.
During the night, the best idea is to let your dog sleep in a separate tent or share the tent with you. Both options are convenient and safe for your animal.
How to Choose The Best Tent for Dog Owners
Choosing the best tent for backpacking with a dog, you have to consider several characteristics of the product. First of all, it has to be big enough so that you and your family (or friends) could have enough space to sleep well and breathe freely. If you see that the tent is large enough for people, make sure that there's one extra place for the dog. Independently from your pet's size, you have to provide it with a bit bigger space than it actually needs to avoid claustrophobic feelings.
After choosing the right size, look for additional features that can make your pet's accommodation better. Some dogs like to stay in the screen-room more than inside the main section. Almost all the tents that I've reviewed have this section, so your dog will always have a choice.
The next dog-friendly feature is rare but lets your pet roam around more freely. I'm talking about a dog door. There are negative points about this feature, too, though. The sleeping section of the tent must be closed when unattended and during the night. Besides, it's not the best idea to let your dog wander around the campsite if there are neighbor campers around. I recommend you consider buying a tent with a dog door, only if you are sure that there are no dangerous wild animals that can get via the dog door, and your pet won't disturb your neighbors.
Finally, you can get a separate pet tent to provide your dog with personal space. Some pets like it, some don't, but it's definitely a convenient solution for owners who don't like co-sleeping. Dog tents usually provide much more space for the animal and let you place its stuff inside too. Don't leave all the kibble there, or you know what may happen!
To make dog tent-camping a pleasure for your pet, you have to consider all the needs of the animal and be attentive during the entire holiday. Your canine will pay you back with some of the best moments in your life.
FAQ about camping tent with dog area
Do dogs sleep in the tent when camping?
The answer to this question is that it depends on the dog. Some dogs are okay with sleeping in the tent, while others may be scared or uncomfortable. It's a good idea to try sleeping in the tent with dog before going on a camping trip to see how they react.
How do you train a dog to sleep in a tent?
Dogs are generally curious and want to explore new environments, so the best way to train a dog to sleep in a tent is to make it a positive experience. Put the tent up in your backyard and let the dog explore it. Praise the dog when it goes inside and give it a treat. Once the dog is comfortable going in and out of the tent, take it on a camping trip and let it sleep in the tent with you.
Is it safe to take my dog camping?
There are many recreational areas where dogs are allowed, including state, national, and private parks. Even those parks with limited pet-friendly trails usually allow dogs to be walked in campgrounds, so you and your dog can spend time outdoors even if you're not going camping. Some of the best camping activities for dogs include hiking trails, beach vacations, and exploring parks. And having a good tent for dogs will make it more fun for both you and him.
Conclusion
Use your knowledge of dog-friendly tents to select the best option for you and your fuzzy friend. Camping with small dogs and big ones doesn't have many differences, so my article is a universal guide to successful camping with your pets. Remember to buy the tent that is spacious enough for you all and take all the essential gear along.
Your rest must be ecological and non-disturbing for other people and animals on the campgrounds. I also recommend you to get acquainted with the rules of the park or land before visiting it as some may have specific canine requirements. Use my tips, and your weekend will be unforgettable.
Have you taken your doggo to the campsite before? Have you faced any problems? You can share your story in the comments section below and discuss your case with other readers. Besides, you can ask me a question related to the products or the topic overall, and I'll reply as soon as possible. For more hiking tips, stay tuned to my blog. I post updates rather often.