Getting lost in the wild is not very fun. Even the most innocent and safe 1-day hikes can have a tragic outcome for just about any adventurer. About 160 people die each year in national parks! These are not unexplored forests and definitely not some thick jungles. These are family-friendly destinations where thousands of people annually enjoy astonishing views. And what is more, there is no telling just how much of the 600,00 people that are reported missing yearly in the USA get lost due to unfortunate camping or hiking experience.
If you happen to get into a 'perfect storm' scenario during your trip, then every tool you take (or do not take) matters and can really make a life and death difference. One such necessary item to have is a fire starter. Even if you will never get to use it in your life: it is still much better to have one on you during successful hikes than not have one during a catastrophe. I am Eddie, and I am a seasoned hiker. These small gadgets have saved my life more than once, so I cannot stress enough the importance of having a fire starter.
The fire itself is an excellent tool in the wild. Thanks to it, you will be able to:
Generate heat;
Produce light;
Purify water;
Signal to other people via smoke;
Scare off just about anything that would like to bite you;
Cook food;
Disinfect wounds.
Quite an impressive list, all done with just one small thing – fire. We have to give credit to Prometheus for sacrificing himself and giving us this awesome tool! In any case, I decided to help novice hikers and campers by creating this review of the best fire-starting devices available currently.
Amazon Bestsellers
Top 9 Survival Fire Starters + A Small Bonus
I looked through Amazon and picked out the best fire-starting gadgets that your money could get you. Luckily, all of the listings in this review are similarly priced, so you will not be paying more than $20, and the final decision will really come to each of the gadget's characteristics and features. Also, I chose to stick with Amazon because no matter where you are right now, you will be able to get your hand on whatever product you end up choosing without any problems whatsoever.
In the list, I look through and tell you about the best fire-starting devices for various specific situations, and then I give some alternatives to broaden the range of choice for you. Every review contains a small summary of the product's features and its performance, as well as a table of the product's main pros and cons. Additionally, I included a small bonus without which your survival kit cannot be complete, but that will come later. For now, let us get down to the reviews.
Ferro Rod Strikers
This type of fire-starting is an ancient technique of kindling fires, but you just cannot beat its simplicity, which is why this application is still around. In its earliest form, flint and steel were used. The flint would strike the steel, shaving off small pieces of metal and turning them into sparks. How? The steel superheats itself, as a result of a chemical reaction when it is being rubbed with flint. So, this process produces incredibly hot sparks that can set dry tinder or cloth on fire.
Nowadays, we use ferrocerium alloy with steel instead of flint. It allows creating more sparks and hotter sparks without any special technique. The biggest advantages of such equipment are that it is incredibly lightweight, small, and it works even when it is wet. Here are the best Ferro rod strikers you can get on Amazon.
Gerber Bear Grylls Fire Starter – Unequivocally the Best Emergency Fire Starter
Swiss Safe 5-in-1 Fire Starter – The Best Camping Fire Starter
Steve Kaeser Fatwood Natural Firestarter Sticks – The Best Fire Starter Kit
überleben Zünden Fire Starter – A Simple Premium Option
Go for This Budget Option to Save Money: SharpSurvival Magnesium Survival Fire Starter
Bayite Ferro Rods XL Survival Fire Starter – Great Option for Survival Enthusiasts
TG Plasma Lighter – Another Futuristic Device to Replace Your Regular Old Lighter
1. Gerber Bear Grylls Fire Starter – Unequivocally the Best Emergency Fire Starter
This product comes from the company under the name Gerber Gear. This Portland-based brand was founded in 1939, and, by now, it became an extremely big and respected powerhouse in the market of survival gear. They offer and manufacture in the US everything from knives to multi-tools to carry bags. What is even more impressive is that they brought in a survival expert and guru, Bear Grylls, to collaborate and offer his expertise in the creation of the fire-starting equipment.
You may think: "Why would they need someone's help in creating something so basic as Ferro rod and a striker?". Well, judging how Gerber's product beats other fire-starting equipment in metrics of positive reviews by thousands, it is safe to say that they nailed this task completely. The thing is that Gerber Bear Grylls Fire Starter is more than just a Ferro rod and some metal.
A tube with the length of 4.8" and a lanyard contains in itself: a whistle (integrated into the lanyard itself), a storage compartment for keeping dry tinder (in the handle of the rod), Bear Grylls basic pocket guide to survival, land-to-air rescue and SOS pointers, and, of course, the Ferro rod with the striker for up to 8 thousand strikes. What is even crazier is that all of this does not weigh more than two and a half ounces. When you are carrying it around your neck, you easily forget that it is there.
---
PROS:
Has survival and rescue guidebook;
Incredibly compact and light;
Endorsed by an outstandingly famous adventurer, Bear Grylls;
Has waterproof storage space for keeping tinder dry;
Lanyard with a whistle for emergencies.
CONS:
For some people, such a fire-starting kit may be too basic.
2. Swiss Safe 5-in-1 Fire Starter – The Best Camping Fire Starter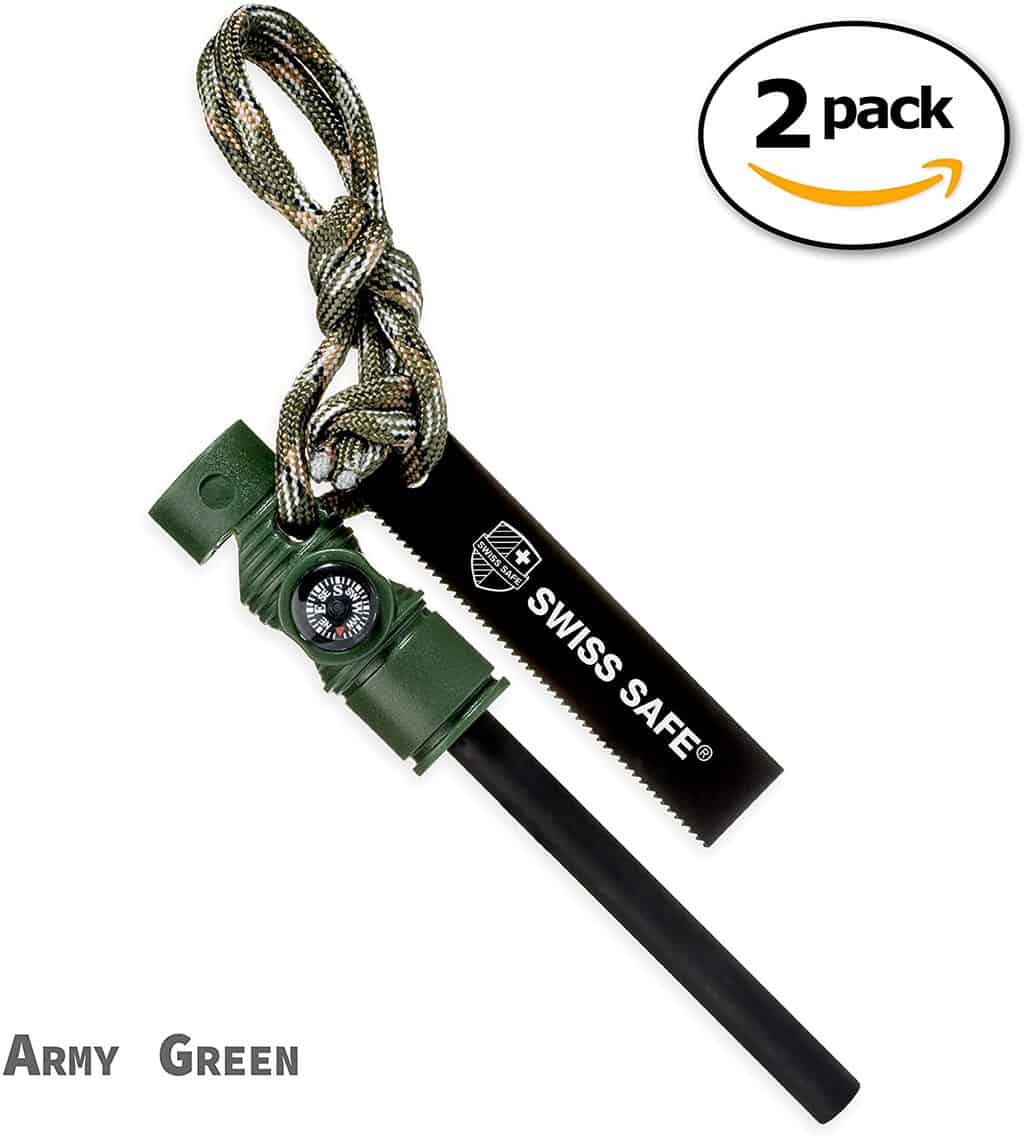 Need some fire-starting equipment specifically for camping? How about number 1 from the category? Swiss Safe 5-in-1 Fire Starter is another chart-topper on my list, being the number 1 best selling product in the camping fire starters category. This item comes from a brand that caters to the market of emergency products, including first aid kits, emergency thermal blankets, tents, etc.
This fire-starting equipment combines in itself even more features and encompasses more usability than the previous listing. It is, however, achieved through a bigger size and weight. This fire-starting equipment is a multi-tool of sorts. It has a full-fledged compass on it, a paracord capable of holding 450LB, and a whistle that can produce sounds in loudness up to 150dB (similar to the loudness of a train horn).
By buying this fire-starting equipment, you get, in fact, two Ferro rods and strikers each, so you can give the second one to your camping mate. The lanyard is that paracord I mentioned before, and it is not that nice of a material to have constantly on your neck. Other than that, this fire-starting equipment works just fine.
---
PROS:
A very strong paracord;
A loud whistle;
Strong construction;
Two fire starters, meaning you get two compasses, two whistles, and two paracords;
Striker with a lifespan of 16,000 strikes.
CONS:
Paracord irritates skin when it is worn around the neck;
No place to keep dry tinder.
3. Steve Kaeser Fatwood Natural Firestarter Sticks – The Best Fire Starter Kit
Do your survival skills absolutely suck? Are you afraid that in the situation where you are lost in the wild, not even the best emergency supplies will help you to survive? Well, then Steve Kaeser Fatwood Natural Firestarter Sticks is the emergency fire-starting equipment for you. The folks at Kaeser, have thought about the safety of people who are not good at all of the survival techniques and came up with this ingenious package.
What you get by buying this product is a tin can with dimensions of 3.4" x 2.8" x 0.9", a bag of fatwood chips, and 45" piece of jute, and the Ferro rod with a striker. On its own, the whole pack is perfect for starting up a campfire during a camping outing with your family. If you want to use this fire-starting equipment as an emergency kit, then just put the chips with the Ferro rod and striker into the tin can, and keep the tin can in a pocket of your choice. In a dire situation, this fire-starting kit will help you start a fire quickly.
---
PROS:
Dried out chips to help you start a fire;
Perfect for creating campfires;
Even in the moistest conditions, starting a fire will be possible.
CONS:
Minimal amount of wood chips.
4. überleben Zünden Fire Starter: A Simple Premium Option
Do you want just a well-made Ferro rod and a striker combo? Überleben Zünden Fire Starter is the epitome of traditions-inspired survival gear. The brand's name 'Überleben' is a German word that translates simply to 'survive' in English. The people at this company really pay attention and devote themselves to manufacturing simple and bare products (without tons of unnecessary features built-in into the product). 'Quality over quantity' is what Überleben promises, and it absolutely delivers it with their exceptional product line up, which includes kuksa cups, stoves, and kettles.
Überleben Zünden Fire Starter simply reaffirms the company's motto and mindset. This fire-starting equipment is just that – a very basic Ferro rod and a striker combo. However, immediately when you take it into your hands, you can feel just how much care went into making this equipment. The handle is handcrafted from hardwood in natural finish: it is highly ergonomic and comfortable. The Ferro rod itself is also of the highest quality you could think of: it reliably creates a barrage of extremely hot sparks. The striker can also serve as a small ruler and wood chipper.
Different versions of this product offer various strike lifespan: from 12,000 up to 20,000 strikes, which is highly cost-effective. Of course, there is a lanyard, as this equipment was designed to be carried around the neck.
---
PROS:
Premium feel for an affordable price;
Extremely high-quality Ferro tod;
Multi-purpose striker;
Highly comfortable in the hand;
Simple in design – reliable.
5. Go for This Budget Option to Save Money: SharpSurvival Magnesium Survival Fire Starter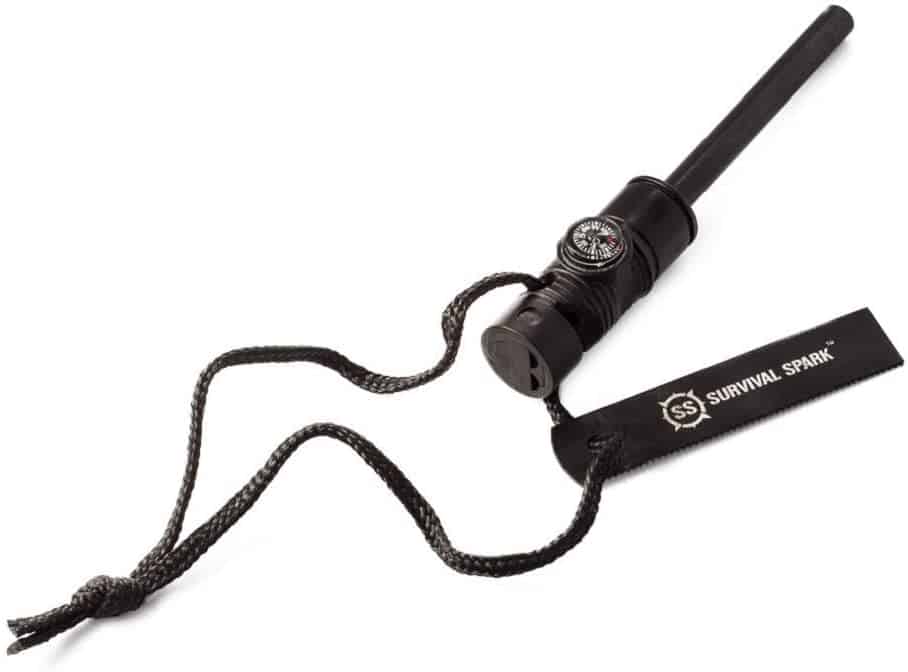 SharpSurvival is a brand that aligns itself with the budget market. The folks at SharpSurvival manufacture a small product line-up, but an extremely affordable one. Apart from the fire-starting equipment, you can get their compass, shelter tent, and the survival key chain for impressively cheap. The same goes for the SharpSurvival Magnesium Survival Fire Starter. This product was designed to bring the bang for your buck, and it does that perfectly.
This fire-starting equipment is a simple Ferro rod and a striker combo. It has a lanyard, so carrying it on your neck is not a problem. Being 5.5" in length, the rod is not the smallest on my list, but you will mostly not notice it when you have the equipment on you. Also, a whistle is integrated into the Ferro rod. You are guaranteed to get 15,000 strikes out of this equipment.
---
PROS:
Incredible performance for such a low price;
Great build quality;
15,000-strike lifespan;
Has a whistle.
6. Bayite Ferro Rods XL Survival Fire Starter – Great Option for Survival Enthusiasts
Bayite is a brand that definitely follows a 'less is more' mindset. This option is perfect for people who like to brag about their survival skills. If feeling the thrill of surviving in the wild by using only the necessities is what you love and need, then opt for Bayite Ferro Rods XL Survival Fire Starter. All you get by buying this equipment are two relatively big Ferro rods. Both rods have holes for lanyards. I have to emphasize that there is no striker to compliment the rods, so you will need to come up with your own striker (a hacksaw is the best for this task).
---
PROS:
You cannot get simpler than this;
High-quality Ferro rods;
Waterproof and weatherproof.
CONS:
So basic, they do not even include a striker.
7. Light My Fire FireSteel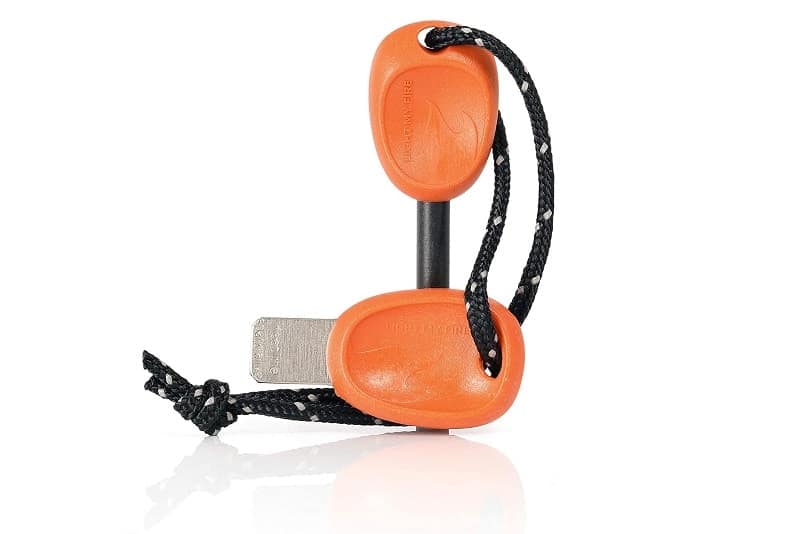 If getting the smallest fire-starting equipment is of any interest to you, then definitely consider Light My Fire FireSteel. Light My Fire is a Swedish-based brand that is known for being extremely eco-friendly, as they utilize biobased plastic in their products. They have a wide range of products that best suit simple camping outings, including sporks, pack-up cups, reusable straws, etc. This fire-starting equipment is just a compact Ferro rod and striker combo together on a lanyard. The handles are made with bio-based plastics. Additionally, there is a whistle integrated into the handle of the Ferro rod. Due to its small size, you can only get about 3,000 strikes from this equipment.
Sale
---
PROS:
Great for camping;
Eco-friendly;
Relatively cheap;
Has an emergency whistle.
Plasma Lighters
If the previous category of fire starters was one with an ancient history, then this one is a modern response to that. Plasma lighters are a relatively new and exciting invention that is a definite improvement over previous iterations of lighters. Firstly, it is very safe, unlike gas lighters, because there is no flammable gas inside of the plasma lighter. It is flameless, so burning yourself is a challenge rather than an unlucky occurrence. The plasma beams that the lighter creates are windproof. Such lighters employ electricity to generate plasma, which they store in a small battery inside, so it is obviously rechargeable.
Also, plasma is much-much hotter than simple lighters, so they light things on fire rather fast. In a scenario where you are lost in the wild, a plasma lighter would light just about anything on fire in mere seconds. However, one certain disadvantage of such devices is that they may fail over time: although the mechanism of plasma creation is very simple, it is still not as reliable as a Ferro rod. However, these lighters make a promising case for them because of their simplicity of use and general effectiveness. Here are two great plasma fire-starting devices that you should definitely consider buying.
8. The Future of Lighters: lcfun Dual Arc Lighter
Icfun is a company that concentrates on creating plasma lighters of all kinds. Although they produce some other products like back massager or a rolling machine, their main specialization is plasma-creating heating devices. As promised, Icfun Dual Arc Lighter employs the plasma technology to eliminate the need for butane gas.
This small device is waterproof, as it has an excellent locking device. The opening lid has a tight metal ring that seals off the plasma-creating nodes from the outside world completely when it is closed. You can even submerge it underwater (when the gadget is closed), and it will work just fine after it is out of the water. Also, a buckle locks the lid, preventing the accidental opening of the plasma-creating device.
This plasma-creating gadget encompasses a lithium-ion battery, which can be completely charged only after 2 hours of charging. It charges over a micro-sized USB port. This battery powers the two plasma arcs, which create incredible heat and can instantly light flammable items. The gadget comes in 5 colors: black, Camouflage, Cool Camouflage (more defined lines than simple 'Camouflage'), red, and Stylish Camouflage (just a different pattern).
The outer casing is very thick and durable plastic, but it has no non-slip coating, which is a bit of a disappointment. Also, it comes with a lanyard, so that you could hang the gadget around your neck to keep it always on you. Using this device is simplicity in its purest form: unbuckle the safety measure downwards, press down the unlock button, and press the ignition button. That is it.
LcFun Waterproof Lighter Outdoor Windproof Lighter Dual Arc Lighter Electric Lighters USB Rechargeable-Flameless-Plasma Cool Lighters for Camping, Hiking, Adventure, Survival Tactical Gear
❤️Waterproof Design ▶ waterproof lighter, metal-ring sealed lighter cover and locking clasp, IP56 WATERPROOF SYSTEM, water does not seep inside, no fear of rain, this waterproof lighter is your best choice when you go camping, travelling, survival tactical or hiking, arc lighter waterproof.
---
PROS:
Eco-friendly and safe (no butane gas);
Extremely easy to use;
Double plasma arc;
Absolutely waterproof;
Has an accidental ignition prevention system.
9. TG Plasma Lighter – Another Futuristic Device to Replace Your Regular Old Lighter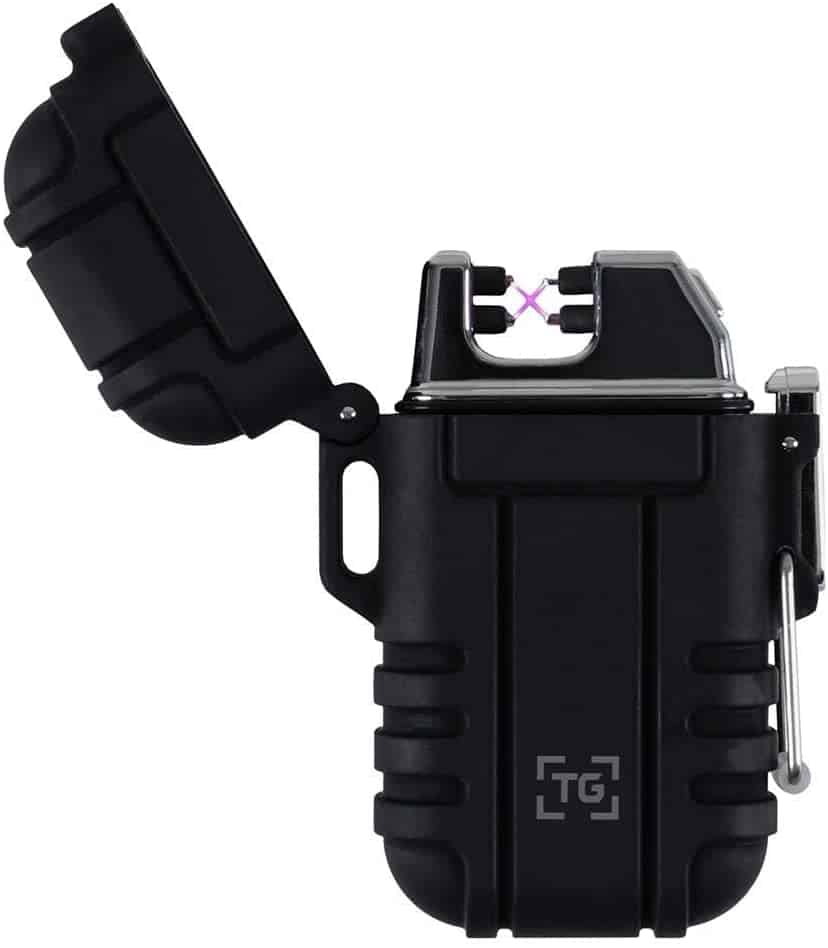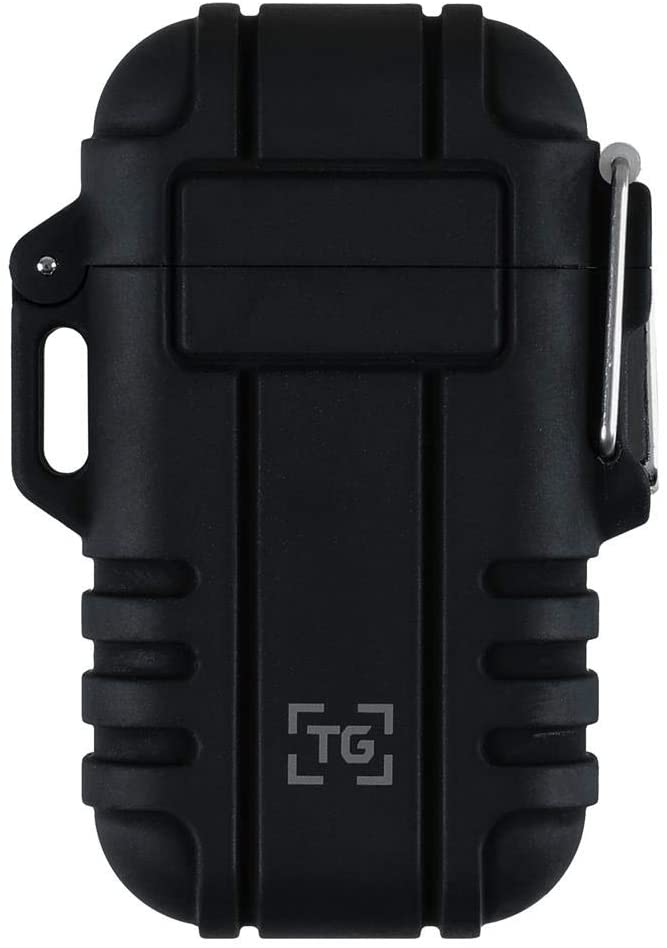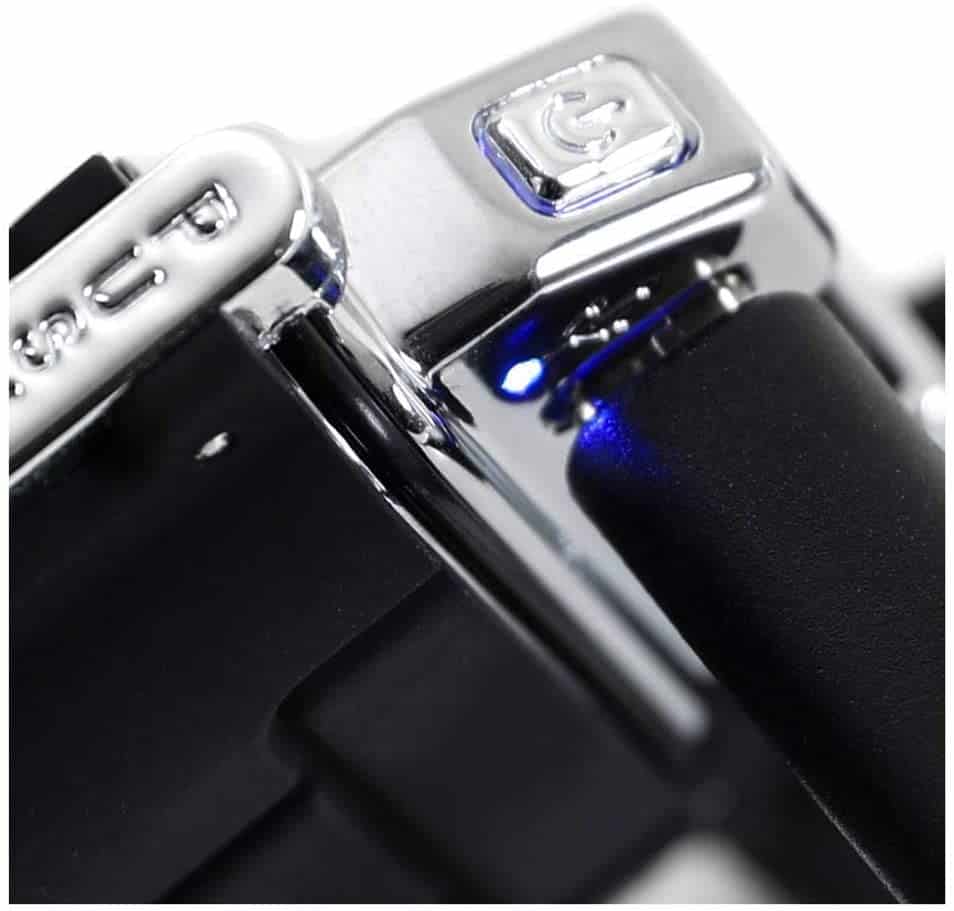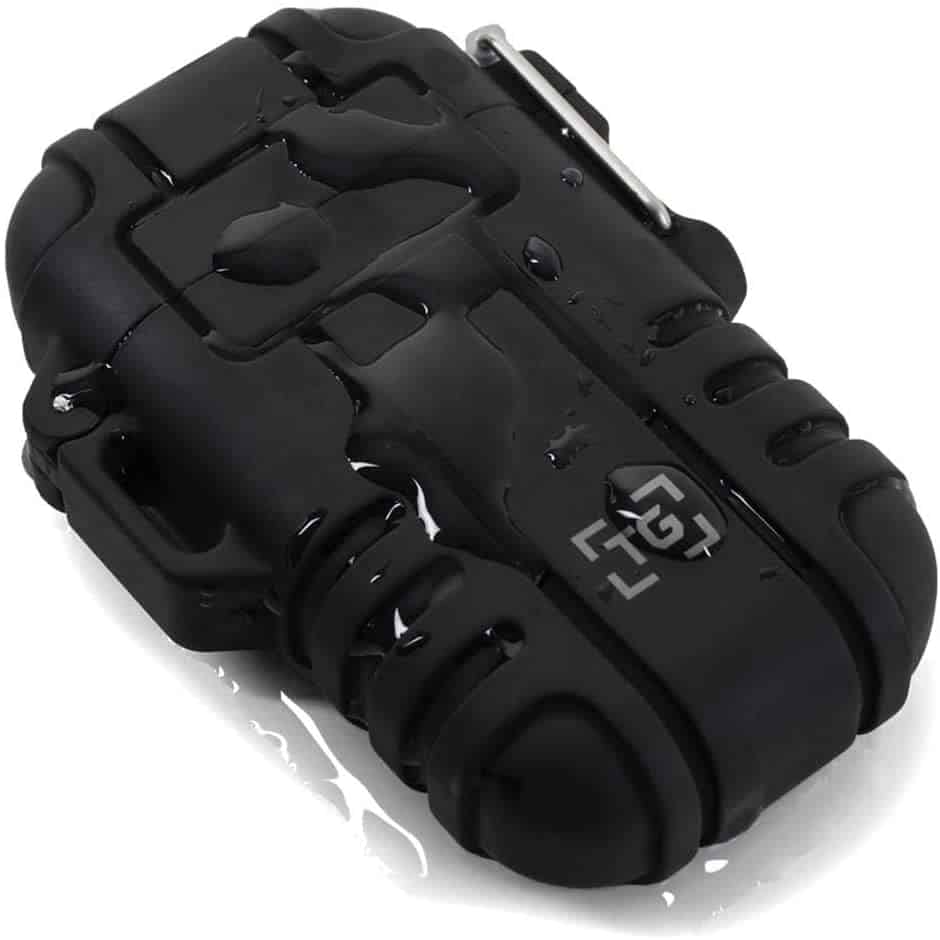 This device comes from the folks at TG. They produce things stylized to an all-black operative/military look. Some of the products that they offer are tactical torches, sleek tactical steel wallets, military gloves, tactical shovels, knives, and so on, including, of course, plasma-lighting devices. In many aspects, the gadget from TG is very similar to the previous listing. This plasma-creating device has a two-arc plasma system. Just like the previous one: it utilizes no butane, so it is absolutely eco-friendly. The battery tops off after 2 hours of charging. It charges via a micro-USB cable. The gadget has a safety buckle, preventing it from accidentally opening. It opens and lights up, all with two simple button presses. You can even attach this one to a lanyard and carry it around your neck.
However, as soon as you take this small gadget into your hands and compare it to the previous one, you feel a great deal of difference between the two. This one feels like it is made out of premium materials; it is much nicer to touch and feel. All of this is thanks just to a minor tweak in the casing. TG Plasma Lighter's casing is made out of silicone rubber, which changes the feel drastically (although, in actuality, the build quality is the same between this one and the previous gadget).
This gadget is waterproof and windproof. So, you can easily use it during stormy weather without any issues. This gadget really shows just how much better the plasma-based lighters are than the common butane gas ones. I am sure that many people have already traded their Zippos for one of these futuristic devices.
---
PROS:
Eco-friendly, no butane gas;
Non-slip, silicone casing;
Highly reusable;
More than 300 uses from the fully-charged battery;
Has a buckle preventing accidental ignition.
Bonus: 

Simpeak 2-Pack Hand Crank Solar Powered Flashlight
And here is the bonus item that I mentioned previously. One thing that all basic emergency survival kits require is solar flashlights. Let me tell you, in the wild, you easily become immobilized during the evening time. There are no lamp posts to guide your way safely: only trees and the surrounding darkness. A reliable source of light is just as important as clean water when you are stuck indefinitely in the wild.
Flashlights on batteries eventually run out, and constantly making torches and lighting them will severely damage your lungs. That's why we have flashlights that charge off of solar energy. Swiss Safe Rechargeable Flashlight has a small solar panel that converts the white light of the sun into electricity. Yes, Swiss Safe is a familiar name, because the brand's another product appeared earlier on the list. It is no conspiracy because the folks at Swiss Safe simply manufacture such high-quality items that they deserve to be featured multiple times.
Fully charged, this flashlight will be able to give you whole 2 hours of illumination. The built-in battery is a nickel metal-hydrate one, meaning for such a small size (the flashlight is only 5.5" x 3" x 1.8"), it can store an incredible amount of power. It's enough electrical charge to power the surprisingly bright 3 LED's. The LED bulbs are very durable themselves too, sporting an impressive 100,000-hour lifespan.
In the case, you forgot to pull the flashlight out during the day to charge or the sun's light was not enough to charge it completely, this flashlight has a hand crank dynamo. It transforms the kinetic power applied to it (i. e. you cranking it into pure electricity charge for the battery). Only 12 minutes of cranking will top off the battery. Additionally, the flashlight has a carabiner clip, so you can attach this small gadget to any strap or attachment point on your clothes or backpack.
Sale
---
PROS:
Extremely bright LED;
Highly affordable;
Small battery but lasting performance;
Rechargeable via the sun and kinetic power;
Long lifespan of LED's.
CONS:
Medium-to-high amount of force is enough to break off the crank dynamo.
Concluding the Review
Thank you for reading my extensive article on firelighters of various types. I am very grateful for you powering through this long read. Now, with the information you got, you can be an expert on fire starters. Hopefully, my reviews will help you to create your first survival kit or maybe update the old one by acquiring the best survival fire starter for yourself.
When making a final decision, think about what you need. Yes, something like a Bear Grylls kit may be cool to have, but you may end up not needing it in the end. If you are constantly and consistently going hiking/trekking/camping, then definitely get yourself some kind of a Ferro rod and a striker just in case. If you do it only occasionally, then a plasma lighter could be the fire-starting solution you need. If you are an avid smoker, then getting both kinds of fire-starting equipment would not be such a bad idea after all.
Now, I would absolutely love to hear back from you! First of all, did you enjoy the article? Was it a bit too long (or maybe too short)? Please let me know what you think in the comments below, as I am passionate about making my articles even more interesting and engaging!
FAQ
Is flint or magnesium better?
When choosing a fire starter, is it better to choose flint or magnesium? Flint-and-steel strikers are more durable, but they can be harder to strike than ferro rods or magnesium blocks. You typically need to char your tinder before using it with a flint-and-steel striker, so you would need to bring char cloth with you.
A ferro rod is a rod made of iron and is used to create a spark, which can be used to start a fire. Ferro rods are cheap and easy to find, making them a great addition to any survival kit.
Why use ferro rod over a lighter?
The main reason to use a ferro rod over a lighter is that you can get a lot more sparks from a ferro rod than you can from a lighter. With a ferro rod, you can also get a spark in any weather conditions, whereas a lighter may not work as well in wet or windy conditions.
Secondly, do you have any stories regarding fire starters? Did they ever save your life? How was it? Share your stories down below; I am excited to read all of your comments!