As a professional hiker with years of experience in various settings, I'm all too well aware of the devastating effect that poor choice of equipment can have on a potentially enjoyable outing. I've been in situations more than once where I said to myself, "Now that was stupid, Travis. Why on earth would you bring this bulky useless unit rather than invest in something decent?". This is especially true when it comes to camping stoves – a device whose importance is often underestimated.
Indeed, there's nothing like a cup of freshly made coffee or tea to start your day in the wilderness with, or a square hot meal to keep you going towards the evening hours. A heavy, ungainly tool can ruin it all, though.
There is quite a number of parameters to factor in when shopping for a compact camping stove that's good at doing its job. From type of fuel to burn time to time to boiling, features vary greatly depending on the model. These define the time that you'll have to wait before you can enjoy hot food as well as how long the heat will last.
Since portable stoves come in various shapes and designs, it's important to choose one that fits your purposes. For example, canister stoves are very common and easy to use but have poor performance in cold conditions. Besides, you'll naturally expect a camping stove to be really lightweight and portable. The lighter, the better, right?
I've made up a compilation of seven backpacking stove reviews that I wrote after testing some of the best products on the market. Although of different types, they all are light camping stoves designed with a view for backpacking, which means they won't break your back while on the trails. They also have the features required to deliver comforting, warming meals, and drinks. Tradeoffs are inevitable, so I hope my reviews will help you make an informed decision.
Best Hiking Stoves: My Personal Picks
I've had the opportunity to test quite a number of camping stoves over the years that I've been hiking, from extremely popular models to less well-known ones. The list includes products that are the best of the best in their respective categories, so feel free to choose the one that fits you best.
MSR PocketRocket 2 Ultralight Backpacking: The Best of Ultralight Camping Stoves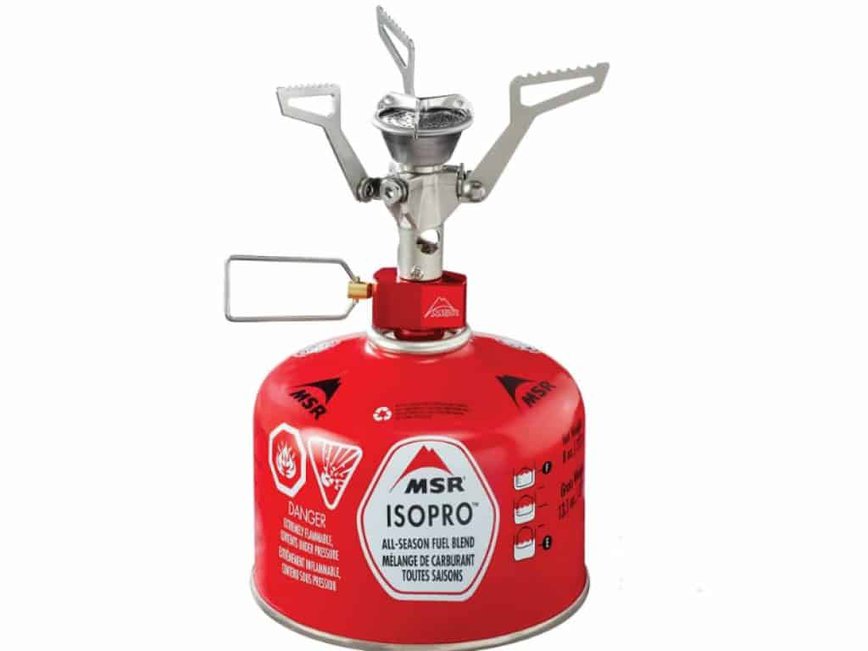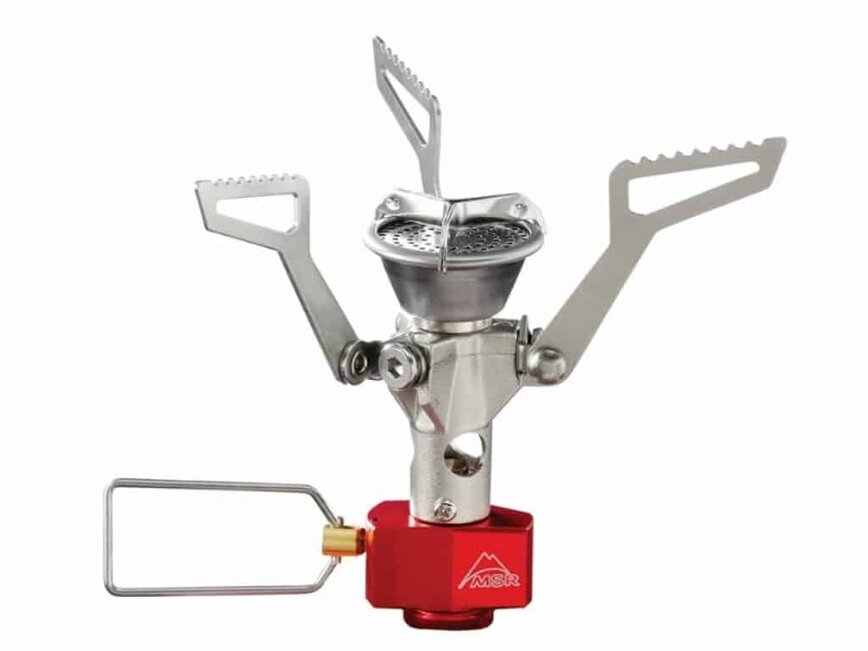 MSR stands for Mountain Safety Research, a company founded in Seattle over fifty years ago with the mission of combining engineering skills with expertise in mountaineering to provide quality hiking equipment for enhanced safety. The brand offers an extensive range of products, from stoves and cookware to tents to snow management tools with a focus on functionality and reliable design.
PocketRocket 2 belongs to the ultralight category. With a weight of just 2.6 ounces, it's a truly portable backpacking stove that's also durable and likely to last. It was originally introduced to the market as an upgrade on the highly popular PocketRocket model but boasts a number of improvements such as lighter weight to maximize portability.
The stove measures 4.8 x 4.8 x 3.6 inches when open and is what you call a folding camping stove, meaning that you can reduce the dimensions to just 2 x 2 x 3 inches when packed. A 2 x 2 x 3.5-inch protective carry case is included for convenience and safety, bringing about a total weight of 4.2 ounces with the case on.
The stove relies on an isobutane-propane fuel canister for fueling, which is not included in the scope of supply. The manufacturer specifies, however, that this shouldn't be a problem since self-threading canisters of the type are readily available in most countries across the globe. This provides about 60 minutes of burn time with the flame at maximum.
Importantly, this little stove produces powerful burning that will bring one liter of water to a boil in 3.5 minutes. Different boiling options are included for efficient cooking, from simmer to roiling boil with lots of bubbles.
This is a wind-resistant model featuring a WindClip windshield for operation in breezy conditions. One disadvantage I've found is that a piezo ignitor isn't included, although there's nothing to prevent you from buying one separately. You can use matches and the like as an alternative, too.
Enhanced stability is another argument for Pocket Rocket 2 since it features serrated pot supports. The tips are spaced so that the stove can accommodate a cooking pot of at least 3.5 inches in diameter.

---
PROS:
Affordable price;
Effective heating;
Very lightweight;
Highly adjustable flame;
Wind-resistant.
CONS:
No piezo ignitor included.
---
SOTO WindMaster with Micro Regulator: The Best Backpacking Stove for Windy Weather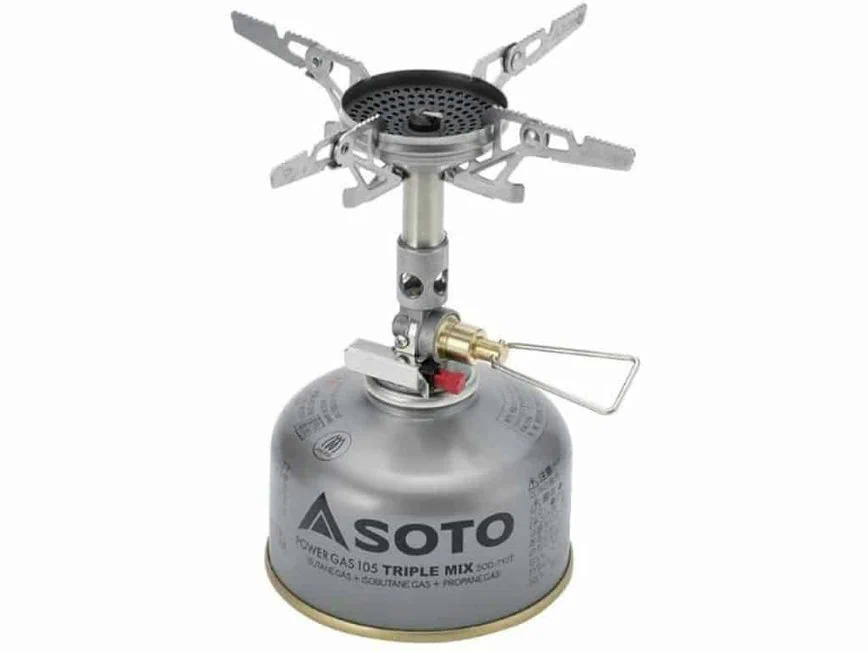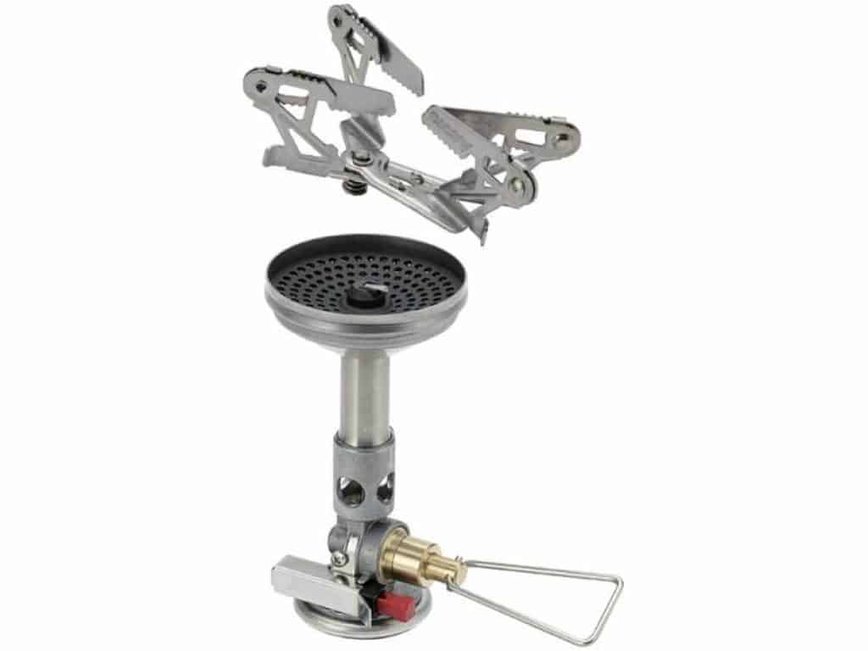 SOTO is a highly specialized Japanese brand with over 40 years of experience in manufacturing flaming devices. The company's approach is based largely on flame sustainability and performance in extreme conditions such as cold and windy weather.
WindMaster is a lightweight backpacking stove of the above-mentioned canister type designed to withstand heavy wind. It also remains efficient in cold weather, which is a plus for everyone who likes a winter outing.
Although relatively compact, this product is inferior to the previous stove in terms of space-saving as it measures 5.9 x 5.9 x 3.2 inches when open. However, it can be collapsed to as little as 1.34 x 1.8 x 2.5 inches for storage, which is even less than PocketRocket 2. A weight of 5.0 oz makes it highly portable, although not what you'd normally call an ultralightweight stove.
The model features 4-flex serrated support to accommodate larger-than-average pots with great stability, and the cookware is meant to be kept really close to the flame so that the wind doesn't interfere.
This feature brings about excellent performance in windy weather, paired with limited resistance to cold (I say limited because gas will behave differently in cold temperatures, inevitably affecting the performance) as well as impact – a welcome bonus for a product meant to travel a lot.
Just like the previous product, WindMaster uses gas canisters (to be ordered separately) as a source of fuel. The biggest disadvantage I've found with it is inefficient fuel use due to minor leaking when you attach the canister to the stove.
The burner is powerful enough to bring 2 cups of water to the boiling point in 2.5 minutes or less even when the weather is gusty, producing an output of 2800 kcal/h, or 3260 W. It also features a micro regulator for extra consistency in challenging conditions.
Finally, WindMaster comes with a stealth ignitor inside, which makes it extremely easy to use and effective while also preventing breakage, which would be likely otherwise.
The carry case that comes with the product is not particularly impressive and doesn't look too reliable, which is also a minus. However, it provides for compact storage.

Sale
---
PROS:
Relatively affordable;
Excellent performance in windy weather;
Quick operation;
Consistent performance in extreme cold;
Extra stable support for bigger pots.
CONS:
Not the most efficient use of fuel;
Flimsy carry case.
---
BRS Outdoor Ultra-Light Titanium Alloy: The Lightest Backpacking Stove on A Budget
BRS Outdoor Products focuses on offering inexpensive yet reliable, high-performance backpacking tools, from cooking pots to crampons to various types of lightweight cooking stoves.
With a weight of just under 0.9 ounces, the model deserves to be called ultra-light. If every single gram matters to you, this might be the perfect option. In terms of dimensions, the stove measures 3.3 x 3.3 x 2.7 inches in the unfolded state and collapses to 1.5 x 1.5 x 2.0 inches when folded.
Just like the above products, this is a canister type camping stove that uses isobutane gas as fuel. With the burner output rated at 2700 W, it takes 4 minutes or more to bring a liter of water to a boil, which is decent for the price.
One major flaw I've found with this otherwise good product is how inefficiently it uses fuel. According to the manufacturer, an hour of burning will take you 140 g of gas, with the average canister containing only 100 g.
This means that a typical canister might give you up to 13 two-cup boils under ideal conditions.
Although extremely small, the stove is very stable, including the three serrated legs supporting the cooking pot. Unfortunately, no piezoelectric ignitor comes with this product, which makes lighting it more of a pain.
Finally, BRS has outstanding potential for simmering your meal instead of boiling it heavily, which is a plus for those who appreciate an opportunity to cook in the wild. The control valve is extremely smooth and provides for a flame as small as that of a candle.
As for wind performance and cold operation, this canister stove is not outstanding. In fact, I would rate it below average and can't recommend this model to someone who expects gusty weather where they are heading for.

Sale
---
PROS:
Very affordable;
Extremely lightweight;
Compact and stable design;
Broad flame control range;
Agreeable boil time.
CONS:
No piezo ignitor included;
Inefficient fuel use.
---
JetBoil MiniMo Camping Stove Cooking System: A Premium Backpacking Cook Stove That Has It All (And More)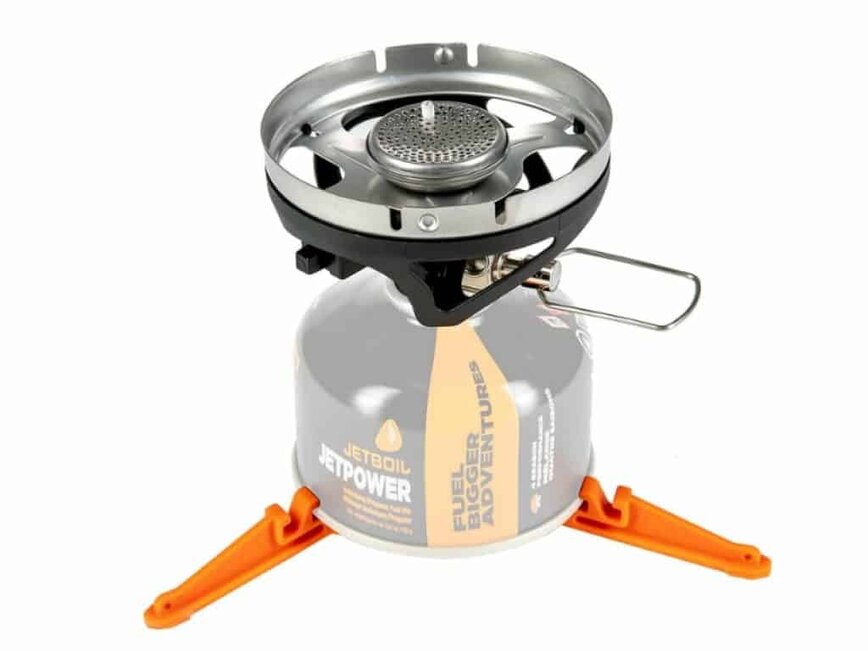 Founded in 2001 in New Hampshire, JetBoil specializes exclusively in gas-fueled cooking stoves for backpackers, striving to combine reliable performance in tough conditions with potential for gastronomic pleasure by adding unique simmer control features.
Unlike the previous products that were standalone burners, this is a cooking system that includes a cooking pot, a burner, and a gas canister to use with it. According to the manufacturer's classification, MiniMo is labeled "ultimate cooking", which means it was designed with a view for precision cooking rather than lightweight.
However, it would be wrong to call the unit bulky, as its total weight is only 14.6 ounces (remember that this includes the 1 L neoprene-insulated billy can). The system measures 5 x 5 x 5.5 inches when folded.
This product is very easy to use due to a built-in push-button ignitor that's far from flimsy. It's also extremely stable when assembled due to the fact that all the elements were designed to fit perfectly.
The cooking cup deserves more than a passing mention due to its FluxRing insulation technology that reduces the boil time to about two minutes for two cups of water, also minimizing fuel consumption as compared to traditional models.
A 100-gram Jetpower can give you as much as 12 liters of boiled water. Add metal handles designed specifically to accommodate a low spoon angle, and you'll get a highly versatile wide cup (or bowl, if you please).
As for the simmer control, it's safe to say that this system can be used to cook exquisite meals as well as simpler foods, offering precise flame regulation for sautéing your greens or even making some sauce.
Finally, MiniMo features a guard that surrounds the flame, making it resistant to wind gusts — a great plus for those going somewhere windy.

---
PROS:
Relatively lightweight;
Attractive and functional design;
Excellent simmer control;
Neoprene-insulated easy-to-use cooking cup with handles;
Easy to start.
---
Ohuhu Camping Stove Stainless Steel: The Most Efficient of Wood Burning Backpack Stoves
Quite counterintuitively, Ohuhu's main specialization is art products such as pens, pencils, and markers. This Chinese brand also offers a wide variety of goods in health and personal care as well as outdoor activities. This might sound suspicious; however, I've found this wood-fueled camping stove to be a noteworthy product in this category.
Unlike all the previous models, it's fueled by twigs and dried leaves but not gas, which means you won't need to worry about fuel shortage when away from civilization. The manufacturer also mentions that solidified alcohol tables are a possible alternative.
It's also portable enough for the purpose with a weight of only 14.2 ounces, measuring 5.3 x 3 x 5.3 inches when folded. The collapsible pot supports make it convenient to store as a space-saving solution, while the stainless-steel body is sturdy enough to withstand the challenges of camping. A bag is included to accommodate the folded structure, which fits fairly well.
What I like particularly about the design of this stove is how stable it is with its three arms for pot support. It's also built to ensure even heat distribution, which is critical when it comes to wood-fired stoves.
The stove is extremely easy to set up and use due to its simple multi-tier design. All you need to do it gather some twigs and wood, add up a little bit of kindling and start a fire before placing the cooking pot over the rack. Windy weather won't be an issue unless the gusts are really violent.
One major disadvantage is also related to design. Since the pot sits on top of the wood compartment and there's no side opening in the latter, the only way to add wood is by removing the pot, which can be inconvenient. Luckily, the small body somehow holds a decent amount of wood.
Although it will take some time to get the stove really hot, you'll only need about 3 minutes to boil two cups of water with perfect conditions. It also burns cleanly with very little smoke due to the natural fuel and appears to be relatively eco-friendly.

Sale
---
PROS:
Inexpensive;
Sturdy stainless-steel design;
Easy to start a fire;
Clean burning with next to no smoke;
Good boil time.
CONS:
The bottom gets very hot and can scar the ground;
You need to remove the pot to add wood.
---
AYADA Backpacking Stove: The Best Split Mini Backpacking Stove on a Budget
Just like the above company, AYADA is an extremely versatile Chinese brand that offers affordable goods of all kinds. This product is one example of how you can get good quality at a reasonable price.
The stove is what is called split type, meaning that you need to use a hose to connect it to the fuel source, which is the regular gas canister of isobutane/propane or butane/propane. Not only is this solution supposed to be safer; it also means increased stability as you don't need to balance the whole structure on the can's bottom.
Instead, the burner rests on three elongated spider-like legs with serrated pot holders attached to them. Made of a combination of aluminum alloy and stainless steel, it's quite sturdy for the price and only measures 5.7 x 5.7 x 3.5 inches when unfolded.
There's a box-like carry case included in case you want to store the stove, reducing its size to 3.0 x 3.0 inches. Unfortunately, the case is not exactly what you call a well-though-out item as it can be hard to open, and finger accidents are likely if you aren't careful enough. All the other parts are well-made quality details, though, and the performance is impressive considering the price.
This 9.6-ounce stove produces a burning power of 3,500 W, providing an excellent boil time of just 2 minutes per liter of water. It can also accommodate a pot as large as 18 L, which makes it the perfect option for large companies.
A windscreen is included to improve performance in gusty weather, although it's not what you might call a wind-proof design. You can also use the built-in adjustment valve to control flame intensity between simmer and violent boiling, and a piezo ignitor is included for convenience.

No products found.
---
PROS:
Very affordable;
Large pot-friendly;
Easy to use;
Quick boiling;
Highly portable.
---
Lixada Stainless Steel Backpacking Stove Wood Burning: An Ultralight Wood Stove at a Fair Price
Another Chinese brand, Lixada focuses on products for outdoor activities and sports, including hiking, which is both affordable and well-engineered.
This inexpensive and simple camping stove is fired by wood, which always means added convenience in the woods as the fuel is all around you. What makes it especially good for camping purposes is that it weighs a little more than 7 ounces and measures 3.1 x 3.5 x 4.3 inches when open. A pouch is included for storage and transport.
The design is simple yet sturdy, with a hardened stainless steel body that features a side mouth so that you don't need to lift the pot every time you want to add wood. Although the manufacturer advertises it as easy to assemble, I find it rather more challenging than most other designs.
This folding camping stove features a cooking ring to direct the heat up onto the pot, also acting as a kind of windshield to minimize the effect of gusts while letting in enough oxygen for the wood to burn.
Unfortunately, the manufacturer doesn't provide any specifications regarding the burn time or power output, but it's pretty quick in bringing water to a boil. I'd say that it generally takes around 3 to 4 minutes to get a liter boiling.

---
PROS:
Relatively inexpensive;
Very sturdy;
Extremely lightweight;
Features a wide mouth to add wood.
CONS:
Not too easy to assemble.
---
Summing It Up
When it comes to choosing a stove to take camping, a number of factors should be taken into accounts, such as size, weight, ease of use, performance in windy weather, heating efficiency, and more. The best lightweight camping stove will get the water boiling quickly while also using a moderate amount of fuel and being easy to carry and set up. However, models that combine all the above are rare and tend to be pricey.
It's also important to choose between solid fuel backpacking stoves and those powered by gas, which is the two most common categories. As a rule of thumb, wood provides cleaner burning but leaves a lot of soot, while even the best ultralight stoves requiring a gas canister can become a pain if the fuel is not readily available. This is an unlikely scenario with wood-burning models, however, since twigs can be found nearly everywhere.
Finally, there's always a tradeoff between burn time and compact dimensions. Using the smallest camping stove you can find to provide a big company with a hot meal or drinks is surely a bad idea, and adding fuel often appears to be a challenge unless you're using a wood-powered model with a side mouth. This is when fuel efficiency comes into play, enabling smaller stoves to output more heating power.
Now, for the sake of statistics, let's take a poll. What is your favorite camping stove type? Gas? Wood? Something else? You're welcome to share your idea in the comments section!