There are numerous tents offered by different developers on the worldwide market. They all have their own peculiarities. This is why it is getting more challenging to find the best pop-up tent for backpacking that will suit all your demands. Those who hate to waste time on setting up the model, which is almost everyone, have to search for an easy-up tent. Hikers who usually get tired of carrying the tent all day long on their shoulders can look for lightweight options. No matter which features you prefer, you still have to choose among the high-quality pop-up tents.
Which pop up tent is best?
There is no definitive answer to this question as it depends on the individual's needs and preferences. Some factors to consider when choosing a pop up tent include the size and weight of the tent, the type of fabric used, the features offered, and the price. I have gathered my favorite top 5 options here. I have tried all of them during the years of hiking. Though some models have more features I like, all of them are reliable and considered to be the top choices on the market. I've compiled this list to clarify your possibilities. Don't choose the tent blindly; read about both pros and cons before you order any item. Even though they are not expensive, it is highly unlikely you want to waste your money on something you don't actually need.
Top-5 Pop-Up Tents for Backpacking
I want to share with you my personal list of top-rated pop-up tents. Each of them is made of high-quality materials, contains ventilation, and can be carried around in a backpack. Pay attention to the fact that every pop-up tent review is based on my own opinion and experience in camping.
1. Quechua – Waterproof Pop-Up Camping Tent
My top pick is from Quechua, the brand I completely trust. I have been with them during all two decades of their history since I've heard about the company's employees traveling to the Alps to test their own products. I also know that they still test their tents somewhere in Morocco's wilderness and the Alps. During these years, they've significantly improved their tents, and I consider this model the most beneficial. It can survive 200 mm water/hour, which equals tropical rains. It can withstand 50 km/h winds if you don't forget to secure the tent.
Quechua's 2 Seconds Camping Tent is easy to set up and pitch, and can be folded for easy storage. It features a large entry/exit flap at the front for efficient access, and ventilation vents at the top rear to allow air to circulate and minimize condensation. The fabric flysheet offers UV protection with a SPF of 30.
Features:
Materials – fabric, and polyethylene;
Number of people – 2 or 3;
Weight – 7.15 lb;
Extra features – resistance to the rain, wind, provides darkness, great ventilation system.
You can gather it in 2 seconds. It folds up in no time and weighs only 7.15 lb. And the most important feature for me is the Fresh-and-Black technology, which grants you 99-percent darkness so that you can fall asleep whenever you want. The same technology reduces heat. The air circulates freely if you need it. You take control over the amount of air you let into the tent.

---
PROS:
Lightweight;
Useful in tropical rain;
Withstands strong winds;
Advanced ventilation;
Grants the darkness inside.
CONS:
Slightly more expensive than other tents on the list.
---
2. Ayamaya – Instant Pop-Up Tent for a Family
This is a double-layered tent from Ayamaya company which I recommend for companies up to 6 people. The manufacturer has the main office in Ontario, CA, and is famous for the family-sized tents. I consider this tent as the runner-up on the list. You can change the color of the tent. There are dark green, khaki, apple green, and blue options. It does not change the price, so you can order the color you like. There is a window on the tent, which makes it look really cute. The tent is easy to set up, thanks to the pre-assembled poles.
Features:
Materials – polyester and fiberglass;
Number of people – 4-6;
Weight – 164 ounces;
Extra features – vents, 4000-mm waterproof material, hall and pockets for gadgets on the tent, simple to set up.
The main room in the tent is wide enough for 6 people at the same time. There is also a hall where you can place all your bags. You still have to attach one layer of fabric to another. This technology prevents condensation and provides extra ventilation. It is not the lightest item on the list but still easy to carry for several hours. The fabric is waterproof, but I don't recommend staying under the heavy rains for a long time since you can easily bring the water in the hall with you.

---
PROS:
For up to 6 people;
Extra space to place the bags;
Protected from condensation;
Waterproof up to 4000mm;
Affordable price.
CONS:
The stakes are tiny, and the poles are a little bit flimsy, so you have to learn how to gather the tent in advance.
---
Sale
3. Coleman – Pop-Up Family Tent with Taped Floor
This model is considered for 3 seasons. Though you can't sleep there is heavy snow, you may use it during the spring, summer, and fall. The tent suits up to 4 people, but I recommend you to take it for two or three persons maximum. Coleman is a well-known manufacturer of tents and other hiking and camping goods. This American-based company was founded in the 1950s. Now they sell their quality tents around the world.
Features:
Materials – synthetic and fiberglass;
Number of people – up to 4 maximum;
Weight – 7.07 pounds;
Extra features – perfect for three seasons (except winter), taped floor, extra pockets, advanced ventilation, can be gathered and set up in 10 seconds.
The poles are already pre-assembled. Thus you can gather the tent in 10 seconds maximum. It has a taped floor for better comfort for the users. Even if you sleep on the wet ground, you still will feel only the dry cover. The model is perfectly ventilated and protected from mosquitoes and other insects. There also are flat packs for keeping your goods. It has a fair price. I believe this is a great-value tent.

---
PROS:
Taped floor;
Pre-assembled poles;
Simple to set up;
Advanced ventilation system;
Extra pockets for your things.
CONS:
Does not stand against strong winds.
---
4. Zomake – Lightweight Pop-Up Tent for Beach
This automatic 3-people model is great for camping in dry and warm areas. The Zomake company sells many hiking goods apart from tents. You might also find their backpacks useful. Yet, this budget-friendly tent comes with a bag so that you can carry it separately with you. Some users claim that you can even place four people in this tent. I have checked this information, and, though it is true that you can place 4 people there if one of them is a small child, you will feel really uncomfortable. I recommend using this tent for 2-3 people, no more. The model is incredibly comfortable for one person. It weighs 5 pounds, by the way, which is one of the lightweight models on the list.
Features:
Materials – sturdy 190T PU-coated ANTI-UV polyester and fiberglass;
Number of people – 3 people;
Weight – 5 pounds;
Extra features – protection from sun rays, comes with a bag, advanced ventilation, and blocks from mosquitoes.
I also like the durable polyester fabric which provides extra protection from sun rays. It gives me hope that my tent will serve me for many years. The company also offers 90 days of replacement of the tent, if you need it. The installation of the tent does not take much time; however, you can always practice at home before you go camping.

---
PROS:
Easy to set up;
Sun protection;
Mosquito protection;
Lightweight;
Affordable price.
CONS:
It is made for warm seasons only.
---
Easy Pop Up Tent 2 Person Waterproof Automatic Throw Instant Flip Pop Tent for Camping,by ZOAMKE(Light Blue)
🏕【INSTANT EASY POP UP TENT】Tent throw pop up can be built in just 2 seconds,lift it to set up it,press and tighten it to close it that is effectively saving time.The pop-up camping tents is designed with sandbag rope fixing holes and packaging bags.The tent is designed with sandbag rope fixing holes and packaging bags.Ropes and 4 pegs are used to connect the main body of the popup tent,and other 4 pegs are fixed around the tent to strengthen its stability
5. WolfWise – Wide and Tall Pop-Up Tent
This model is perfect for a hot climate. The tent is greatly ventilated and is simple to unfold on the beach. WolfWise is a Chinese manufacturer that produces high-quality tents. The company was founded in 2014. They offer a low price and a simple opening process. And what I like the most about this model is that it is almost weightless.
Features:
Material – 190T anti-tear polyester;
Number of people – 2-3 adults;
Weight – 4.2 pounds;
Extra features – advanced ventilation system, sun rays protection, extra pockets for your things, simple to fold up.
I can say that the tent suits 2-3 people well. It provides protection from sun rays, which is beneficial for beach camping. Yet, I don't recommend taking it with you to mountains or other colder places. The fabric is decent, but you have to understand that it is not strong enough to withstand cold winds.

---
PROS:
Only 4.2 pounds;
Affordable price;
Protection against sun rays;
Multiple pockets;
Perfect for hot areas.
CONS:
Does not protect against cold.
---
Sale
FAQ About Pop-Up Tents for Backpacking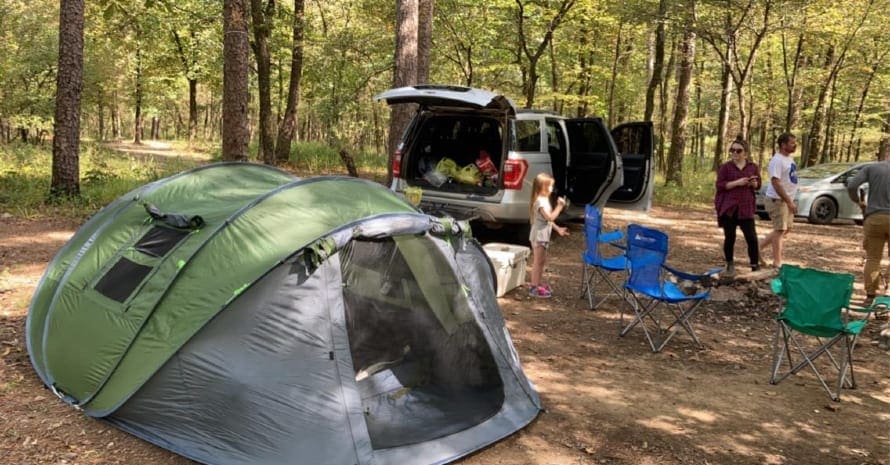 If you want to buy a self-pop-up tent but don't know which one to choose, pay attention to these questions. They are the most frequently asked on the Internet. Perhaps you will find your answers there.
What is a pop-up tent?
A pop-up camping tent is a model that comes with pre-assembled poles. It can be set up in less than a minute. This is a portable tent, almost weightless, and always ready to be folded up. At the same time, such models are usually intended for 3 seasons maximum and can withstand strong winds or cold temperatures.
Are pop-up tents worth it?
Normally, quick pop-up tents are not expensive. The price does not go over $200 regardless of the features. This allows you to keep several such tents without spending a fortune. I believe they are totally worth it. You are not likely to get tired of carrying one in your backpack during hiking time, and you will not have to waste your time or get soaked in heavy rain trying to set up the tent.
What is the easiest pop-up tent?
All the models on my list are simple to set up. They are all lightweight and come with instructions on how to gather them, but you can always find how to fold up the tent on the Internet. I think that the simplest model to unfold is the WolfWise tent, which can be unfolded while you are throwing it on the ground. Yet, it is a perfect beach option and can't keep you warm in winter, which is not safe according to camping rules and regulations.
How does a pop-up tent work?
No matter whether it is a large pop-up tent or a small option for one person, they all work the same. You don't need a mathematician to solve the problem of pop-up tents. You carry it in your backpack or in a separate bag (like the one Zomake offers) during the hiking trip. Once you are ready to camp, take the tent out and set it up. Make sure you place it reliably and attach it to the ground or tree, depending on the model.
Perfect Pop-Up Tent for You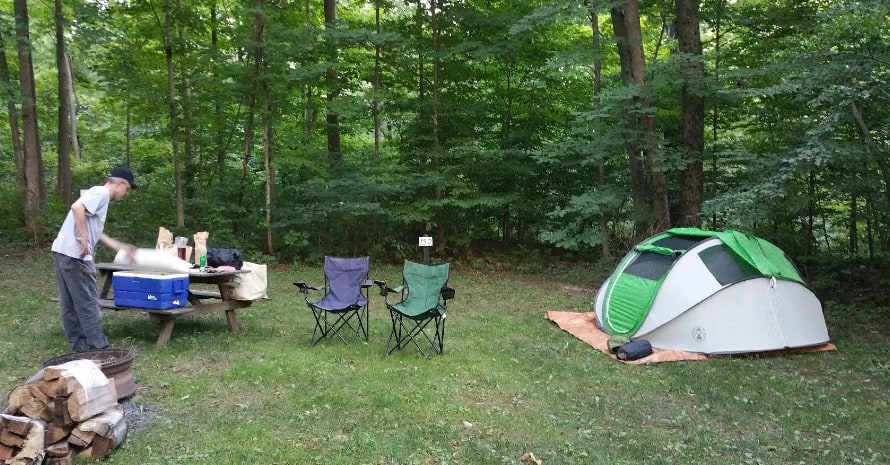 FAQ about pop-up tent for camping
How to fold up a pop up screen tent?
Assuming you have already popped the tent up:
1. Unhook any Velcro or togglefastener at the top of the tent.
2. Take hold of the tent at the very top and begin to fold it in half towards you.
3. Once the tent is in half, start folding it into thirds.
4. Once it is in thirds, fold the tent in half again.
5. You should now have a long, skinny rectangle.
6. Fold this in half one more time.
7. The tent should now be in a small, easy-to-carry square.
How to anchor a pop up tent on the beach?
To anchor a pop up tent on the beach, use heavy-duty stakes and tie the tent down with rope or bungee cords. For extra stability, you can fill sandbags with sand and place them on the corners of the tent.
What is a pop up tent made of?
A pop up tent is made of a variety of materials including canvas, nylon, and polyester.
How do pop up tents work?
Pop up tents are tents that can be easily set up and taken down, thanks to their unique design. Most pop up tents have a simple frame made of flexible rods that automatically pops into place when the tent is opened. This makes them ideal for camping, picnicking, and other outdoor activities where setting up and taking down a traditional tent would be too time-consuming.
Is a pop up tent good for hiking?
A pop up tent can be good for hiking. They are usually lightweight and easy to carry.
Can I use pop up tent for camping?
Yes, you can use a pop up tent for camping.
Is a pop up better than a tent?
Yes, a pop-up can be better than a tent if you are looking for something that is easy to set up and take down. Pop-ups are also more resistant to weather conditions than tents. But here everything is individual, because when choosing you still need to look at the characteristics of each selected product.
I hope this article has been helpful to you, and the best model that suits your demands has already popped up in your mind. I deliberately picked models with different features. Before you order one, think about the number of people that will go camping with you, the climatic conditions you are going to be in, the amount of sun, and the possibilities of strong winds and rain. If you are an owner of one of these tents, share your thoughts about it in the comments. How do you like it? Which was the coldest temperature you used this tent in? How quickly can you set it up?