One of the most exciting things to look forward to in the summer approaching is camping – more specifically – beach camping. It is a fun and affordable way to quickly reenergize, forget your troubles and connect to nature.
Pros
3000mm waterproof – withstands challenging rain conditions
Dark Room technology blocks 90% more sunlight and reduces heat
Compact and weighs only 4.5 pounds
Top Pick
Pros
3000mm waterproof – withstands challenging rain conditions
Pros
Dark Room technology blocks 90% more sunlight and reduces heat
Pros
Compact and weighs only 4.5 pounds
When packing your seaside essentials, make sure you pay special attention to choosing the right beach tent with a screen that will protect you from harmful UV and keep you safe and dry during a sudden storm. This post will tell you everything you need to know about how to pick the best tent for beach camping and introduce the six most impressive models of the year.
Top-5 Best Beach Tent Models Worth Testing in Summer 2022
The following review comprises the five best beach tents for individual use, couples, and families. Hopefully, with this information, you will be able to make a well-balanced and smart purchasing decision quickly.
1. KAZOO Outdoor Camping Tent – The overall best tent for beach camping
KAZOO Outdoor Camping Tent is an excellent choice for tourists with a tight budget who want a usable and reasonably priced product that efficiently balances all the most essential characteristics of a tent for beach camping – comfort, safety, lightweights, and durability.
The KAZOO model is a well-constructed weatherproof tent that is large enough to comfortably fit two adult people and a kid with their gear. This 82"*82"*53" shelter with two dual zipper doors and two windows is made of 210T Rip-stop polyester, which means it will give you ample protection from sun, wind, and rain while remaining very breathable and properly ventilated.
The rainfly of the tent provides full coverage, so you will not experience any leaking even if you get caught in a long storm. In addition, the three fiberglass poles offer superb stability to the structure without increasing its weight or complicating the setup process.

---
PROS:
Roomy interior;
3000mm waterproof – withstands challenging rain conditions;
Offers great ventilation thanks to 2 windows and ceiling vents;
Sturdy but incredibly lightweight;
Affordable price.
CONS:
Zippers aren't of the top quality.
---
Sale
2. Coleman Dome Tent for Camping – Best 4-person camping beach tent with screen room
The biggest advantage of this fairly large 9"*7"*4"11 four-person nylon outdoor beach tent by Coleman is that it comes with a separate sleeping compartment and a screen room for bug-free resting or extra storage/sleeping space. Its two large windows and ground vent ensure comfortable coolness inside the tent on the hottest days.
The use of the patented WeatherTec system along with welded floors, and fully taped inverted seams and corners allow for excellent coverage against rain and wind. When a bit of extra weather protection is required, the user can put up the polyester taffeta 75D rainfly that goes with the Coleman Dome Tent.
People who come camping with plenty of possessions will not have difficulty finding a place for their gear, thanks to the tent's large built-in storage pockets. In addition, if you need to run an electric cord into your camp, you can easily do so using the E-Port that is found in almost any Coleman outdoor beach tent.

---
PROS:
Easy and fast setup;
Dark Room technology blocks 90% more sunlight and reduces heat;
E-Port is available;
1-year limited warranty.
CONS:
It can be tricky to pack back inside the bag.
---
Sale
3. Pacific Breeze Easy Setup Beach Tent – Best windproof beach tent for family outings
The 86.6"*49.2"*47.2" Pacific Breeze beach tent is a great family companion on a windy day on the beach. The product that comes with stakes and sandbags is famous for the unrivaled wind-resistant properties that let it withstand the harshest winds with ease. Made from water repellent breathable polyester, Pacific Breeze will keep you perfectly dry and comfortable even if you get trapped in it during a sudden storm.
The 3-sided ventilation design with 2 closable windows and a zip-up door guarantees proper airflow inside the tent, and its UV 50+ rating means you and your kids will be duly protected against harmful sun radiation in the hottest moments of the day. The tent has large internal pockets to store your belongings and free up more floor space for your family.

---
PROS:
UV 50+ sun protection and max ventilation;
100% water-resistant;
Great in a strong wind;
Compact and weighs only 4.5 pounds;
Easy setup.
CONS:
Keeping it clean may require extra maintenance efforts.
---
4. Abco Tech Pop-Up tent – Best 2 person beach tent for users of under six feet tall
The Abco Tech pop-up tent is an inexpensive and capable camping item that takes mere seconds to open and folds back without a hitch. The tent can comfortably sleep 2 adult people; its well-planned design with 2 closable doors on both sides provides for a much more effortless camping experience and allows you to walk out without disturbing the other occupant.
The fiberglass frame construction of the tent is very sturdy, and the durable ripstop nylon, while not entirely waterproof, protects you from most elements. Besides, the fabric of the tent features some quality stitching to avoid any wear and tear and prolong the life of the item.
The Abco Tech product is perfect for beach camping as it has an appropriate UV protection rating and is decently weatherproof. To ensure proper air circulation within the tent, it has 4 different vent sources: two mesh windows and two doors. When more privacy is required, the windows can be closed with waterproof nylon flaps.

---
PROS:
Excellent, user-friendly design;
UV protection;
Great ventilation and breathability;
Super-quick setup.
CONS:
No storage pockets or overhead loft;
The setup instructions can be a little confusing.
---
5. Oileus X-Large 4 Person Beach Tent – Best extra-large shade tent for beach
When looking to invest in a durable and feature-rich beach camping tent that can comfortably accommodate 4 people and their gear, the OILEUS beach tent is a great option. Made of highly breathable 210T polyester and having a durable 150D PE floor, the tent offers excellent protection against elements and can keep away 99% of harmful UV.
The ventilation in the Oileus X-Large 4 Person Beach Tent is another point of pride for the manufacturer. The fabric it is made of prevents the tent from retaining heat and odor, and the two extra-large windows offer maximum air circulation and cooling. The 8 metal stakes and 6 sand pockets will keep the construction firmly glued to the ground on the windiest days.

---
PROS:
Durable and lightweight design;
High-quality breathable materials;
50+ UV protection;
Ultra-spacious; has internal pocket bags;
Features a tie for a lantern or small fan.
CONS:
It sits 4 people but can sleep only 2.
---
Sale
Buyer's Guide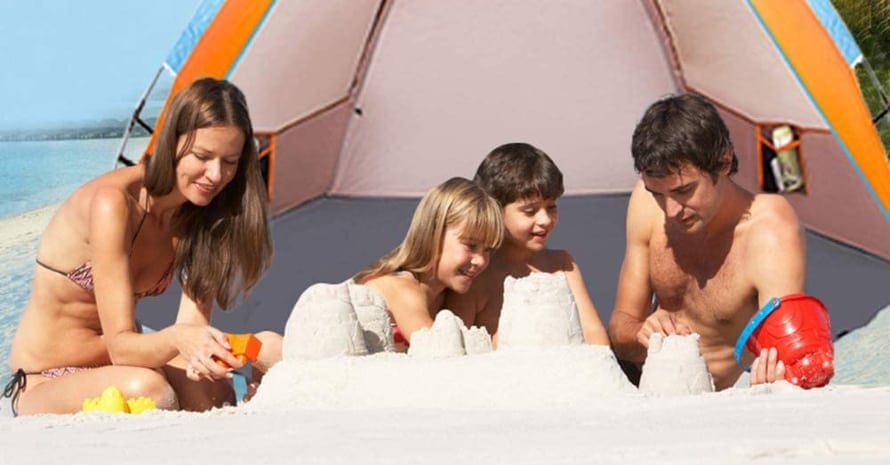 When planning a trip to the beach, choosing a reliable personal shade tent must be at the top of your to-do list. A good beach screen tent not only shields you from cruel UV rays, harsh wind, and rain but also grants privacy and offers enough space to store your camping essentials.
How to choose the best tent for beach camping?
While shopping for beach camping tents, mind the following aspects:
Material. The best UV protection beach tent is traditionally made of polyester or nylon. These fabrics are durable and water-resistant, offer superb shielding against harmful ultraviolet rays, and provide just enough breathability to keep you from overheating.
Stability. A good beach tent should be able to withstand some strong wind. Ensure the product you choose comes with stakes and sand pockets that will help it stay in one place on a windy day.
Storage space. Choose a tent that has some extra space for storing your belongings. This can be a designated section on the floor or large hanging storage pockets.
Manageability. Opt for lightweight and easy to assemble beach tents that are foldable, portable, and can be set up properly even by an inexperienced camper.
Essential beach camping tips to remember
The following camping tips and tricks will help make your next trip to the beach a huge success:
Packing a brush and a dustpan will make your tent time on the beach much more comfortable.
Learn about the tides in the area you are going to before setting up your camp too close to water.
There are a lot of creeping and flying living things on a typical beach, and not all of them will be friendly, so definitely bring some insect repellents and a first aid kit.
Grab a few garbage bags from home to make sure you won't be littering the beautiful landscapes.
Final Observations
We have now looked at some worthy models of big and small beach tents that will make every aspect of your camping trip more enjoyable. If you need a reliable and inexpensive product that will serve you long and good, we strongly recommend opting for the KAZOO Outdoor 2 person beach tent. We find it to be extremely well-rounded and capable.
What beach tent brand do you like best? Do you have preferences in style for a beach shelter? Can you provide any special beach camping advice for novice users? Feel free to share your ideas in the comments below!
FAQ
Can you use a camping tent at the beach?
Although it is possible to use a camping tent at the beach, you will not get the same level of enjoyment from it as you would from using a beach tent. Beach tents are designed to be more open, which makes them easier to get in and out of. They are also more resistant to UV rays from the sun, which makes them ideal for use during the summer.
Can you put a tent on a beach?
Tents can be used on the beach and may be a better option than beach tents for sleeping overnight. Don't forget to use cargo bags and stakes when setting up your tent to resist the wind.
Can you put a tent up in the wind?
In strong winds, most tents will not be able to hold up, regardless of how well they are staked down. It is best to bring a rain poncho and extra plastic bags, in case the tent blows away. If you do have to stake the tent down, bury the stakes at least 40 centimeters deep, or else they will not be effective. You can also try attaching the tent with a rope or by holding the cord down. If you have a second set of pegs, stick them in parallel to the first set and then attach the cord or rope to them.
How do you pitch a tent on sand?
To secure your tent to the beach use the pegs that come with it. Also find some small pieces of driftwood or rocks to which you can tie the fishing line. Bury the piece under the sand so that the fishing line is taut. Repeat this for each tent line. Try to use 14- to 18-centimeter sand tent stakes, and take some bags and duffel bags with you to use as sandbags just in case. Then drive stakes into each corner of the tent enclosure and put rocks on the stakes to hold them in place. Although it may be difficult, you should always set the tent pegs firmly in the sand.