If I were to name one thing that can ruin a perfect hiking tour, that would be bulky equipment. Indeed, overpacking is a syndrome that might take a lot of time and frustration to overcome, with nasty signs occurring on many levels.
One way to give you a bit of room for maneuver if you have trouble keeping your stuff minimal is by cutting down on tent size. One of the market's best small tent models like Clostnature's single-person model will keep you safe against the elements without becoming a burden – an investment few hikers would regret.
Best 5 Small Tent Reviews
I've made up a list of five amazingly good small tents for backpacking to share with you in case you are interested in finding a decent alternative to something spacious yet weighty and large beyond manageable.
Please note that the models target different sets of inhabitants and different budgets. Make sure to factor in your priorities when you go shopping.
1. Clostnature Small One Person Tent: Top Pick
Designed specifically for single-person use, this Clostnature model combines a reasonable price with a whole bunch of smart, hiking-friendly features, making it the best compact tent out there, in my opinion. The unit is as lightweight as 3.7 lbs. It packs down to just 15 x 5 x 5 inches and folds really easily, offering a reasonably spacious interior that measures 7 feet 3 inches x 2 feet 8 inches x 3 feet.
The structure consists of an inner tent made of lightweight, highly breathable mesh fabric, a fly sheet to put over it for added protection against the elements (this is made of 210T polyester with rainproof PU 5000 coating), and the so-called bathtub for increased dryness.
All the seams are factory sealed for a smooth all-season hiking experience. If you are planning an outing on a hot day, it might be a good idea to take off the flysheet and enjoy the inflow of fresh air through the mesh. Otherwise, though, there's a roomy vestibule that not only enables you to store your possessions conveniently but also ensures adequate air circulation. The tent is a breeze to put up and collapses easily.
What I really appreciate about this tent is Clostnature's customer care. The company offers a lifetime warranty against any defects in craftsmanship and material. Given how sensitive a piece of equipment a tent becomes when in the open, it's great news that the item comes with an emergency kit for repairing the poles. A carry bag comes included, which is far from the most compact I've seen but still a pleasant addition.

---
PROS:
A versatile 4-season option for one person;
Very lightweight at 3.7 pounds;
Great rainproofing with a tub bottom;
Well-built from solid materials;
Effortless set up.
CONS:
The carry bag could be more space-saving.
---
Sale
Clostnature 1-Person Tent for Backpacking - Ultralight Hiking Tent
1 PERSON TENT: If trekking or backpacking personal in the backcountry, you'll need a quality one person tent to keep you protected from the elements. Polyester rain fly&bathtub with PU 5000 coating is better in waterproof and firmer than you expected. Weatherproof material with factory-sealed seams keeps you dry and comfortable in all season&all weather conditions! You need an appropriate lightweight solo tent for backpacking!
2. Kelty Late Start 1 Person – 3 Season Backpacking Tent
If you're looking for a good, lightweight, and inexpensive tent for solo camping, the Kelty Late Start 1P is a great choice. It's quick and easy to set up in all kinds of weather and light, and there's plenty of room inside. It measures 85″ x 54″ x 45″, is 40″ high and has one vestibule that protects 7.85 square feet of storage space.
The Late Start tent is designed for those who want to be able to quickly set up their tent to spend more time enjoying the outdoors. Features such as Kelty Quick Corner technology and pre-bent poles make it easy to set up the tent in all weather conditions, even in the dark. So you can relax and enjoy your camping vacation without worrying about how to set up the tent.
This tent has one door and No-see-um mesh walls to prevent insects from getting inside the tent. The floor is made of durable 68 denier fabric. The fabric is water resistant up to 1800 mm. The tent is freestanding, which means it can be set up and then moved to find a better spot. Inside, there is a ceiling pocket for storing things. Two aluminum poles are pre-bent to create extra space inside the tent, and pockets in each corner of the tent secure one end of the pole while you move to take care of the other end, preventing the common problem of tent poles popping out of their sleeves. The tent also comes with Kelty's Shark Mouth stuff sack, designed to make packing quick and easy.
---
PROS:
rain-cover, water-resistant, portable, lightweight, accessory pockets;
3 season: Autumn, Summer, Spring;
Wear and tear resistant materials;
Easy setup;
Reasonably roomy interior.
CONS:
The price may show a little bit too much.
---
Sale
3. Coleman Sundome: Best Waterproof Small Tent
For those whose next destination is notorious for bad weather, this Coleman two-person tent can be the ultimate solution. It combines excellent resistance to wind, further enhanced by its strong fiberglass poles and a number of waterproofing features to keep water away. The latter include inverted seams, factory-welded corners, and a 75 denier dense polyester taffeta flysheet.
One thing a demanding user might notice immediately is that the reliability comes at a cost. With a weight of above 7 pounds, the tent definitely lands on the heavy end of the spectrum. It does pack neatly, though, in part due to the carry bag it comes with, and the process doesn't take too much time. Set up is reasonably quick and easy.
Given its occupancy and weather protection, the tent can be viewed as a real deal, but you need to remember that the footprint is sold separately.
An obvious concern when it comes to very weatherproof structures is air circulation. Luckily, the tent comes with a vented port as well as large windows. Given its center height of 48 inches, lack of fresh air is unlikely unless on a hot day (which is probably not the best use for this model). An E-port is included for bringing electrically powered devices inside.

---
PROS:
Extremely waterproof
Not a big deal to assemble
Relatively affordable
Great wind resistance
Decent air circulation
CONS:
Heavier than ideal
No footprint included
---
Sale
4. Forceatt: Smallest Packed Tent for Two on a Budget
In case you aren't prepared to invest a fortune in a two-person tent, Forceatt has a viable entry-level solution that will have your needs covered for all seasons. With an interior of 90 x 55 x 43 inches, the model packs down to a space-saving 16.5 x 5.5 inches and weighs 5.5 lbs.
The 210T Polyester, PU-coated rain fly offers great protection against rain, to which the PU5000 floor and thickened corners add considerably.
Ventilation is ensured by two D-shaped vents. It's not what I could call the perfect tent for a sunny day, but it offers adequate versatility given the price and performs reasonably well under most conditions one could expect.
The thing I like least about it is the aluminum poles, which feel flimsier than they should. Yet, their elasticity makes setup much easier to make up for this fact.

---
PROS:
Affordable price
All-season use
Excellent waterproofing
Relatively compact for a 2 person tent
---
5. Naturehike Cloud-Up: Best Ultralight Tent for Solo Hikers
This three-season tent will appeal to you if you are a fan of minimalist packing as it only weighs 3.8 lbs. Unfortunately, its packed size is less impressive at 17.7 x 5.9 inches (although decent given the price category).
Despite its weight, the tent offers reliable protection against the elements. The rain fly is made of 210T to waterproof the structure with added PU 3000 coating. A bathtub bottom is included for the same purpose, combined with factory welded seams.
The overall structure is sturdy, with quality fasteners and well thought out inner pockets. It might get too draughty if you use all the screens at once, though, so I wouldn't recommend it for a summer night if you are afraid of draughts.
Generally, though, it's a well-made waterproof tent for a single hiker that doesn't weigh too much and is a breeze to set up.

---
PROS:
Lightweight
Well protected against water
Comes with everything you need included
Quick setup
Quality materials
---
Why You Might Need a Small Hiking Tent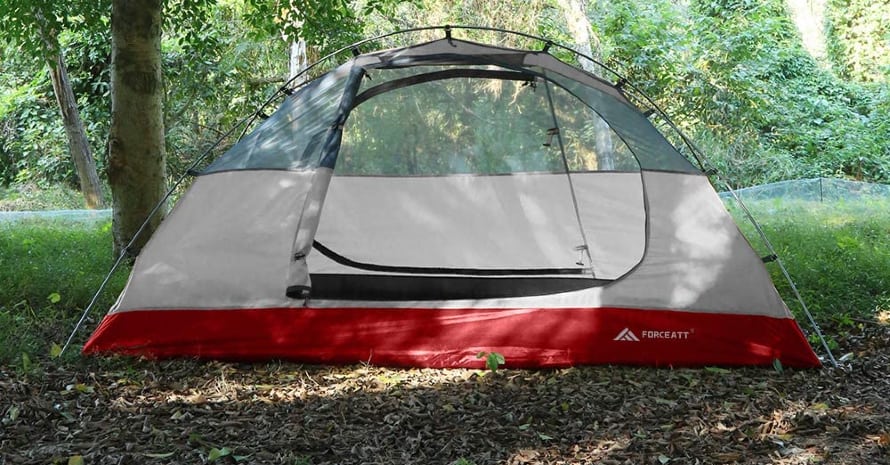 Size is a crucial parameter for pretty much anything that's related to hiking. Pack two things that are each just a little bit too bulky, and you'll most likely end up with a backpack you can hardly carry. The rule of thumb is that you shouldn't pack more than one-third of your body weight; it's sometimes too easy and too tempting to cross the line.
By choosing the smallest tent you can reasonably get, you save yourself packing space and weight. Additionally, you have good chances of sparing yourself a lot of time since compact models meant to accommodate one to two people are generally much easier to set up because, well, there's just less fabric flipping around in the wind as you try to put it up.
How to Choose the Best Small Lightweight Tent
Today's market is so full of hiking gear that to navigate it tends to be a confusing, if not overwhelming, experience. Here are the essential parameters to base your shopping strategy on when looking for a great small tent for your next solo/duo trip.
Weight and Packed Size
The smaller, the better. Modern lightweight models will weigh as little as around 3 to 3.5 pounds and are unlikely to take up a lot of packing space, especially when inside a kit carry bag. Pay attention to how collapsible the hard part of the structure is.
Material
The structure has to be robust and tear-resistant. Pay attention to what fabric is used and how dense it is as well as the waterproofing coating/water repellent used on top of the fabric.
Design
Opt for designs that favor airflow and include waterproofing features such as bathtub style bottoms for rainy days. Large windows and a double entrance can be a welcome feature when the weather is hot.
Sometimes Less is More
Well, this is definitely the case with tents. What's the use of carrying a bulky unit that takes ages to set up if you are traveling alone or in a group of just two? Instead, try and opt for a smaller model.
Chances are high you won't regret it as long as it's a compact and lightweight tent with smart air circulation solutions that's made of sturdy, waterproof material like Clostnature one-person tent. At just around three and a half pounds, imagine how much less stuff you'll have to carry!
Are you planning a small-group outing in the near future? You are very welcome to share your next destination in the comments section down below! And don't forget to mention what you're looking for in a tent for the occasion.
FAQ about small tent for hiking
What kind of tent will you use in hiking?
Weight size and number of walls in a tent are some of the factors that can influence your decision when choosing a tent for camping lightweight compact tents are easier to carry, but they may not offer as much space and comfort. Larger tents are harder to carry, but they may offer more space and comfort. Also, the choice depends on the tent material and its features and construction. For example, relatively lightweight canvas tents cannot stand on their own and require stakes and trekking poles for support, and they are most often single-walled, so they are easier for condensation to form.
What is minimum trail weight for tent?
The trail weight of a tent is the tent body, rain fly, and poles. This is also known as the minimum weight. The difference between the packed weight and trail weight is usually 5 to 8 ounces. The minimum trail weight for a tent includes the tent body, fly, and poles. The packed weight refers to the weight of the tent and everything that comes with it, including the packaging. A lighter tent is usually made of more delicate materials, while a heavier tent is more durable. A tent usually weighs 2 pounds per person.
How big of a tent do I need for 2 people?
What size tent is best for two people? A ten-by-ten foot tent is enough space for two adults. Smaller tents (2- and 3-man tents) can have a peak height of 125 cm, which may be enough for children to stand up. Many tent users note that a good rule of thumb is 20 square feet for each person who will sleep in the tent. Two-person tents usually range in size from three to six square feet. That said, there is a small amount of storage space in the tent.