Best Winter Camping Stove: Top 8 Companions in Below Zero Conditions
I'm a hiking fan and I know almost everything about exciting active adventures. One of the most amazing experiences is winter camping. I know how important it is to keep warm and get hot food systematically in extreme conditions.
I know how hard it is to find your ideal item among winter backpacking gear. So, here I want to share with you the best winter camping cooking devices. I've chosen 8 stoves that are ideal for both 2 persons and big companies. You will find out stoves' dimensions, fuel usage, and extreme weather resistance.
Before making a decision, you should know what types of fuel are better for winter and how to choose a camping stove for cold weather. If you are going on a long-term camping trip, think about the wood fuel stove because it will heat your tent.
If you are going on a mountain trip for a week, take the liquid fuel stove, thus, you will be able to refill the supply in even small towns. If you are going on a romantic hike in beautiful forests, don't forget a gas or alcohol stove to share a warm cup of tea.
Finding your ideal expedition camp stove may take a lot of time. My answer to the question of how to choose a camping stove for cold weather is to make a research of probable conditions of the trip, imagine when and for what you will need the stove, count how much space you have for its transportation and only then make a decision. I hope my list of 8 best stoves for challenging expeditions will help you to find your companion.
Amazon Bestseller
| # | Preview | Product | Rating | Price | |
| --- | --- | --- | --- | --- | --- |
| 1 | | Fltom Camp Wood Stove, Tent Stove with Large Firebox, Heat View Folding Camping Stove for Tent,... | 37 Reviews | $139.99 | Buy on Amazon |
| 2 | | OneTigris Tiger Roar Tent Stove, Portable Wood Burning Stove for Winter Camping Hunting and... | 53 Reviews | $299.98 | Buy on Amazon |
| 3 | | UNISTRENGH Cotton Canvas Bell Tent with Stove Jacket Hole for Family Camping,Glamping,Traveling... | 100 Reviews | $439.99 | Buy on Amazon |
| 4 | | Russian-Bear Hot Tent with Stove Jack for 5 People All-Season for Camping Fishing Hunting Double... | 11 Reviews | $3,639.00 | Buy on Amazon |
| 5 | | Complete Guide to Winter Camping | 13 Reviews | $17.49 | Buy on Amazon |
| 6 | | Coleman Kids LED Adventure Mini Lantern 1-Count, Colors may vary | 1,526 Reviews | $7.99 | Buy on Amazon |
| 7 | | Rightline Gear Full Size Long Truck Bed Tent (8') | 1,069 Reviews | $189.95 | Buy on Amazon |
| 8 | | Norwegian Wood: Chopping, Stacking, and Drying Wood the Scandinavian Way | 1,752 Reviews | $9.46 | Buy on Amazon |
Shortlist of The Best 8 Winter Stoves
These stoves are ideal for winter adventure. I have chosen different types to suit your needs. Each of them uses popular fuels, so it won't be a challenge to fire your device. Among all here is the list of advantages for fuel types, perhaps it will help to decide.
Wood:
Steady and cheap supply;
Resistant to severe cold;
High heat dissipation.
Gas Fuel:
Most often it's a blend of propane and isobutane;
Easy flame control;
Affordable price.
Liquid Fuel:
Works perfectly at high altitude;
Easy to measure how many bottles you need;
Available even in less developed regions.
Alcohol:
Environmentally friendly;
Inexpensive;
Used with light and portable stoves.
Camp Chef Alpine Heavy Duty Cylinder Stove: The Best Winter Camping Wood Stove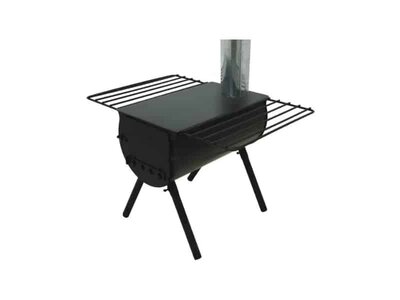 Camp Chef was a pioneer in the camp-cooking industry. For the last 30 years, the company's been keeping an eye on the industry trends. Its team includes innovative engineers whose main goal is to expand the product line without quality loss.
The Alpine Cylinder Stove is a great companion in the winter camping, because it may be applied inside a tent or near it. If I had planned a long term winter camping, I would have taken this stove, because it is not only a cooking device but also a good heater.
The Camp Chef stove is made of stainless steel in 10-12 gauge thickness. The construction is pretty big with the dimensions 22.5 x 20 x 2 inches with a weight of 74 pounds.
Also, the stove constituents are 4 steel removable legs, 5 parts of a chimney pipe, and 2 shelf racks. When the chimney is built up, its length is 10 feet, the diameter is 5 inches. Removable shelves are 22 x 7 inches. They are suitable for putting pots, kettles, pans, or drying clothes. Moreover, you may order a special water tank. The oven body construction has hooks to hang up the tank, so the water heats up for your usage.
It works perfectly in temperatures well below zero. The Alpine Cylinder Stove heats up to 108 °F in an hour, especially if you use pine & Bradford pear as fuel.
So, speaking about fuel, the Camp Chef product works on wood. It is important not to use flammable liquid within this stove. The oven has high wind resistance. Nevertheless, it's better to use metal screws to strengthen the pipe construction.

Camp Chef Alpine Heavy Duty Cylinder Stove
Wide form shelf/drying rack
Adjustable legs for uneven ground
5" diameter chimney pipe (over 10 ft. total height)
Wire spark arrestor
Fire grate in bottom to protect the base from overheating
---
PROS:
Easy to assemble and disassemble;
Easy to carry on long-distance;
Solid construction provides a durable usage;
Has a wide flat top area for cooking;
Has a special spark arrester.
CONS:
The overheat may cause an explosion.
---
Jetboil MiniMo Camping Stove Cooking System: Best Winter Backpacking Stove
JetboilL was established by two brothers in 2003. The company focuses on innovations in outdoor equipment that will be usable even in the most extreme conditions. The Jetboil MiniMo is a lightweight burner, which is suitable not only for boiling the water but also for cooking even for an hour on the small fire.

Its dimensions are 5.5 inches high (5 inches when packed) plus the height of a fuel can.

The device has a smooth regulator, thus to unscrew it to the maximum, you need to do 4 full turns. This helps to control the fire and cook more delicate dishes. The burner part has a push-button ignition and a simmer control. The simmer control gives a stable flame in below zero temperatures (it works at – 20 °F). There is a soft case for the burner to save it from scratches while carrying.

Unfortunately, it has no wind protection. So you need to think about additional devices or handmade protection from juice packs, for example. The delivery kit doesn't include the fuel can. You should order it separately. Nevertheless, the pack includes a fuel canister stabilizer that works with isobutane canisters.
It takes 3 minutes and 6 grams of fuel for 16.9 oz water to boil.

The cooking pot is made of anodized aluminum. It is quite wide and low, therefore, it's easy for you to stir all contents with a spoon. The pot has removable rubberized handles that do not heat up during cooking. Meanwhile, the pot gets extremely hot, mind that the neoprene cover heats up too. The Jetboil MiniMo has a set of different covers, so you can order it in any color you like. Also, I like that the kit includes such useful supplements as:
Silicon lid with drinking slot and coffee press;
Plastic measuring bowl that can be used as a cup or a plate.
Jetboil MiniMo Camping and Backpacking Stove Cooking System, Carbon Black
Powered by FluxRing technology, the MiniMo camping and backpacking stove cooking system, in Carbon, reaches a rolling boil in just over two minutes with half the fuel consumption of traditional systems.
Jetboil's proprietary regulator technology offers incremental heat adjustments from light simmer to full boil, perfect for sautéing greens, simmering sauces, and more.
Metal handles and a redesigned FluxRing cooking cup—optimized for a low spoon angle—make the MiniMo the perfect vessel for personal cooking and eating right out of the cup.
Start heating instantly with the convenient, reliable pushbutton igniter; save pack space with the clever sideways burner storage design.
Includes: MiniMo Camping Cook System (stove, cooking cup, lid, bottom cover, fuel can stabilizer, pot support); Instructions. *JetPower fuel sold separately. One-year limited warranty.
---
PROS:
Easy to carry and set up;
The weight is 14.4 ounces;
Stylish design;
The wide pot is comfortable to use;
The pack includes a silicon top and a plastic bowl.
CONS:
Perfect for 1-2 persons, but no more;
The pack doesn't include the fuel canister.
---
MSR Dragonfly Cooking System: Best Liquid Fuel Backpacking Stove
Mountain Safety Research was founded by a mountaineer and engineer Larry Penberthy in 1969 in Seattle. His main goal was to create safe and durable equipment, and he reached it. MSR has changed the way of hiking and camping for many of us.
The Dragonfly Cooking System is perfect in its simplicity. The device is visually divided into a fuel part and cooking part, which are connected with an oil pump. The dimensions for the packed and unpacked stove are different:
3.5 x 3.5 x 6.5 inches when collapsed;
10.5 x 7 x 4 inches open.
3 silver pot supports hold up to 10 inches diameter pots, frying pans, kettles, etc. The supports come in the form of a long glassy dragonfly wing, but they are strong and stable.
The Dragonfly works perfectly even when the wind is around 40 mph and the temperature is around – 5°F. For more severe weather conditions, the delivery kit includes a windscreen and a heat reflector.
These tools help to keep the flame and heat without transferring it to the air and ground in extreme amounts. It is a liquid fuel stove that works on the white gas, kerosene, diesel, unleaded auto fuel, and jet fuel. The flame adjuster valve helps to control power and fuel consumption.

Sale
MSR Dragonfly Compact Liquid Fuel Camping and Backpacking Stove
Durable, collapsible multi-fuel stove for camping, backpacking, and global travel provides precision flame control and stability for large cookware
Boils one liter of water in just 3.5 minutes and dual-valve makes it easy to go from simmering to a rolling boil for gourmet cooking in the outdoors
Burns a variety of fuels, including white gas, kerosene, unleaded auto fuel, diesel, and jet fuel
Stable base handles pots and pans up to 10-inches in diameter; suspended burner cup increases efficiency and reduces heat lost to the ground
Stove weighs 14 ounces, measures 10.5x7x4 inches open, collapses to 3.5x3.5x6.5 inches; manufacturer's limited 3-year warranty; made in the USA
---
PROS:
A multi-fuel stove;
Weighs 14 ounces;
Economizes the fuel.
Comes with a windscreen, heat reflector, cleaning tools, small-parts kit and a bag.
CONS:
The delivery kit doesn't include a fuel bottle.
---
Coleman Guide Series Dual-Fuel Camping Stove: Comfortable White Gas Backpacking Stove For a Big Company

In 2020, the Coleman company celebrates its 120th anniversary. In 1900, its founder C.W. Coleman designed a gas-powered lantern. In 1905, his lanterns lit the first evening football match west of the Mississippi. In 1942, they created the portable camping stove for WWII soldiers.
In 2002, they designed the Olympic Torch. Paying attention to these few milestones in the company's history, there is no doubt that Coleman knows how to keep a fire.
The Dual-Fuel Camping Stove (another name is Guide Series 424 Stove) resembles an old fashioned iron suitcase, but instead of money, it is full of other precious things — time outdoors with your family and friends. This stove is designed for cooking a complete supper. The two burners allow you to prepare food simultaneously in pots, pans, kettles of up to 10 inches in diameter each.
The stove dimension is 19 x 14 x 7 inches with a weight of 12 pounds. It is comfortable to transport and set, thanks to its form and firm material. The construction is made of fire-resistant material. Two wind block panels and a cover will protect it from the wind on three sides.
To use the stove, you need to:
Open the heavy-duty clasp;
Lift the cover top and place it as a back wall;
Join the fuel can;
Regulate the fuel flow with the rotating dial.
The Dual-Fuel Stove works on white gas, unleaded gasoline or Coleman Liquid Fuel. I recommend using it with the white gas because it works better in cold temperatures than the propane.

---
PROS:
The use algorithm is almost the same as in home stove;
Easy to carry suitcase-like form;
Easy to clean.
CONS:
The second burner is controlled by a valve on the side. It works only when the first burner is turned on.
---
Guide Gear Outdoor Wood Stove: Best Winter Camping Stove
The Guide Gear company is known for its products for extreme activities, such as climbing, fishing, hunting, camping, etc. They pay attention to quality because they realize the importance of their products for their user.
The Guide Gear wood stove is an ideal winter camping tent stove. It is made from galvanized steel and covered with a high-temperature black finish. It's a great heater as well, so it is often used inside tents or cabins. Just remember that a tent needs a special pipe and ventilation holes.
The dimensions of the device with a pipe when installed are 12.5 x 19 x 93 inches with a weight of 42 pounds. The firebox is wide enough for preparing a few dishes simultaneously. Its proportions are 11 x 17 x 8 inches.
The construction has removable legs (4 LEDs, 7.5 inches high) and 5 interlocking parts of the pipe (in total length 77.5 inches). It is wind resistant as there is no open fire. The vent holes on the door help to control the temperature inside the stove. It works with any kind of wood. So you don't need to spend extra money on fuel.

Guide Gear Outdoor Wood Burning Stove, Portable with Chimney Pipe for Cooking, Camping, Tent,...
OUTDOOR WOOD STOVE – We designed our camp stove for use outside. Perfect for use during camping trips or in your backyard. Whether heating or cooking, the wood burning stove does it all!
DURABLE – The Guide Gear outdoor stove features a galvanized steel fire box with heat-resistant finish for wood burning. The front door is made from strong cast iron with air vent holes
HEATING – The portable wood stove can be used to burn kindling wood. It's a great camp heater to provide warmth in outdoor spaces
COOKING – The top platform of the camping burner can be used to keep pots and saucepans hot, boil water or cook bacon and eggs
PORTABLE – The portable camping stove has been designed for easy movement and features five interlocking stove pipes and detachable legs. The entire stove fits inside itself for easy transportation
---
PROS:
Easy to use;
Produces high heat;
It weighs 42 pounds, so it is light enough to carry;
The delivery kit includes an ash rake and a door opener.
CONS:
Requires proper ventilation.
---
Coleman 2-Burner Classic Liquid Fuel Stove: Solution for Winter Camping Cooking
Smaller and lighter compared to the above mentioned Dual-Fuel Camping Stove, this Coleman product also follows the quality of the world-famous brand. The stove has a similar design as the previous models. The first items of the 425 series appeared in 1948.
The Classic Liquid Fuel Stove dimensions are 19.6 x 6 x 5.4 inches. Its weight is 2.2 pounds.
You can fit two pots on it, each with a diameter of up to 10 inches each. It simplifies the food preparation — you can get a coffee and an omelet for breakfast even on the snowy pick. The 2.5-pint fuel tank is enough for cooking on both burners at maximum temperature for two hours.
Classic Liquid Fuel Stove has a wind block system that is adjustable to any pot sizes. Thus it can stand any weather challenges. The hiking stove works on Coleman liquid fuel that should be bought separately. Nevertheless, the unleaded gasoline suits it as well.

---
PROS:
Small and light;
Has windshields;
Supplied with the fuel tank.
CONS:
The Coleman Liquid Fuel is more expensive than an unbranded one.
---
nCamp K2G Basic Compact Cooking Stove: Cold Weather Alcohol Stove
The nCamp brand was developed by industrial designer and professor Dan Cuffaro and businessman John Cunningham in 2016. They focused on the ideas of simplicity, style, and usability. They developed a range of compact, light, and spaceless outdoor cooking products.
The K2G Basic Compact Cooking Stove is one of their smallest and smartest inventions.
The kit includes the stove, a cutting board, and a bag. The upright stove has the same length and width as the preparation surface 6.5 x 9 inches.
They are folding, so the open position has a different height: the stove is 6.3 inches, while the board is 3.13 inches. In closed options, they are easily transported in the bag. The total weight of the set is 2.5 pounds.
It is a multi-fuel stove. The main goal of this product is to be comfortable, thus, you can use anything for fuel e.g. wood, ISO propane, alcohol, hexamine, diethylene glycol, composite, etc.
K2G is a perfect companion in winter hiking or ski trips. It works even at – 25°F with wood as the fuel. Unfortunately, it has no special wind protector. Nevertheless, the bamboo prep surface may be used as a windshield.

nCamp K2G Basic Compact Cooking Stove and Prep Surface Board Outdoor Camping Set Bundle with Carry...
COMPACT DESIGN: Convenient compact basic stove and prep set
MULTI-FUEL STOVE: Multi-fuel stove system features a quick start/stop, heat control, no smoke; Stove system lets you use ISO propane, alcohol, hexamine, wood, or composite as fuel
PREP SURFACE: Compact multi-use bamboo prep surface can be used as a cutting/work surface to prep meals
EASY STORAGE: Entire set designed to nest together; Includes carrying bag
SPECIFICATIONS: Stove dimensions (L x W x H): 6.5 x 9 x 6.3 (when upright); Prep surface dimensions (L x W x H): 6.5 x 9 x 3.13 (when upright); Weight: 2.5 pound; Product warranty: 1-year warranty
---
PROS:
Works with any fuel;
Extremely light and small;
Prep surface is included;
Minimalist style;
Made from ecological durable material.
---
MSR WhisperLite Universal Canister and Liquid Fuel Stove: Ideal Example of Cold Weather Backpacking Stove
Another Mountain Safety Research product, The WhisperLite is one of the most popular stoves of our generation. Have you ever gone hiking with your parents in your childhood? Perhaps, it was your first outdoor stove. I can't affirm the model has undertaken changes and updates, but I'm sure that it is a masterpiece of engineering.
The device is rather small with the measuring of 6 x 8 x 8 inches and the weight of11.5 ounces. Its prominent advantage is that the WhisperLite is a hybrid-fuel stove. Thanks to the patented AirControl technology, the fuel/air mix is applicable to any sort of firing. It has:
A UG jet that works with white gas and unleaded autogas.
A UK jet used with kerosene.
A UC jet — for canister fuel.
Such flexibility and lightweightness make this device helpful during long term international hiking, especially in the areas where it's impossible to buy gas cylinders. The WhisperLite Universal could be used on N-butane at -10°F. So it works properly in below zero temperatures.
Just like the Dragonfly stove, the WhisperLite has heat resistance and windscreen. Moreover, a lot of users advise hiding the stove behind a snow wall or rocks, the tiny size allows them to put it behind natural cover.

Sale
MSR WhisperLite Universal Compact Hybrid Fuel Camping and Backpacking Stove
Hybrid-Fuel Performance: Patent pending AirControl technology creates the optimal fuel/air mix for top-notch performance with canister fuel, white gas, kerosene and unleaded gasoline
Lightweight: Aluminum mixer tube, extra-stable stainless steel legs and refined design keep weight to a minimum.
Canister Liquid Feed: Delivers better cold weather and low-fuel performance with a more consistent output over the life of each canister. Canister stand Included
Field Maintainable: Self-cleaning Shaker Jet technology and redesigned leg assembly facilitate fast cleaning and even easier maintenance in the field
Includes: Fuel pump, windscreen, heat reflector, small-parts kit, instructions, and stuff sack. (Fuel bottle not included)/Made in Seattle, USA
---
PROS:
Very light, about 11.5 ounces;
Hybrid fuel;
Has a self-cleaning technology;
The delivery kit includes a stove, fuel pump, heat reflector, windscreen, instructions, small-parts kit, iso pro adapter, canister stand, and stuff sack.
CONS:
Unable to simmer;
Doesn't include fuel bottle;
If you change the fuel type often, you may feel a fuel odor in the boiled water. Check the fuel line every time before using.
---
Get New Impressions With More Comfort
I love winter camping: it is challenging, it is beautiful, it is exciting. Thanks to fire and heat, the winter camping stove makes any expedition cozy. The listed above products suit any possible situation whether it is a month camping in the Cascades (use the Camp Chef Alpine Stove or the Guide Gear Wood Stove) or a day trip to a frozen lake (take the nCamp K2G Stove or the Jetboil MiniMo Stove).
Delicious food charges you with energy and happiness for the whole day. Nutritious food helps you overcome any external challenges.
A portable winter camping stove helps to cook it even in the wildest and remotest areas. Meanwhile, never forget about safety. Fire is always dangerous and needs your attention. Never leave the working stove without attention.
Once I was amazed by the beauty of the sunrise reflecting in the ice-covered lake. I was lucky to share that moment with my friends and then had breakfast cooked on the Coleman Dual-Fuel Stove.
Do you have any memorable stories from your trips? What hiking stove do you use in winter? What fuel do you prefer? Let's chat in the comments section, I'd love to share our common hobby.
Last update on 2022-04-20 / Affiliate links / Images from Amazon Product Advertising API