Hey, guys! Travis here and today I am going to tell you about the top-6 most kick-a* folding saws I have ever got to use on my camping trips. These boys helped me out in a big way more than once, so trust me on this when I say that having one of those in your backpack as you go hiking is a must.
Each folding saw for camping comes with a unique set of features; yet, their most crucial parameters are the same – reliability, durability, and the small size that fits into any backpack. To help you decide which one will be a better pick, I will focus on the main characteristics and draw a list of their benefits and shortcomings that I know from personal experience.
The price is affordable and in line with the claimed functionality, so choosing the right one will depend on your needs.
Amazon Bestseller
Top-7 Most Trusted Folding Hand Saws for Camping and Yard Work (Approved by Eddie!)
Assuming that any backpacking saw will do as long as there is a handle and a sharp blade is naïve and dangerous. If you are not an old hand at camping, you might not be able to tell the difference between all the styles, types, and specs of saws present on the market, but I assure you that when the time comes, you will want your portable hand saw to be the best and most reliable piece of gear ever.
To save you the trouble of having to go through the myriad of backpacking saw reviews posted on the camping equipment store websites and dedicated forums, I will do my overview of the six products that I find to be most trustworthy and best in regards to their quality-to-price ratio.
Fiskars 7'' Folding Saw: A Camping Saw That'll Last a Lifetime
SOG 8.25'' Folding Saw: A Nice Addition to Your Camping Gear
Corona RS 7245 7'' Curved-Blade Folding Saw: A Century-Old Classic
Friendly Swede 8'' Folding Hand Saw: An All-Purpose Tool
MOSSY OAK 7.5'' Folding Hand Saw: A Well-Designed Piece
YOKEPO 33-Serrated 24'' Survival Pocket Chainsaw: Lightweight Hand Saw
Silky GomBoy Professional Folding Saw 240mm 
1. Fiskars 7'' Folding Saw: A Camping Saw That'll Last a Lifetime
The Finland-based company Fiskars is a global manufacturer of consumer goods for home, garden work, and outdoor activities. For many years, the company has been supplying top-notch branded housewares, garden products, and camping equipment to countries all over the world. Fiskars is known for its eco-friendliness, as well as utmost dedication to quality and precision.
The Fiskars 7-inch folding saw, which comes with a lifetime warranty, is a valuable piece of camping hardware you will want to have on you whenever you go out on a day hike to the Big Bend National Park or a weeklong canoe trip. It is excellent for cutting smaller pieces of wood when you need to light a fire or clear your path through the woods.
The portable camping hand saw by Fiskars is an equally helpful tool for pruning trees in your garden. It might not be able to cut through very thick branches or mature trees (for which task you will need to utilize a chainsaw anyway), but if you give it due patience and diligence, it can cope with mid-size, dry wood well.
Top characteristics of the Fiskars 7'' folding camp saw:
Bright design. The camping saw consists of a convenient rubber grip that prevents any hand-slipping accidents, and a 7-inch-long hardened steel blade with an aggressive triple-cut tooth pattern for making clean and easy cuts on both forward and backward strokes.
Packable blade. The unique design allows you to fold the blade into the handle when you do not need to use it. The blade of the hand saw locks in both positions – when it's closed and open – to make sure you can safely and conveniently carry it in your backpack.
Durability. The fully-hardened steel of the blade ensures that the instrument will stay sharp and serve you well for a much longer time.
Sale
---
PROS:
Affordable price;
Small size;
Reliable 2-position locking mechanism;
Stiff and sharp blades that remain intact even after some hard-core exploitation.
CONS:
Best-suited for cutting young kindling wood and doing pruning chores;
The handle is known to break when too much pressure is applied during cutting.
---
2. SOG 8.25'' Folding Saw: A Nice Addition to Your Camping Gear
SOG is a recognized U.S.- based company that supplies top-quality blades and knives, multi-purpose tools, and outdoor camping equipment. In over 30 years of its work, SOG has gained a reputation for being a trusted and responsible eco-friendly brand.
A small but sturdy, the 8.25-inch folding saw by SOG is a perfect match for campers, gardeners, hiking enthusiasts, and hunters who need a reliable and inexpensive tool that will not take much room in the backpack and will not weigh them down when on the move.
This ultralight backpacking saw will come in very handy if you need to trim the low-hanging branches in the garden, do some cutting in the yard, or chop up the fallen tree barring the road. The folding camping saw is strong enough to cut through small and medium-sized logs, but can also tackle a thick branch if you are willing to give it enough time and zeal.
Top characteristics of the SOG's 8.25'' survival saw:
Clever design. The saw's high carbon steel blade has a black powder coating, which makes it resistant to the harmful influence of rust and dirt. The thermoplastic rubber handle ensures a slip-free use and works well under a wide range of temperatures.
Ultralight weight. The saw is unbelievably light and weighs only 6 ounces, so carrying it in your backpack will not be any trouble at all.
C. Removable blade. When not used, the blade can be folded into the handle and removed back into its black sheath for safe storage and transportation.
Safety lock. The SOG's 8.25'' folding saw uses an efficient locking device that fixates the blade in the open and closed position. This guarantees that the cutting part will not close on your fingers accidentally.
Sale
---
PROS:
Easy to carry and compact;
Removable blades;
The saw copes with both green and hard dry wood well;
Comfortable TPR grip;
Durable ballistic nylon sheath.
CONS:
The blade is thin;
Tends to bend while cutting.
---
3. Corona RS 7245 7'' Curved-Blade Folding Saw: A Century-Old Classic
Corona Tools is a century-old manufacturer of professional and consumer products for gardening, landscaping, construction, and camping. The company operates across the U.S. and Canadian markets, distributing reliable and long-lasting tools and equipment of the highest quality.
The portable hand saw Corona RS 7245 is a top-pick gear for pruning trees in your garden and cutting thick limbs of up to 3''. The incredibly tough impulse-hardened chrome blade is immune to corrosion and promises an increased life expectancy of the tool. The downside is that if the blade becomes dull, you will have to replace it, as impulse-hardened high carbon steel cannot be re-sharpened.
The compact size of the saw makes it easy to fit it into a deep enough hip pocket, and its ultralight weight means you can hold the saw above your head for a long time without getting tired quickly. The curved form of the saw blade, its ultralight weight, and the handiest ergonomic design of the handle point to the fact that Corona RS 7245 is best-suited for performing pruning chores. Still, it surely cannot hurt to have one packed tightly in your bag on your next trekking trip to the Redwood National Park.
Top characteristics of the Corona RS 7245 folding saw for camping and tree trimming:
Fantastic design. The triple-grind geometry of the teeth design, coupled with the impulse-hardened high carbon steel of the 7-inch curved blade makes the saw a long-lasting and exceptionally robust device, capable of approaching branches from multiple angles.
Wonderful ergonomic characteristics. The co-molded handle of the saw has patches of the rubber-like material for more comfortable holding and extra gripping force. The unique pistol-grip form of the handle with a hooked end makes accidental slipping less likely.
Top-notch safety. The handle is designed to safely cover the razor-sharp blade when the saw is fully folded. The locking mechanism prevents the blade from suddenly collapsing on your hand. It allows fixating the blade in two positions – open and closed – with a single move of your thumb.
Sale
---
PROS:
Feature-packed design;
Superb durability supported by a lifetime warranty;
Excellent ergonometry of the handle;
Impulse-hardened high carbon steel;
High TPI rate.
CONS:
Higher price;
Blades cannot be re-sharpened and need to be replaced;
Not all the teeth are hidden when the saw is folded, which carries a risk of injuries.
---
4. Friendly Swede 8'' Folding Hand Saw: An All-Purpose Tool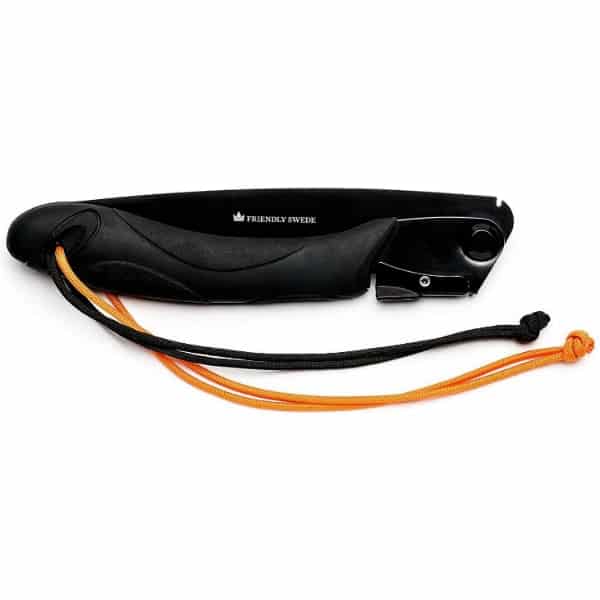 Friendly Swede is a relatively young company that has only been in existence since 2011. Friendly Swede has come to be known as a trustworthy provider of top-notch equipment, tools, and goods for a wide range of outdoor activities, including camping, hiking, and trekking.
The hand saw by Friendly Swede is a great tool that can be used under a lot of circumstances and for many different jobs. Whether you are doing minor carpentry tasks around the house, trimming trees or chopping bushes in the yard, cutting kindling wood to make a fire on your camping trip, or building a temporary shelter in the woods to hide from the rain, you can be sure that the saw will do the trick just fine.
This terrific hand saw boasts a balanced handle-to-blade ratio, which gives it additional in-use stability and ensures particularly smooth performance. The lightweight saw by Friendly Swede makes clean and precise cuts on both pull and push strokes, so the whole process will be much less energy-intensive.
Top characteristics of the Friendly Swede's Folding Hand Saw:
Smart design. The 8'' stiff, carbon steel blade with a serrated edge makes the saw an indispensable tool for when you need to cut your way through dense bushes and boscage.
Convenient handle. The grip handle of the saw is designed to fit well and agreeably in your palm, regardless of what hand you are using when making your way through thick bush.
Sturdy paracord. The saw comes with functional and durable lanyards attached to its handle. You can wear those around your wrist for convenient transportation of the saw. The two-piece paracord can also be used as a DIY fishing rod, hammock fastener, or compression bandage.
---
PROS:
The shorter blade guarantees better stability of the instrument;
Makes clean cuts on push and pull strokes with minimal effort required;
Ergonomic TPR handle grants a firm grip and increased usability;
Cuts well through young green wood, dry dead trees, bones, and plastic;
Equipped with a solid safety latch that locks the mechanism in place while in use.
CONS:
Higher-than-average price;
The saw tends to bend if misused.
---
5. MOSSY OAK 7.5'' Folding Hand Saw: A Well-Designed Piece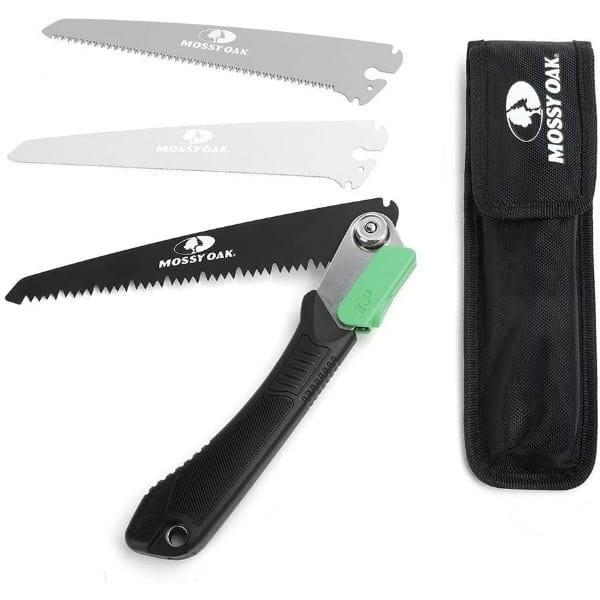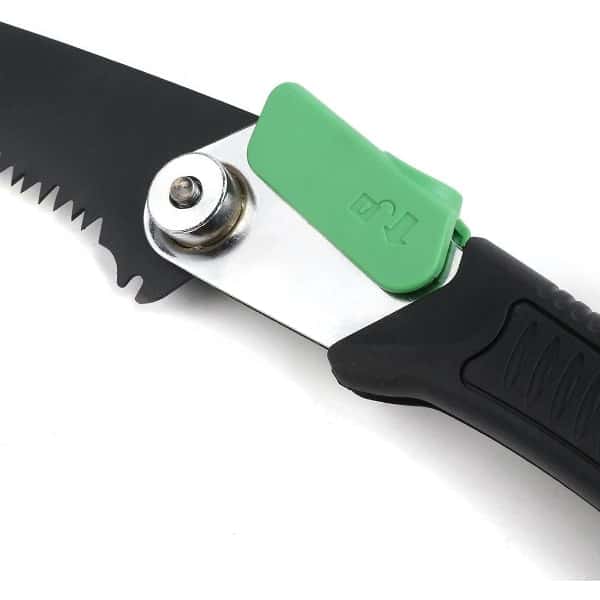 ***MOSSY OAK is a well-known U.S. brand that specializes in designing and producing high-quality wear and gear for hunting and camping needs. The camouflage design patterns created by MOSSY OAK are used on a wide range of sports and outdoor equipment and clothing all around the world.
The MOSSY OAK folding hand saw is not so much a piece of gardening equipment that you normally use for pruning your trees and vines as it is a powerful survival gear designed to meet your most essential cutting needs in the wild. This one is a budget-friendly and practical option that comes packed with an impressive set of cool features and can eliminate the need to carry around a large and hard backpacking bow saw to cut through thicker materials like hard plastic or metal.
The saw is supplied with a complement of three different blades for cutting wood, metal, and plastic. This gives you the flexibility to choose which saw blade to use in a particular situation. While very practical, the need to carry around all three blades and switch between them as needed might be frustrating.
Top characteristics of the MOSSY OAK folding saw for camping:
Adjustable design. You not only can switch between the three blades with little effort applied, but also change the direction of the triple-cut carbon steel blade to suit your immediate trimming needs.
Anti-slip handle. The TPR material used on the handle feels soft and comfortable, but at the same time allows for a very steady and slip-resistant grip on the tool.
Protected keeping. The saw is supplied with a thick nylon sheath that can safely store the saw and hide the two replaceable blades when they are not being used.
Solid locking mechanism. The safety lock ensures that the blade reliably stays in place during use or when folded.
MOSSY OAK 3 in 1 Folding Saw, Pruning Hand Saw with Wood, Metal and PVC Blade, Camping Saw for Backpacking, Hunting and Bushcraft, Pouch Included
EASY CHANGE - Adjust the black knob to change the blades. [ATTENTION] : Choose special direction you need after changing blade, tighten black knob on the back before use, to prevent the blade remove or upward. Featuring triple-cut razor sharp teeth, the folding hand saw can easily cuts wood, tree, bone and plastic metal, be a great help in the bush for trail maintenance or while camping or constructing shelter
---
PROS:
Available with a set of 3 multi-functional blades (5, 11, 18 TPI) and a nylon sack for safe storage;
Greater security due to the gear-style locking mechanism;
Affordable price;
Soft and stable TPR-coated handle grip;
One of the best picks in terms of open-and-close ease.
CONS:
The saw feels rather cumbersome and heavy;
Infrequent stability issues.
---
6. YOKEPO 33-Serrated 24'' Survival Pocket Chainsaw: Small and Handy
The YOKEPO Survival Pocket Chainsaw is an amazingly versatile and durable little tool that can help you out in a great many outdoor situations. Unlike the traditional bulky and arduous tool, this survival pocket chainsaw is very light and easy-to-handle. The petite size makes it possible to carry the chainsaw with you on every hiking trip.
It comes in very handy when you need to saw dry branches, chop up logs, or even cut down a small or midsize standing tree. Even though it is mostly geared towards survivalists, campers, and hiking enthusiasts, quite a few farmers appreciate having it in their tool shed for trimming and pruning tasks.
Top characteristics of the YOKEPO Pocket Survival Saw:
Quality material. The 33-serrated 24'' chainsaw is made of 65Mn thermally processed high carbon steel, which ensures its durability even if the saw is used in extreme weather conditions.
Long-lasting hand bands. The orange color rugged bands are comfortable to hold in your hands and possess excellent gripping properties.
Easy-to-transport. Complete with a nylon pouch and a paracord bracelet, the lightweight foldable pocket chainsaw by YOKEPO is very handy to carry around. Use the band on the pouch to attach it to your backpack or belt, and you will not even notice it is there!
Multi-functional use. On top of everything else, there is a whistle for when you are in an emergency and a firestarter.
---
PROS:
Bi-directional blades with sharpest reinforced teeth on every link for smooth and fast cutting;
Applicable in many outdoor emergencies;
Eco-friendly cutting tool;
It comes with bonus freebies.
CONS:
Requires some tech skills to prevent the saw from biting into the wood;
Using the saw can be very effort-consuming.
---
7. 

Silky GomBoy Professional Folding Saw 240mm 
The GOMBOY Professional is Silky's best-selling saw worldwide. It is precision-ground and impulse-hardened, with a Japanese handle for superior performance and ergonomics. The clear plastic hinged carrying case is included. This product can be used to trim small diameter branches.
The best folding saw for bushcraft is the Silky Gomboy 240 Folding Saw. This saw has a blade that is 240mm long and is made of Japanese SK-5 high carbon steel. The blade is also impulse-hardened, meaning that it will hold an edge for a long time. The hardened teeth are harder than an ordinary file and stay sharp about three times longer. A special high frequency heating technique is used to harden teeth instantly, while the remainder of the blade retains its normal flexibility.
The folding saw GomBoy series can be used for building, camping, landscaping, woodworking or general outdoor projects.
Top characteristics of the 

Silky GomBoy Professional Folding Saw 240mm

:
Blade Length

.

240 mm (9.5-inch), blade thickness: 1.4 mm 

Teeth Configuration.

10 teeth per 30mm (8.5 teeth per inch)

Easy-to-transport. The saw also has a hard-shell carrying case.
Cut capacity. 4.7″
No products found.
---
PROS:
High rating from customers
Acceptable price
High quality of the cutting blade
Good ergonomics
CONS:
Not all customers like the plastic case for the saw
---
Is There a Clear Winner?
It is hard to name one product that could beat the others in performance, safety, and usability. The choice is superb and depends mainly on the task at hand.
For some minor trimming, my first choice is the Corona portable hand saw because of its phenomenal ergonomics and durability. It is closely followed by Fiskars 7'' ultralight folding saw, which wins me over with its handiness and ease of use. I also favor Fiskars because the experience has shown that they stand by their lifetime warranty.
For trickier wood-cutting works, I opt for the SOG 8.25'' version, which is both lightweight and powerful enough to get the job well done. However, if the cutting project involves a lot of moving around, that is where the Friendly Swede's 8-inch hand saw shines.
FAQ about camping saws
How do I choose a folding saw?
When choosing a folding saw, consider the size of the blade and the handle. The blade should be large enough to cut through the material you plan to use it on, and the handle should be comfortable to hold.
Do you need a saw backpacking?
A saw is a tool that is used to cut through wood. It is not a necessity for backpacking, but it can be a useful tool to have if you need to cut through branches or wood for a campfire.
How to Stop Your Camp Saw from Rusting?
The best way to stop your camp saw from rusting is to keep it dry and store it in a dry place.
How to Clean a Folding Saw?
A outdoor hand saw is a useful tool to have in any workshop or garage. But like any tool, it needs to be cleaned and maintained to keep it in good condition. Here are some tips on how to clean a folding saw:
First, take the saw apart and remove any dirt, dust, or debris that may be on the blade or in the mechanism.
Use a soft cloth and some mild soap to wipe down the blade and the inside of the saw.
Dry the saw completely before reassembling it.
Lubricate the moving parts with a light oil before putting the saw back together.
Once the saw is reassembled, test it out to make sure it is working properly.
I hope this overview has been helpful and will steer you towards making the right choice when purchasing a hand saw. Which of the products described here have you tried? How good were they? Share your thoughts on the matter in the comments below!