Hi, Travis here! Welcome to my blog, where I teach you how to put your survival skills to test and get the most out of each of your hiking tours. Today, we will talk about how to pick the best portable camping stove, which is an essential item to have when going to the woods, be it a short backpacking journey or a weeklong car camping trip.
I have handpicked the seven most reliable and high-powered camping stoves that span both entry-level double-burners and sophisticated deluxe models with extra frills and accessories. I also have gone through tons of hiking stove reviews posted online to make sure that other experienced tourists agree with my judgment.
The cooking units described below vary in their price, size, and configuration, but they all boast the same outstanding efficiency, stable performance, and impressive durability with very little maintenance effort required.
Amazon Bestseller
The Top-7 Most Reliable and Worthy Portable Camping Stoves of 2021
Regretfully, there is no such thing as the best camping stove for all situations. Everyone has their own needs and preferences. Nevertheless, by using the guide provided below, you'll be able to pick a stove that you'll definitely be happy with.
Camp Chef Explorer 2-Burner Stove: The Best Large Camping Stove With Excellent Simmering and Heat Regulation Controls
The Camp Chef Explorer 2-Burner Stove is a first-rate, reliable solution for people who like to go car camping in large groups or enjoy throwing backyard parties. It is a sturdily built, durable gas cooktop with two powerful wind-shielded burners and plenty of cooking space.
The combined power of the two Camp Chef Explorer's burners is 60,000 BTUs. However, it can be easily adjusted to offer you fantastic simmering control capabilities if gentle boiling is what you need. This camp stove is an amazingly versatile device that can be used with or without its detachable legs.
The Camp Chef Explorer 2-Burner Stove is a massive and rather bulky model. It is 34" x 14" x 29" and weighs around 31 pounds. However, if you choose to remove the legs, it will drop 11.5 pounds on the spot. The large propane tank is also heavy, so make sure the back of your car can handle the challenge of transporting it. Despite its impressive dimensions, the stove is very easy to set up and requires minimum maintenance efforts.
The Explorer stove has minor issues that, however, do not degrade its excellent performance and reliability. Thus, as in any other freestanding outdoors cooking unit, the wind resistance of the burners is not perfect. Also, you will need to move aside whatever it is you are cooking to rekindle the burners as there is no auto-ignition feature.
Overall, the Camp Chef Explorer 2-Burner Stove will make a very decent, reasonably-priced pick for anyone who routinely prepares meals for bigger groups or wants to do some heavy-duty, messy cooking jobs outside of the house.

Sale
---
PROS:
Freestanding design with removable legs;
Easy setup and maintenance;
Durable and sturdy burners of 30,000 BTU each;
Plenty of cooking space;
Great simmering control.
CONS:
Cannot withstand strong wind well;
Heavyweight and bulky.
---
Coleman Triton+ Propane Gas Camping Stove: the Best Camping Stove For Small and Mid-sized Parties
Coleman' Triton Gas Camping Stove is a well-designed mid-range unit, which offers its users decent cooking power, easy simmering and pressure controls, adequate working surface, and impressive reliability – all at a very budget-friendly price.
The Coleman's Triton 2-Burner propane camping stove boasts an attractive and elegant tabletop design with two potent adjustable burners of 11,000 BTUs each, protected against the wind with special modifiable panels.
The stove comes in a very travel-friendly size of 23" x 5.9" x 14" and weighs just a little over 10 pounds, which makes it super manageable and handy for use on your camping trips.
The 16-ounce propane canister that is used to fuel the stove is not going to add too much weight on you either unless you choose to replace it with a larger 20-ounce bottle, which the stove can be made compatible with.
A quick camp stove comparison of the most popular tabletop travel models of 2021 shows that this Colman's Triton 2-Burner unit lacks the precision and burning power found in larger, semi-professional cookers, such as the Camp Chef Explorer mentioned above.
Additionally, the cooking surface area is smaller when compared to premier class tabletops. Lastly, no auto-ignition feature and its insufficient wind resistance make cooking in extremely windy conditions rather challenging.
Despite these minor drawbacks, the Triton 2-Burner travel stove offers an optimal compromise between stable performance and affordable price. It is a sound choice for serving mid-range outdoor events.

---
PROS:
Competitive price;
Lightweight and compact tabletop design;
Adjustable windscreen;
Pressure-regulation technology.
CONS:
The stove can struggle in windy conditions;
Not suited for feeding larger groups.
---
Camp Chef Tahoe Deluxe 3-Burner Grill: Super Powerful Deluxe Camping Stove Perfect For Coping With Heavy-duty Outdoor Cooking Tasks
If you are cooking for a big company, you will require some extra power, more cooking space, and at least 2 or better yet 3 robust burners. The Camp Chef Tahoe Deluxe 3-Burner Grill Stove matches the description perfectly.
The stove features 3 handy burners of a whopping 90,000 BTUs total power, which allows you to fry eggs, cook bacon, and heat coffee – all at the same time. With a little extra effort, you can easily turn the stove into a grill and have a grand BBQ party at your patio.
The Camp Chef Tahoe model also boasts push-button ignition for quick lighting and re-lighting; protective housing for the burners, three-sided windshield, and modifiable legs that you can adjust individually to use the stove on uneven surfaces.
If there are fewer than ten people in your group, this three-burner camp stove will be overkill. Its dimensions are 42.5" x 10.5" x 17.5", and the weight is 43 pounds, which is simply too powerful for low-key cooking.
The Camp Chef Tahoe Deluxe is too massive and heavyweight to easily tug it along unless you are planning to feed a large group. Also, there is a 5-gallon propane canister, which adds notable weight.
It takes time and might require an extra pair of hands to set up. Finally, the price of this camping stove with grill is higher than for other gas camp stoves in its range.
To sum it up, if a classic lightweight camping stove can't do the trick for you, and you want something more robust even at the cost of a much bigger weight and higher price, The Camp Chef Tahoe stove is your go-to option.

Sale
---
PROS:
Three fabulous burners of the total 90,000 BTUs;
Freestanding stove with detachable legs;
Three-sided windshield;
Extremely spacious cooking area;
Push-button ignition feature.
CONS:
The setup might be energy-consuming;
High price.
---
EcoZoom Dura Camping Stove: The Most Eco-friendly Alternative to Classic Camping Stoves Running on Propane
The EcoZoom Dura camping stove utilizes a handy and appealing design of a traditional rocket stove, with a fully insulated vertical combustion chamber. The well-thought-out design of the chamber ensures that the gases and flames mix and combust entirely before the fire can reach the camping stovetop. This not only leads to lower emission of harmful gases and smoke but also ensures a much more efficient fuel consumption.
The stove is made of durable materials with minimum moving parts so you can be sure this purchase will last you for decades. It is about the same size as a 5-gallon bucket – 13.25" x 13" x 12.5" – and weighs about 13 pounds. The stove is handy to move around because of its two full-grip stainless steel and silicone handles. The cooking power of the stove is the impressive 19,000 BTUs.
The smart design of the rocket stove excludes the possibility of its tripping over and starting fire. The EcoZoom Dura camping stove is a low-maintenance unit that is very easy to clean on the inside and outside. The only notable downside with this cooker is that its 13-pound weight is still too much to carry on your back if you go camping without a car.

---
PROS:
Burns dried wood and solid biomass fuel very efficiently;
Environmentally friendly;
Adjustable heat range from tender simmer to boil;
Two full-grip ergonomic handles ensure the extreme ease of carrying;
A versatile and durable stovetop.
CONS:
Too heavyweight to take with you on backpacking trips;
Ash spills from the bottom door can sometimes occur, which is dangerous in windy conditions.
---
Coleman Classic Propane Gas Camping Stove: The Best Portable Camping Stove for Low-key Cooking
The rugged tabletop design and straightforward controls are the model's biggest strengths. This is an uncomplicated unit with impressive functionality and the bare minimum of breakable parts, which makes it very unfussy to maintain and guarantees a much longer service life.
The Coleman Classic Propane stove is retailed at a lower price compared to the more advanced Triton model; however, its durability and stable performance are on par with the latter.
The combined cooking power of its two adjustable burners is 20,000 BTUs, which is slightly less than what Triton offers but should be enough to take good care of your basic cooking needs. The dimensions of this portable propane stove – 4.1" x 21.9" x 13.7" – are comparable with the more expensive Triton unit, and the weight of 11 pounds is about the same.
The Coleman Classic tabletop camp stove is a sturdy, functional, and reliable device perfect for catering for small groups of people. It is not as robust and durable as some high-end models, but it is capable of working on a low flame, simmering a broth, and cooking your eggs without burning them. What's more, this stove comes with an attractive price tag that makes up for the lack of unnecessary frills like the auto-ignition button.

Sale
---
PROS:
Low-priced model;
Durable design;
Delicate temperature control;
Removable windscreen panels.
CONS:
The burners clog easily;
No auto-ignition switch.
---
Camp Chef Everest 2-Burner Stove: A Premium Choice Among the Top Rted Camp Stoves for Car Camping in Small Groups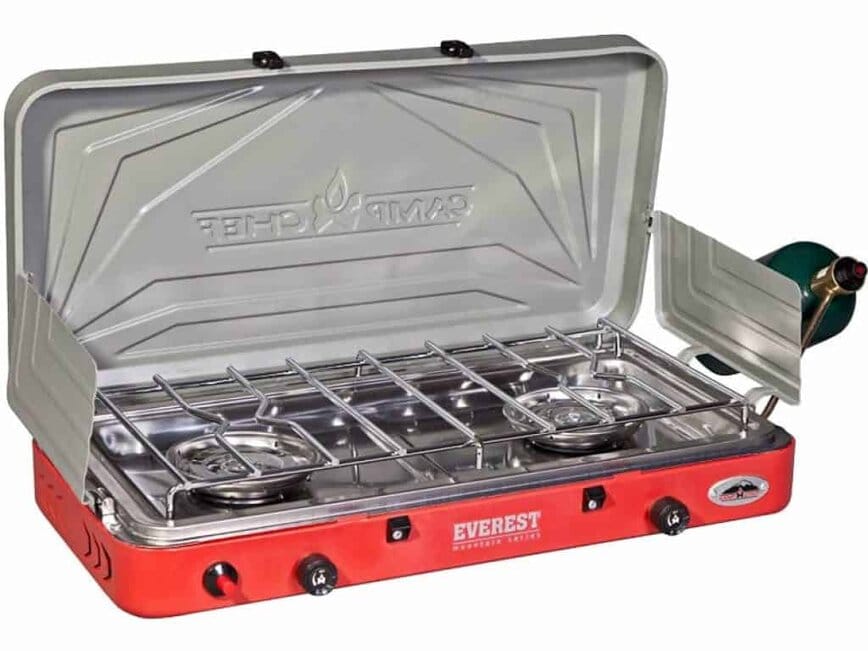 The Camp Chef Everest stove is a high-powered, reliable unit featuring two mighty propane-fueled burners of 20,000 BTUs each, a handy auto-ignitor for easy kindling, and a beautifully designed, spacious cooking surface. Despite its powerful burners, the stove manages to simmer well due to its very precise and responsive flame control. Moreover, the built-in windscreens allow it to work consistently, even in the windiest conditions.
The model boasts a new, revamped cooktop that gives you an extra few square inches of the cooking area without adding any weight. Now, the cooking space is wide enough to let you easily fit two real pots or pans and have the job done faster and more energy-efficiently.
The dimensions of the cooker are 13.5" x 23.5" x 4", and its weight is 12 pounds. The unit is a bit too heavy and too bulky for taking it with you on backpacking trips, but any car camping enthusiast will appreciate how little trunk space it takes and how easy it is to load/unload the cooker.
If you are planning to cook for a large company, you will probably need a bigger and more expert workspace like the freestanding Camp Chef Tahoe Deluxe 3-Burner Grill model, but for feeding a small party, The Camp Chef Everest is an excellent choice.

No products found.
---
PROS:
Robust and well-thought-out design;
Auto-ignition feature;
Two potent propane burners with 40,000 BTUs total output;
Exterior locks for securing windscreen panels.
CONS:
Rather expensive;
The closing latches are made of breakable plastic.
---
Stansport Outfitter Series Propane Camp Stove: The Most Powerful Tabletop Stove, Well-suited for Large Parties
The Stansport Outfitter propane-fueled stove offers the combined power output of 60,000 BTUs, which is quite impressive for a compact stove whose dimensions are only 15.00" x 3.50" x 24.25". The two outside burners produce the cooking power of 25,000 BTUs each, and a less potent middle burner gives you 10,000 BTUs sufficient for performing small cooking chores.
The Outfitter's fine-tuned temperature and simmer controls are laudable. You will not need to make many adjustments to finesse it down to the right setting, and the risk of accidentally switching it off is almost absent. The auto-ignition feature makes lighting the stove much easier, and its solid side panels protect the flame from wind and ensure its stable performance in extreme weather conditions.
The downside of the stove is that its cooktop lacks a tidbit of space to ensure a convenient cooking experience when all three of its burners are being used simultaneously. Also, the total weight of 16 pounds makes the stove only suitable for camping activities that involve a car.
If you are looking to buy a sturdy and powerful tabletop stove that comes with an impressive number of cool features for extra-convenient use, the Stansport Outfitter Propane camp 3-burner stove is your best pick.

STANSPORT - Outfitter Series Portable 3-Burner Propane Camping Stove (Blue and Black)
FEED THE MASSES: Cooking for large groups just got easier with this outdoor camp stove - it features 2 large and one smaller burner sure to make you a happy camper!
PORTABLE AND POWERFUL: This portable gas stove features dual oversize burners that pump out 25,000 BTU with a smaller 10,000 BTU burner in the center.
DESIGNED TO BEAT THE ELEMENTS: The oversize frame is constructed of durable steel and features 3 windscreens for easier and faster cooking in your mobile kitchen!
---
PROS:
Three potent burners with 60,000 BTUs of total cooking power;
Separate windscreen for each outside burner;
High-pressure regulation controls;
Reliable electronic ignitor;
Secure metal closing latches and ergonomic handle for easy transportation.
CONS:
A bit pricey;
The auto-ignition knob is hard to manipulate.
---
Travel Stove Buyer's Guide
If you're planning to buy a travel stove, you should definitely read this guide through before making a purchase. Here are the most common questions that people have to deal with.
Freestanding or tabletop camp stove: which one to pick?
If you plan to go to a settled campground, there is likely to be a picnic table there to place your tabletop stove on. However, tourists who prefer camping in deserted areas should opt for a freestanding model with removable legs.
How many burners should be on your camping stove?
The number of burners on a travel stove ranges from 1 to 3. Choosing the right one depends on your own camping needs, your cooking style, the size of your camping party, etc.
The math is simple: a single-burner stove is enough for feeding one to three people. A double-burner can suit the needs of up to six tourists. A multi-burner unit is an excellent choice if your camping group includes seven and more participants.
Fuel type and capacity: how to choose the right one?
The majority of today's camp stoves use propane. This type of fuel is cheap and very easy to light at a variety of temperatures. The standard 16-ounce bottle should be enough to fuel your stove for around an hour. However, it is always a good idea to have a spare canister in your car in case your cooking session runs long.
For use in more extreme weather conditions, some stoves are made to run on liquid fuel like unleaded gasoline, white gas, diesel, or kerosene. There is also a dual fuel camp stove, which works on gas or unleaded gasoline, and can be used all year round.
One more type of camp stove fuel is wood. Wood-burning cooking units are much more eco-friendly, and finding fuel material for them is easy: gather dried sticks and twigs lying around your campsite, and you are good to start cooking.
What is the optimal burner power?
he power of a camp stove burner is traditionally measured in BTUs (British Thermal Units). A home cooker's burner produces 7,000-12,000 BTUs, but the camping stove burners need to be more powerful than that since they usually have to work in more challenging weather conditions.
Picking a camp stove with higher BTU does not guarantee you will get higher power output. There are other crucial factors to consider because they can negatively affect the performance of your stove and ultimately lengthen the cooking time.
Always look at the stove's overall design and how well it is built to resist the wind. Also, pay attention to the diameter of the burners. The bigger the diameter is, the more evenly the heat spreads.
Final thoughts
With a wide variety of camping stoves presented in the market today, choosing one is sure to be a challenging task. You will have to carefully consider which type of fuel you prefer, how many burners you will be using, and which stove design will satisfy your needs to the fullest.
Besides, it's important to make sure that your car has enough room to accommodate the stove and its accessories. I hope that my camping stove reviews and buying tips will come in handy when you are choosing your next travel stove.
Have you used any of the reviewed stoves? Did you test them in extreme weather conditions? Let me know what you think in the comment section below!