If you have winter camping in your plans for the future, the best winter backpacking tent is a must-have. It has to meet all the weather and your own requirements. The right tent may save your life, so you have to be extremely cautious picking among the best tents for winter camping I've gathered here.
They all provide you a warm sleeping place, which is crucial after staying all day long in the chilling wilderness. I strongly advise you against using the same tent you use for the summer adventures. However, the warmest tents for camping can also be turned into comfortable tents for summer festivals.
Pros
3 vents inside and 1 door only
Runner-Up
Pros
3 vents inside and 1 door only
Top-5 Best Winter Backpacking Tents
I have made these winter tents reviews based on my personal experience and impressions. I consider all these tents a great shelter for winter camping. Yet, each of them has its own specifics. Pay attention to the features you need in winterized tents. Read their pros and cons carefully.
1. ALPS Mountaineering Tasmanian – Best Snow Tent for Two
This tent is perfect for any weather, even severe winter. It weighs 7.9 pounds, so that you can carry it in your backpack during hiking. The pole system is aluminum, which allows you to set up the whole tent easily and quickly. There is an extra storage space where you can cover all your belongings. The fly is made of high-quality polyester resistant to water and UV rays. If you need to ventilate the tent, just unzip both doors at the same time.  This model is available in 3 colors, to choose the best option directly to the buyer.
Main features:
Dimensions: 46 inches center height, 34.5 sq ft whole area, 13 sq ft vestibule. The packed tent is 6.5 x 19 inches;
Materials: polyester, aluminum poles;
Weighs only 7.9 pounds;
Extra features: two doors, rain-proofed, extra storage places.
The Alps is a well-known developer of camping equipment. They have existed since 1993. This tent is equipped with two storage pockets on zippers, guy ropes, and aluminum stakes. You may sleep in this tent alone or with one more person. I have tried to share it with my two friends, and it was still quite comfortable. Besides, this tent has great mesh pockets from both sides, so you can keep your stuff there. Overall, this is a great 4-season tent.

ALPS Mountaineering Tasmanian 2 Person
There's no assembly frustration with our Tasmanian Tent series, this aluminum, free-standing pole system is ideal for a quick setup
Polyester fly will resist water and UV rays while adding two vestibules for extra storage
Easy entry and great ventilation with two doors, both with zippered mesh windows
PROS:
High-quality material;
Four seasons tent;
The price is affordable.
CONS:
You have to spend some time putting the tent back in storage.
---
2. Snugpak Scorpion 3 – Winter Hiking Tent of Compact Size
The tent manufacturer Snugpak was founded in 1977. Thanks to many years of experience it was possible to develop a reliable tent with an easy set up and a spacious enough interior. This tent weighs only 0.66 pounds, which is beneficial during the trip. It can accommodate three people, according to the developers. Again, I say that you can squeeze in one more person. However, you need to take less gear with you. It is 87 inches long and 69 inches wide inside when unpacked. The pack includes anodized Featherlite DAC aluminum poles with connectors. Flysheet is made of 210t polyester, which is wind and waterproof. There is an additional polyurethane coating.
Main features:
Dimensions: 17 x 8.3 x 1 inches;
Weight: 0.66 pounds
Materials: polyester, polyurethane coating, anodized aluminum poles;
Extra features: 3 vents, 1 door, windproof, waterproof.
The tent suits well for all 4 seasons. Inside the pack, you will find the metal pole repair sleeve, spare cord, patch materials, elastic loop, storage bag, and instructions. There is only 1 door, but 3 vents, so you can easily ventilate it. Snugpak has been producing sleeping bags, clothing for outdoors, and tents since 1977. It is well-known internationally. For this item, the company has added tent stakes for easier setup. The porch space is sealable and coated. Don't worry about your gear.

Snugpak Scorpion 3 Tent, 3 Person 4 Season Camping Tent, Waterproof, Olive
Inner tent dimensions are 87 inches long, 69 inches wide, and 43 inches tall; built to accommodate 3 people, or 2 people and their gear
Compact pack size is 17 inches long by 8 inches wide; trail weight is 6.46 pounds, pack weight is 7.5 pounds
Equipped with DAC Feathlerlite NSL anodized aluminum poles with press fit connectors; features tape sealed seams
---
PROS:
Withstands even severe winds and rains;
Great for 4 seasons;
For 3 people;
3 vents inside and 1 door only;
The price is affordable.
CONS:
Some of the models are made in China and have uneven stitching on them.
---
3. PlayDo 4 Season – Winter Proof Tent in the Yurt Shape
stove in the tent
can be covered by plastic straps during the summer.
Features:
Dimensions: 118.11 x 118.11 x 98.42 inches;
Weight: 42.4 pounds;
Materials: cotton of a high density;
Extra features: the power cable inlet, stove hole, vent holes.
PlayDo develops tents for camping at affordable prices. The tent is made of waterproof 300 gsm cotton fabric. It withstands light and wind. There are air vents to ventilate the tent. But if you need more air, just roll up one of the walls. The developers recommend using this tent for hiking and also as a playground for children in the yard. The tent can be easily packed into the bag and taken on the trip.

---
PROS:
Has a hole for a stove pipe;
Advanced vent system;
Lots of space inside;
The price is affordable and varies on size.
CONS:
It is heavy to carry around on your shoulders.
---
4. Geertop Portable 2 Person – Winter Survival Tent for Mountaineering
Features:
Dimensions: 39.4 inches height, floor 83+39 x 47 inches;
Materials: waterproof nylon, polyester, aluminum poles;
Weight: 6.17 lbs;
Extra features: snow skirt, breathable fabric, lightweight.
Geertop offers two layers of fabric, the inner tent and the outer. You have to set up the yellow one second, which is the inner layer. This job can be easily done by one person. The height of the tent is 39.4 inches. The tent weighs 6.17 lbs. You can carry it in the backpack. GeerTop company produces tents and sleep bags for mountaineers who climb the Himalayas and other high mountains. The model under review is proved to be durable and warm.

GEERTOP Portable 2 Person 4 Season Camp Tent Waterproof Backpacking Tent Double Layer All Weather for Camping Hiking Travel Climbing Mountaineering - Easy Set Up
【Waterproof Camping Tent】Geertop 2 person 4 season tent made of 20D PU8000 mm waterproof coated nylon for Outer tent & 210T PU 5000 mm waterproof coating polyester for tent floor, be able to resist strong wind or snow in high altitude camping situations
【4 Season Tent】This 4 season tent built in snow skirt around + breathable nylon mesh which makes it great for cold, snowy or warm weather; Double stitched, tape sealed seams ensure a waterproof seal in cold weather ; With strong and stable Aluminum poles
【 Easy to Set Up 】DOUBLE LAYERS tent - Inner tent + Outer Tent Fly, please note that the inner tent color is yellow,please set up the outer tent first, one person can easily set up the tent & flysheet in a few minutes, to save more time for the camping trip
---
PROS:
Survives severe cold;
Comfortable for 2 people;
Durable materials;
Affordable price.
CONS:
It can be a little hot inside during the summer.
---
5. Kazoo Waterproof – Best Cold Weather Tent for Lightweight
There is enough space for 2 grown-ups inside and one or two small children with them. This tent is perfect for family vacations. It is lightweight as well and includes lightweight aluminum poles. One person can set up the tent in several minutes. The room inside is 51 inches x 82 inches x 39 inches. There are 2 doors for your convenience and better ventilation. The whole tent weighs 5.29 lbs.
Features:
Dimensions: 51 x 82 x 39 inches.
Weight: 5.29 lbs;
Materials: polyester, mesh fabric, aluminum poles;
Extra features: two doors with double porches.
This tent is waterproof. Kazoo company offers a 2 years warranty. They believe this tent is perfect for 4 seasons, no matter which activity you are interested in. There are 2 layers; one is from breathable polyester and a mesh. There are 2 porches that give more space to your gear.

Sale
KAZOO Lightweight Backpacking Tent 2 Person Waterproof Camping Tents 2 People Hiking Tents Two Person Aluminum Poles Double Layer
✔ EXCELLENT SPACE FOR THE WEIGHT- KAZOO outdoor backpacking tent provides spacious and ultralight tents with enough features. It could be set up perfectly by one person within 3 minutes. This backpacking tent has a spacious room 51inchX82inchX39inch and two zippered doors to make it perfect as a backpacking tent for 2 person. The tent weighs 5.29lb, which could be defined as a lightweight tent. It could bring you a perfect experience in your tour for camping, hiking, fishing or relaxing.
✔BALANCE OF FEATURES AND WEIGHT- KAZOO outdoor backpacking tent consists of 2 functional layers. The liner is made of B3 mesh and 190T breathable Polyester, Rainfly is made of 210T Ripstop Polyester, we use the best materials to offer you a high performance lightweight waterproof tent. We specifically designed 3 premium 7001 Aluminum poles to offer sufficient stability for this lightweight tent 2 person. Two separated porches are designed to provide additional gears storage room.
✔BEST LIGHTWEIGHT TENT- KAZOO outdoor backpacking tent offers 2 doors and ceiling vents to provide excellent ventilation; which also provide convenience as a 2 person tent. This lightweight backpacking tent has designed mesh panels on the upper side of the doors to improve ventilation and view. We try our best to balance the weight and stability to make a perfect lightweight waterproof tent. KAZOO backpacking tent provide you with spacious room, multiple functions and good ventilation.
---
PROS:
Family-friendly;
Durable and breathable fabric;
Price is affordable.
CONS:
May not work for the severe winds of over 9 rate.
---
Winter Backpacking Tent Guide
After you have checked out all these winter mountaineering tents, you may still have few questions left. The vast majority of them are usually about the difference between tents for summer and winter. Let's talk about cold weather camping tents before you make an order.
What to look for when you are picking the tent
The answer is in its name. The winter tent, first of all, must be suitable for winter camping options. It means that these products must be durable and reliable. The main features of the prefect snow camping tent:
Two layers of fabric that withstand wind and rain. The cold can catch you in the middle of the night, and you don't want to freeze to death because the tent was intended for summer camping;
Lightweight. Some winter camping activities can be performed only on your feet, without the car.
Make sure you can carry around the tent on your shoulders;
The simplicity of setting up and packing up. It is highly unlikely you want to waste your time standing in the snow and freezing while you are unpacking and packing up the tent;
Enough space for the equipment. The lack of space means that you have to keep all your stuff by your side, blocking your own movements;
Vents. You will need to ventilate the tent. Make sure that you can easily breathe inside;
Extra features like snow skirts and side storages. They are not necessary things, but preferable.
The difference between 3 season and 4 season tents
If you don't live in an area with severe winters and do not plan to climb up in the mountains, you may not need a 4 season tent. All you need is to prepare for winter camping. There are several differences you need to pay attention to:
A 3 season tent is designed for spring, fall, and summer. It is lighter and cheaper than 4 seasons. However, these tents are unlikely to resist the strong winds;
4 season tents are made for all seasons of the year. It does not matter where you live or where you want to go camping; you can stay warm with this tent. It can survive heavy snowfall and strong winds. Yet, these tents are heavier and more expensive.
Specifics of winter tents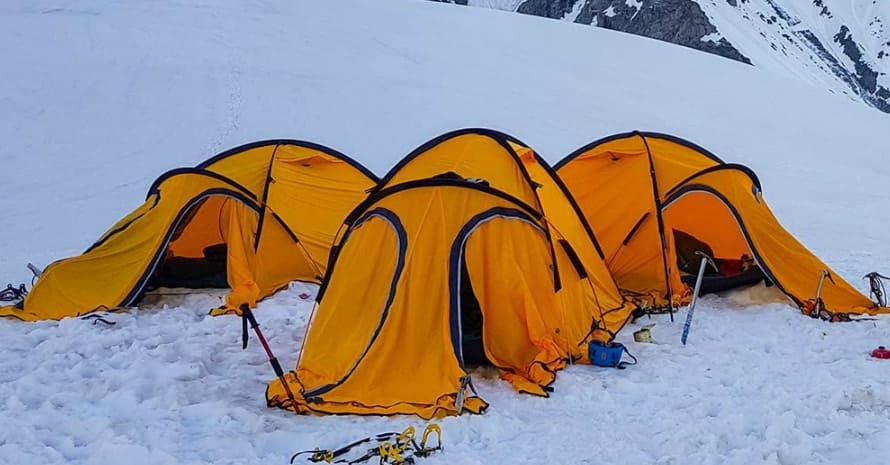 Here is what you need to pay attention to:
Livability. There must be a storage space. Don't forget about ventilation, and two entrances if it is possible.
Durability. Pay attention to the quality of fabric and materials that the poles are made of. No holes in the cloth.
Shape. Steep sides of the tent will help you to get rid of the snow, compared to the flat roof. There can be a single or double-wall.
Weight. Normally 4 season tents are heavier than 3 seasons. Make sure you can carry the tent in your backpack. Yet, I have put a PlayDo 4 Season tent on my list which can be transported in the car.
Multitasking. The tent has to be comfortable all season. No matter which activity you pick, you should be able to rely on the tent.
Price. All the tents on my list are in a similar price range on purpose.
What's the Winter Tent for You
If you don't want to buy any tent and then throw it away, you have to spend some time learning your options. The tent must have enough space for as many people as it claims to accommodate on the pack. The fabric must be durable and reliable. The poles have to be from lightweight aluminum. Don't look for the most expensive model. Look for the quality. If you have used one of these tents, please share your impressions in the comments below. How do you like it? Where did you use it? Was it strong enough in the severe cold?