It seems like the time is long gone when trekking poles were largely perceived as a fad rather than a highly beneficial, practical accessory for backpackers and hunters alike. Being a professional hiker, I've been seeing more and more people use them on the trails lately.
Indeed, there are many ways in which a pair of well-designed trekking poles can be of use to someone exploring the wilderness. Now that I have years of experience in all kinds of terrains, I never hesitate to include a pair in my hiking kit.
The key advantage of walking poles is the ability to relieve your feet and legs by re-balancing the body intuitively so that your arms are engaged in a helpful way that doesn't lead to excessive fatigue. Besides, by leaning on trekking poles hunting you are capable of sustaining a more regular rhythm.
As hunters, chances are high that you'll face a situation where you have to take a tricky path, and your viewing angle is rather poor. Luckily, you can rely on your hunting walking sticks to probe what lies ahead of you before you take the next step.
The scope of walking poles extends way beyond these basic uses for hunting enthusiasts, allowing us to set up a clothes line and even install an ultra-light floorless shelter.
This said, trekking poles surely deserve to be on your packing list for the next hunt. The question is which to choose. Below, I'll share with you my favorites that stand out due to certain essential features such as durability, shaft and grip material, adjustability, space-saving potential, and more. The parameters are all important when it comes to hunting walking poles, but there's always a tradeoff, so be sure to choose the model that best fits your needs.
What is the best trekking poles for Hunting?
In my opinion, one of the best trekking poles is the updated model of Black Diamond Trail Ergo Cork Trek Walking Poles. The brand of trekking and walking poles Black Diamond is known for its quality. The shafts of these aluminum poles are soft to the touch, with an ergonomic grip top and 100% natural cork grip for comfort. The fusion comfort strap provides support, while the FlickLock adjustability system lets you customize the fit. These poles are also compatible with carbide tech tips (included).

Amazon Bestseller
Top 8 Walking Sticks for Hunters
Each of the products below is outstanding in a certain respect. Since there are many parameters that govern the choice of trekking sticks, this list should not be interpreted as a rating where No. 2 is necessarily inferior to No. 1. It's your priorities and expectations that should determine the decision you make.
Introducing our best trekking poles for hunting
Black Diamond Trail Ergo Cork Trekking Poles: The Best Heavy Duty Trekking Poles
LEKI Legacy Lite COR-TEC Pole Pair: Easily Adjustable Trekking Poles by a Famous Brand
Black Diamond Distance Carbon Z Trekking Poles: Premium Collapsible Light Poles
Montem Ultra Strong Trekking Poles: Aircraft Aluminum Trekking Poles That Will Last
Cascade Mountain Tech Trekking Poles: Another Affordable Carbon Hunting Poles Model That Won't Break Your Budget
Paria Outdoor Products Carbon Cork Trekking Poles: Aluminum-Strengthened Carbon Telescoping Trekking Poles at a Fair Price
Equipeak Collapsible Folding Hiking & Trekking Sticks: The Best Trekking Poles for Hunting on a Budget
Foxelli Carbon Fiber Trekking Poles: The Best Carbon Fiber Trekking Poles on a Budget
1. Black Diamond Trail Ergo Cork Trekking Poles: The Best Heavy Duty Trekking Poles
Based in Utah, Black Diamond is one of the companies within the larger and more versatile Clarus Corporation, specializing in climbing, skiing, and hiking equipment. Apart from the US headquarters, the business has a global office in Australia.
Ergo Cork boasts a union of durable aluminum, which is the shaft material, and cork used to produce an easy-to-hold grip that's pleasant to the touch even when your hands are wet with perspiration from climbing. The grips come with built-in foam extensions for a lower gripping point during steep uphill climbing.
Another way in which they stand out is the ergo 15-degree "corrective" angle, meaning that you'll place the poles just the right way as you stride on, making maximum use of the accessory. The webbing strap that's attached to the handles for carrying is padded all the way round and wider than average for enhanced support and comfort.
This model is adjustable in terms of length, extending from 29" to roughly 55" due to the company's patented FlickLock levers. What I really appreciate about the locks is how unfailingly easy they are to open and fix in place, especially if you have multitool or a Phillips head screwdriver to adjust the tension in them. They are quite easy to collapse, too, and don't sink when you shift your weight onto the pole too quickly. As such the length range is also impressive, making this model one of the most versatile ones on the market.
Another feature that adds to this diversity is that the poles come with trekking and snow baskets so that you can use them on any terrain.
As for portability and weight, their poles are definitely on the heavy side. With a weight of 18.06 per pair, they are very unlikely to become a heavy burden but don't qualify as lightweight ones either, which is probably the biggest disadvantage of the model. If weight is not so critical to you, you'll probably find that excellent durability makes up for this shortcoming.
Since this is not a foldable model, you'll need a reasonably big backpack so that the poles don't stick out. Portability is thus another, yet minor, downside of this otherwise excellent product.
---
PROS:
Highly durable;
Ergonomic, non-slippery grips;
Great length range;
Quality length adjustment locks;
Trekking and snow baskets included.
CONS:
Not foldable;
Relatively heavy.
2. LEKI Legacy Lite COR-TEC Pole Pair: Easily Adjustable Trekking Poles by a Famous Brand
LEKI is a German highly specialized brand focusing only exclusively on the production of poles. Founded by an avid skier over 70 years ago, LEKI Lenhart GmbH launched its first skiing poles to bear the name LEKI in 1970, shifting from fiberglass shafts and baskets to aluminum plus composite. The company now makes a whole series of Legacy poles that it's dubbed the culmination of its experience in the sphere.
The poles in question are made of ultralightweight, high tensile strength aluminum that's combined Evocon COR-TEC 80% natural ground cork grips. They have an adjustable length of 39.3" to about 53", which means there are way more versatile models on the market. Please mind that there's also a women's option in the Legacy line, starting at 25.5" of usable length.
The SpeedLock + technology used for length adjustment works perfectly fine with no sign of slipping. The locks are easy to adjust manually on the go and don't need any additional tools, which is a welcome bonus.
Legacy poles will only pack to a length of 26.3", meaning that it's not the most portable model you can think of. The ease of transport is most probably sacrificed for increased durability and comfort over long distances. I must admit that the sticks themselves feel extremely stable and the grips leave your hands really dry and blister-free. The wrist strap deserves more than a passing mention for being extra wide and soft, too.
Two accessories come with the model, namely a carbide Flex tip and a traditional basket. However, the interchangeable tip system provides for easy replacement depending on the terrain.
LEKI Legacy Lite COR-TEC Pole Pair
Evocon COR-TEC grips feature the same "grip zone" dimensions as LEKI Aergon grips for all day trail comfort, support, and control. COR-TEC grip material is 80% natural ground cork for a more durable, biomechanical design.
---
PROS:
Very sturdy aluminum shaft;
Fault-free length adjustment locks;
Highly usable cork grips with extra wide straps;
Easy tip replacement.
CONS:
On the burly side;
Not very versatile.
3. Black Diamond Distance Carbon Z Trekking Poles: Premium Collapsible Light Poles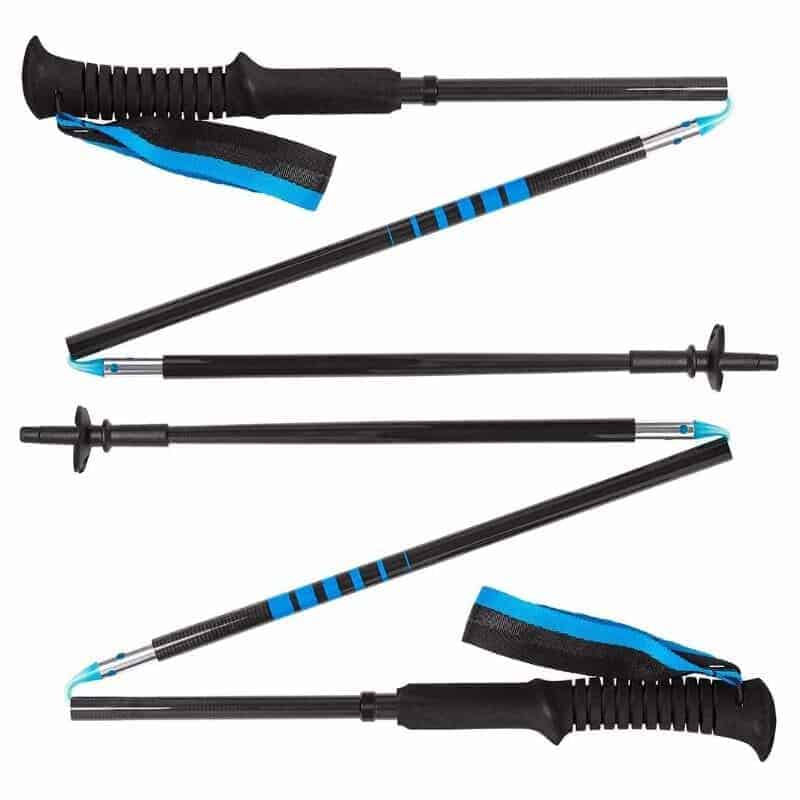 I've already commented on Black Diamond as a manufacturer above, so you can consult No. 1 on the list if you want more information about the brand. Unlike the previous model, however, these trekking poles are made of 100% carbon fiber, making them a more advanced and weight-conscious option.
With a weight of only 10.4 oz per pair (sic!), these are one of the lightest trekking poles on the market, which of course comes at a cost — the price is no less premium than the quality. You might remember from a review above that carbon is generally less durable as compared to aluminum, and I wouldn't recommend this model as an extra sturdy option.
Still, it has very decent durability and is perfectly stable. Extra support has been added around the locking mechanisms to make them last, and the joints have been stiffened for prolonged life to compensate for the not-so-sturdy material.
One thing you notice immediately about these poles is that they aren't adjustable, which is a major disadvantage for those who value versatility rather than light weight. Instead, you can choose from four sizes: 39", 43", 47", and 51", packing down to 13, 14, 16, or 17 inches respectively. As a bonus, the fixed length prevents any slippage and guarantees the optimum fit provided that you've purchased the length you need.
The locking mechanism is very secure and a breeze to use on the go as it's shaped as a push button in the top section of the pole. The handles are dry, ventilated, skin-friendly EVA foam, but the wrist band doesn't provide for much of adjustment, which can be a problem for people with bigger hands. Otherwise, these poles are easy to hold and use.
No basket is included with this model, but it claims compatibility with BD's Z-Pole Snow Basket.
Black Diamond Distance Carbon Z Z-Poles, 100
Perfect for your mountain adventure: The lightest Carbon poles weighing only 280g per pair are foldable and are easy to carry - perfect for travelling, hiking, trail running / Ultra endurance
---
PROS:
Super lightweight;
No slippage;
Durable for the weight;
Well-designed grips.
4. Montem Ultra Strong Trekking Poles: Aircraft Aluminum Trekking Poles That Will Last
Unlike the above giants, Montem is a very modestly sized business that offers a selection of about 20 trekking pole models plus some other backpacking products. It's thus walking sticks that the company relies on, and I should say that the choice is considerably big.
I've chosen Montem Ultra Strong exactly for what the name advertises, namely increased sturdiness as compared to other poles. This is achieved by using aircraft grade aluminum 7075 rather than cheaper alloys and applying treatment processes that prevent brittleness. To prove its excellence in this respect, Montem offers a lifetime warranty, promising to replace broken poles for free at all times.
These poles are a collapsible model that can be adjusted from 24" to 53" in length, which is a very impressive range but comes at the cost of a very exacting locking mechanism. You'll probably have to try and adjust it more than once to prevent slippage as you exert pressure on your poles.
Each stick weighs 9.6 oz, making it a reasonably heavy model that won't weigh you down too much. Besides, they pack relatively well due to being collapsible. As a bonus, there are seven shaft colors to choose from, including bright pink.
The EVA foam handles boast an elongated bottom grip of the same material but shaped differently for extra convenience and an extra soft padded nylon wrist strap. Four carbide tips come with the poles to have you covered for any terrain, including mud and snow.
---
PROS:
Extra durable aluminum shaft;
Well-designed foam handles with a long bottom grip;
Versatile tip set included;
Highly adjustable;
7 colors to choose from.
CONS:
Difficult-to-adjust length adjustment locks.
5. Cascade Mountain Tech Trekking Poles: Another Affordable Carbon Hunting Trekking Pole Model That Won't Break Your Budget
Cascade Mountain Tech is a US-based outdoor product manufacturer that makes all kinds of things from sleeping bags to stadium seats and everything in between. It also offers a line of affordable yet highly functional trekking poles, and the Carbon Fiber version under review lies in the middle-up section of it.
If you're looking for the light weight of carbon combined with the affordability that aluminum brings about, this model can be a viable entry-level solution. The main reason why I see it as very basic is that the EVA foam + cork handles feel too rubbery to the touch for a high-end pole. The lower extension is quite comfortable to grip due to its ridged surface, but the synthetic cork is too hard and even slippery. Finally, the wrist strap lacks some soft padding and won't feel good over long distances.
Otherwise, however, these poles offer great value for the money. With a weight of 7.8 oz per piece, they are neither what you might call the best ultralight trekking poles nor an unreasonably bulky unit. The length can be adjusted within a range from 26 to 54 inches, making it a highly versatile model that will probably fit adults and kids alike.
The bonus tip kit includes snow baskets, rubber feet, boot tips, mud baskets, and a carrying clip for ease of transportation. The poles feel stable and moderately durable considering the material that they are made of.
Sale
---
PROS:
Affordable carbon model;
Reasonably lightweight;
Mud and snow baskets included;
Highly adjustable length.
CONS:
Rubbery synthetic handle.
6. Paria Outdoor Products Carbon Cork Trekking Poles: Aluminum-Strengthened Carbon Telescoping Trekking Poles at a Fair Price
Headquartered near the Rocky Mountains in Colorado, Paria Outdoors offers a range of outdoor products from sleep systems to apparel, attaching special importance to lifting the cost barrier that might keep some people from exploring the great outdoors.
Although somewhat pricier than the two affordable carbon models reviewed above, these poles still have a modest price tag while combining lightweight carbon fiber as shaft material with durable aluminum joints. Unfortunately, they are somewhat burly, weighing as much as 9 oz per piece, which is subpar with carbon poles. This doesn't prevent the model from delivering excellent packability as it folds to just 15 inches for storage.
Depending on your body shape, you can choose between two adjustable length ranges, namely 39" to 47" or 45" to 53". This is not nearly the most versatile model in terms of size, but the length adjustment locks are perfectly sound with no slipping as you shift your weight onto the pole.
The handle is made of well-ventilated genuine cork and shaped ergonomically with an extended lower grip for extra comfort, enhanced by the extremely wide wrists straps.
A set of tips of various materials is included, namely rubber for paved areas, metal for the trails, and baskets in case it's been snowing, or the road is muddy. Besides, a storage bad is included for extra convenience.
---
PROS:
Fair price;
Durable design;
Great handle;
Reliable locks;
Very compact when stored.
CONS:
Burlier than average for carbon.
7. Equipeak Collapsible Folding Hiking & Trekking Sticks: The Best Trekking Poles for Hunting on a Budget
Little is known about Equipeak except that it mostly makes highly affordable trekking poles that are designed to last. While brittleness is a common problem with reasonably lightweight inexpensive models, these folding walking sticks can withstand the hardships of a lengthy hunting session.
The shaft is made of ultra-tough 7075 aviation grade aluminum and features a single flick lock for height adjustment, while the pole is otherwise a solid single piece when unfolded. Vulnerable areas are therefore minimized, making it a sturdier alternative to most cheap models. Unfortunately, the weight is as high as 10.5 oz per pole, so I can't recommend these Equipeak sticks to anyone who's concerned about arm fatigue.
The handle is luckily very well-made, and it combines a real cork top with an EVA form easy-to-grip lower extension and a highly adjustable, although not exactly super soft, wrist strap. The model comes in two sizes, S (45" to 53" adjustable length) and (L 39" to 47"). No slippage has been observed with the flick lock.
A set of tips is included, namely a pair of tungsten carbide attachments with protective rubber caps and versatile snow/mud baskets, which is fairly enough for most terrains.
---
PROS:
Inexpensive;
Super sturdy and stable;
Excellent cork handle;
Tips included.
CONS:
Length adjustment range could be wider;
Heavy.
8. Foxelli Carbon Fiber Trekking Poles: The Best Carbon Fiber Trekking Poles on a Budget
Foxelli Outdoor Gear is a relatively new brand registered in Indiana. The company offers a wide range of hiking equipment and accessories, as well as activewear, hunting and fishing products, and a variety of lanterns. According to the business's website, its approach is largely centered on delivering high-end quality at agreeable prices, and these trekking poles seem very true to the philosophy.
Unlike the previous model on the list, these Foxelli sticks are made of 100% carbon. The main advantage of this material over the more traditional aluminum is lightweight, which translates to as little as 7.6 oz per pole in this case. This reduces the burden on you like a backpack hunter while also relieving your arms. Foxelli also notes that carbon is known for its shock-absorbing properties, thus minimizing the stress on your joints.
One downside of carbon is that it's generally less durable than aluminum and might crack. However, these walking poles appear to be reasonably sturdy given the price and material.
The length of this model can be adjusted from 24" to 55" — a very decent range offering great flexibility. The manufacturer suggests the poles as suitable for men as well as women and even children. What I've found disappointing about the design is how the locks are prone to slipping, especially as you catch on a pole. It's still true, however, that they are extremely easy to lock and adjust.
The poles feature an ergonomic full-length cork grip to prevent slipping when your hands are wet while also minimizing the risk of blistering. These have relatively wide, soft padded straps that make it comfortable to carry the poles, and a low-fitting foam extension adds a nice touch for situations when the terrain changes suddenly, causing you to change your grip.
This model comes with as many as six tips that allow it to accommodate to any terrain, from snow to gravel to sand and a storage accessory.
Sale
---
PROS:
Lightweight;
Comfortable cork grip with foam extension;
Inexpensive;
Big adjustment range;
Bigger-than-average set of accessories included.
FAQ
Does trekking pole weight matter?
The weight of a trekking pole only matters when you're carrying it. Heavier poles are usually stronger, but if you're not using them all the time, the weight matters. That's why people who hike long distances or backpack light prefer a compact, lightweight pole. Trekking poles are worth the extra weight because they help reduce the strain on your body.
What material is best for trekking poles?
There are two primary choices when deciding what material to use for trekking poles: aluminum or composite. Aluminum is durable, less expensive and a bit heavier than composite materials. Composite materials such as carbon fiber are strong and lighter than aluminum.
Is Leki a good brand?
Yes. Leki is a good brand of hiking poles. They have comfortable handles, great locking mechanisms, and light weight. They are ultra-compact, only 15.5 inches long when folded. The foam grips and wrist straps are also some of the most comfortable for bare hand use. Most of LEKI's products are made in a factory in the Czech Republic. Leki poles are smoothly adjustable, ensuring that all hikers can find the optimum height.
Takeaways
There are many parameters to consider when shopping for walking poles as a hunter, depending on your normal backpack layout, the type of terrain that dominates your area, and the primary purpose for which you are going to use the accessory. It's thus not necessarily true that top rated trekking poles will fit your needs perfectly.
It's all about the tradeoff between weight and durability since carbon tends to be more brittle than the heavier aluminum, as well as the adjustability vs. ease of use dilemma. Which to choose is always a matter of preference.
Some people like to get a fixed-length pair rather than tweak the adjustment locks repeatedly until slippage is precluded, while others appreciate the versatility that a wide adjustment range offers. The latter option might appeal to those likely to share their purchase with family members of different body shapes if they don't feel prepared to invest in two pairs at once.
Finally, make sure you have the right set of attachments to match your trekking poles as terrain can get tricky at times, requiring mud baskets or even sand-friendly tips depending on where you usually go hunting. It's not the most essential feature, though, since you'll probably be able to purchase any tips that you lack later on.
Do you normally use trekking poles while hunting? If yes, how? Feel free to share some clever solutions in the comments section!