Do you like camping and hiking in the countryside as much as I do? Then you've had to sleep in a camping tent more than once. It works best if you have a large sleeping mat for a comfortable rest. But how do you choose it from a large number of offers? I'm a hiker used to overnight stays in the countryside. I'll help you choose the best camping sleeping pad for big guys. I know how hard it is to choose a comfortable sleeping bag mattress pad for tall guys with big build. In this article, I will not only share an overview of the best models of sleeping mats but also tell you the general rules for choosing one.
The problem with many mass-market camping mattresses is that they have no anatomical support. Incorrect stiffness or a size too small may cause back pain after one night in a tent. But is that what you might call a comfortable rest for a tourist? I've been looking for a camping sleeping pad for big and tall guys. And after testing numerous models, I can share my opinion with you.
What is the Best Camping Sleeping Mattresses for Big Guys?
In my opinion one of the best sleeping pad options for big guys are TETON Sports Outfitter XXL Camp Pad or Lightspeed Outdoors XL Super Plush FlexForm Premium Self-Inflating Insulated Sleep and Camp Foam Pad. Both models have proven to be great for tall people and obese people. For example, the Lightspeed Outdoors XL model can support up to 350 lbs.

Amazon Bestseller
Review of the Best Camping Sleeping Mattresses for Big Guys
To compare hiking mattresses for tourism, I took into account the most important factors and characteristics. Among them are type of material, mattress density, its anatomical properties, water permeability, thermal conductivity, and others. When choosing a large sleeping pad, you should put the cost on the back burner and pay attention to the performance characteristics.
Teton Sports Outfitter XXL — Best Camping Sleeping Pad for Big Guys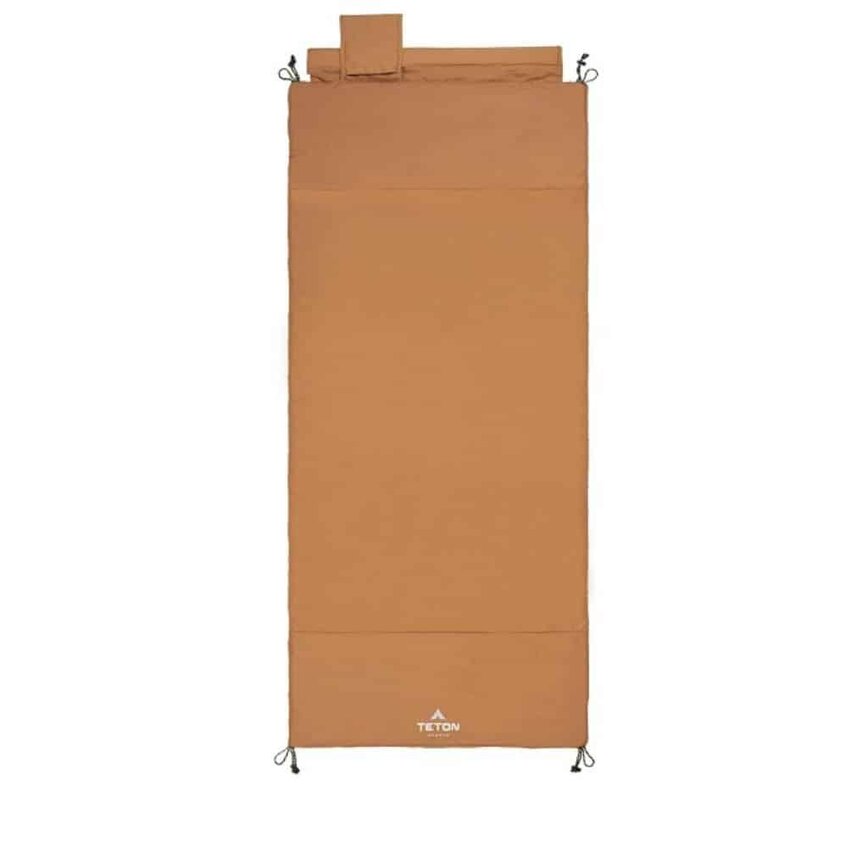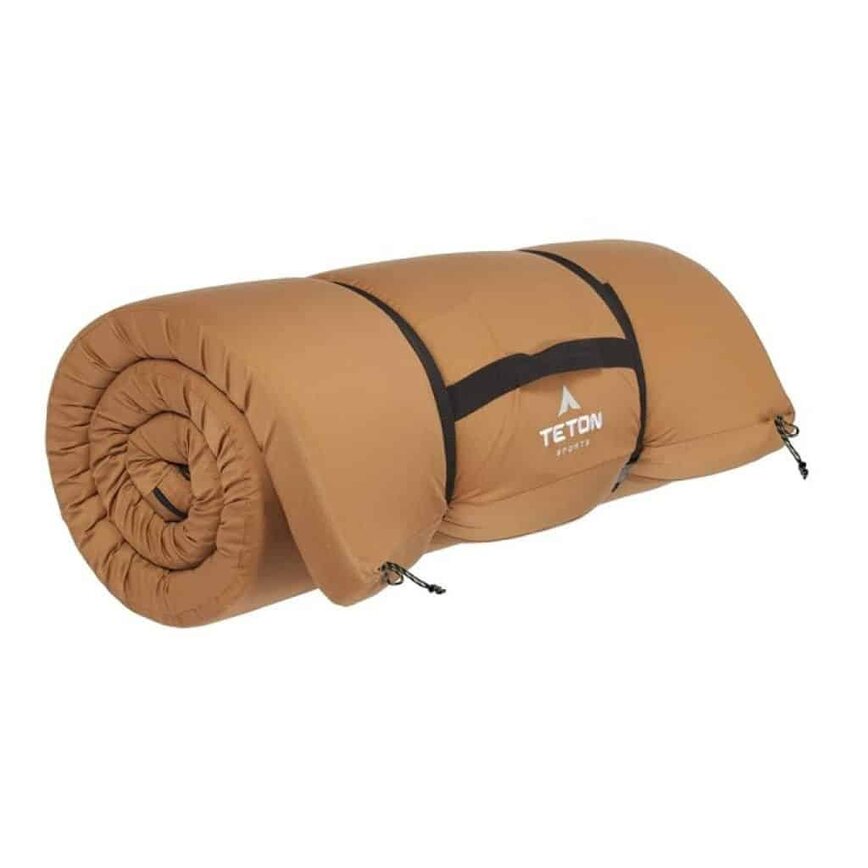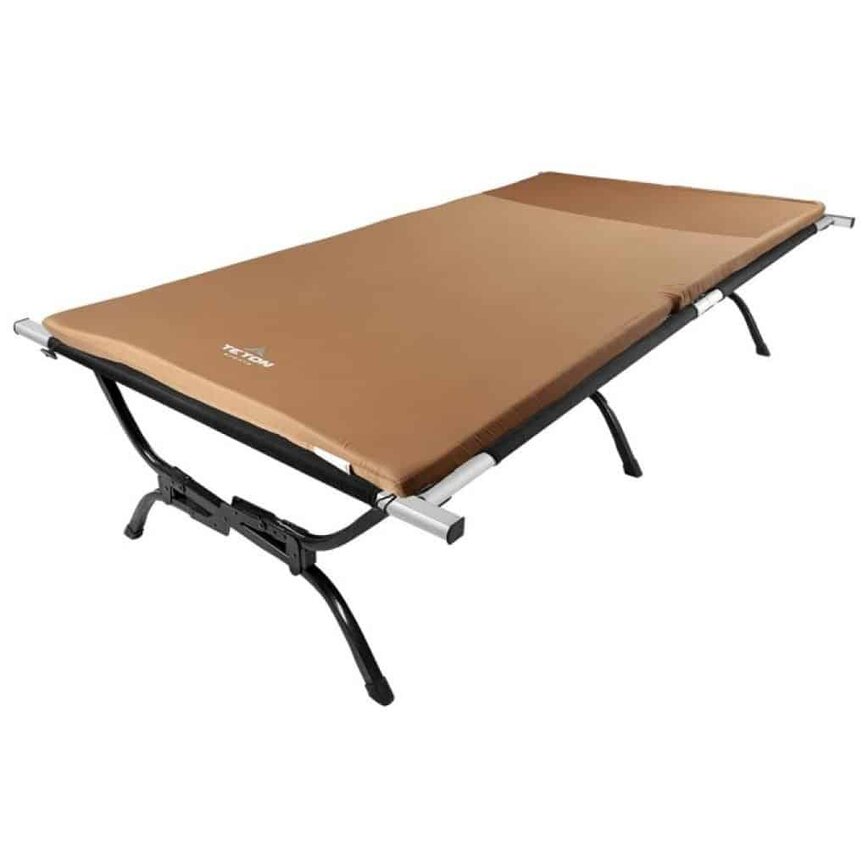 One of the first contenders for the role of a comfortable camping mattress is the Teton Sports model. This extra long sleeping pad is not in the budget category. But its size is impressive —82 x 38 x 2.5 inches. But if you want, you can also choose the compact version at a lower price.
The peculiarity of the camping mattress is its foam base. It is not exactly foam, but a material with the property of anatomic support. In addition to the porous material, the mattress filling has a thermal insulation layer. It reflects the body heat and keeps it for a long time. And this sleeping pad is also waterproof, meaning it'll protect you against moisture and damp ground.
I like the mattress upholstery material from Teton. If you look closely at the Teton Sports Outfitter XXL Camp Pad on photo or video, you will notice this feature. When you lay your mattress out after a long time, it remains smooth.
The weight of the mattress is only 9 pounds. You can wear it on your backpack and fasten it with unique straps. Flexible elastic bands are attached to the side, which allows you to fix the camping cushion even on a metal frame.

---
PROS:
Internal thermal insulation layer;
Ability to choose the needed size;
Practicality;
Strength of the lining.
CONS:
The mattress is too soft;
Heavy weight.
---
You can really use these lightweight sleeping bags for big guys camping. But pay attention to the cost. The manufacturer of Teton never sells cheap and substandard things.
Lightspeed Outdoors XL Super Plush — Large Sleeping Mat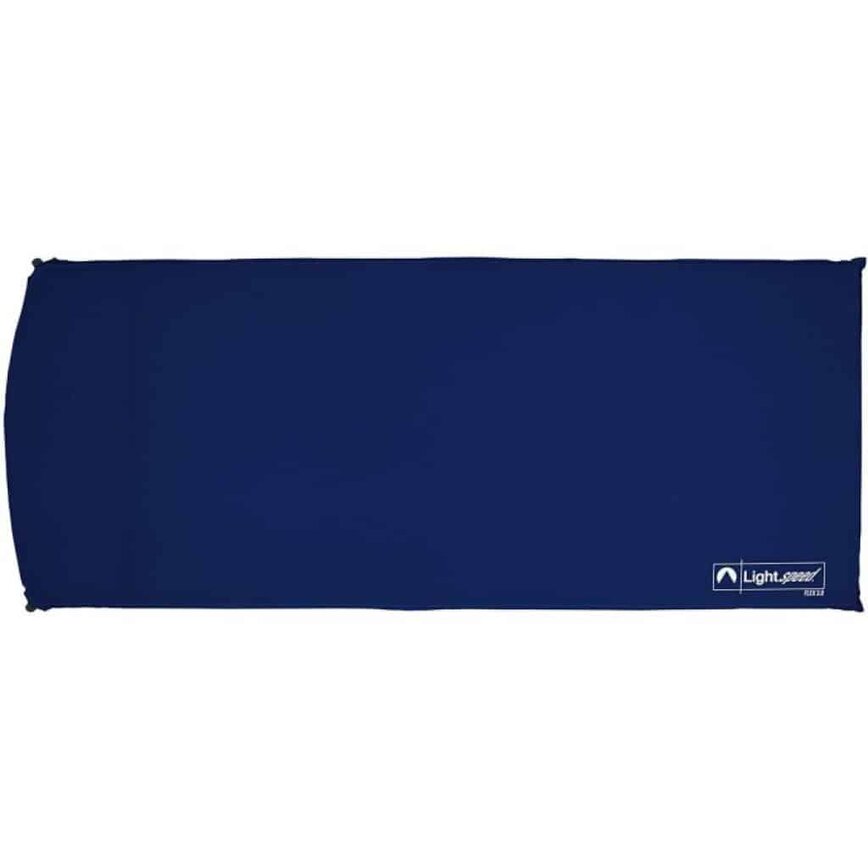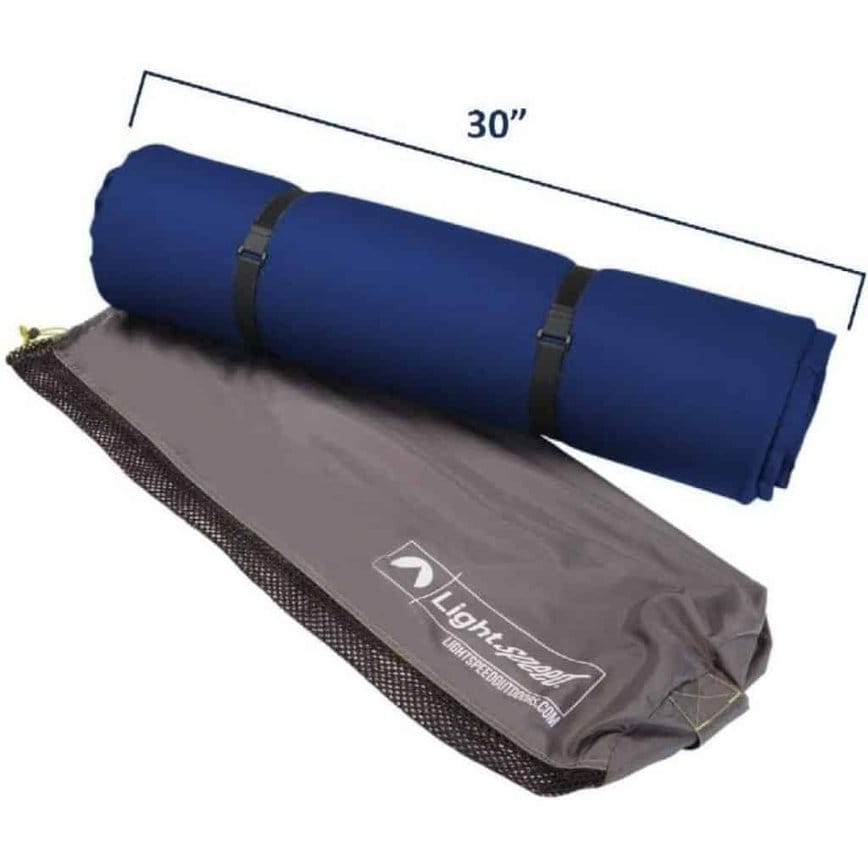 Lightspeed Outdoor was established in 2009. Under this brand, products for tourism and outdoor activities are produced. I can recommend the Super Plush Camping sleeping pad as I like it. The Thick sleeping mat inflates on its own, but you can pump it even harder if necessary. The sleeping bag case is covered with a special wear-resistant knitted fabric in dark blue. You do not have to worry about scratches on the surface or the risk of puncture. I have been using this model for a while, and I have never damaged this self-inflating camping pad.
This sleeping bag model is the most technologically advanced I've ever seen. For example, you will like the elasticity of Lightspeed FlexForm fabric. This is an exclusive development by Lightspeed Outdoor. On hot nights, the body does not sweat but preserves the natural temperature level. It is comfortable to sleep on such a surface at any temperature. And also, this sleeping pillow has a high R-Value of 9.66. This means that even on cold nights, the body won't overcool. And the insulation layer preserves the body's natural heat.
But for the first time, I chose the best inflatable sleeping pad because of its 30″ x 77″ x 3″ size. Even a person with a large body will feel comfortable in a tent.
The self-inflatable sleeping bag weighs 6 feet. Above I described the Teton Sports Outfitter XXL Camp Pad, which weighs as much as 9 feet. If you choose between these two camping pillows, then consider the weight. After all, you'll have to carry a bag for a long time in your backpack.
The covering material of this mattress is flexible polyester with laminated coating. It's a synthetic hypoallergenic material.

---
PROS:
It's a lightweight 6-footer;
Adjustable stiffness by air;
Self-inflating system;
Large sleeping size;
Comfortable elastic fabric FlexForm.
CONS:
Lack of anatomical support due to the inflatable design.
---
You won't have any difficulty using this mattress, as it inflates itself. You won't need a pump for that. A special foam with air pores is used as a filler. All you need to do is open the air valves, and it'll turn into the lightweight backpacking sleeping pad by filling the foam with air through multiple holes. After that, you need to close the valves. If necessary, you can increase the rigidity of the mattress by manually inflating the air with a pump. But in practice, I never needed this.
I have no back or neck problems, so I do not need professional anatomical support for my mattress. Not sure if this mattress is suitable for those with back and neck problems. But in other cases, it will become an indispensable assistant to any tourist.
Sleepingo Camping Sleeping Pad — Lightweight Backpacking Sleeping Pad
The blow up sleeping pad for camping from Sleepingo is compact and lightweight. It's the best choice for those who don't want to carry the extra weight of 6-9 pounds. After all, the Sleepingo camping pillow weighs only 14.5 ounces. And when folded, it's the same size as a small bottle.
As an experienced hiker, I wouldn't say I like to sleep on inflatable mattresses. But this model is different from others. It's only 2.2 inches thick, which allows it to fit on any surface comfortably, even on the ground or wet grass. The use of unique nylon material ensures durability. It is almost impossible to damage it, even with sharp objects. You can only tear this camping mattress up on purpose. As far as I know, the cladding material is additionally treated with TPU. It's a protective and repellent layer, which makes the cushion completely waterproof. It is as convenient to take this comfortable sleeping bag on a difficult tourist route as on a simple walk in the woods. You may want to take a break for a while and lie in the woods. This is not a problem as the folded Sleepingo sleeping bag is only 8×3.5 inches in size.
But this sleeping bag is not designed for winter. The R-value is only 2.1. It is, therefore, more comfortable to use a sleeping pillow in summer, spring, or early autumn. There is no thermal insulation layer inside, so if you need to sleep on it in winter, better wear clothes or use a thick blanket. I recommend taking this camping sleeping bag with you during warm seasons. This way, you will feel all the advantages of the inflatable construction and features of the TPU coating of high durability.
Note that the sleeping bag consists of many cells filled with air. The manufacturer writes about anatomical support, but it is not there, though sleeping in it is very comfortable.

Sale
---
PROS:
Compact and lightweight;
Sturdy and wear-resistant;
Withstands more than 300 feet of weight.
CONS:
Suitable only for warm seasons;
Needs to be inflated manually.
---
Hikenture Double — Camping Sleeping Pad for Big and Tall Guys
Many of us pay attention to size first when choosing camping sleeping bags. Once I found the Hikenture Double, which is 78.7 x 47.5 x 3.75 inches in decomposed form and weighs 3.64 pounds. In folded format, the inflatable sleeping bag is only 14 x 6 inches.
The width of the sleeping bag allows space for two people. You can take it not only on a camping trip but also to create a sleeping space in the car. This model is inflatable: you'll need a bag pump or any other pump for it. Manufacturers have added two different valves to the design for pumping air. On average, filling the sleeping bag Hikenture Double with air takes up to 5-6 minutes in the field.
TPU polymeric fabric is used here as a cladding material. The sleeping bag is completely waterproof. But it should not be used in cold seasons, as there is no thermal insulation layer inside. The barrier against dampness and coolness is air filling.
According to the manufacturer, no PVC material was used in the production of this sleeping bag. That's very good because I hate sleeping on synthetic plastic. In warm seasons, ordinary rubber inflatable mattresses emit a lot of sweat. And in the morning after a long sleep, you can wake up and feel back and neck pains. I don't think that's going to happen with this model of sleeping pillow.
The kit includes an optional pump bag and a storage and transport case. You will have no problem using the sleeping bag pump. To do this, open a large valve, which is explicitly designed for a standard sleeping bag pump. Next, insert the pump connector into the valve and draw air into the sleeping bag. Then move the air from the pump into the sleeping mattress. At first glance, this seems inconvenient, but in practice, no effort is required. And a couple of minutes is enough to provide a comfortable two-bed sleeping place.
I recommend using this model of the inflatable sleeping bag during outdoor activities. But for extreme hiking in the woods and mountains, I would choose another model with insulation.

---
PROS:
Accommodates two people;
Lightweight;
Pump-bag comes with the kit;
Withstands heavy loads and fits even bodybuilders or overweight people.
CONS:
No anatomical material inside (only air).
---
Big Agnes Q Core SLX Ultralight — Inflatable Hiking Mattress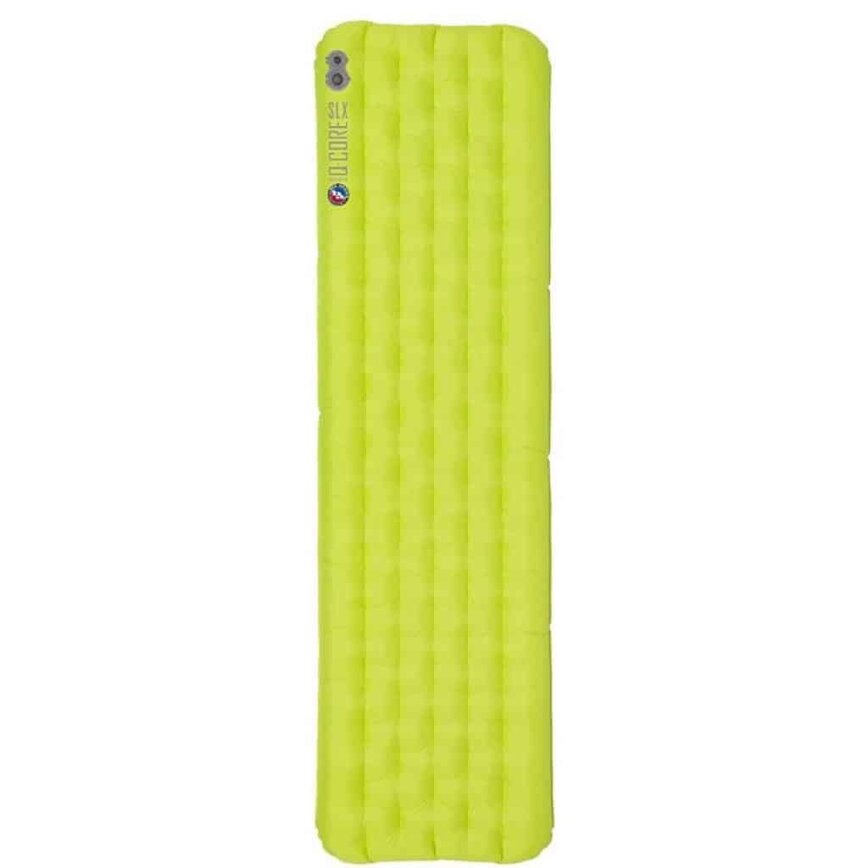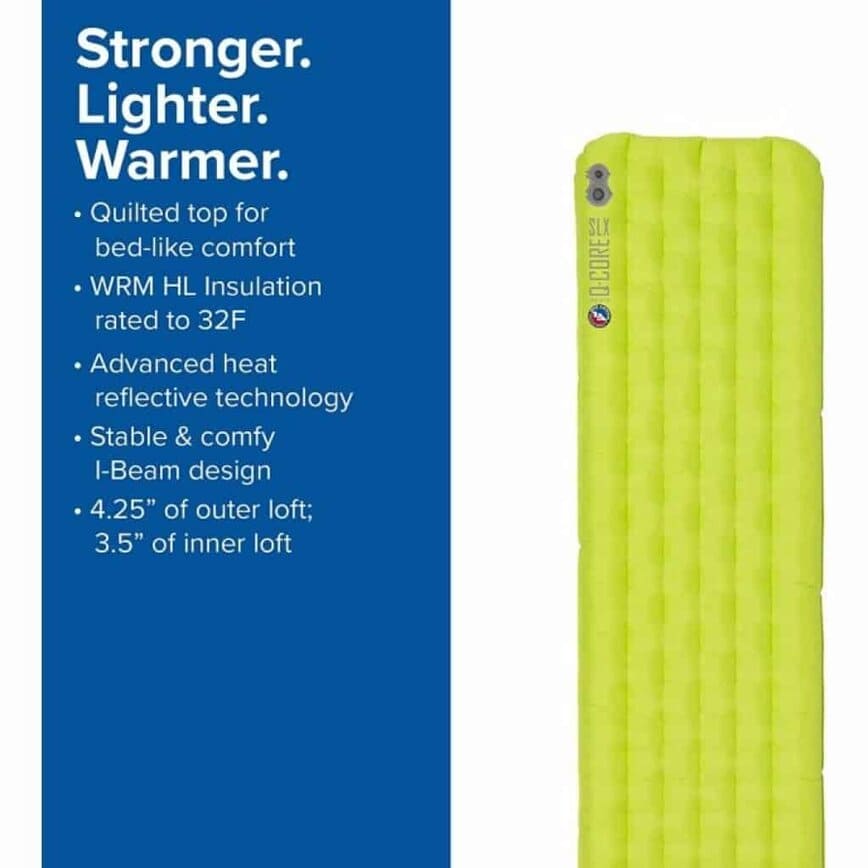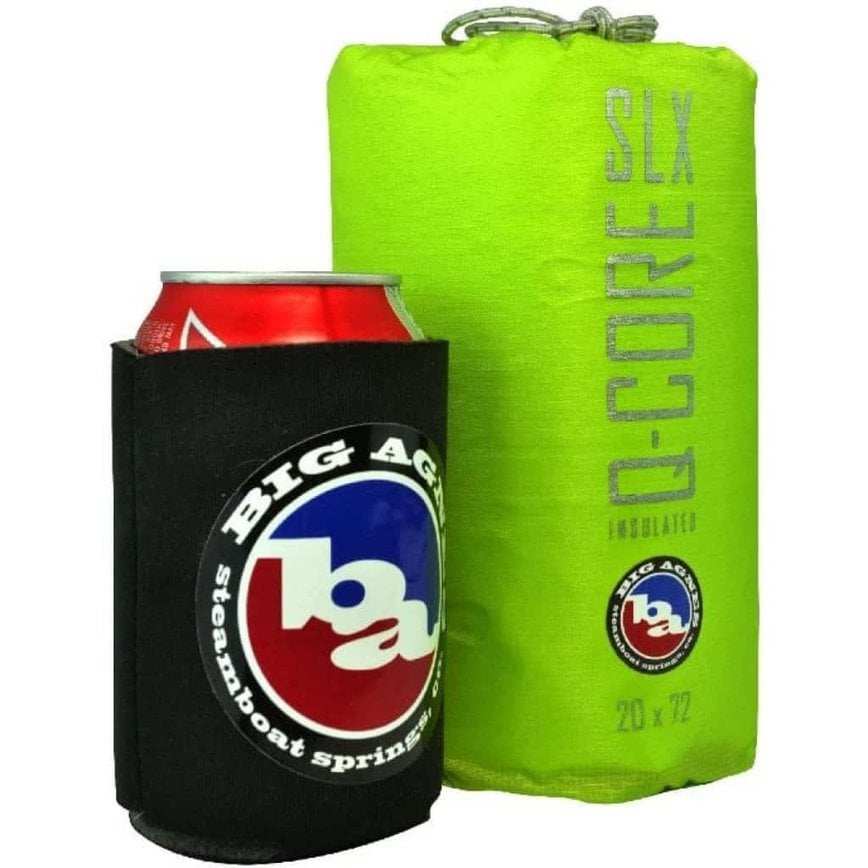 At first sight, the sleeping pillow Big Agnes Q Core SLX Ultralight seems to be a simple inflatable mattress, which many of us use at the beach. You can appreciate all the advantages of the model for camping and active rest only in real conditions. The manufacturing company offers a wide range of professional tourist goods. Among them, there are all kinds of accessories and even clothes. But today we make a review on Big Agnes Q Core SLX Ultralight Sleeping Pad.
The design of the sleeping pad is minimalistic. The longitudinal elements are filled with air, which provides equal support for the back, legs, head, and neck. Despite the absence of anatomical material inside, sleeping on an inflated camping mattress is comfortable. It will serve you great for three seasons (summer, spring, and autumn). For the cold season, it's better to choose an insulated sleeping place from other brands.
The manufacturer offers to buy one of several models of the sleeping mattress. They all have WRM HL or PrimaLoft Silver insulation. And the most expensive version additionally uses thermal insulation film. All Big Agnes Q Core SLX Ultralight mattresses are waterproof so that you could put them right on wet ground. The upper part always remains dry and warm.
You can choose your bed size. The most popular model has a size of 25 x 78 inches. But there are other options: 20 x 72 and 50 x 78. The last-mentioned size is the largest, so it is more often chosen by big guys, bodybuilders, or men with a non-standard figure. Sleeping mattress weight ranges from 16 to 21 ounces.
The company claims to be using several technologies:
TOASTY WARM;
EASY INFLATE;
ULTRALIGHT & RUGGED.
TOASTY WARM is a thermal insulation layer, which is used in sleeping mattresses of this manufacturer. Thermal insulation is present in all models. But still sleeping on such inflatable pillows is not recommended in winter.
EASY INFLATE is the name of a special technology of external air valve. It does not include a pump, so you will need to inflate the mattress manually or use a pump from another manufacturer. This will take 5-8 minutes in the field. It is a good thing the manufacturer has taken care of the antimicrobial coating near the valve. It would be best if you would not be afraid to use your breath and lean your mattress against your mouth while inflation is taking place.
Another unique technology of Big Agnes Q Core sleeping pillows is ULTRALIGHT & RUGGED. This is the name of the special fabric, which is additionally treated with aviation material TPU. In practice, it is almost impossible to tear such a bag. You can only do this if you sleep on a blade.

---
PROS:
Lightweight and robust construction;
You can choose your own size and color;
Application of innovative materials.
CONS:
There is no pump in the kit.
---
Premium Self Inflating XL — Self Inflating Camping Pads
Premium Self Inflating XL is one of the most comfortable backpacking sleeping pads for the cold season. The self-inflating mat inside contains foam for comfortable rest and anatomic support. I miss this effect in conventional air-filled inflatable mattresses.
The upholstery material used is a dense 210T leather. You will not be able to pierce it in natural conditions. That's why the Self Inflating XL sleep mattress can last for many years. It's perfect for men with large body size, like me. 74.8 inches long and 29.5 inches wide, it can comfortably accommodate one person in a tent of any size. The sleeping bag weighs no more than 2 pounds and 10 ounces.
The package includes a special pouch, which is convenient to carry and store the sleeping mattress. For filling the pad with air and deflation, manufacturers added a large valve. Due to the presence of foam inside, the mattress will start to inflate itself as soon as you decompose it and open the valve.

---
PROS:
Anatomical support due to foam inside;
No need to inflate manually;
Big size;
Sturdy.
CONS:
It's only 1.8 inches thick.
---
Ubon Double — Self-Inflating Sleeping Pad for Big Guys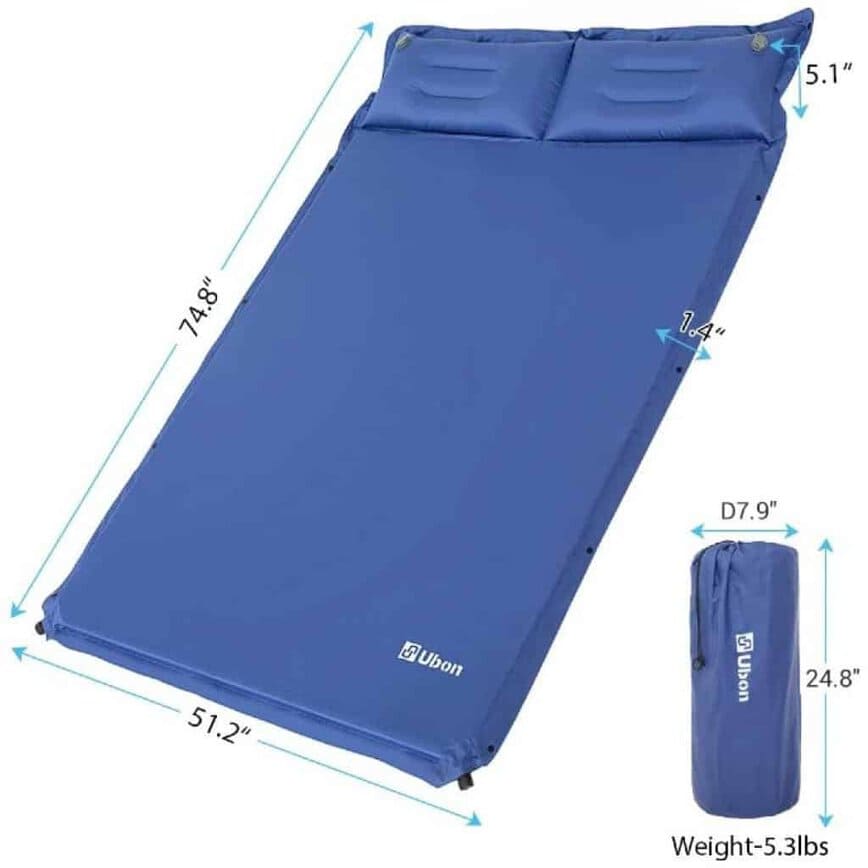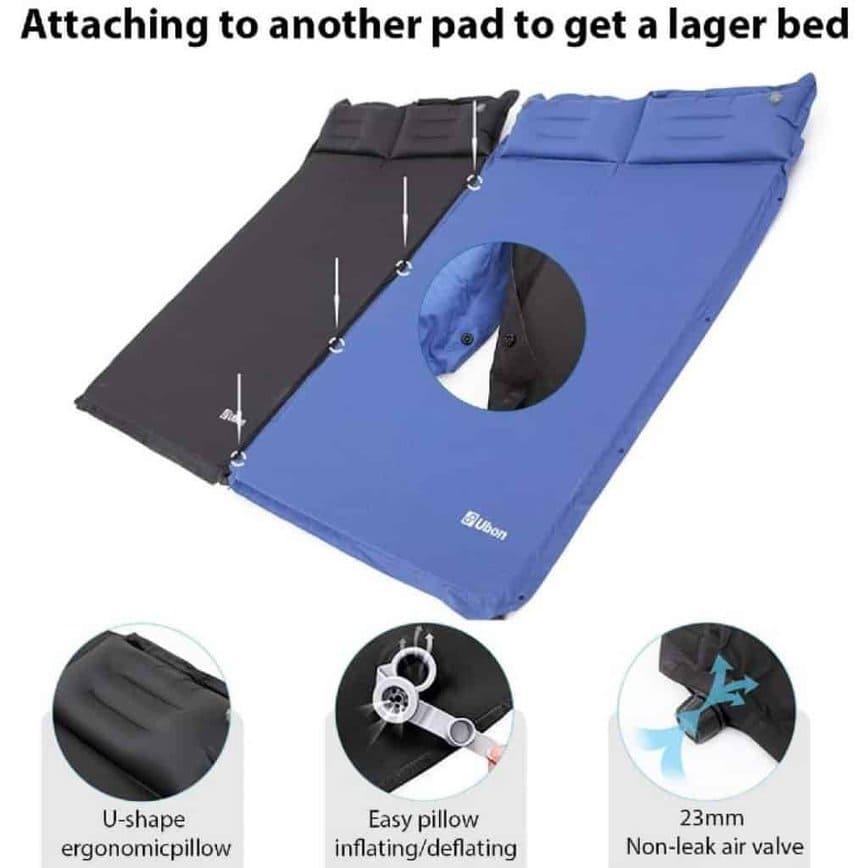 Ubon Double Self-Inflating is a self-confident camping mattress for two. You can comfortably stay on it with your friend or partner or just keep it to yourself. It fits in any double camping tent. The automatic inflating is due to the presence of foam material inside. It is enough to open a large valve and spread the mattress, watching the effect. You will not need to use a pump.
The upholstery material is protected from damp and other natural phenomena. Wear-resistant fabric cannot be damaged by regular use. But in case of an emergency, you can use a repair kit and seal the formed hole with lacquer.
The Ubon Double mattress is large but only 1.4 inches thick. So it is convenient to use it on flat surfaces only. Due to the foam material inside, the camping mattress is suitable for all four seasons of the year.

---
PROS:
Lightweight and practical double mattress;
No need to inflate manually or with a pump;
Can be used for any season.
---
Buyer's Guide
Answers to the most common questions about sleeping dad will help you decide your choice.
How thick should your camping pad be?
The thickness of the sleeping bag is the main factor of future comfort. Remember that sleeping on a thin camping mattress will be less comfortable than sleeping on a soft and thick one, even if the manufacturer claims quality insulation and anatomical support. Optimum thickness is 2-3 inches, and the commonly accepted standard is 2.5 inches or more. If you use thinner sleeping bags, you will feel uncomfortable. For example, if it's 1.5 inches thick, you may touch the floor while sleeping, which is uncomfortable on uneven surfaces. Of course, on the beach, you will sleep comfortably on a thin mattress, but in the mountains or rocky terrain, it is better to give preference to thicker models.
What kind of fabric should you look for?
The choice of sleeping pillow material depends on budget and tourism conditions. The cheapest models are made of foam plastic. They do not inflate at all and have no pores, so they simply fold. We are not talking about any anatomical support here. Therefore, for comfort, it is better to choose models with foam inside. On the outside, they can be covered with rubber, textile, and PVC-free polymeric fabric. The main thing is that the material is not slippery and practical. Sleeping bags made of synthetic have air inside, without any insulation.
How big should your sleeping pad be?
The size of the sleeping pillow depends on the build. The length of the sleeping space should be no less than 72-75 inches. The standard width of a camping mattress is 20 inches. But with my average body size, that's not enough. The standard width will not be enough to place your hands while you sleep comfortably. I would recommend choosing models 25-30 inches wide so you can relax in different positions.
You can buy a two-bedroom camping bag for one big guy or two people if needed.
Durability of your sleeping pad
The strength of your sleeping pillow is affected by the upholstery material and filler. The durable models are made of rubber and filled with foam-free air. Of course, few people use inflatable mattresses for camping. But you should know that they don't have enough durability. The most rugged models are the ones made of solid foam without pores. Their disadvantage is their rigidity and lack of anatomical support. Optimal options are sleeping bags with textile or polymer upholstery, water-repellent impregnation, and foam filler.
Now You Know All About the Best Sleeping Bags for Camping
The camping sleeping bag should be in every tourist's backpack. But manufacturers offer too many models made from different materials that come in various sizes, shapes, and fillers. I hope this article has helped you to understand the variety of sleeping bags.
I have a big build, so I'm cautious about my camping equipment. A quality sleeping bag cannot be small in size. I prefer thicker models that are over 75 inches long and 25 inches wide. If you have a non-standard build, this is the sleeping bag size that will suit you. Maybe you have some questions about choosing your sleeping pad.