How to make a trip fun and unforgettable? Of course, by taking your four-legged friends with you! No, it is not necessary to carry them in a backpack on your shoulders. Even better, you can put their own backpacks with bottles of water and favorite toys on them!
In this article, I picked ten best backpacks that are perfect for joint walks with your pet. Believe me, such equipment perfectly disciplines dogs. They feel needed as they are doing responsible work. And carrying extra weight provides a good workout. Besides, you can lighten your own load and transfer some of the things (within reasonable limits) to a dog hiking backpack.
You should pick such equipment wisely and foresee all the possible inconveniences because your dog will not tell you that the straps are pressing too much, or that the fabric is too stiff. Take into account the individual characteristics of a breed, age, and health of a particular pet.
Be sure to choose a lightweight, spacious backpack that, when fully filled, won't weigh more than 10-12% of the dog's own weight. Although most models are available in different sizes to fit all breeds, make sure that a backpack has adjustable straps.
My Top 10 Best Dog Backpack for Hiking
In my top, there are backpacks for every dog breed, taste, and wallet. They are all made of high-quality materials and have proven themselves in regular use. When choosing a suitable backpack, consider your main purpose as well. If you plan to use it from time to time, you can choose a lighter and thinner one. And if you are looking for a backpack for frequent long trips, take a backpack with spacious pockets so that your dog can carry its own food supply for several days.
Also, remember that many companies offer profitable exchanges or returns. Feel free to contact a manufacturer if any model does not fit your pet. It is always better to try several items and choose the most suitable one.
Ruffwear Approach Dog Pack for Hiking and Camping — Top Rated Dog Backpacks
Ruffwear Approach Dog Pack for Hiking and Camping is one of the most comfortable models. It is made of durable nylon, which is water and damage resistant. The back of this backpack is padded to make even long walks comfortable. There are three bright colors to choose from, thanks to which your dog will not get lost. And reflective stripes will let you walk even in low visibility conditions.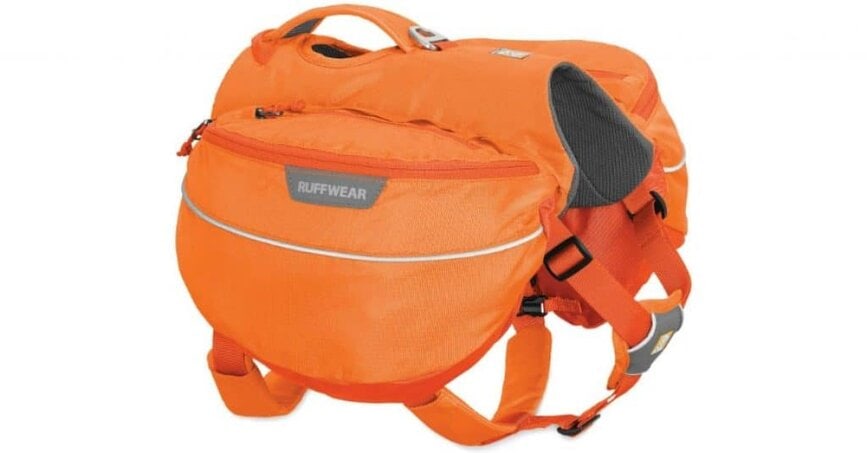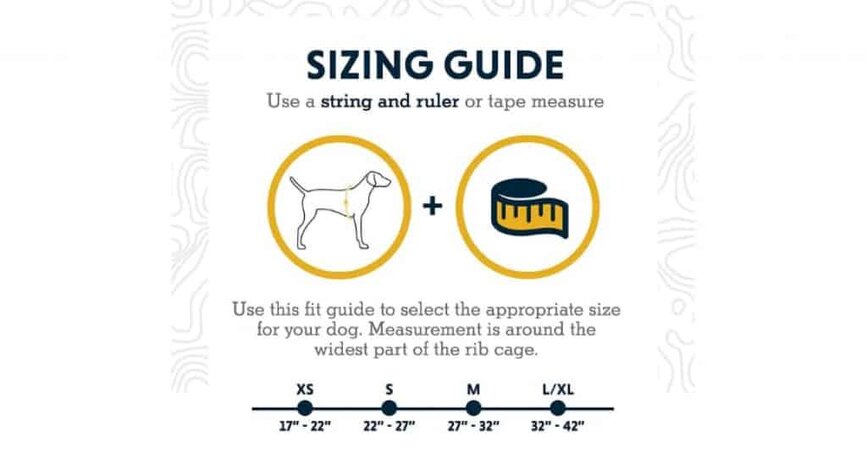 This backpack can replace the harness, as there is a V-shaped ring on the top to attach a leash. The straps can be tightened depending on your pet's chest measurements. So you can be sure the backpack will not hang out. Moreover, there is a convenient handle with which you can transport your dog through rough terrain.
The model is available in four sizes (even for extra-small dogs). Backpack's weight and capacity directly depend on the chosen size, but all the items are very lightweight. For example, even an 885 cubic inches medium pack weighs just 1.15 lb. The manufacturer made zippers out of plastic to minimize the weight, so fasten them carefully. Despite the excellent capacity, do not forget that the load on your dog's back should be limited.

---
PROS:
Padded back;
Has a big handle and a leash ring;
Has reflective strips.
CONS:
Zippers are made of plastic;
Requires some practice to balance weight right.
---
OneTigris Dog Hiking Backpack — The Best Dog Hiking Pack for the Design
If you own a medium or large dog, OneTigris Dog Hiking Backpack is for you. It is designed for large pets and available in only one size. However, the measurements indicated by the manufacturer are pretty accurate. If the backpack does not fit perfectly, you can always adjust it with straps. Since the bags have an elongated shape, you should ensure that there is enough space from the backstrap to a dog's tail. It is especially important for male dogs.

The main material is cotton canvas, so it is slightly heavier than nylon models (21 lb). Despite the dense fabric, these bags are quite soft and flexible. The capacity of any backpack depends on the physical capabilities of a pet. The manufacturer recommends that you do not load a 50 lb dog with more than 6 lb extra weight.
There are four D-rings for which you can attach a leash or some light item (e.g., folding bowl). However, it is likely that because of them, your pet will catch on tree branches. Also, on the back, there is a large handle using which you can guide your dog; but don't use it for picking up the pet.
Vintage design and fabric used distinguish the model from similar backpacks in this segment. It looks really great. Nevertheless, if you are afraid that your dog may get lost in the forest, it is better to choose a different item, since this one is available only in calm colors.

---
PROS:
Damage resistant;
Well-made seams;
Cool design.
CONS:
Not waterproof;
One size only.
---
Kurgo Dog Saddlebag Backpack — Comfortable Dog Backpack with Removable Bags
Kurgo Dog Saddlebag Backpack is suitable not only for hiking but also for daily use. Unlike many other models, bags here can be removed, leaving the only harness with a leash ring on its back for walking. It has a mesh inner lining to provide proper airflow and a thick handle to help your pet overcome obstacles.
The model is made of polyester and is available in only two sizes for medium and large dog breeds. In my opinion, the manufacturer provides an incorrect table of sizes. Although a larger size should suit dogs up to 110 lb, it can be too tight for dogs with wide chests.
All belts can be adjusted to fit your pet's measurements. But if your pup is huge, you won't be able to increase the length of a chest belt due to a big plastic buckle. You can also adjust bag straps so that they hang lower or higher depending on your pet's growth.
Since Kurgo backpacks are made from durable polyester, they are pretty lightweight. The smaller Baxter bag weighs 13.6 lb and holds up to 126 oz. You can choose from four available colors. What is good, there are two bright shades and two less catchy ones. Besides, all items are equipped with reflective strips to make your pet seen in the dark.

Kurgo Dog Saddlebag Backpack, Back Pack Dog Harness, Hiking Pack for Dogs, Packs for Pets to Wear, Camping & Travel Vest Harness, Reflective, Lightweight, Baxter Pack, For Medium & Large Pets
Hiking Backpack for Dogs to Wear - Saddlebag for dogs is lightweight & comfortable. The 2-sided dog pack provides enough space for all your pup's essentials, including food, doggie bags, first aid supplies, and travel bowls
---
PROS:
Removable bags;
Dense material;
Mesh lining for airflow.
CONS:
Inaccurate table of sizes;
Chest strap connects with a buckle uncomfortably.
---
Outward Hound Lightweight Dog Backpack — Lightweight and Stylish Backpack for Dogs to Wear
Outward Hound's backpack is different in that it sits higher on the dog's shoulders than other models. So you can be sure it will not slow your dog down, running over rough terrain. Besides, the bags have expandable pockets, which means that if the backpack is not filled with things, it will not take up much space. The back is equipped with a mesh so that your pet does not overheat. And there is soft padding on the sides so that the bags do not rub your dog's skin.
Outward Hound Lightweight Dog Backpack is made of thin but durable polyester, making it very lightweight. Denver Urban comes in two sizes: for small/medium and large/very large dogs. So, an L/XL backpack for pups up to 100 lb weighs only 10 oz. Due to the weight and compact size, pockets are not very spacious compared to other backpacks. You can put a small bottle of water (about 17 oz), some food and other little things in the backpack.
Even though the backpack is made of waterproof material, it is not recommended to dive with it, since zippers on pockets do not provide proper tightness. This model has two D-rings for attaching a leash on a chest or back and a sturdy handle to control your dog. If needed, you can adjust the bags with belly and chest straps. The model is very stylish, though it is available in only one color, brown.

Outward Hound Denver Urban Pack Dog Backpack, Large, XL
STYLISH & COMFORTABLE DOG PACK:The Denver Urban Pack fits all your essentials in a fashionable yet practical way that's comfortable for your pooch. Perfect for strutting through town or walking through the park. Just clip into the D-ring and go!
---
PROS:
Bags lay high on shoulders;
Very lightweight;
Stylish.
CONS:
Pockets aren't very roomy;
Available in one color only.
---
Ruffwear Singletrak Dog Pack — The Best Dog Saddle Bags with Water Bladders Included
Another Ruffwear's item on my list is the Singletrak Dog Pack. This model comes with two built-in soft 20 oz water bottles. At the same time, there is still room in pockets for food, snacks, and toys. Like other backpacks, it has a ring for attaching a leash and a thick handle on the back, so you can help your dog overcome obstacles or keep it in a crowded place. If necessary, you can use the ring to fasten things that did not fit in bags, such as bowls or a small coil of rope.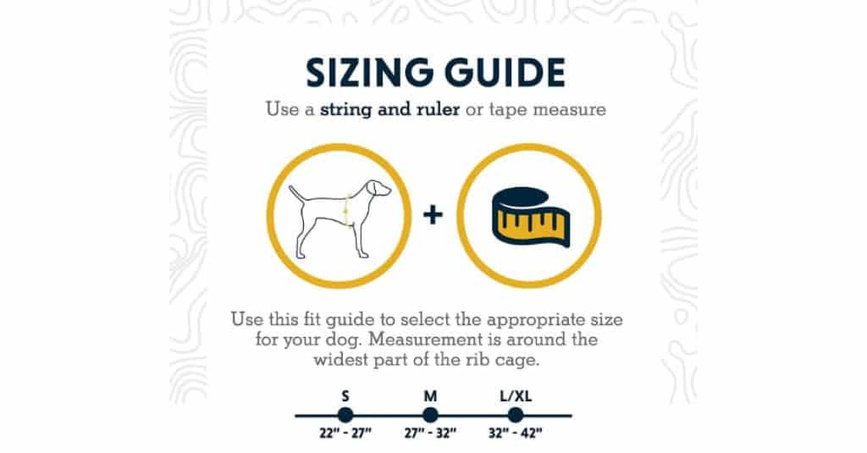 This backpack is made of thick waterproof nylon and has a soft lining. Reflective straps let you walk even in conditions of poor visibility. The item is available in two vibrant colors (blue and red) and three sizes. You can adjust the backpack to fit your pet's measurements with five belts. Due to this, the bags do not move and do not outweigh one side. Small dog hiking backpack (S size) weighs 0.7 lb and can hold up to 183 cubic inches.
This backpack has low profile pockets, which means that your pet can easily pass even through narrow holes. It is recommended that you first fill the backpack with things, and then put it on the dog. Durable material of which the bags are made is damage resistant; It will keep the appearance of the bags in its original form for a long time.

---
PROS:
5 adjustable belts;
Reflective stripes;
2 folding bottles included.
CONS:
Straps needed to be tightened while walking from time to time;
A bit pricey.
---
Excellent Elite Spanker Dog Pack — Military Style Pet Backpack
Excellent Elite Spanker Dog Pack has an unusual design. This model resembles professional military equipment. This extra-large dog backpack is created for large dogs (44 to 121 lb). It is available in only one color and one size, but it has several adjustable straps with buckles and magic stickers for additional fixation. The manufacturer claims that this model is suitable even for dogs with a chest of 39 inches.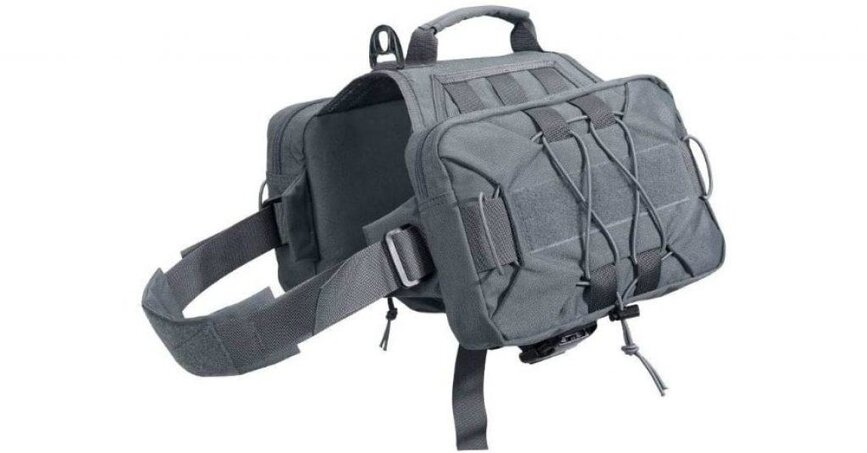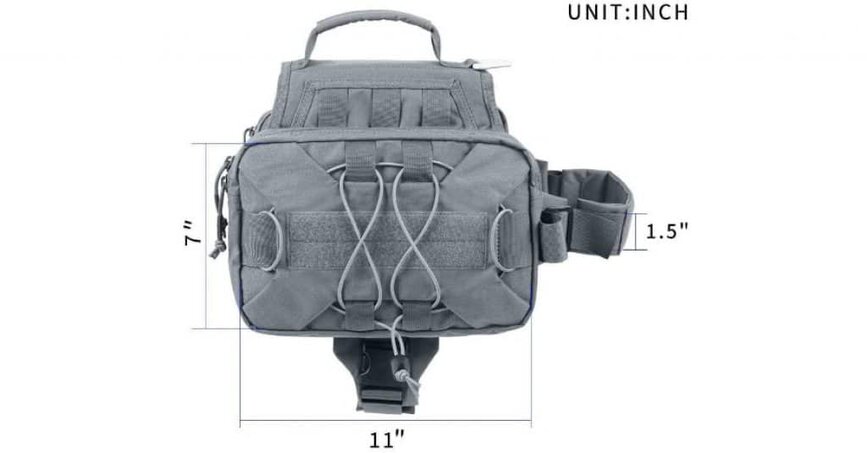 However, in my opinion, it sits too tight and also interferes with a pet. Therefore, I would recommend buying this backpack for dogs with chests of not more than 35 inches.
The pockets are quite spacious (up to 140 cubic inches), and the MOLLE system and cross-bungee cords let you attach additional items to bags. On the chest hook-and-loop fastener, you can put ID-card or patches with warning labels. For example, if your dog is in on duty at the moment and no one should pet it. The model also has an aluminum leash ring, and a thick top handles to control the dog.
The backpack is made of high-quality nylon, quite dense, but at the same time soft and light. Bags fit snugly to the pet's body, repeating its natural body shape. Padding on the inside and wide straps provide comfortable wearing even during long walks.

---
PROS:
Magic sticker on the chest for attaching ID patches;
Very spacious bags;
Military design.
CONS:
Inaccurate size table;
Available in one color only.
---
Outward Hound Kyjen Excursion Dog Backpack — Lightweight Dog Backpack for Large Dogs
Outward Hound offers another comfortable model Kyjen Excursion Dog Backpack. Even though it is designed exclusively for large dogs (from medium to extra-large), it has a relatively small weight — only 12.8 oz. Unfortunately, the table of sizes that the manufacturer offers is not accurate. Keep in mind these backpacks are a bit larger, and even Medium size may be too loose. The pockets are very spacious; they can hold not only 20 oz water bottles but also food, toys, and a folding bowl.
From a design point of view, this is not the most beautiful backpack, but it is created simply and without surfeit. It is made of durable ripstop material with a reinforced thread. This material is resistant to mechanical damage, but it is light and quite soft to the touch. Do not think that reinforced thread can harm your pet.
This backpack has three wide adjustable straps (one padded on a chest and two on a stomach), reflective stripes, a D-ring for a leash, and a handle on the back. I would not recommend using this handle to pick up your pet. Unlike the ones in the previous models, it does not look reliable enough and can come off. Also, note that the bags of this model lie more on the dog's back than on its shoulders.

---
PROS:
Affordable price;
Capacious pockets;
Padded chest strap.
CONS:
Not for small dogs;
Seams do not look very reliable.
---
OneTigris Eureka K9 Backpack — The Most Lightweight Dog Backpack
OneTigris Eureka K9 Backpack is one of the cutest items on my list. It is not a saddle form bag, but literally a backpack for dogs. This bag has one large compartment (54 oz) placed on the dog's shoulders, and not on its sides. It is especially convenient if your dog does not have long legs, in which case side bags will only interfere. But now you and your pet can wear matching backpacks.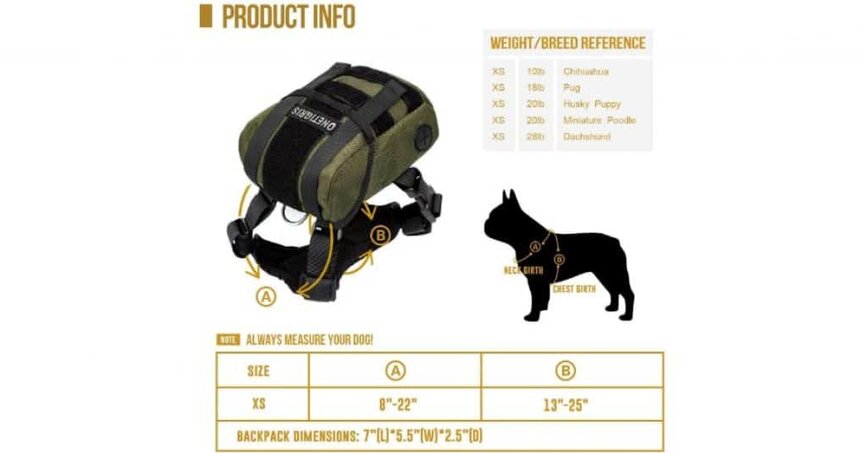 The manufacturer offers only one size — extra small, which means that this model can be used as a puppy hiking backpack. It is perfect for dogs weighing up to 28 lb and for training puppies or even cats (if you want to experiment). This item weighs only 7.4 oz.
There are several velcros on the top of the backpack, on which you can attach some interesting patches or an ID-card. As the main compartment has a double fastener (zipper and hook-and-loop fastener), you can be sure that nothing will fall out.
The backpack is made of waterproof nylon, has plastic buckles and zippers, is resistant to damage and dirt. There is an x-shaped chest strap, a soft lining, and a breathable mesh so that your pet does not rub its skin. All belts can be adjusted according to chest measurements; convenient fasteners provide quick removal and putting on the backpack.

---
PROS:
Stylish;
There is an x-shaped chest strap;
Does not fall sideways.
CONS:
Not very capacious;
Only for small pets.
---
Wellver Dog Backpack — The Most Affordable Pet Hiking Backpack
One of the most budget-friendly and basic models in this top is Wellver Dog Backpack. It is made of lightweight polyester with a soft mesh lining for proper ventilation. Saddlebags have one roomy compartment, which closes with a zipper. There are only two design options to choose from: black with gray stripes and black with red ones.
This model is currently available in two sizes for small and medium breeds (up to 30.7 inches in circumference). If your pet's measurements are on the border of sizes, always take the larger one.
Unfortunately, the manufacturer does not indicate how much a dog should weight to wear them, so you only have to focus on chest girth. But thanks to three changeable belts, you can fit a backpack to your pup. There is soft padding on the chest strap so that it does not rub your pet's rib cage.
On the back, there is a D-ring for a leash and a handle for assisting your dog on rough terrain. I would not recommend picking up the dog with this handle, just hold it. The seams look a little unreliable, and because belts are made of thin material, sometimes they twist. This backpack is perfect for those who plan to use it from time to time. If you regularly go with your dog on long multi-day trips, choose a model with thicker belts.

---
PROS:
Budget-friendly;
Very lightweight;
Modern design.
CONS:
Thin material;
Belts twist.
---
Julius-K9 IDC Side Bags for Dogs — Capacious Bags for Dog Harnesses
As the name implies, Julius-K9 IDC Side Bags for Dogs is an additional accessory that is attached to Julius-K9 harnesses with Velcro and metal rings. If you wish, you can use one of the bags as a waist bag by hooking it on your jeans' loops. The total weight of both bags is only 4.6 oz; however, keep in mind that this does not include the weight of a harness.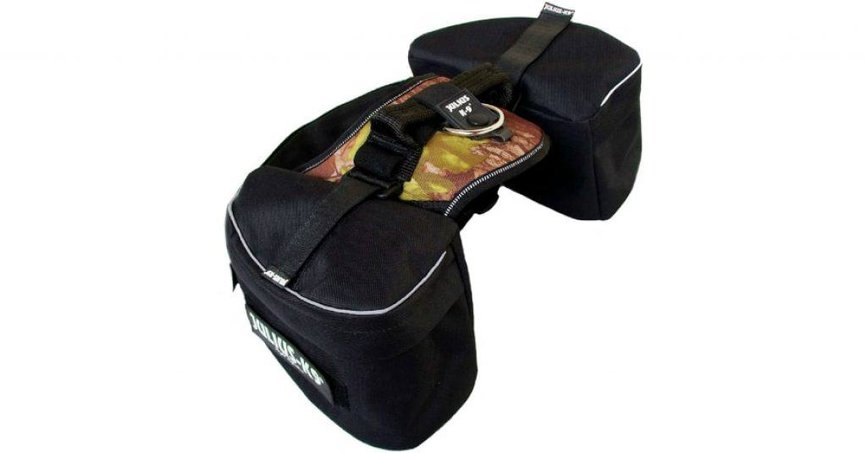 The manufacturer offers bags in three sizes that are fully consistent with its harnesses. The capacity of the bag of the smallest size is 15.25 cubic inches. They have a specific shape, not very large in size, but voluminous. They lie on the shoulder blades and do not stop your dog from running. The bags are made of the same high-quality nylon as Julius-K9 harnesses. This material is water-resistant, hypoallergenic, and durable.
The bags have reflective strips and two Velcro on the outside. To them, you can attach additional patches with the company name, which are included. Or make your bags unique and order a tag with your dog's name, a funny or warning inscription like "Do not pet" or "Therapy Dog".

---
PROS:
Big enough;
High quality;
Comfortable shape.
CONS:
Cannot be used with other harnesses.
---
Summing up Everything I've Wrote About the Best Hiking Backpacks for Dogs
Perhaps some people think that a dog backpack is not a must. Maybe for some owners, it is so. However, my experience suggests that it is a very necessary thing. You can put all the dog accessories in it: food, water, folding bowls, favorite toys, and even a first-aid kit for emergencies.
Performing such a responsible assignment as wearing a backpack, dogs, especially active ones, become more disciplined. As you can see, hiking backpacks come in different shapes and configurations. I hope my dog backpack reviews will help you choose the right one, and you and your pet will enjoy walking, hiking, and trekking together.
I would also like to pay your attention to the fact that before going on a long-distance walk you should train your dog to wear a backpack. The pet should not only get used to unusual feelings, but you should also observe its behavior because some of the belts might rub the dog's skin or one of the bags might interfere with running.
Also, remember that the pup needs to build muscle a bit to carry extra weight and not get tired. Start with an empty backpack and gradually add some things there. At the same time, increase the distance. Do not forget to praise your pet for the work done, so that every walk becomes a joy.
If you still have any questions, let me know in the comments below. Does your dog carry a hiking backpack? Has its behavior changed when it started carrying a bag? What is the best dog pack for backpacking, in your opinion?