Welcome back to my page. I'm a veteran hiker and my resume includes some of the hiking Meccas of the US: Lake Tahoe, Grand Teton, John Muir Trail, and so on. And I can tell you that knowing your route is the main pillar of a wholesome and safe adventure.
Some trails are mad popular and literally crowded night and day — you don't risk getting lost there. But others remain barely explored. Even in Canada, we have a rarely visited Charlevoix Traverse. And now imagine if you decide to visit Kyrgyzstan, Peru or Uganda.
So, knowing where you go and how you will return to the comfort and safety is of paramount importance. And a GPS device for hiking will be your guardian angel.
Product
In my bag
Title
Garmin GPSMAP 64st, TOPO U.S. 100K with High-Sensitivity GPS and GLONASS Receiver
Garmin Foretrex 401 Waterproof Hiking GPS
Garmin Rino 755t, Rugged Handheld 2-Way Radio/GPS Navigator with Camera and Preloaded TOPO Mapping
Garmin 010-01735-10 inReach Explorer+, Handheld Satellite Communicator with Topo Maps and GPS Navigation
Garmin eTrex 30x, Handheld GPS Navigator with 3-axis Compass, Enhanced Memory and Resolution, 2.2-inch Color Display, Water Resistant (Renewed)
Product
Title
Garmin GPSMAP 64st, TOPO U.S. 100K with High-Sensitivity GPS and GLONASS Receiver
Product
Title
Garmin Foretrex 401 Waterproof Hiking GPS
Product
Title
Garmin Rino 755t, Rugged Handheld 2-Way Radio/GPS Navigator with Camera and Preloaded TOPO Mapping
In my bag
Product
Title
Garmin 010-01735-10 inReach Explorer+, Handheld Satellite Communicator with Topo Maps and GPS Navigation
Product
Title
Garmin eTrex 30x, Handheld GPS Navigator with 3-axis Compass, Enhanced Memory and Resolution, 2.2-inch Color Display, Water Resistant (Renewed)
Top 6 Best Hiking GPS
When picking one, you should pay attention to:
Construction. Solid, waterproof, corrosion-resistant.
Battery. Dual battery system is a must.
Screen. Resistant to scratches and bright sun rays.
Weight. About 300 gram.
Positioning. It's best to have GLONASS as a support act to GPS.
These are the essential features that I'll explain later. And to make your quest a bit easier, I've prepared 6 hiking GPS reviews that will safely guide you to the destination and back home. Without hurting your budget much, of course.
Garmin GPSMAP 64st With High-Sensitivity GPS: The Best Trail GPS
Our first item, Garmin GPSMAP is a legit pro at the navigation craft. And the brand itself, originally from Kansas, is well-known among hikers, mountaineers, hunters, truckers, and topographers.
The first thing to mention is the device's longevity. Fed by just its AA batteries, it can go on smoothly for about 40 hours in a row. Besides, it has a dual-battery system, which allows you employing a rechargeable NiMH accumulator (it looks an AA, only white and powered by nickel).
This little guy receives signals from both GPS and GLONASS. While GPS is known for a bigger precision degree, its Russian analogue can be useful as well. Especially if you're traveling to one of the post-Soviet CIS countries. For obvious reasons, GLONASS has a solid coverage there.
The signal accuracy itself is also praiseworthy. You will rarely get just one bar. And to lose the signal, you will need to descend at least into the depths of Berlin's Führerbunker. As for the rest, it manages to always stay reliable, even in the thick forests. (Although some stuttering will be inevitable).
The anti-reflection screen is immune to the brightest sunlight. You can check your coordinates without a hitch, even in the Karakum desert or Death Valley. Even when the sun is in its zenith!
Additionally, Garmin is enhanced with a 3 axis compass, which means even more navigating precision. You can transmit its map data to your phone via Bluetooth. And this smart fella can measure temperature, movement speed, and even your heart rate. All thanks to its sensors.
Another chunky plus about the thingie is that it has US Topo — a giant database of the American topographical maps. It's not any worse than Google Map, although restricted just to one country. But the amount of detail — including the tiny creeks, hills and swamps — is amazing.
To sum up, Garmin GPSMAP is an excellent portable GPS for hiking. It has everything you need not to go astray. It offers an impressive battery life and a colored screen with sunlight protection. So, it stays a reliable travel companion no matter what.
Sale
---
PROS:
Long battery life;
US Topo integration;
GPS + GLONASS;
Can control a VIRB action camera;
Weighs just 230 grams.
CONS:
Even the base model is a tad pricey.
Garmin Foretrex 401:The Best Among Budget GPS Units for Hiking
Our next item, Garmin Foretrex looks pretty humble with its 117 grams. But looks can be deceiving, and it's exactly the Foretrex's case. It is one of those devices that costs cheaper than the rest, has no fancy bells and whistles, but does a solid job.
Now, we have here a monochrome display that shows coordinates, moving angle, and the elevation point. The screen has a dual readout mode, so you can switch between display formats and choose the one you feel comfy with.
The signal accuracy is the strongest side of this camping GPS. The gizmo is equipped with the HotFix technology. It's a Garmin's own trick that decreases satellite acquisition time. In other words, your gizmo can calculate where the satellites are, after being in active use for three days.
To put it simple, even if the GPS signal disappears, HotFix has a good chance to guide you out of the middle of nowhere. It includes marshland guarded by thick woods, deep canyons, jungles and other locales, which the signal fails to penetrate often.
As for the battery life, Foretrex can work for about 10 hours non-stop. That is if you apply AA batteries. Or, if you have an accumulator and a power bank at hand, you can recharge it to continue the work.
What also amazes is the set of side features to try. With Foretrex, I can keep track of my waypoints. It knows how to measure my heart rate. It's funny how I can make a scientifically calculated layover before I tire myself too much!
Plus there's an integrated altimeter, as well as a compass. Foretrex knows everything about sunrise and sunset time. Plus, it can be your advisor on fishing and hunting — almost as cool as Spock's tricoder.
And finally, I enjoy the device's sturdiness. You can drop it, mercilessly throw in your backpack or take out of your pocket in the freezing cold — Foretrex won't care a bit. It never stops working. I guess only dipping it in Brahmaputra's waters will make it malfunction. Or hot lava maybe? The best GPS for backpacking, hands down.
---
PROS:
Amazing durability;
Dual-battery system;
HotFix integration;
Altimeter + compass;
Relative cheapness.
CONS:
Monochrome display;
Little memory.
Garmin Rino 755t: A Ggood Mountaineering GPS
Garmin Rihno 755t can amaze even the veteran hikers. Its feature set is so powerful that it fully deserves a Rino part in its name.
First, it's not just one of the regular GPS units for hiking or mountain-climbing. It's also a two-way radio. You can easily stay in touch with members of your group, in case you have to keep a distance. Such an extra feature is especially favored among mountaineers: its radio frequencies can cover up to 20 miles.
If you prefer team work, then position report feature may be of interest. It shows another Rino user's location in real time. (Provided you are on the same channel). Such a triangulation can be a life-saver in certain scenarios.
The gizmo receives both GPS and GLONASS signal. And you know what it means: more precision and reliability, as the two satellite groups can substitute each other when needed.
Next, I really appreciate the Rino's screen. First, it's color-saturated, how I personally like it. And it's not just about a pretty picture that it delivers, but also the easier map reading. When the map is in color, you can quickly identify highways, rivers, woods, patches of sand, etc.
Second, it has anti-reflection protection. Again: it guarantees an easier readout on a hot sunny day. Plus, your eyes will get way less pressure.
And third, it's a touchscreen gizmo. Although I'm a fan of the analog buttons, we live in the smartphone era after all. Plus, landscape and portrait modes are available, which is always a good thing.
When it comes to physical quality, Rino lives up to its brutal name. Its casing is quite solid and sturdy. While Rino is ergonomic, due to its streamlined form factor, it can handle getting dropped pretty well. Plus, it resists high humidity levels decently.
This beast can handle up to 14-15 hours of active use. Again: we have the dual-battery technology here. So, you can choose from two power sources: AA batteries or a lithium accumulator.
Another talent that our rhinoceros has is its 8-megapixel camera. (available in the 755T model). Although it's much weaker than cameras in the iPhone or Oppo, you still can make a few decent snaps.
All in all, it's a splendid choice for a hiking team. Especially if your trail is a challenging location. Hunters, fishermen, boat owners, mountaineers and others will also appreciate this unique GPS. Definitely, one of the best handheld GPS for hiking.
Sale
---
PROS:
Works well in challenging areas;
Integrated walkie-talkie;
Position report feature;
Inbuilt camera;
Touchscreen.
CONS:
The priciest model; Weighs 348 grams.
Garmin inReach Explorer+: Safety First?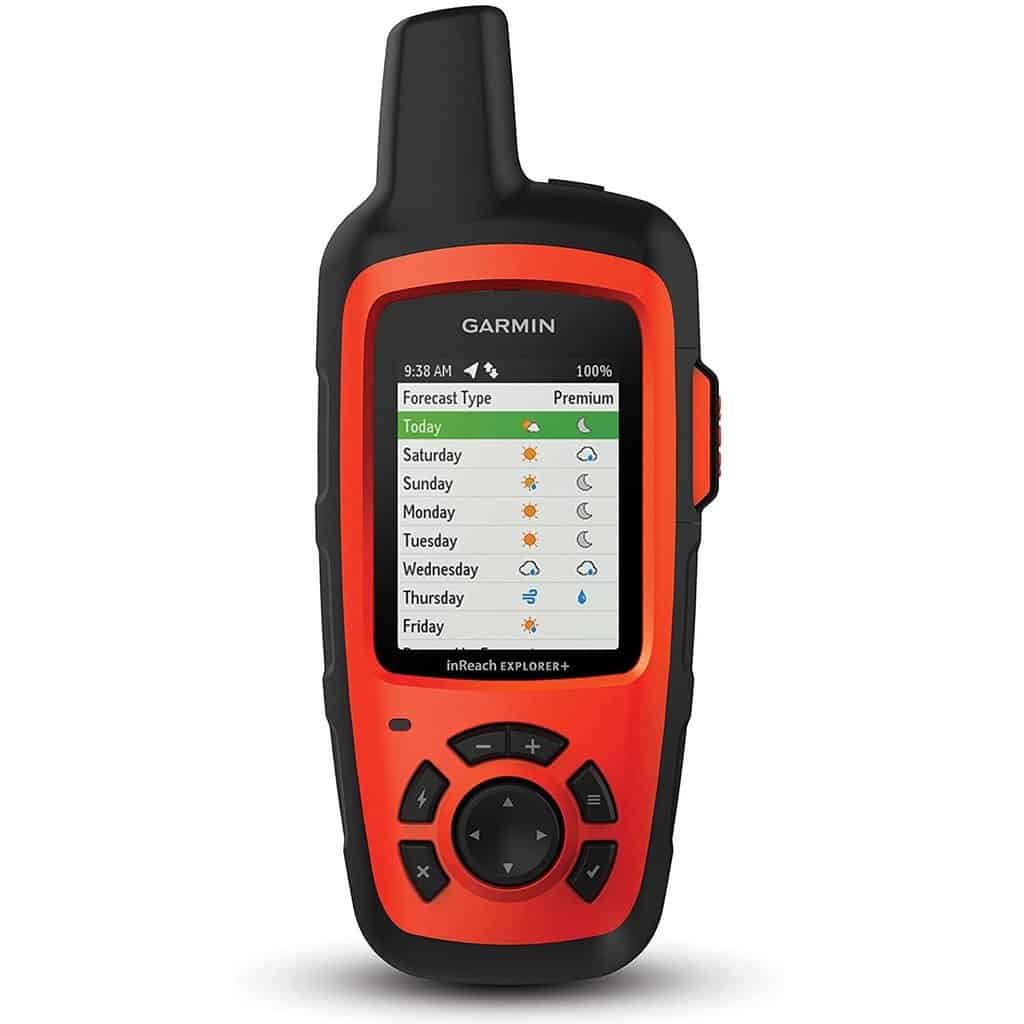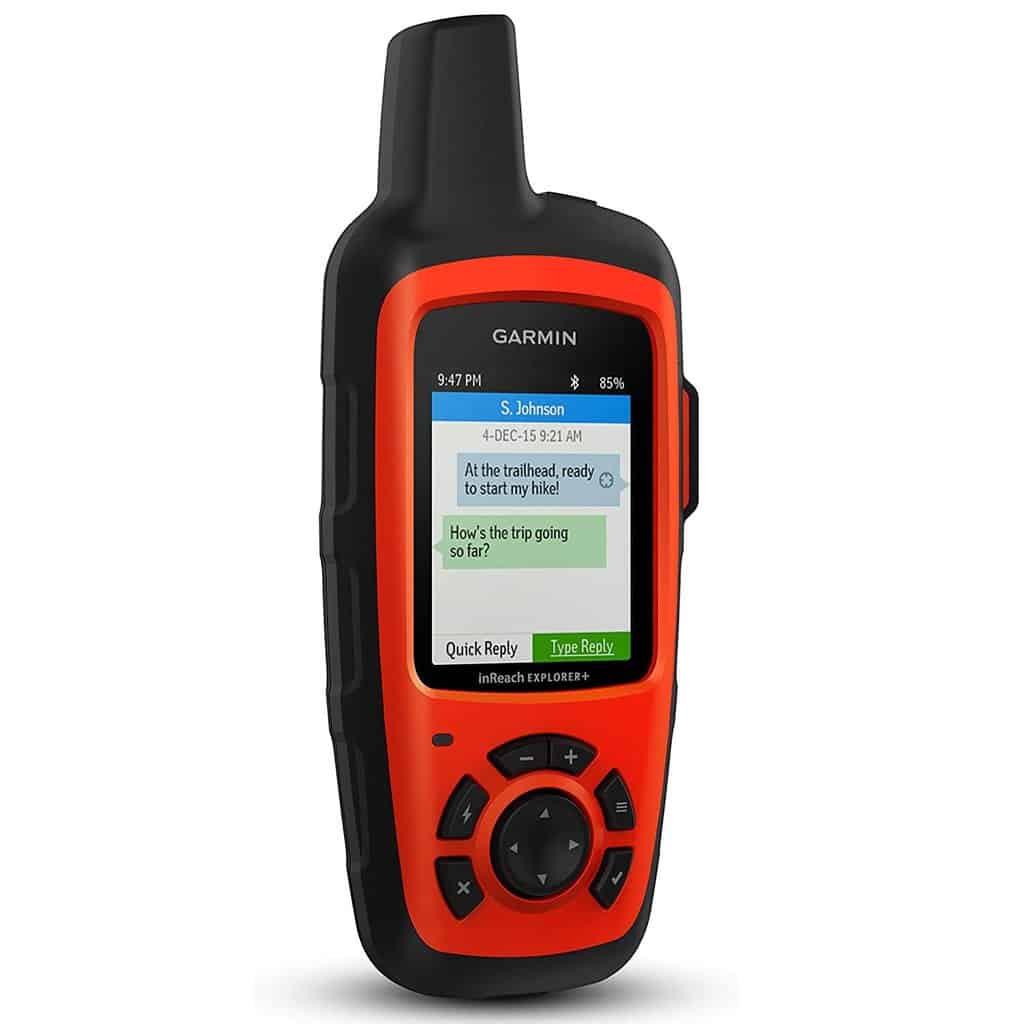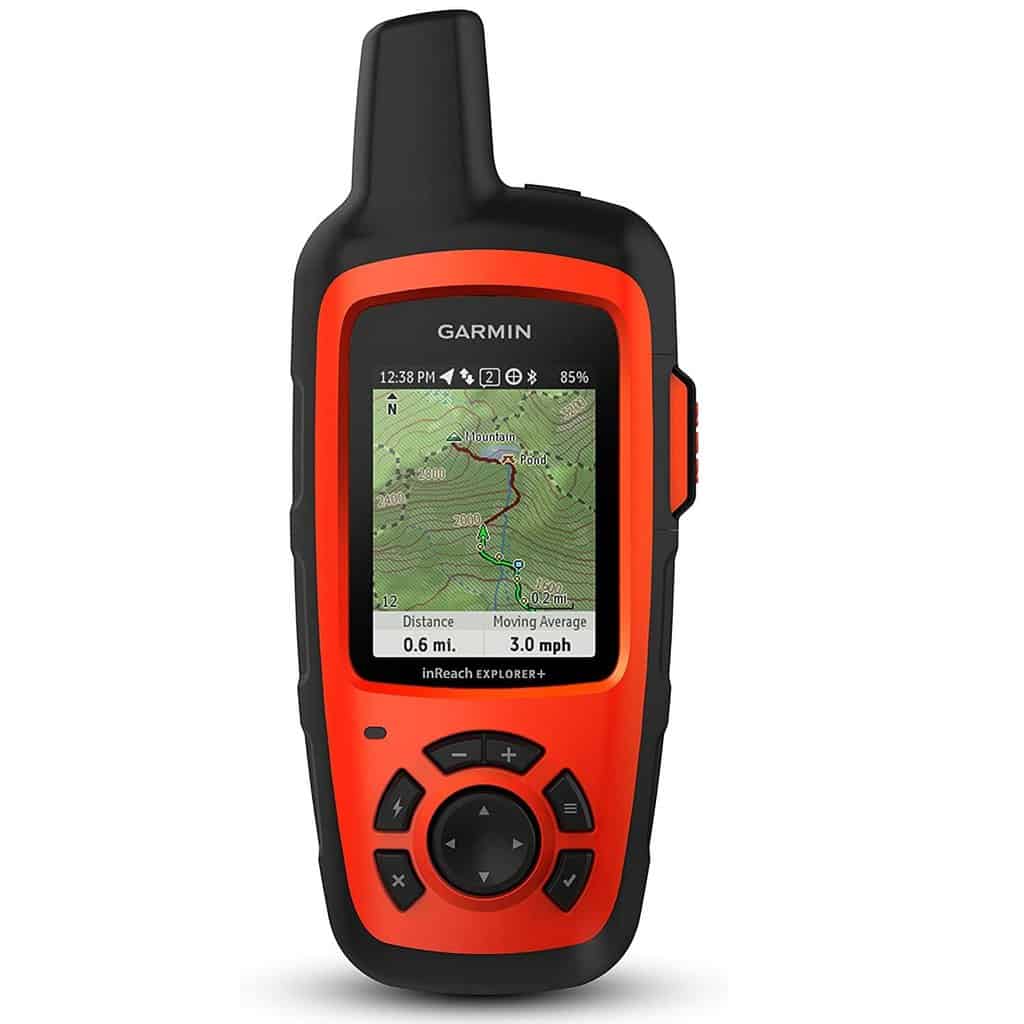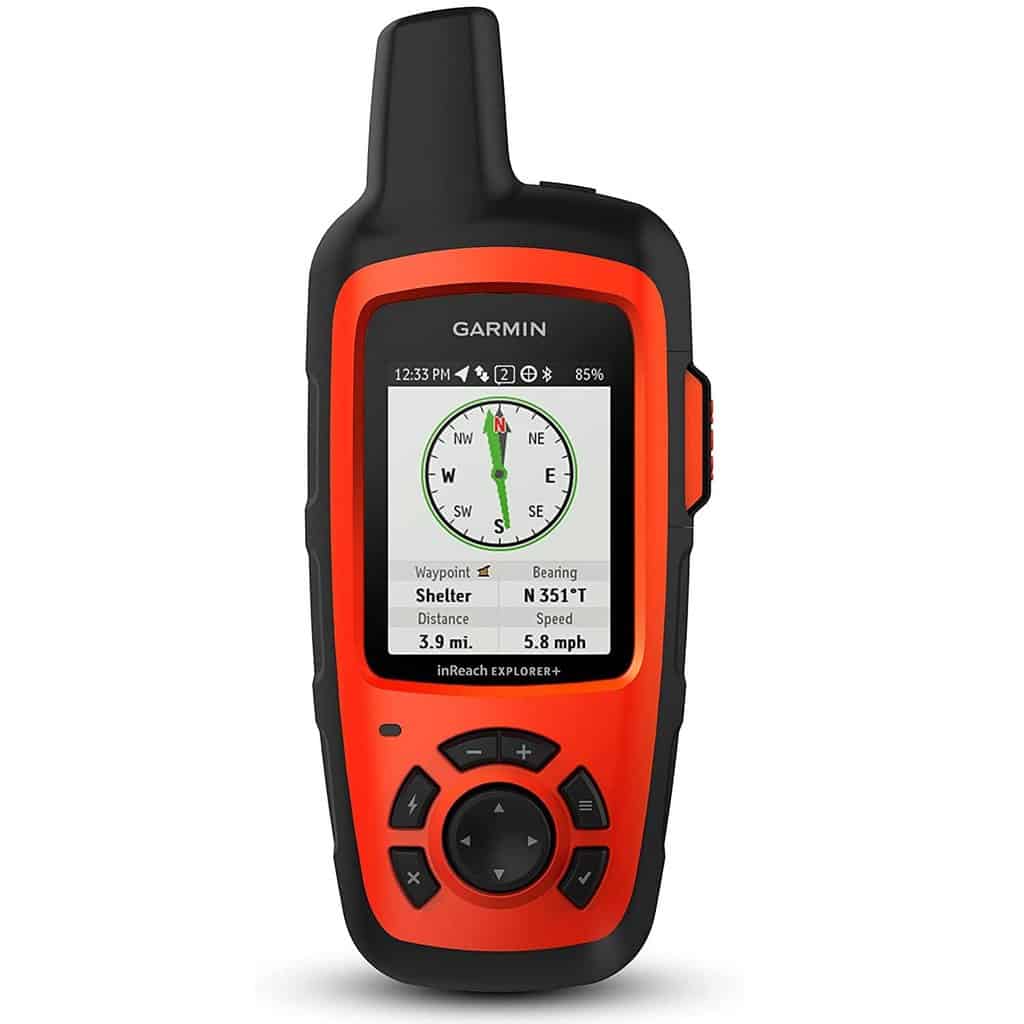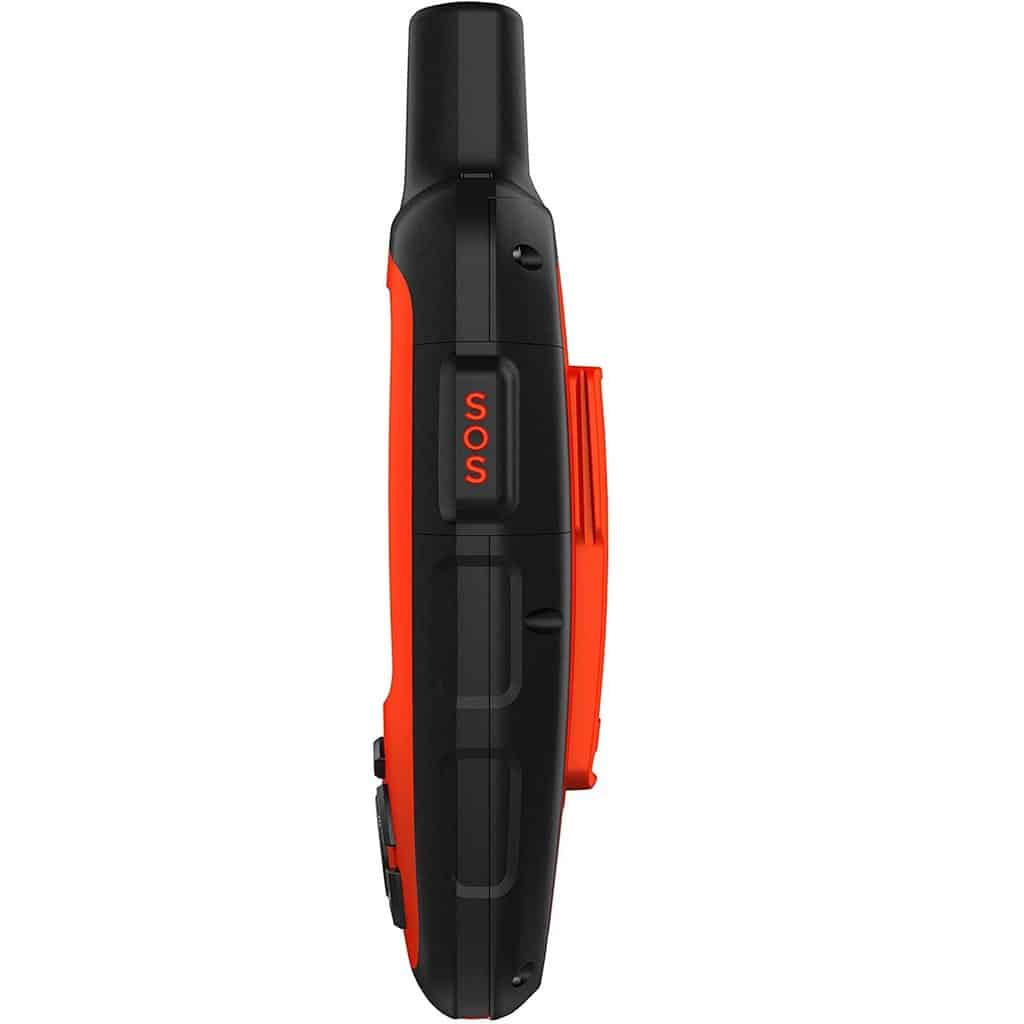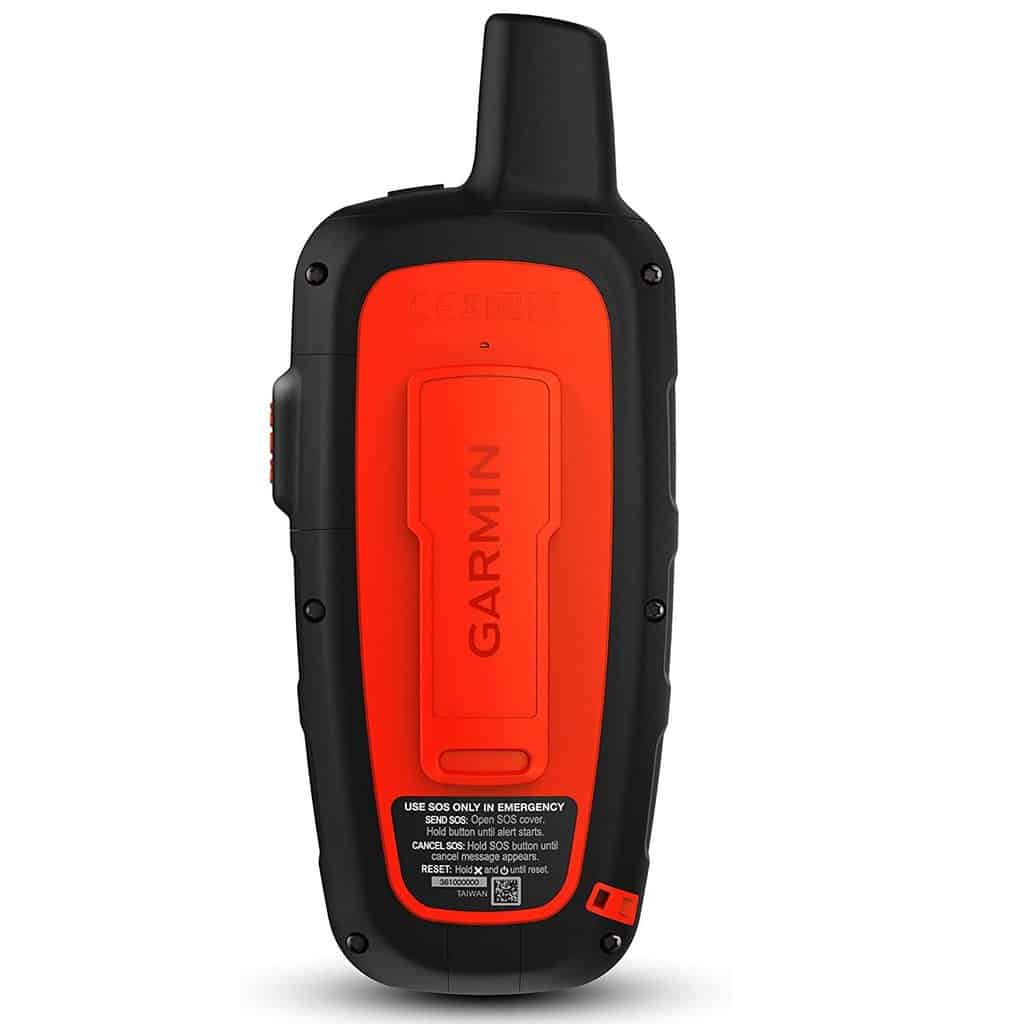 Garmin inReach has gained some reputation as one of the most accurate handheld GPS for surveying. But who cares about GPS competition? What we need is a reliable route guide. And inReach does a solid job.
InReach employs only GPS services. So, keep it in mind: the signal can temporarily disappear. As for the accuracy, it sure does a solid job at both identifying your current coordinates and calculating a route for you.
A know-how that inReach is proud of is its two-way SMS service. Since it requires a satellite subscription, you can message anyone in the world. The word will be delivered to the recipient's phone. (Or email).
However, I wouldn't call them "instant". Don't forget about the satellite lag that can be as long as 10-15 minutes. Also, sometimes messages fail to be delivered at all, due to the system's glitching. It's better than nothing, but I wouldn't count on inReach as an emergency button.
Speaking of emergencies, you can send an SOS message to the emergency center. A great feature, no doubt. But the time lag will delay your plea for help in 90%. And it's not favorable in case of a real emergency. With due respect, nothing can replace a satellite phone.
With laggy issues aside, I think inReach is a great GPS tool. You can stuff it with downloadable Topo maps. There are weather forecasts for your current location. You also get NOAA charts, altimeter, accelerometer, compass and other perks a typical GPS has.
As for the gadget's body — it's sturdy and weighs just 212 grams. Waterproof level of inReach is 7. Which means it can stay for 30 minutes underwater (as deep as 1 meter). Corrosion and impact resistance are also in the package.
---
PROS:
Downloadable maps;
Two-way SMS service;
SOS button;
Waterproof;
Compact & lightweight.
eTrex seems to be a versatile beast. The thing is: it has a whole kaleidoscope of useful maps! Apart from the classic Topo, you also get BlueChart, HuntView, images from Birdseye Satellite and others. There's even the City Navigator NT, although its position is seriously threatened by Google Maps.
But you can also download other maps. And the unit's internal storage is ample for quite a few versions of the globe: 3.7 GB. In case it's not sufficient, and you crave topographical data that is more detailed, there's an SD-card slot.
Accuracy that eTrex delivers is also pretty decent. With this device, you're limited just to GPS, though. But if you have enough of clear sky, the signal won't hesitate to show you where to find the nearest lake, village or highway.
In-built compass and altimeter are also on the menu. Plus, you can detect your movement speed, the atmospheric pressure and get weather updates.
All in all, eTrex is a satisfying tool. It's pocket-sized and lightweight: 148 grams. It has huge memory storage. It's resistant to such mishaps as an occasional drop or two. A flaw that I discovered, though, is its quiet sound alerts. So, to stay updated, you will need to check the gizmo personally.
---
PROS:
Affordable;
Compact size;
3.7 GB memory;
SD card slot;
Decent accuracy.
CONS:
Extra maps demand a subscription;
Quiet sound alerts.
Garmin Montana 680 Touchscreen GPS/GLONASS Receiver: An Impressive Device
Our last contender, Garmin Montana, is among the ranks of the top-rated handheld GPS. Let's see what they've prepared for us. It receives both GPS and GLONASS. Simple math: 55 satellites in total will be at your disposal.
So, should you find yourself in a location that's obstructed, you will get the navigation data anyway. And if you have access to the clear skies — coordinates, routes, and even a local honey badger's address will be delivered much quicker.
Montana can boast of some impressive battery life. Most of the time, you will need a 100% backlight level. With the glaring screen, Montana can last for about 8-9 hours straight. Its Garmin lithium battery has 7.4 ampere hours.
With the gizmo, you will also get 1 year of the bonus BirdsEye subscription. Sounds neat. But there's one nuance regarding the maps with Montana. It offers no from-the-box maps. Instead, you should highlight your hiking area in Basecamp. And only then get the maps.
I suggest you stick to the 24k topological maps. The problem: Montana doesn't store 5 GB files and more. So, to economize space, choose fewer pixels.
If you overcrowd the gizmo with maps — not to worry. There's an SD card slot to extend memory. However, don't forget: 32 GB is the max capacity for extra storage. (It's due to the FAT system issues).
As a pleasant bonus, there's an inbuilt camera. In case you forget your Olympus at home, and your Leika was carried away by a condor — 8 megapixels of Montana are at your command.
Sale
---
PROS:
GLONASS + GPS;
A decent battery;
SD card slot;
Good accuracy;
1 year of Birdseye subscription.
CONS:
File size limitations;
Weighs 290 grams.
How to Pick a GPS for Hiking
So, why exactly do you have to cough up another hundred for a palm-sized gizmo? Can't you use your smartwatch or something?
Well, of course, you can. But only at your own risk. Devices that were designed for hiking can withstand numerous calamities: freezing cold and scorching heat, getting dropped, drowned, etc. And even repeatedly smashed. So, a smartwatch is a "machine too gentle" with all its fancy microchips.
You can't rely on your smartphone either: there will be no connection bars in the wilderness at all. GPS needs no Internet to work, you will say. And it's true.
But your phone wasn't simply built for outdoor adventures. Its battery depletes too fast, you can't call anyone. And if you drop or drown it once: kiss goodbye to a few hundred bucks you paid for it. But the navigator, like an old sea wolf, is never scared of all these problems.
So, now you know which models deserve a closer look. But what exactly should you focus on when picking a personal GPS for hiking? Okay, there are a few key elements that make the best gizmo:
Casing. The body of your GPS gizmo must be at least immune to corrosion and impacts. Anything can happen to a little gadget when you deal with tropic rains, steep mountainous inclines, desert sands and extremely humid climate. So, a waterproof handheld GPS is a must.
Battery. The longer it lives, the better. Ideally, a dual-battery device is what you need. It supports both a rechargeable accumulator and a standard AA battery. The reusable accumulator should have around 7,000-8,000 ampere hours minimum.
Screen. Anti-reflection is the key quality. It will allow you to read the map under the blazing sun. Ample screen brightness won't hurt either — especially if you're hiking in a misty area. Check if it has any anti-scratch protection. And if it's a touchscreen, make sure it's easy to manipulate when wearing gloves. Responsiveness is also crucial. Not every GPS screen has a zoom-in. So, you'll have to do a bit of scrolling when studying a detailed map.
Weight. About 8 ounces is a perfect weight. Pocket-sized gizmo is an ideal option.
Positioning. While GPS is the top satellite system, GLONASS integration can be handy too. Sometimes, GPS signal can stutter or disappear. If the tracker receives data from NavIC, Galileo or Quasi-Zenith too — it's even better.
Two-way connection. Connecting with the world via a satellite can save if you're in danger. Or just feeling homesick. Either way, I recommend having both a GPS as a two-way "beeper" and a satellite phone.
Size. Ideally, a hiking GPS must sit well in your palm or lay comfortably in your pocket. But if you're a fan of compactness, don't forget: if its screen is too tiny, it's a no-no.
If your device has it all — you're in possession of the best GPS for hiking. And it doesn't matter which brand it is. Other nifty features to pay attention to include huge memory storage, SD slot, altimeter, weather alerts, accelerometer, photo camera, Bluetooth, and so on.
How to Use a GPS for Hiking
It's just a few steps:
Positioning. At the start of your journey, locate yourself. It can be either coordinates or your location show on the topo map.
Breadcrumbs. Now enable track points. You will need them to find your way back.
Waypoints. You can make things easier: study Google Maps at home and then enter waypoints to your navigator. These points separate your entire route into shorter distances. Plus, you'll record where the campsite is, where you can have a layover, etc.
Data. Finally, a GPS will record the overall 'mileage' of your march. It also marks the highest peaks you've ascended to and other similar stats. So, you can evaluate your route planning afterwards. And have some bragging rights.
Hiking + GPS = Success
Hopefully, my today's hiking GPS reviews were helpful. At least you know why you need one, which models to check, and what a solid GPS navigator should have in its feature arsenal.
Even if you're going to a well-explored and relatively safe trail — like Dingle Way in Ireland or Spain's Camino de Santiago — reliable navigation is absolutely unskippable.
It's one of the top essential demands for a safe journey. If you neglect it, you risk finding yourself stranded in the middle of nowhere. Without a single soul to give you directions. And coyote/raccoon dogs howling will be the only soundtrack of your evening.
So, pick a GPS navigator. Check its battery, screen, casing, positioning, memory and overall longevity. Check customer reviews if you're unsure about a certain model or try it first-hand in the store.
Either way, it must be there in your backpack, along with a torch, a knife, a folding saw, a spare compass, a blanket, a safari hat, and so on. Happy hiking!
Which GPS navigator do you prefer personally? What would you do if it got broken? Share with us a thrilling story about your hiking adventures!