Hello and welcome! In my blog, my goal is to bring you the most valuable tips and tricks to make your hiking or camping adventures a lot easier. I decided that it's time to talk about one of the most useful things you can take on your hike – a GPS smartwatch. Finding the best smartwatch for hiking is quite a challenge because there are so many different types out there.
In this review, I collected eight different watches that have proven their high level of accuracy and convenience. I have compared options from different manufacturers and selected the best ones. Also, I have studied numerous GPS watch reviews to see what other hikers think and whether they agree with my choices.
It is important for any outdoor-oriented watch to be durable so that it can withstand various weather conditions. Besides the GPS function, such watches include different metrics, measure your heart rate, help you create your routes, and more. All the watches presented in this review can boast their outstanding quality and an extensive range of features.
There are differences in their prices and also they have different additional features. It all depends on how you plan to use them and which activities you enjoy. Hopefully, you will be able to find the best hiking watch for your needs with the help of my review.
Top 8 of the Most Durable and Useful GPS Watches of 2020
In this guide, we managed to gather the finest GPS watches available. All of them have their pros and cons, but at least one of those watches will definitely strike your fancy.
Garmin Tactix Charlie, Premium GPS Watch: Trustworthy Fitness and Hiking Smartwatch From a Famous Company
Garmin Tactix Charlie is a premium outdoor GPS watch that can become a great tool to help you in physical training or simple navigation when you are outside. Featuring 1.2'' display with a dome-shaped sapphire lens, this watch has an ergonomic and stylish design and a high level of reliability.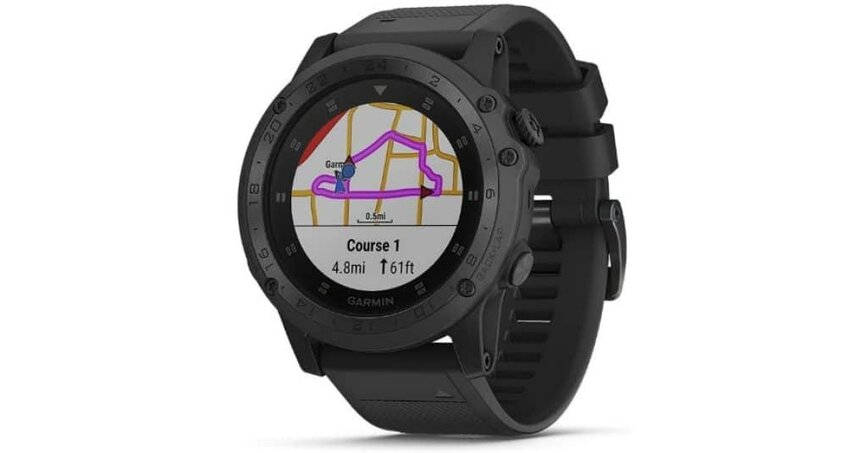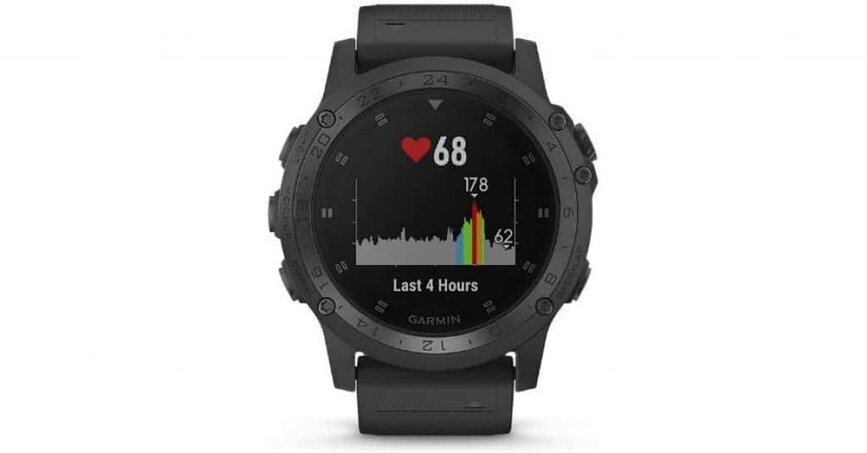 This type of watch is created specifically to help you in tough environments and is suitable for workouts, hiking, running, and more. It has night-vision goggle compatibility, which means that you can successfully use it at night. The watch includes routable TOPO maps that will surely be helpful when you are out and about on trails or in the city.
In addition to that, it has features that are especially important in the wild – barometer, altimeter, gyroscope, and three-axis compass. To help you with your fitness goals, Garmin Tactix Charlie has a wrist-based monitor that tracks your heart rate.
In terms of its dimensions, the watch is conveniently sized but it's definitely not a small one. It is 2.00 x 0.70 x 2.00 inches and weighs 3.53 ounces. It fits nicely on the wrist and clearly displays all the information you may need.
Another important aspect to mention is its battery life. When you use Garmin Tactix Charlie to its fullest, it will last up to 20 hours. In the battery-saving mode, you get more time and it will continue working for up to 35 hours. Or, you can use this watch in the smartwatch mode and it will last you up to 12 days.
If you are looking for a durable and versatile watch for hiking and different fitness activities, Garmin Tactix Charlie is a great option to consider. It has a balanced design, a wide range of features, and decent battery life.

---
PROS:
Three battery life modes to choose from;
Suitable for fitness and hiking;
Night-vision goggles compatibility;
Includes advanced metrics for hiking and mountain climbing.
CONS:
May be too big for some wrists;
Not water-resistant.
---
Created by the famous Finnish brand, Traverse Alpha is more than just a GPS watch thanks to its extensive selection of features. This rugged watch surely makes any adventure outdoors a lot easier and safer.
If you are into mountain climbing, the FusedAlti technology used in this watch will definitely come in handy. It provides you with essential information that includes your speed, altitude, total ascent, and more. With this function, you can quickly tell where you are currently situated on a mountain. Besides excellent GPS/GLONASS navigation, this watch has a barometer and the storm alarms function, which is especially useful in extreme weather conditions. In addition to that, the watch comes with a digital compass, which is vital during any hikes.
Suunto Traverse Alpha can also be used to get more information during your workouts as it has a calorie and step counter. You can even use it when swimming because it is water-resistant up to 100 meters. This watch will also be ideal for those who like hunting and fishing because it has tools specifically for this purpose – sunrise alerts, automatic shot detection, moon phase calendar, and more.
A great thing about this watch is that it's fairly compact and lightweight. Its dimensions are 2 x 0.6 x 2 inches and it weighs only 2.72 ounces. When used as a simple time watch, Traverse Alpha can last up to 14 days while in the GPS mode – from 10 to 100 hours depending on the chosen quality.
It is certainly a highly durable watch that was tested against military standards and can be used even in extreme conditions. Thanks to its selection of features, it is one of the best mountaineering watches out there.

Suunto Traverse Watch
Features a rugged, knurled stainless steel bezel, durable water repellent nylon strap, and a premium scratch resistant sapphire crystal glass. Dial Size: 50 millimetre , Thickness: 15 millimetre
---
PROS:
Tested against military standards;
FusedAltu technology with important metrics;
Synchronization with smart devices;
Extremely durable.
CONS:
Not great for multisport tracking;
High price.
---
Garmin Instinct, Rugged Outdoor Watch with GPS: Well-balanced and Lightweight Smartwatch Model
Another GPS watch for hikers that is certainly worth considering is Garmin Instinct. This rugged model is extremely reliable because it was manufactured according to the military standard for shock, thermal, and also water resistance. It means that you can do water sports wearing this watch and it will continue working even in extreme temperatures.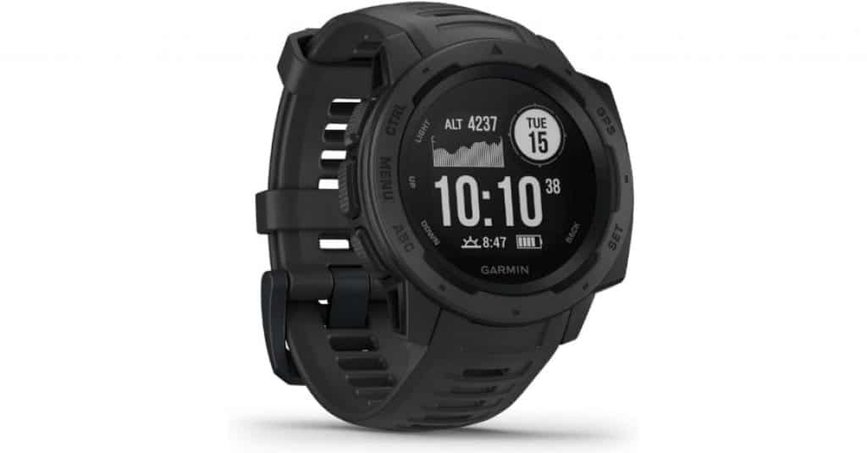 This particular watch offers Galileo, GLONASS, and GPS systems support, which is what you need when you come off the beaten tracks. Another tool that makes it the best watch for camping and hiking is called TracBack. The way it works is that your journey back to where you started will be tracked for you automatically. The barometer and 3-axis compass provide you with more additional information that is highly useful in the wild.
Similar to other GPS smartwatches, Garmin Instinct also comes with a selection of sports-related tools. You can look up your heart rate, stress levels, and how active you were right in your watch. The watch also provides preloaded profiles for different activities, such as biking, running, and others.
When it comes to its size, the watch is rather balanced and not huge. With its dimensions of 1.8 x 0.6 x 1.8 inches, it is suitable for most men and women. It weighs only 1.76 ounces, which is less than many GPS smartwatches out there.
In terms of its battery life, there are three main alternatives. If you use it in a smartwatch mode, it can last up to 14 days. In GPS mode, you get up to 16 hours and there is also an option of a battery saving mode, which will provide you with 40 hours of work. Overall, Garmin Instinct is a highly durable watch with many useful features.

Sale
---
PROS:
Reasonable price;
Great rugged design;
Decent battery life with three modes;
TracBack feature to bring you back to where you started.
CONS:
Not compatible with third-party apps;
Heart rate monitor cannot be used when swimming.
---
Suunto Ambit3 Peak HR Running GPS Unit: Best Backpacking Watch for Those who Value Battery Life
Suunto Ambit3 Peak is another great development from the Finnish company. This watch is designed to help you in all activities you can imagine – from running in the city to getting to the top of the mountain.
In addition to GPS, it has the usual selection of tools, such as barometer, altimeter, and compass. It is also water-resistant, so you don't need to be careful in the rain or when swimming. Also, you can get weather information, which is just what you need when hiking or backpacking.
You can get information about your speed, pace, and also use a heart rate monitor. When you sync this watch with the Suunto app, you can quickly share your experience on social media and also get access to more features. If you are an adventurer who likes sharing your journeys, this is the watch you need.
Suunto Ambit3 Peak can be called the best GPS watch for navigation when it comes to its battery life. If you choose 5-second GPS accuracy on this device, you get 30 hours of work. And if you decide that it's enough to get 1-minute accuracy, then you can use this watch for 200 hours without charging it again. This is more than you get with the majority of other GPS smartwatches.
The downside of Suunto Ambit3 is that it's fairly large and heavy compared to some other smartwatches listed here. It is 5 x 4 x 4 inches in its dimensions while the weight is 4.6 ounces. Depending on your preferences and the size of your wrist, this option may be too big.

---
PROS:
Outstanding battery life;
Can be synced with a smartphone for more features;
Accurate GPS;
Durable construction for tough environments.
CONS:
Too bulky for smaller wrists;
Doesn't count each step.
---
Garmin Foretrex 401 Waterproof Hiking GPS: Outdoor GPS Watch with Special Fishing and Hunting Features
Garmin Foretrex 401 is another good hiking watch with an abundance of useful functions. The watch has an unusual rectangular design compared to the majority of other smartwatches with round displays. The first thing to mention about this smartwatch is its highly sensitive GPS receiver, which means that your watch will continue navigating you even in mountains and in forest areas.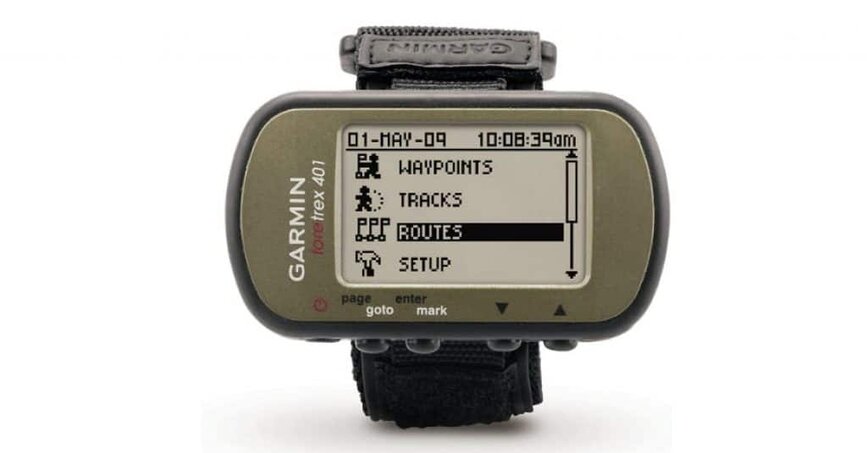 If you plan to use Garmin Foretrex 401 for sports, the downside is that the heart rate monitor doesn't come with the watch and is sold separately. The watch provides you with important information to help you fish and hunt, including sunrise and sunset times. It comes with an electronic compass, barometric altimeter, and also has a TracBack function that brings you to the original location when you venture off. You can create different routes and keep them on your device if you want to go the same route again.
Another thing to discuss is the size of this watch. The dimensions of Garmin Foretrex 401 are 1.7 x 0.9 x 2.9 inches and the weight is 3.1 ounces. The watch has quite a unique design that makes it stand out from others. In my opinion, it is rather one of the men's hiking watches because of its design and there are more lightweight options for women, but it depends on your preferences.
The battery life on this device is quite average. When you use it in GPS mode, the battery lasts for up to 17 hours. Overall, this is a reliable device with a high-sensitivity GPS receiver that can be helpful for runners, hikers, campers, and other people who lead an active lifestyle.

---
PROS:
High-sensitivity GPS receiver;
An opportunity to create and store routes;
Hunting and fishing features;
17 hours of battery life in GPS mode.
CONS:
Heart rate monitor is sold separately;
Too bulky for some people.
---
Casio Pro Trek Touchscreen Outdoor Smart Watch Resin Strap: Extensive Choice of Sports Metrics
Casio Pro Trek is another interesting hiking smartwatch option. It has a stylish design and also convenient display, which adds to its convenience. There are also no problems with the durability of this watch, as it was created according to the U.S. military standards and can withstand the temperatures of up to -10°C. The watch is water-resistant up to 50m, but it's important to note that it shouldn't be used when snorkeling or diving.
The OLED display of Casio Pro Trek ensures a high level of visibility, which is essential when you are outside. Just like other watches, it comes with different sensors that allow you to monitor barometric pressure, altitude, and your activity levels. The digital compass is another tool that is useful during any hikes.
What is more, the watch has a range of apps that allow you to track different activities, such as skiing, trekking, cycling, and more. As you can tell, Casio Pro Trek is not just a GPS walking watch but it has numerous functions to help you in different situations.
The smartwatch allows you to view different types of maps. You can see the ones in full color if you use them via Mapbox and Google Maps. It is also possible to download maps to your device before you go on trips if you are not sure if there will be a decent connection. With the location memory feature, you can easily find the right paths and can mark different places using icons or even voice memos.
When it comes to the size, this watch has a 1.2-inch display and weighs 2.91 ounces. Its dimensions are quite universal and the weight is reasonable for comfortable wear by most people. Casio Pro Trek is a durable watch that can be used for sports activities and hikes. In my opinion, it is the best outdoor sports watch because it has everything you may need for this purpose.

---
PROS:
Reliable and durable build;
Allows you to view full-color maps;
Many features for sports activities;
Water-resistant up to 50m.
CONS:
No heart rate monitor;
Performance can be on the slower side.
---
Apple Watch Series 5: GPS Watch for Hikers with the Always-on-display Feature
Another interesting GPS watch for hikers on this list is Apple Watch Series 5 in the 42mm version. One of the first things that you can notice about this particular watch is its always-on retina display. The watch has a stylish rectangular-shaped display and straps that come in different colors and materials.
You can immediately see the time, which is quite convenient in some conditions. With the help of the built-in optical and electrical sensors, you will be able to see your heart rate, which is definitely something you need when engaging in physical activities or going from one altitude to another.
Those who enjoy swimming will also appreciate the fact that this watch is fully swim-proof. Whether you go to the pool or you want to swim in the sea, you don't need to take it off. Besides the standard GPS functions, this watch includes a built-in compass, various workout metrics, a music-streaming function, and synchronization with your Apple Pay account.
The watch has elevation senses and an emergency SOS feature, which are important when hiking. You can easily and quickly find all the apps you may need in the App Store when using this device.
Another great thing about Apple Watch Series 5 is how lightweight it is. With the dimensions of 11.69 x 3.03 x 2.24 inches, this watch weighs only 1.7 ounces. This is one of the reasons why it is a great women's hiking watch – it's not too heavy or bulky on a smaller wrist.
Another reason is that it can also be synced with the menstrual cycle tracking app. Apple Watch Series 5 is a great addition to your workouts and during moderate hiking adventures. When it comes to more extreme environments, this watch is not as packed with features as some others.

---
PROS:
Lightweight and convenient in use;
Fully swim proof;
An abundance of workout metrics;
Has a music-streaming function.
CONS:
Fairly expensive;
Doesn't have a built-in sleep tracker.
---
Coros Apex Premium Multisport GPS Watch: Lightweight Hiking Smartwatch with Advanced Functions
Coros Apex Premium Multisport GPS compass watch is a model packed with various features. The tracking in this particular watch is performed via GLONASS, GPS, or BDS satellites, so you can navigate even in places with a weak connection.
As you can tell from the name of this watch, it has a heavy focus on the sports aspect. With this watch, you can customize your workouts and choose from the Training or Strength modes. These modes allow you to access pre-loaded workouts and organize your own interval training.
With the built-in heart rate monitor, you will be able to have a controlled and effective workout. It is also water-resistant.
For those who enjoy hiking and mountain climbing, the watch includes a compass, barometer, and altimeter. It's possible to have a preloaded track on this device and follow it when you get outside. You can also customize alerts related to your recovery, nutrition, sunrise/sunset, and more. Also, storm alters can make your journey safer.
The watch is not too big with the dimensions of 1.77 x 1.77 x 0.57 inches. And, it weighs only 1.72 ounces, making it more comfortable to wear for the entire day. Also, this watch is known for its great battery life in the smartwatch mode – 24 days. When you use it in GPS mode, it will last you about 25 hours. And, similarly to other models, it also has a battery-saving GPS mode that allows you to use it for 80 hours.

---
PROS:
Long battery life in smartwatch mode;
Customizable training alerts;
Advanced metrics for hiking;
Lightweight.
CONS:
Display brightness cannot be changed;
No touch screen.
---
Find the Optimal GPS Watch for You
Because there are so many GPS watches that you can buy nowadays, it can be quite a challenge to look them up and find the ones that will have everything you need. It's important to understand how you plan to use a certain watch before you make this purchase.
Someone may consider one model as the best GPS watch for hiking while another person may find it too bulky. It's a great idea to analyze all the features and decide whether you need it to be water-resistant, lightweight, have a barometer, or provide full-color maps.
Also, some watches are more expensive than others, so you can analyze whether you need to pay more for additional features. All the watches on this list come from well-known companies and are known for their reliable constructions and accuracy of work.
Have you ever used GPS watches before? If so, what is the best GPS hiking watch in your opinion? I would be happy to hear your thoughts on this topic. Leave your comments below!