Hiking is an excellent source of fulfillment and joy, especially when you meet or exceed your goals. Over the years, I have hiked in some of the most beautiful and harshest environments. One thing I have noticed is that most hikers don't pay much attention to the gear they choose for the hobby, and many others don't know how to wash it, for example how to wash hiking socks.
The socks you choose for hiking have to be comfortable and high in quality. Otherwise, your hiking sessions will be unpleasant. You also need to check the lifespan of the socks. Buying durable socks is financially prudent and will allow you to enjoy the hiking sessions better.
To make your socks last long, you have to wash them regularly. Although wool is a high-quality material, its lifespan can easily be shortened if you don't take good care of it. Let's look at some methods of cleaning and drying hiking socks.
Washing Your Hiking Socks with a Washing Machine
I don't usually clean my hiking socks with the washing machine, but this is probably the most convenient option available. For this solution, you will need a washing machine, wool detergents, and a drying rack. Here are the instructions on how to wash Smartwool hiking socks in a washing machine.
How to washing wool socks in washing machine: 5 easy steps
Turn Your Socks Inside Out
Separate the Socks by Color
Remove the Stains
Put the Socks in the Machine
Drying the Socks
Now let's look at each step in more detail:
1. Turn Your Socks Inside Out
When cleaning your socks in a machine, you should turn them inside out since the odor-causing bacteria typically exist on the inside of the socks. Turning the socks inside out will also stop the accumulation of lint. This practice has also been noted to help with the maintenance of the designs and colors of the socks.
2. Separate the Socks by Color
If you are washing socks of different colors, you should separate the white socks and the ones with color. In this way, you will maintain the integrity of the design.
3. Remove the Stains
Stains can be irritating, but fortunately, there are many products you can use to eliminate the discolorations. Before inserting the socks in the washing machine, you can use some stain cleaners to get rid of the blemishes. Some homemade products can also work well for this purpose. If you buy a stain remover, make sure you follow the instructions on how to use it.
4. Put the Socks in the Machine
If you are washing all your clothes, you should separate the wool socks by putting them in a mesh bag. This will prevent abrasion between the gears.
When cleaning the socks, you should use a gentle detergent to make the socks smell clean and fresh. These detergents are especially crucial for socks made of wool since this material holds odor easily. You should remember that strong detergents can easily damage the fabric of your socks. Products like bleach will permanently destroy your socks.
Your socks should be washed in cold water. Cleaning them in warm water may not usually have any immediate effects, and that's why many people ignore the negative impact of warm water on the fabric. The reality is that the socks will eventually deteriorate because of the use of warm water. Once everything is set, you can start the cycle.
5. Drying wool socks
When the machine completes the cycle, you can dry the socks. Wool does not hold much water, so your socks should be dry in less than 7 hours. Make sure they are spread out so that they retain their shape once they dry completely.
How to Wash Hiking Socks by Hand
Although most manufacturers advise buyers to clean the socks in washing machines, there is no risk in washing them by hand. I prefer washing my socks by hand, especially if I've been hiking for long hours. Most times, the socks will be too dirty to toss in the washing machine. Also, I find it easier to maintain the integrity of the fabrics when washing the socks by hand.
How to wash socks by hand: 4 easy steps
Fill a Sink or Any Large Container with Cold Water
Add the Soap and Detergent
Rub the Socks Gently
Drying Hiking Socks
Almost all hikers I know have had to wash their socks by hand at least a few times. During long hikes, you will usually need to learn how to wash and dry socks on the hiking trail because you will not have access to a washing machine in such an environment.
Before we learn how to wash hiking socks by hand, you should note that wool socks should be washed in the evening. This way, your socks will get the chance to dry over the night with gentle winds. It's a better idea than leaving them in the scorching heat of the sun.
Also, if you think you might need to wash your socks while on the hiking trail, you should pack soap, detergent, and a container. You can also carry a backup pair of socks.
Here is how to wash Smartwool hiking socks without the help of a machine.
1. Fill a Sink or Any Large Container with Cold Water
Again, you need to use cold water to preserve the fabrics of the socks. Make sure there is enough to cover the socks in the sink. If you have to clean your socks while hiking, you may have to wash a pair at a time if you don't have a large container.
2. Add the Soap and Detergent
I usually use mild laundry soap to clean my socks, but you can also use wool shampoo for the task. A detergent must also be used in the process. You should remember only to use mild chemicals for the cleaning process since harsh ones can make your socks deteriorate. A single teaspoon of the detergent will be enough for the hiking socks. Make sure all the parts of the socks are wet before you start washing them.
3. Rub the Socks Gently
You should wash the socks by rubbing them against each other. This process should go on for about 40 seconds, after which you can let the socks sit in the water for 5 minutes. This way, you will be able to get rid of the dirt sufficiently. You should make sure that the entire process is carried out gently as you need to keep the threads and fabric in peak condition.
4. Drying Hiking Socks
Regardless of the method used to clean the socks, you will need to dry them afterward. I've seen some people wearing wool socks after washing them. You should never do it since it will damage the material.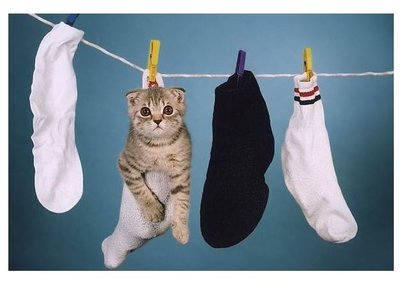 Once you take the socks out of the washing machine, you should lay a towel flat on a surface and place the socks on the towel. Then you can lay another sheet on the socks and press down on it. This way, you will get rid of excess water without damaging the design of the socks. At the end of the process, the socks should only be damp and not dripping wet.
After that, you can pull the socks gently to make them regain their original shape and size. If the socks are not damaged, they should be able to restore their form quickly.
Instead of leaving the socks in direct sunlight, you should let them sit in a cool and dry environment. That is why you should consider washing your socks in the evening. The drying process should take less than 6 hours, after which you can comfortably wear the socks or store them for your next hike.
To keep your socks in peak condition, you should never dry clean or iron them. Just let them dry in cool environments.
How to Keep Your Socks in Peak Conditions?
If you are enthusiastic about hiking, you value your gear. Your socks are among your most essential hiking clothes as they can determine how far you will be able to walk comfortably. They should be able to cushion your feet throughout the trip. Also, they can help you show off your style.
To keep them in peak condition and enhance their durability, you should first make sure that you wash them every two days or every two wearings. If your socks get an odor with one wear, you should never wear them twice without washing. Hikers who have foot odors should also consider using anti-fungal detergents when washing their socks.
When learning how to wash farn tough hiking socks, you should also avoid using regular detergents as they are usually too harsh on wool. Selecting a cleanser for your socks should not be a challenge. You just need to go through the labels to ensure that the product does not contain bleach, chlorine, fabric softeners, and optical brighteners. Many people use color detergents on their wool socks, and it is usually fine. However, I prefer delicate wash detergents as they are very gentle on the fabrics.
We all like to use fabric softeners when washing clothes. They make the fabrics soft and generally lovely to touch. However, you should never use these chemicals on your Smartwool hiking socks. That's because these items contain surfactant chemicals that can prevent the materials from absorbing moisture.
It has the effect of softening the fabrics and making them feel smoother, but the socks will not be able to absorb moisture effectively. The result is that you will have sweaty feet that will also be likely to emit an odor. Besides, fabric softeners also damage the fabric used to make hiking socks.
In some cases, you may need to wash your socks with other clothes. Even if you use a mesh bag to protect the socks from other clothes, you should still do up all zippers. Otherwise, the zippers can damage your socks during the washing cycle.
It is also essential to keep your toenails trimmed. With longer nails, you can expect to see holes in your hiking socks.
As mentioned earlier, drying socks in the washing machine is not advisable. But if you are in a hurry, you can dry them on the gentle setting. This setting is commonly used for delicate fabrics, so it should not cause any severe damage to your socks.
What are the basic fabric types for hiking socks?
When learning how to wash hiking socks, you should also pay close attention to the fabric of your socks. Wool is the most commonly used material for outdoor activities, and this is mainly because it provides excellent cushioning and regulates temperature effectively. This material has also been noted to be naturally antimicrobial. It means it rarely retains odors. The most commonly used type of wool is the itch-free merino wool.
Besides wool, hikers also use socks made from polyester, nylon, silk, and spandex. Polyester is a synthetic material that is usually combined with wool to create excellent hiking socks. This material is known to absorb moisture effectively. It also offers insulation. The only notable advantage of polyester over wool is that it dries fast.
Nylon is also a synthetic material which is quite durable. On the other hand, silk does not last for long. It is mainly used as a sock liner and helps to wick away moisture. The material is lightweight and quite comfortable. Many hiking socks have some amount of spandex. This material is highly elastic and helps hiking socks hold their shapes for more extended periods.
The tips mentioned in this guide are meant for delicate fabric, so they will generally work for all types of socks.
How often to wash wool socks?
Wool socks should be washed as they are worn or soiled. Much depends on the individual characteristics of the body. Some people may wear two or three socks before washing them, while others wash their socks every time they put them on. Given that hiking socks are originally designed for active use, you should follow the manufacturer's recommendations or based on your own preferences. It is important to follow all recommendations on temperature, washing method, detergent use, and drying method.
How to wash white socks
In order to wash white socks, it is recommended to pre-soak them with a stain remover or bleach. If we are talking about white socks made of wool, you should first look at the label bleach whether it is compatible with this type of fabric. If so, then we recommend a pre-wash by hand:
Fill a sink or bowl with barely warm water.
Add stain remover or bleach to the water. See package for recommended amount.
Leave the socks to soak for 10 to 15 minutes. If the soak is strong enough, leave the socks soaked for more time.
Wash the socks as usual.
The Final Word
As a hiker, you need to learn how to wash farn tough hiking socks. You can clean your socks by hand or in the washing machine, and with both options, you have to be very careful not to damage the fabrics. The cleaning products you use should be mild. Otherwise, the fabrics of your socks will be weakened. It's better to use cold water when washing your socks. Also, make sure you leave the socks to dry in cool and dry environments. Don't be tempted to dry them in direct sunlight as it will also loosen the fabrics.
Have you ever had to wash your hiking socks while on the trail? Have you noticed any damage to your socks when you used certain chemicals? Do you have any tips that can help hikers dry their socks faster? If so, you can let us know in the comment section below.
References: