If you're a part of a hiking duet, a good 2-person tent is the #1 necessity. It is your portable home that will shield you from rains in South Carolina, piercing winds of Oregon and the baking sun of Florida. (And its nasty bayou millipedes too).
But before you get a tent, you need to know:
How much it weighs.
Which materials it's made from.
How well it handles nasty weather.
If it can really provide room for two people.
And so forth. Each of these aspects is important, as you don't want to end up soaking wet, not having enough room to stretch your legs and have yellow fever mosquitos as your roommies.
So, I've prepared my 2-person tent reviews featuring the top 6 picks that you can find on Amazon. The list includes both budget and more advanced models, each of which will be your haven of peace and rest during the hike.
6 Best Two-Person Backpacking Tent — For Adventurous Duos
To save your time, we'll start with three top models, the first of which is the undeniable champion on my list. Cheaper models are mentioned near the end of the review.
1. Naturehike Cloud-Up Lightweight Backpacking Tent — The Best 2-Person tent
Let's start with my top pick. Naturehike is a Chinese brand that's already gained some favorable reputations. Their tents, cheap and minimalistic, do a great job at protecting you from bad weather.
Here we have an extremely durable 210T polyester type that's practically immune to torrential rains. It's reinforced with PU 3000 coating and together they make the interior of this small 2-person tent Impervious to the whims of the local climate.
Cloud-Up weighs only 2.2 pounds, so it won't hinder/slow down your hiking tempo much. Plus, it is minimalistic and easily fits in a trunk or can be attached to a saddle of a bike.
Can't really complain about the setup process either — it's a breeze! The assembly is based on the clips that allow you to erect this 'igloo' in about 5 minutes. Plus, the package is full: footprint and stakes — it's all here, you won't need to buy extra bits.
All in all, I give Naturehike a solid A. It's weatherproof, lightweight, intuitive to set up and also disgustingly cheap. And if you have a party of three people and don't mind some discomfort, it can fit three hikers as well.

Naturehike Cloud-Up 2 Person Lightweight Backpacking Tent with Footprint - 3 Season Free Standing Dome Camping Hiking Waterproof Backpack Tents(210T Orange)
【ULTRA-LIGHTWEIGHT】: Naturehike's Cloud up 3-season, 2-person backpacking tent offers the most spacious and comfortable accommodations in an ultra-lightweight design. The Cloud up 210T weighs only 4.6 lbs. It is a must-own outdoor gear for every minimalist backpacker.
【QUALITY THROUGHOUT】: The high-quality details include but not limited to smooth and reliable YKK dual zippers, mesh interior pockets, extremely durable rip-stop fabric materials, a full-coverage rainfly and firm lightweight structure, to stand up to your biggest adventures. In order to increase the durability of the tent, the poles of this tent have been pre-bent treatment. We are eager to enhance our customers' outdoor experience with the outstanding quality of our Cloud up tents.
【WATERPROOF】: The Cloud up 210T tent polyester rain fly & bathtub with a PU 3000 coating is extremely firm and waterproof. Our weatherproof material with factory-sealed seams keeps you bone-dry in extreme weather conditions.
---
PROS:
Affordable;
Sound weather protection;
Full package;
Ultra lightweight;
Simple setup process.
CONS:
Could use more pockets inside.
---
2. Teton Sports Quick Tent — A 2-Man Backpacking Tent for Easy Camping
Our runner-up, Teton Sports is a humble 2-person hiking tent at a humble price. It has a pretty narrow interior, so two hikers inside will have to sleep literally face to face.
But as a compensation, Teton is a good hideaway in case the weather gets horrible. It has a classic rainfly in its anatomy to protect you from heavenly waters, and the poles are sturdy enough to deal with fast wind.
You can also buy a cot, which can compete with the bed you sleep on. But there's no tarp floor included, so you will need to purchase one separately. Plus, having a bunch of extra pegs at hand wouldn't hurt just in case you're going to a windy place like South Dakota.
Tenton is pretty lightweight: just 6.3 lbs. And setting up this tough little guy is easy and enjoyable. However, instructions in the guidebook are way too laconic and do not explain how to construct the rainfly (it may be a pitfall for amateur hikers).
As for the rest, it's a solid camping tent for two you can get for this kind of money. Easy to handle and comfy inside — what else is there to desire?

TETON Sports Vista 1 Quick Tent; 1 Person Dome Camping Tent; Easy Instant Setup, Brown, 80" x 37" x 34"
QUICK CAMPING TENT WITH AN INSTANT SETUP: Camping made easy; Buying the tent will take longer than setting it up; Roll it out, lock your poles, pull the drawstring and you're done
ONE PERSON SLEEP SYSTEM: Pop up dome tent with a quick and easy setup; For camping on the ground or the TETON Sports Outfitter XXL Camp Cot for some serious glamping
STAY DRY: Sturdy micro mesh tent includes a standard waterproof rainfly; Look for the Elite Rainfly that fully extends to the ground if you're using the cots — sold separately
---
PROS:
Reasonable price;
Great rain-resistance;
Momentary setup;
Not heavy.
CONS:
Cot is sold separately;
Could use more space.
---
3. Big Agnes Copper Spur HV UL — A 2-Person Tent With Vestibule
Big Agnes is a relatively young company that's already earned recognition among adventurers. And their tents are rightly allocated as one of the best on the market.
Spur HV UL is a popular tabernacle that offers a 2-person camping tent model. It provides a smart awning-like architecture that has ample living space, especially if the hikers who are planning to stay inside are tall.
A remarkable feature of Big Agnes is its mezzanine. It is like a protective intermediate floor that safely isolates you from the ground, dew condensing on the grass and pesky insects that might want to check in on your food supply. (Or cause some other problems).
The tent is not just spacious with plenty of headroom. It also offers a ton of pockets and slots, in which you can store equipment, clothes, supplies, devices and other useful gear.
Big Agnes is also an unshakable lady when it comes to climatic harshness. Not a single raindrop will make it inside, as long as you properly assemble the shelter.
And winds, even when they get violent, can't really disturb you behind Agnes's walls. The only con is it can produce some audible noise, especially if the wind velocity is about 25-30 mph.

Big Agnes Copper Spur HV UL Backpacking Tent, 2 Person (Olive Green)
FULLY REDESIGNED - One of our best-selling, full-featured, ultralight backpacking tents, the Copper Spur HV UL series just got better with new features inside and out, proprietary materials that are stronger and lighter, and hardware that makes setting up even easier
AWARD-WINNING COMFORT - New awning-style vestibules expand covered living space; great for both drizzle and sun protection. The double zippers provide multiple access options; great for minimizing wind driven rain or snow getting into your living room. The UL2, UL3, & UL4 feature two doors and two vestibules.
STORAGE AND MORE - New 3-D bin 'mezzanine' in the foot provides massive, off the floor storage; Oversized ceiling pocket in the head provides great additional storage space; Media pockets provide clean earbud cord-routing from phones or other devices. Includes multiple interior loops for attaching gear lofts (fits with all Big Agnes gear lofts), accessories, and mtnGLO Tent & Camp Lights (not included). Also includes 8 DAC superlight aluminum J stakes and 4 awning guylines.
---
PROS:
Mezzanine feature;
Clever architecture;
Amazing weather-resistance;
Roominess;
Sturdy poles.
---
4. Kelty Late Start Backpacking Tent — A Minimalistic & Lightweight Option
Kelly Late is a nice lightweight two-person tent that will add up just 3.5 lbs/1.5 kg to your hiking equipment. Quite practical, I should say!
I like its architecture. The walls of the tent are made of fine mesh, the purpose of which is to keep out ceratopogonidae aka biting midges — the nasty flies that ruined trips of many beginners.
The 68 denier fabric is the primary element of Kelty's anatomy. It is a waterproof material that will keep you dry and clean even if you're hiking in a pretty rainy area like Maccollum Park Forest or Narbeck Wetland Sanctuary.
Another good thing is that Kelty is amazingly easy to set up. The whole algorithm requires you to just unpack and unroll the tent, extend the poles and clip the tent together. The entire operation can be finished in just 3 minutes!
And finally, it provides a couple of nice perks. You can store some gear in the vestibule. It's a freestanding tent, so you can relocate it anytime without having to break it down. And if you're into bicycle camping, this tent is exactly what you need.

Kelty Late Start Backpacking Tent - 2 Person (2019 Model)
Updated Version of Kelty Salida Tent
The tapered tent measures 85" x 54" (at its widest point), giving you an interior area of 29. 5 square feet. The peak height is 40 inches. There is a single vestibule protecting 7. 85 square feet of storage space.
The two aluminum poles are pre-bent to create extra room inside the tent. Pockets at each corner of the tent keep one end of the pole secure as you move around to deal with the other end.
---
PROS:
Lightweight;
Nice architecture;
Waterproof denier fabric;
Quick setup;
Affordable.
---
5. Kazoo Waterproof Durable Tent — For the Budget Hiking
Kazoo is a practical little tent painted with sunny yellow. So, it is perfect for hiking in desert areas like Utah's Canyonlands or joining a trek in autumn if you're all about aesthetics.
The tent's body is crafted from fine nylon mesh B3. Apart from being used in Fred Perry's footwear, this mesh also keeps mosquitos and bugs away. No insectoid invasion is possible while Kazoo guards you.
Another major component in its architecture is polyester. Namely, its two types: 190T and 210T. The former makes the body of the tent breathable. So, if the weather's hot, you won't feel like a baked eggplant in the oven.
And 210T safely protects you from all types of precipitation: from light drizzling to torrential rains. The win won't disturb you either, as the texture of the fabric is solid and thick.
The tent itself is lightweight, with just 5.29 lbs. Setup is easy and intuitive: with the three-pole construction, you can finish the job in under 3 minutes. Or even less if you practice and use your reflex memory afterwards.
All in all, Kazoo works well for all types of trips: quick hikes, long routes, camping. Definitely, the best two-person tent in the budget segment.

KAZOO Waterproof Backpacking Tent Ultralight 2 Person Lightweight Camping Tents 2 People Hiking Tents Aluminum Frame Double Layer
✔ EXCELLENT SPACE FOR THE WEIGHT- KAZOO outdoor backpacking tent provides spacious and ultralight tents with enough features. It could be set up perfectly by one person within 3 minutes. This backpacking tent has a spacious room 51inchX82inchX39inch and two zippered doors to make it perfect as a 2 person hiking tent. The tent weighs 5.29lb, which could be defined as a lightweight tent. It could bring you a perfect experience in your tour for camping, hiking, fishing or relaxing.
✔BALANCE OF FEATURES AND WEIGHT- KAZOO outdoor backpacking tent consists of 2 functional layers. The liner is made of B3 mesh and 190T breathable Polyester, Rainfly is made of 210T Ripstop Polyester, we use the best materials to offer you a high performance lightweight waterproof tent. We specifically designed 3 premium 7001 Aluminum poles to offer sufficient stability for this 2 person lightweight tent. Two separated porches are designed to provide additional gears storage room.
✔BEST LIGHTWEIGHT TENT- KAZOO outdoor backpacking tent offers 2 doors and ceiling vents to provide excellent ventilation; which also provide convenience as a 2 person tent. This lightweight camping tent has designed mesh panels on the upper side of the doors to improve ventilation and view. We try our best to balance the weight and stability to make a perfect lightweight waterproof tent. KAZOO backpacking tent provide you with spacious room, multiple functions and good ventilation.
---
PROS:
Nice construction;
Two doors;
Good ventilation;
High degree of practicality;
Very affordable.
---
6. Bessport Camping Tent Lightweight Backpacking — A Compact 2-Person Tent
Our last item is Bessport — a tent that is somehow both compact and spacious inside. You get a roomy interior with 86.6×48.4in, which is enough for two hikers and a bit of gear.
What I like about Bessport is that it is a real safe haven should grumpy weather catch you by surprise. Its construction is weatherproof with a full-coverage rainfly to prevent even the tiniest leakage.
The stormy wind is also no match for Bessport. Its poles are made from 7001 series aluminum alloy. It's a lightweight yet sturdy material that keeps the tent safely anchored to the ground. So, unless you're hiking in Texas or Kansas where tornadoes aren't rare, you're good.
With its roominess, sturdiness and no-risk purchase policy — you get a new free tent if there's something wrong with yours — I'd bet no money on Bessport as a worthy budget option for sporadic, short-distance hiking. It's not an ultralight backpacking tents 2-person option. But it's ultragood.

Sale
Bessport Backpacking Tent 1-2 Person Ultralight Camping Tent Waterproof Two Doors Tent Instant Setup – Less Than 1 Min for Camping, Hiking Mountaineering Expeditions (2P-Light Grey)
ROOMY 2-PERSON TENT: This backpacking tent is spacious enough with two D-Shaped doors and two vestibules to accommodate up to two people. Weight: 5.2lb(2.35kg). Interior floor dimensions: 86.6x48.4in(220x123cm), interior height: 43.5in(110.5cm). Canopy interior area: 31-square-foot.
WEATHER RESISTANT- seam taped Construction makes an impenetrable barrier against Rain and prevents leakage. Welded floor Design elevates the bottom of the backpacking tent to protect you from wet grounds; full-coverage rainfly for added protection against rain.
DURABLE, LIGHTWEIGHT, & BREATHABLE- ultra light weight no-see mesh walls, accommodates a free standing ultralight set-up, comes with 7001 Series aluminum alloy stakes, reflective guyline for wind-resistance.
---
PROS:
Roomy interior;
No-problem setup;
Risk-free purchase;
Sturdy poles;
Smooth zippers.
CONS:
A bit heavier than other similar tents.
---
Buyer's Guide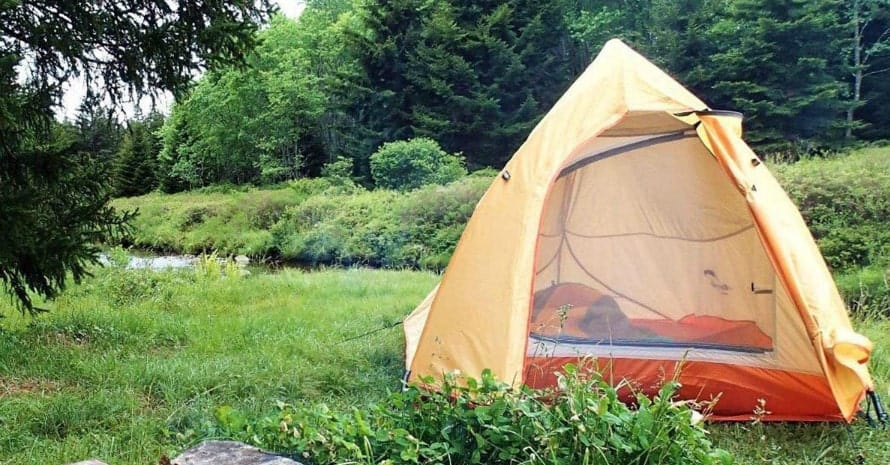 Now, let's give you some guidelines to follow while choosing a two-person waterproof tent.
1. Living space
Actually, the dimensions are hard to measure, since every case is unique: hikers can be of different height, some bring more equipment than others, etc.
But there's a universal formula: every person should have at least 25 inches of width and 80 inches of length of the living space. Multiply it by two, and you'll get the answer. Ideally, your tent should have a vestibule where you can store gear.
I also recommend that your tent has a peak height on one of the ends of the shelter, not in the middle. This will allow you to feel comfier while sitting inside.
2. Price
The price depends on how ambitious your adventure is going to be. A one-day excursion or a camping trip with Arizona boy scouts would require something inexpensive like Kazoo or Bessport.
But if you see hiking as a part of your life, you will need a pricier model:
It will last you many trips.
You will get plenty of room and comfort.
As a rule, a risk-free warranty accompanies such a tent.
Weather-resistance will be higher, as they use top-grade materials.
It's almost like investing in a better car: it will last you for much higher mileage.
3. Weight
Every hiker knows the phrase Light is right! It applies to the tents, among other stuff. But there's a little nuance. A light tent is great for a casual, short-distance hike when you know you'll be back home soon.
But a lighter tent also means its materials are less sturdy. So, if you're planning to join a bit more challenging trail, there's another rule of thumb: your tent must weigh at least 25 lbs per one hiker.
And if it feels heavy when put together with other gear, you can split the load among the party members: stakes, rainfly, clips, footprint, etc.
Other details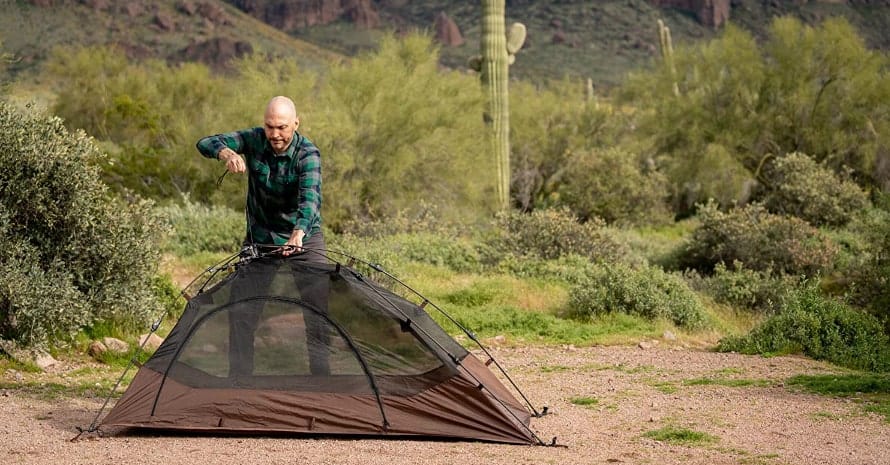 A few other things you should keep in mind:
Footprint. This is the protective layer that guards your flooring against water and ground. A great feature is an intermediate mezzanine, as it provides even more protection.
Useful storage. Pockets, in which you can put a med kit, a pair of spare socks, pack of biscuits, flashlight, and so on.
Doors. A two-door tent provides a better ventilation and also allows your party members to enter/exit with less effort.
Ventilation. It's radical in a hot area. More mesh provides more air, but it's vulnerable to getting torn. It's also great if the tent has a ceiling opening or a window.
Also, don't forget about small wildlife in your hiking area. Biting midges, mosquitos, deer flies, wolf spiders are common enemies of every hiker. Especially in the warm, damp zones. So, a fine anti-bug mesh is also important.
Hiker's Hideaway
That sums my review. I hope your adventurous duo will find a worthy shelter on my tent selection. All of these options will offer good quality that will help make your next expedition truly unforgettable. Just don't forget that if you want it to serve you long, better go for the Naturehike 2-person model.
What is your favorite tent brand? How comfy do 2-person tents feel? How many storms have you survived while hiking? Let us know in the comments!