I like backpacks, and I cannot lie (like Sir Mix-a-Lot said in a Target commercial in my school years). But, as you grow up and start hiking further, your backpack becomes a part of your home. Especially when your home is a tent, and all you need to erect is on your back. Don't you deserve the best tent stakes backpacking set keeping your tent safe as you choose a good place for rest?
Pros
Hold the tent in various types of soil
16-pack for a price of a 6-pack
Top Pick
Pros
Hold the tent in various types of soil
Pros
16-pack for a price of a 6-pack
So, while most tents come with a set of stakes necessary, not all of them are made equal. In addition, they tend to get lost sometimes. So an extra set is always a good idea. Especially one of those reviewed below. While the "Groundhogs" by MSR stand out for their lightness, ease, and great touristic design, you may like others as well.
The Best Backpacking Tent Stakes in 2022
Though vaccination unfolds rapidly, summer comes faster. It's still time to opt for not-so-crowded places for your vacation; not completely in the wild, but where you meet less people and face lesser risks for your health. Why not mountains, forests, any national parks, or countryside you always wanted to explore? That's why hiking (unlike, say, nightlife) is now on the rise, and you might be searching for the best ultralight tent spikes just the minute I'm typing this.
1. MSR Groundhog Tent Stake Kit (7.5-inch) – The Top Pick
Mountain Safety Research! That's the name to be trusted with hiking equipment, as well as with their famous newsletters, and it does a fine job with the iconic Groundhogs. These 7,5-inch stakes only weigh 0.46 ounces each, lightweight as aluminum tent stakes can be, due to the elaborate Y-beam propeller shape. Easy to stick in, easy to pull out, easy to carry. A notch at the top for the guy lines, a loop to pull them out with, and a sharp end form a great stake.
The stakes are made of the 7000 series aluminum, both lightweight and durable. Unlike the regular aluminum gray, though, they shine dense red, easy to notice no matter if you erect your tent on grass, on gravel, or even on ice. I agree that the orange color would do as well, but this trademark red is aggressive, eye-catching, and just not so habitual.
The set only includes six stakes, so I would recommend buying the second one immediately if you like it – even if six is enough for your tent. You may always need extras, anyway. So stop hesitating, if you like it, grab two… after making sure it's genuine. The item is so popular that it's imitated too often, and you can run into it at unscrupulous stores. To tell the original one, look at its profile: the propeller should be a bit rounded, not straight, and the length should be the entire 7.5".
Just don't try to get them as deep as possible. First, the ends may be blunt from hitting the rock. Second, the strings for pulling them out might break if driven too deep. Very durable for ultralight tent stakes they are, the Groundhogs still can be broken or bent. Luckily, you can buy single ones as well as sets, though, considering MSR Groundhogs the best backpacking tent stakes, I'd recommend an extra set for active hikers.

---
PROS:
Lightweight;
Very durable;
Easy to notice;
Hold the tent in various types of soil;
Easy to find replacement stakes.
CONS:
No carrying sack included;
Beware of imitations!
---
Sale
2. Hikemax Spiral 15 Pack( 10 Inch) – The Best Plastic Tent Stakes for Backpacking
If you do not want to use metal stakes (for whatever reason – maybe you consider them not so eco or not so waterproof), there are plastic ones as well. Hikemax Spiral is a 15 pack of spiral stakes made of lightweight (1.3 ounces) and plastic. 10-inch stakes are meant for more than just tents: the manufacturer claims they also make good accessories for gardening, indoor plants, and whatever you can imagine them make. The spiral shape is optimized to hold firmly in the ground, regardless of its consistence.
As the set includes 15 of these spiral tent stakes, it may be enough for more than one tent, and there may even be extras left. They still have their downsides, though. They are heavier and longer than aluminum ones by MSR. It may be better for sand, but not for gravel or ground so hard they need to be hammered into. Neither will they do any good in a dirt loosened too much. On the other hand, these stakes do their job well if you avoid grounds they are not suited for.

---
PROS:
Lightweight eco-friendly plastic;
Bright colors;
15-pack;
Require no hammering.
CONS:
Require some care and practice;
May be bigger and heavier than you need.
---
Sale
3. Hikemax Ultralight Titanium Tent Stakes 6 Pack – Best Titanium Tent Stakes for Backpacking
Not only can Hikemax do plastic. These titanium tent stakes resemble our top pick by MSR. But they bear more difference than just the metal. Due to their light weight tent, stakes like these are easier to carry, but they are not just as good for all conditions. Short and light as they are (6.3 inches, 0.42 ounce), they are great if no severe conditions are expected. Then they won't make your backpacks heavier, being only about 2.5 oz. Definitely, if you are searching for the lightest tent stakes, these are to look at.
The angled shape is an obvious choice for stakes that you need to pull out of the ground and push in without extra hammering again. They are easy to pack due to this as well. In addition, the cords used to pull them out are reflective, making it easier to find these otherwise metal-colored stakes.
If the weather is harsh, though, with possible wind blowing stronger than you are used to, you better find something more durable. Titanium is considered a stronger material than aluminum. Still, material is not everything: shape and convenience matter just as much.

---
PROS:
Lightweight and short;
Easy to pack along each other;
Angled shape great for pulling and driving in;
Corrosion-resistant;
Good if you expect fine weather.
CONS:
Useless against stormy weather;
Easy to bend if you overtry,
---
Sale
4. Ogrmar Aluminum Stakes (Orange, 6Pcs): The Best Backpacking Tent Stakes for Snow and Sand
Here comes another aluminum tent stake review, and this time is a brand with an unpronounceable name Ogrmar. This time it's very serious. The length of these is 12", and the weight is up to 1.8 ounces (not lightweight, but that they are perforated to both reduce the weight and provide some extra fixing options). These are made for hard ordeals, the real Oregon Trail edition and the U-styled design only adds to it. If you need extra-long tent stakes, give these a try.
And they may require some physical effort to use them properly = both driving them in and pulling out. Unfortunately, no cords or loops are here to pull them out, so you will have to use your hands (better not bare) or something to hook it with.
Not versatile (as they may bend when the soil is really hard or you try to use it on gravel), they provide lots of fixing options with guy lines or any ropes at all. However, you better purchase two packs at once, as you may need extras.

---
PROS:
Quality materials and sturdy build;
Heavy duty options;
Extra holes for anchors;
Stylish look;
Lightweight for their size.
CONS:
Quite long;
May be harder to pull out;
May bend in gravel.
---
Sale
5. Wise Owl Outfitters: The Second-Best Aluminum Tent Stakes for Backpacking
The Tennessee-based manufacturer offers aluminum stakes once again. They sort of resemble our champions by MSR, of about the same length (7.25") and comparable weight (about half an ounce). The kit includes 16 pieces (if aluminum) and 12 (if galvanized steel).
As for materials, these stakes are available in steel and aluminum versions, and, as for me, the aluminum ones are better because of their weight. These are tent stakes for hard ground, very durable, partly due to its Y-beam design (probably inspired by the Groundhogs again). Yet they are easy to pull from the ground as well, unless you have driven them tightly into a very hard soil.
Yes, they may look even more stylish, with the combination of black and red. But what's good in clothes and phones is not always so in hiking equipment. If you tear the red lace from it, the black stake will be harder to find in nature, full of grass, stone, or whatever. So try not to lose it, pull gently, not tearing it apart.
Last but not least: the package of these is so eco-friendly that it's biodegradable. If you want to show your care and appreciation towards nature, this is quite a reason to look towards these.

---
PROS:
Durable materials (with options);
Solid build;
Aggressive stylish design;
16-pack for a price of a 6-pack.
CONS:
Little is known about the manufacturer;
Look too secondary.
---
Sale
Buyer's Guide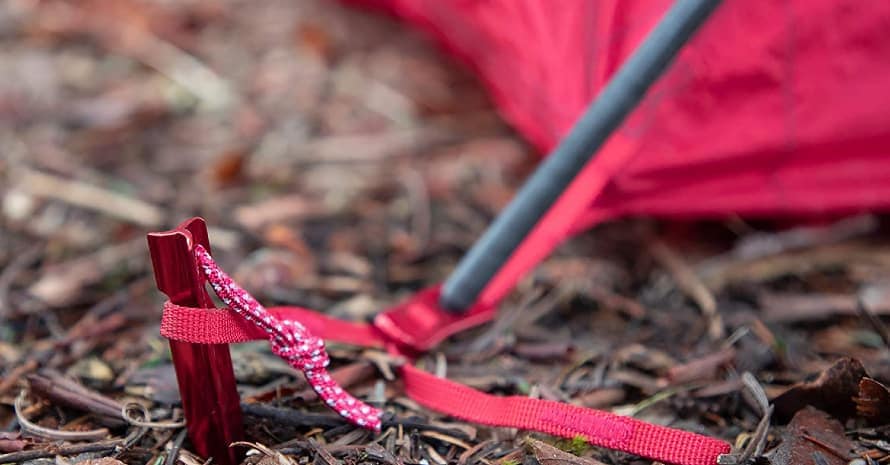 Well, if you are only beginning your journey (both literally and figuratively) to the world of hiking, so you want to choose the best tent stakes for backpacking and benefit the most from your choice, here are some things to consider before choosing yours.
Types of Tent Stakes
If we let alone materials and numbers (like length, weight, package, and so on), there are three types of stakes, different from their shape.
Straight ones. These are rather rare nowadays, though cheap tents often come with these. There is little to say about these steel stakes, holding poorly, except for that they may suddenly make a good choice for rocky grounds up in the mountains.
Shepherd's hooks. Rather basic as well, they are easier to pull out due to the hook.
V-shaped (or U-shaped). They provide both more contact with the ground (and more friction force to hold the tent), as well as better durability.
Y-shaped. It's the further development of U-shaped stakes, even better for holding the tent. The only inconvenience is that they take more space in your backpack.
As for materials, their hardness should be chosen according to the ground you're about to walk. Plastic ones are good for sand, aluminum, and steel ones for most types of regular soils, titanium ones are the option for dense, packed grounds, as titanium grants the same durability with less material. As for carbon fiber, these are considered the most durable (as well as the most expensive, that's why I included none).
How to Choose the Best Tent Stakes for Backpacking
There are some things to consider before you choose the stakes. They are just accessories, after all, so the choice depends on the more essential things.
Where are you going? To be exact, what type of weather and what type of soil is there? Or maybe it's not soil at all, but, say, gravel, or snow? They require various types of stakes in terms of durability, length, flexibility, and so on. If you plan to erect your tent on soft soil or sand, plastic ones will do better. Otherwise, opt for aluminum or titanium.
How many stakes do you need? Anyway you will need some extras, as you never know when you lose one. Or two. By the way…
Are you inclined to lose your items at all when hiking? If you are, that's okay. Just adjust your calculations for that and take some more.
Is it easy for you to pull it out of the ground? It's hard to tell that beforehand, but if you have a chance to try, you better try.
How to Stake a Tent
Even the best backpacking tent stakes are useless if using them wrong? Well, no matter where you choose the spot, you need to make it clean and flat. Then make sure the corners of the tent are all on the same surface. What should the stakes stake? First, that's the floor – or the base of the tent. But the guylines, the ropes that keep the shape of the tent, also need to be tied to the ground with the same stakes.
Position the stake straight, perpendicular to the ground. Not only is it easier to drive it in (and not always it is, frankly speaking). This way it goes as deep as possible, maximizing the resistance. Use whatever you may hammer them down. Just make sure you will be able to pull it out when it's time to set off. There is much more to tell, but it's a separate field to explore.
Back on the Backpack
While I would recommend the classical MSR Groundhogs as the stakes of choice, you may find a better option if you want something specific for the sort of backpacking you are about to practice. Who knows your plans better?
If you have something to add from your own experience, do it right here in the comments. If you want to ask a question, do it just the same way. Of course, it would be flattering if you share this on Facebook or Twitter to show you find it useful. Well, I'd rather discuss it at the campfire, but we can have it online as well.